Review: King Long 6120
---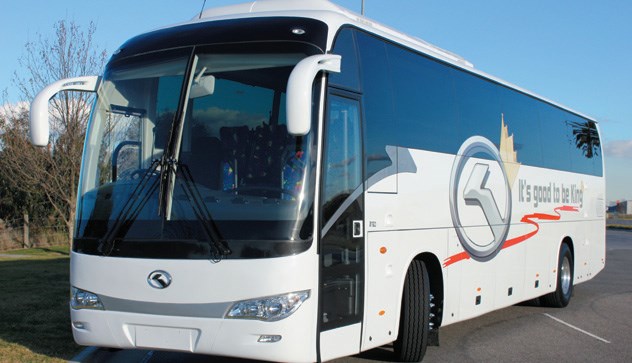 King Long is for the first time offering Australia a full-size coach built on its own chassis, with a Cummins engine and ZF driveline, writes Steve Skinner
Economies of scale are major factors when it comes to keeping bus building costs down and the King Long factory in Xiamen, a port city in southern China, certainly has scale.
King Long has one of the largest bus factories in the world, with an assembly line almost 2km long. That helps explain how King Long is able to offer its new 6120 school/ charter coach for sale in Australia at around $250,000.
New South Wales-based operator Cavbus must think the CBU (completely built-up) 6120 model is good value, because it bought a unit on display at the recent BusVic Maintenance Expo in Melbourne, without anyone even driving it.
ABC had a ride and drive in the same bus shortly afterwards — the first and only reviewer to get behind the wheel rather than rely on company PR — and came away impressed, although there were a few pre-delivery bugs, most notably engine noise.
This 12.3m version of the 6120 has 57 seats. There is an option of 13m, with either four extra seats or an on-board toilet — we would vote for the latter option.
Chinese scale
King Long was founded in 1988 and became a global bus giant remarkably quickly. Half is owned by a private Chinese company, a quarter by a state company, and here's the really interesting bit — a quarter is also owned by a company from Taiwan, just across the sea from Xiamen.
Hopefully that sort of Chinese-Taiwanese cooperation at the business level bodes well for diplomatic relations in Asia.
Also interestingly, King Long is the majority shareholder in Higer, although the two brands operate independently.
King Long only began exporting in 2000, and now sells buses in more than 80 countries.
It's been selling buses in Australia since 2008 through the privately Australian-owned Heavy Vehicles Australia (HVA), based at Somerton near the old Hume Highway in Melbourne's north. HVA says all King Long buses distributed in Australia are designed in Australia by its own accredited engineers.
The range includes the bright red 18m articulated King Long 'Sky Buses' which are easy to spot at Melbourne Airport and run on MAN chassis.
Out on the road with the King Long 6120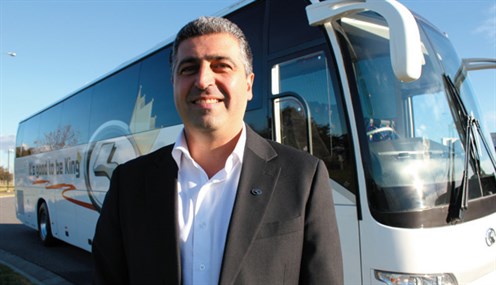 It was around Somerton that we went for a spin with HVA National Sales Manager, Anthony Fisicaro.
A couple of fast, sharp local bends before getting onto the Hume Freeway showed the bus corners well. Steering is by ZF and the front independent and rear axles and diff are ZF, as well.
Front and rear air bags are Vibracoustic, and ECAS (electronically controlled air suspension) is standard.
Once onto the freeway, the bus picked up pace quickly and was soon sitting on 100km/h at 1,500rpm, so it didn't feel like it was working hard at highway speed.
However, there was more noise from the 9-litre Cummins engine than one would expect from a European counterpart.
Fisicaro says pre-delivery dampening work would reduce noise and a few minor squeaks would be fixed. Fisicaro knows what he's talking about when it comes to buses. A mechanical engineer by trade, he's worked for Scania and is a nice bloke to boot.
Happy Cummins
The Cummins engine, however, is not built in China — it's built in the United Kingdom and shipped to the factory. King Long says it'll be supported by Cummins Australia with a standard warranty of two years/200,000km.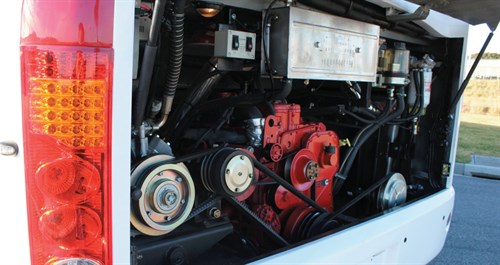 Emissions control is via selective catalytic reduction (SCR) and there is a 35-litre AdBlue tank. The diesel tanks, one on each side, hold 360 litres between them.
A very positive feature of the engine bay is the presence of three powder fire-extinguishing units. These come on automatically when sensors detect excessive heat, but can be activated from the driver's seat as well.
Complementing the American Cummins engine is the smooth-operating German ZF 6-speed EcoLife automatic transmission.
What is really outstanding about the ZF is the three-stage integrated transmission retarder, which has every setting option you could want. On the strongest stage you barely need to use the brakes.
Meanwhile the front and rear discs with Wabco ABS pull the bus up well. I was heading for a set of lights at maximum speed on minimum retarder hoping they would turn red at the last minute. I wasn't disappointed with the stopping power when they did.
Alcoa alloy wheels are standard, and tyre size is the standard 295/80R 22.5.
On the inside It's sitting in the driver's seat you know you're in a Chinese-built bus. There are even Chinese characters on a couple of the switches. The car-style dash looks good, but it's unusual to see anything other than the generic international switch designs and symbols.
The seat itself has spring suspension, which might be okay for a school run. But if the driver is spending lots of time behind the wheel, the Isri air option would be worth spending the extra $3,000 or so on.
Vision is good, even though it's a split front windscreen, for cheaper replacement. The sun visor blinds are electronically operated and there is a reversing camera.
The dash screen is part of King Long's telematics system, which will soon be standard. It will incorporate global positioning system tracking and remote data logging, and display vehicle and driver information including diagnostics.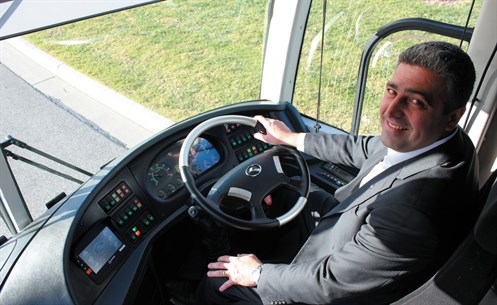 From the young to the old
For the passengers there are standard fixed seats or the option of recliners, which trim the total number of seats to 53.
Significantly, seat belts come as standard.
There's also the option of ordering buses without seats and having Australian seats installed here.
The heavy duty vinyl flooring is ideal for kids spilling drinks and the extra dark window tinting means motorists can't see those pulling faces— although we assume it's mainly for keeping the sun out. The cabin lighting has options for night driving and there's lighting to guide passengers up the steps. The front of the bus can be lowered to allow little old ladies to board easily.
Reverse cycle air-conditioning is King Long's own, with other options available.
The overhead passenger luggage racks are removable and there is plenty of room in the under-bus bins for everyone's bags.
Different steel types
As with any vehicle, what matters most is long-term problem-free operation and in Australia buses have to satisfy regulators they'll hold up for at least 20 years.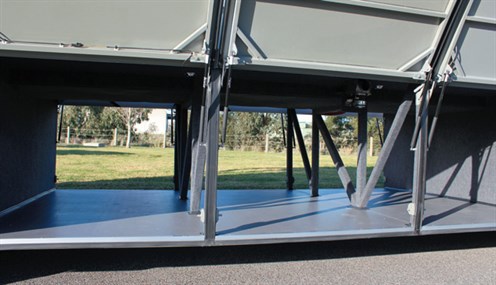 King Long carries out FEA (Finite Element Analysis) testing. The 6120 is a semi-monocoque build, meaning the mild steel chassis and frame are integrated.
After the steel side panels and bin doors are added the bus has an electrophoresis coating (e-coating). The front, rear and roof are fi breglass and added later.
That basically means it's submerged in a paint dip with an opposing electronic current running through it, to ensure the paint gets into every nook and cranny, before being baked in a giant oven.
The 6120 coach is similar to, but cheaper than, the 6126 school/charter model, which is also a 57-seater.
The 6126 is dearer because it's built on a choice of big-name chassis, Mercedes- Benz, MAN, Iveco or Hino and because they're stainless steel, they don't need to use e-coating, for corrosion protection.
Find King Long buses for sale.
PLUSES:
• Relatively inexpensive
• Outstanding ZF transmission retarder
MINUSES:
• Pre-delivery engine noise
• Standard spring driver's seat

King Long 6120 Specifications
MAKE/MODEL: King Long 6120
CHASSIS AND BODY: King Long
LENGTH: 12.3m (13m available)
SEATING CAPACITY: 53 to 61
ENGINE: 9-litre Cummins ISL with SCR
POWER: 320hp (235kW)
TRANSMISSION: 6-speed ZF auto with integrated retarder
BRAKES: Wabco ABS with discs all round
FRONT AXLE: Air-suspended independent ZF
REAR AXLE: Air-suspended ZF
Subscribe to our newsletter
Sign up to receive the Trade Trucks e-newsletter, digital magazine and other offers we choose to share with you straight to your inbox
You can also follow our updates by liking us on Facebook. 

Trucks For Hire | Forklifts For Hire | Cranes For Hire | Generators For Hire | Transportable Buildings For Hire