VIDEO REVIEW: Renault Master-Bus
---
Steve Skinner checks out a new Renault Master mini-bus fitted out for Australian conditions
You might have seen the mid-sized Renault Master van running around in Australia lately. They've been selling like hotcakes, bolstered by a big order from Australia Post.
You would also have seen heaps of Toyota HiAce vans, and Mercedes-Benz Sprinter vans. Both of these have a bus variant, which in the case of Toyota is called the "Commuter" – the market leader in this mini-bus segment.
Renault is now getting in on the van-bus act too, with the launch of the Master mini-bus based on the Master van.
Renault recently flew ABC to Melbourne Airport, from where we drove a Master north to Mt Macedon and back along a variety of road types.
The conclusion: it seems amazing to get European technology with so many seats and so much luggage space for the same price as a lot of family sedans, SUVs and crew-cab utes.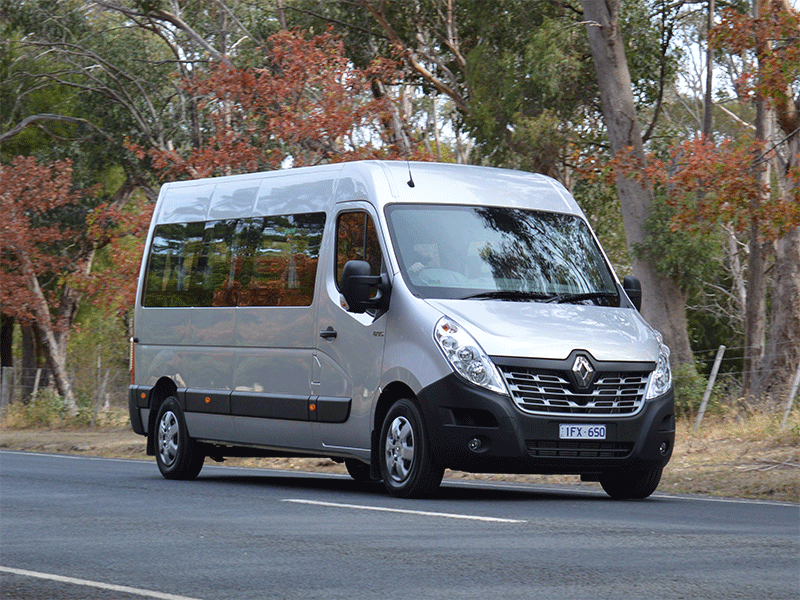 OODLES OF ROOM
The first thing you notice is the space. This is a big small bus, if that makes sense. But at 3.9 tonnes GVM it can still be driven on a car license.
Commercial Vehicles Brand Manager for Renault Australia, Lyndon Healey, says: "we recognise the need for a bus with more interior space for local customers, so we've redesigned it to have 12 seats."
The European version has 17.
Less seats leaves heaps of luggage space behind the back row – 3.5 metres cubed to be precise.
There is no cargo barrier, which is surprising considering the many other safety features on the bus. But Renault says a barrier is coming soon.
Healey continues: "some of the competitors out there in the market are quite restricted in their interior space; we needed something that's a bit bigger for the typical slightly larger Australian.
"Some of the competitors need to tow a trailer … We wanted all that space to be internal and that's why it's got such a large area at the back, it gives you secure internal stowage."
There is plenty of headroom for passengers too, even if you are up to 1.88 metres tall.
To cope with all this cubic capacity there is also fully internal front and rear air conditioning, using the existing compressor and condenser with a new evaporator at the back.
Healey says Renault has a diverse target market in mind, including local councils with community buses, aged care facilities, hotels, clubs, schools, shuttle services and most significantly for ABC readers – bus companies and  local tour operators.
At the time of writing, new customers included a coach operator, golf tour operator and real estate agent who takes groups around properties.
Renault says it is planning a luxury version with even less seats and the option of a mini-bar.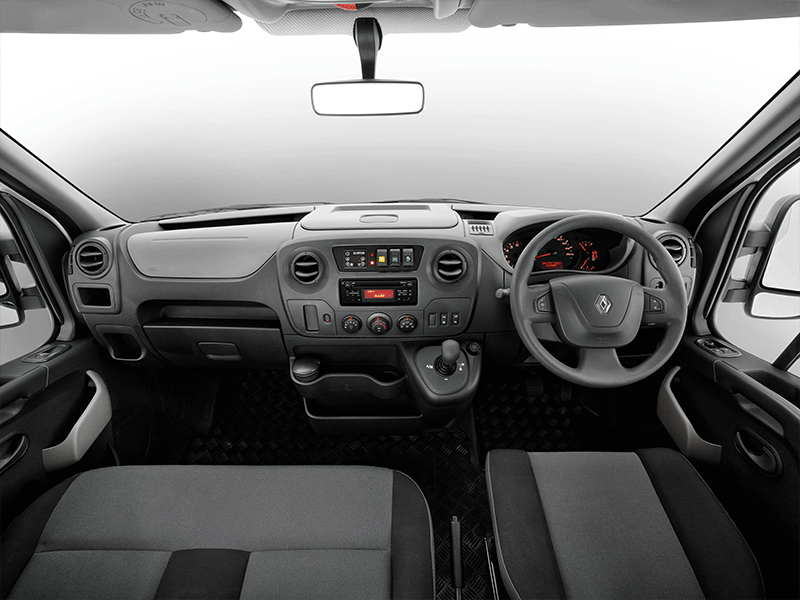 LITTLE GOER
Propelling the Master is a front wheel drive, four-cylinder, 2.3 litre turbo diesel donk.
The small engine pushes out 150 horsepower (110kw) and 350Nm of torque, and is matched with a six-speed automated manual transmission (AMT).
It's a nice little bus to drive ­-- zippy around town, but at the same time sitting on just over 2000rpm at 110 km/h on the freeway, without feeling or sounding like it's working hard.
There seems to be enough grunt when needed on the open road, aided by a power mode in the AMT which changes gears down quicker going up hills.
The AMT can be driven in auto or manual mode, and either way it takes some getting used to.
Once you're acquainted with the gearbox it seems to work well but there's a potential safety issue which dealers are cautioning buyers about as part of pre-delivery: unlike a full automatic as in a car, there is no "Park" mode, only "Neutral".
So when parking up you have to make sure to leave the transition in first gear as well as yanking the handbrake on.
Of course, you should also have the handbrake on in a full auto, but a lot of car drivers are in the habit of not doing that.
There is no option of a conventional manual with a gearstick and clutch in this bus, nor is there a full automatic on offer.
Interestingly Renault says only about 2 per cent of its build is fully automatic, and reckons European drivers aren't much interested in them.
Maybe it's because Europeans are used to trying to get the most performance and fuel economy as possible out of small engines, with the price of fuel being much higher than in Australia.
We are traditionally used to bigger, more 'lazy' and less fuel efficient engines in everything from cars to road trains, although that is fast changing in lots of offerings.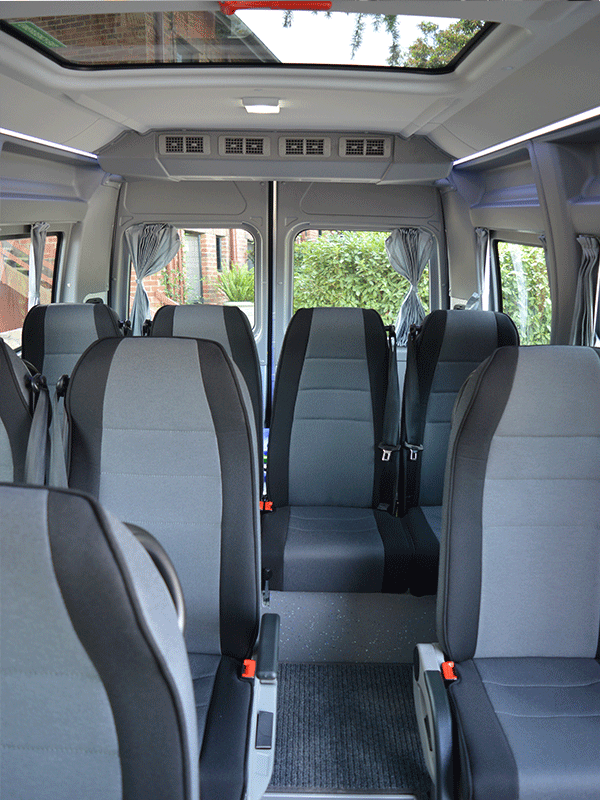 SAFETY FIRST
The Master comes with a lot of impressive safety technology as standard, including ABS of course; EBD (electronic brake force distribution); electronic stability control; traction control; 2 second hill start assist; four airbags; reversing camera and sensors; cornering headlamps and snow/ice mode.
The Renault also comes with trailer sway assist, which is another form of electronic stability control activating the brakes differentially.
That's handy considering this bus can tow 2.5 tonnes without affecting the payload inside the saloon – not that Renault reckons you will need to tow too often.
Pity an old Commodore pulling a box trailer with a golf cart on the back didn't have "trailer sway assist" when it cut in front of me in a truck on the Hume Freeway a couple of years back.
The trailer got more and more sway up, and I dropped back further and further, until the whole combination suddenly crashed into a rock wall divider. Miraculously the driver got out of the Commodore unhurt but dazed, clutching a bunch of flowers he was going to hand his Mum for Mother's Day.
Other likeable gizmos on the Renault Master include trip monitoring such as for fuel consumption; a speed limiter for whatever zone you are in; brake pad wear indicator; and the middle seat in the front can be converted into a handy table.
Renault boasts about its total cost of ownership as well, with 3 year/200,000 km warranty extendable out to 5 years; and service intervals at 30,000 km or 12 months, capped at $349.
PASSENGER EXPERIENCE
The passenger seats are very comfortable, and it's very easy to get on the bus and sit in whichever one you want. They are recliners except for the back row.
There is heaps of leg room, and nice high headrests which means there is no chance of getting whiplash.
The only downside is that structural pillars get in the way of a clear view from some of the window seats, which seems to be an inevitable consequence for van-based buses.
However Renault says later in the year it is bringing out empty Master buses so that customers can configure the seating whatever way they want, including for wheelchair access, which will also be available later in the year.
The ride up the back on the leaf spring suspension was a bit rough, albeit lightly loaded with only one other passenger and 300 kilograms of water containers in the storage area.
Renault Australia says it is looking into additional suspension options for Australia's rough roads. These include making the ride a little less harsh when lightly loaded, and air bags, which are available in Europe.
Of course, Renault has huge experience in trying to please bus passengers, and says so too does the specialist body builder the company uses in Turkey for fitting the Master's seats and interior. The Master itself is built at Renault's light commercial vehicle factory at Batilly, east of Paris.
Meanwhile up the front the Isri driver's suspension seat is very easy to get into and very comfy.
Renault expects to be very competitive in the Master's segment of the Australian bus market, with an RRP starting at $60,000 plus on-road costs, and discounts for fleet operators and ABN buyers.
Overall, especially considering the technology involved, this bus seems like excellent value for money and it will no doubt give market leader Toyota quite a run for its money.
PLUSES
# Acres of seating and stowage space
# Bus and trailer stability control
# Impressive value for money
MINUSES
# Needs more suspension options
# Transmission takes getting used to
# Pillars get in the way of some views
SPECS
BUS: Renault Master
ENGINE: 2.3 litre Euro 5 turbo diesel
OUTPUTS: 150hp (110kW); 350Nm
TRANSMISSION: 6 speed AMT
SEATS: 12, including driver
DIMENSIONS: 6.2m long; 2.5m high; 2.1m wide
WEIGHTS: GVM 3.9 tonnes; payload 1.3t
FUEL TANK: 100 litres
PRICE: RRP $60,000 plus on-roads
Subscribe to our newsletter
Sign up to receive the Trade Trucks e-newsletter, digital magazine and other offers we choose to share with you straight to your inbox
You can also follow our updates by liking us on Facebook. 

Trucks For Hire | Forklifts For Hire | Cranes For Hire | Generators For Hire | Transportable Buildings For Hire