In Pictures: 2015 Tooradin Tractor Pull and Truck Show
---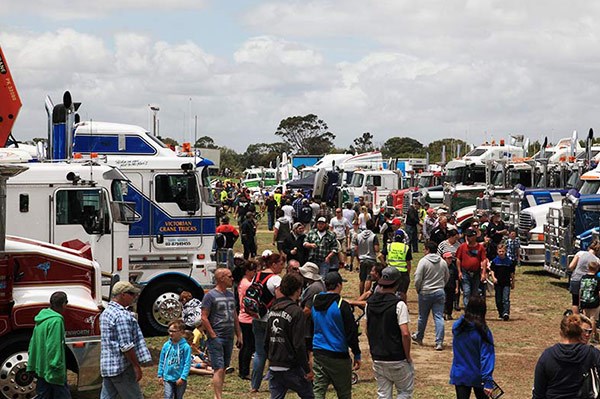 More than 5,000 people attended the big Tooradin event.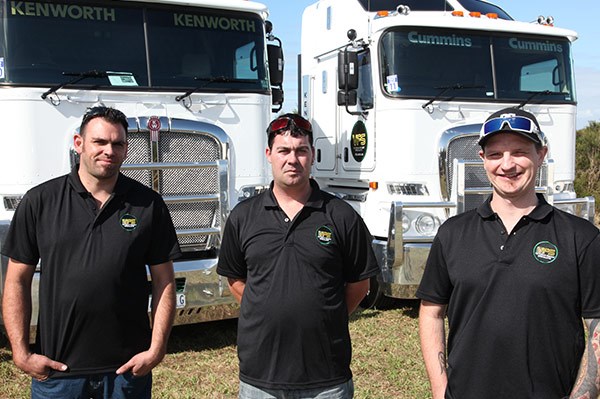 From left, Daniel Miles, Matthew Tatt and Rob Hogan from Victorian Freight Specialists.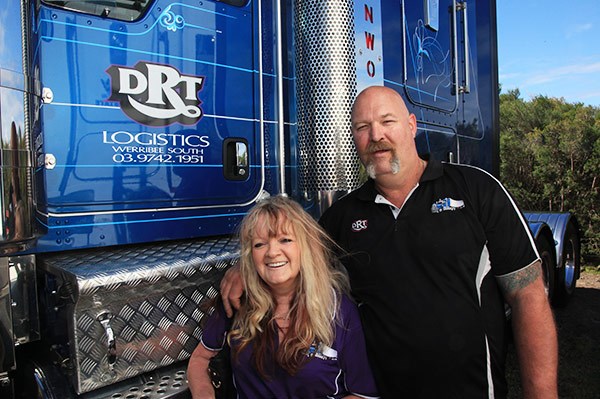 DRT Logistics driver Darren Marcus, with wife Debbie. Darren drove a Kenworth T909, one of the few road train-rated prime movers to Tooradin.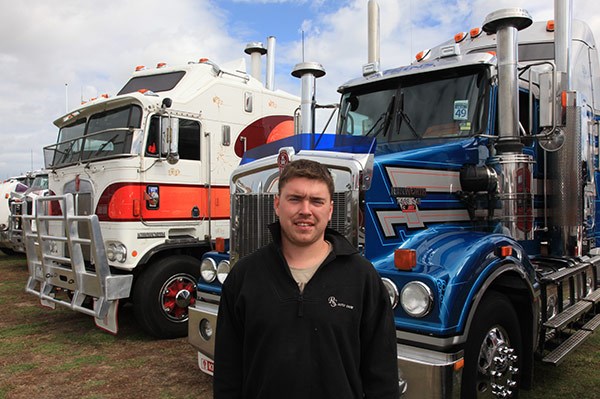 Shane Wilkey with his 1985 Kenworth Aerodyne and Pete Atkins' T409 SAR.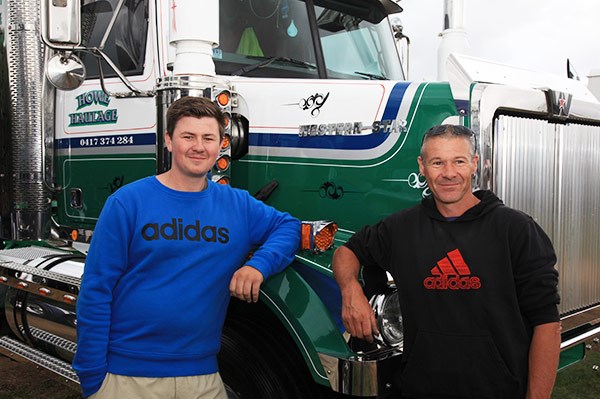 Howe Haulage driver Michael Willemsen, right, and his son Josh.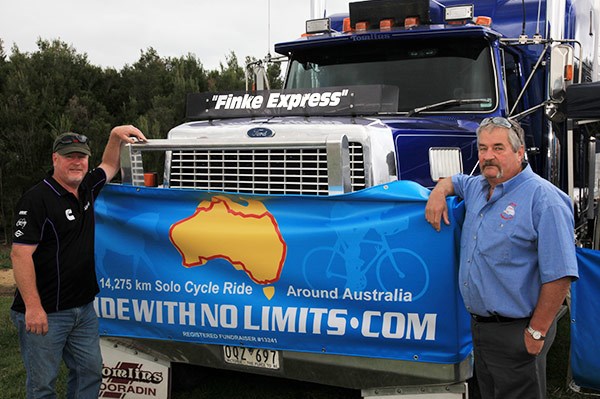 Glenn Booth, left, and John Tomlins.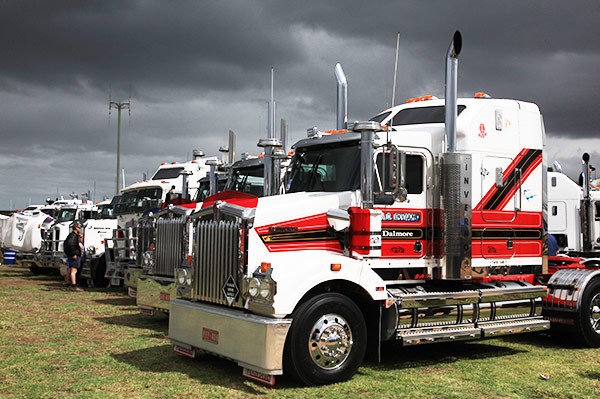 G&D Inverno's T408 SAR was voted Best Prime Mover 4 to 6 years.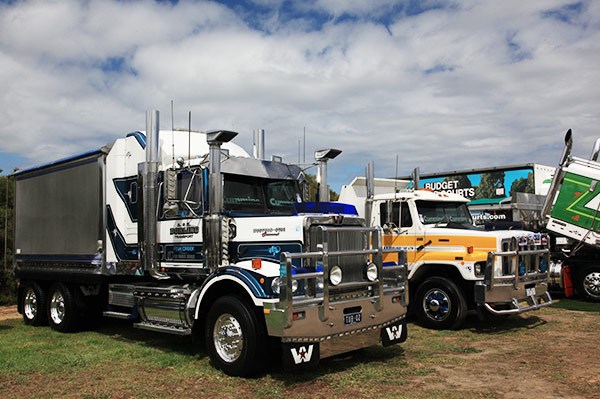 A & K Dorling Transport's Western Star, left, winner of the Best Tipper 9 years and over award.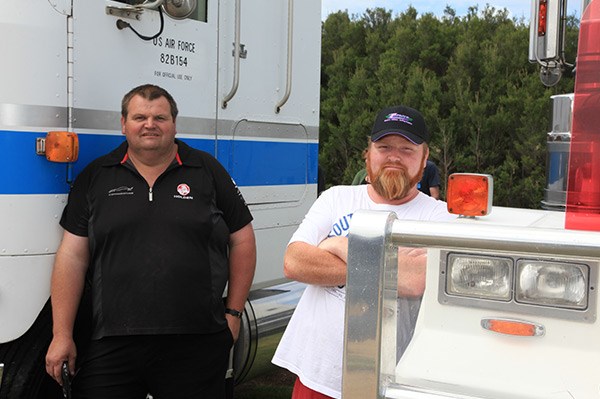 Colin Hook, left, who drove an old International CO9670, with Herb.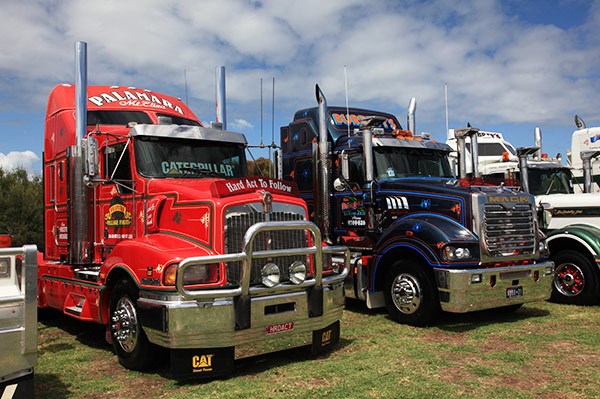 Palamara Village Fruits' Kenworth T401 won the Best Prime Mover 11 to 16 years trophy.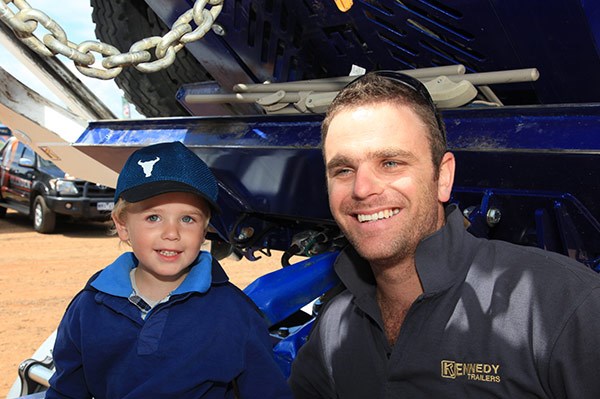 Brad Weller, right, and his son Braxton.

This 1974 K125 was the 1,000th Kenworth to be made in Australia.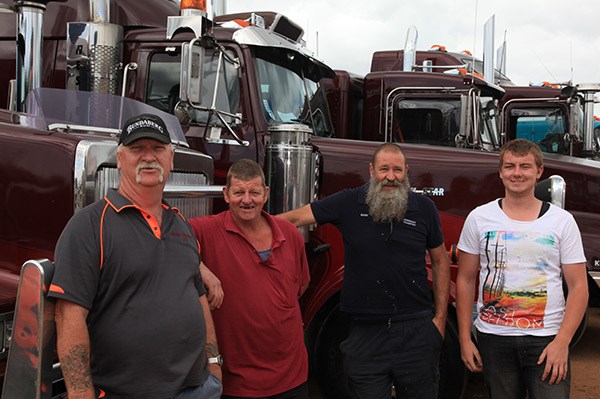 The Abrehart Transport crew, from left, Gary van der Tak, Allan Fricke, Gary Abrehart and Michael Fricke.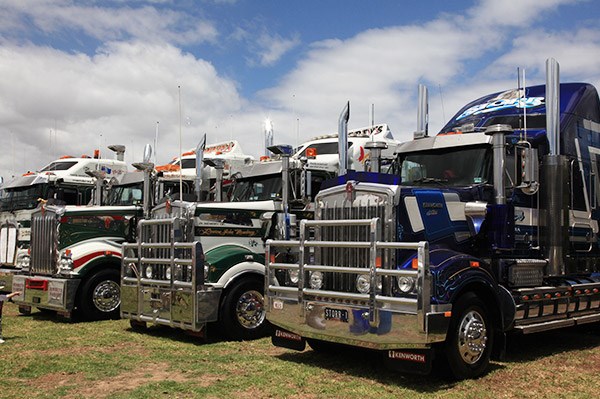 Storr Transport's Kenworth T904, right, received the Steve Gregson Memorial Trophy.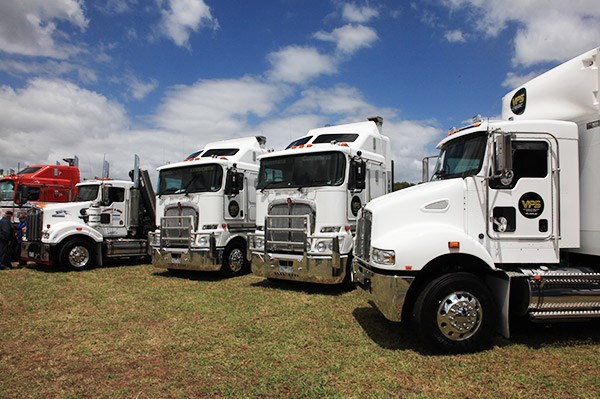 The Victorian Freight Specialists line-up.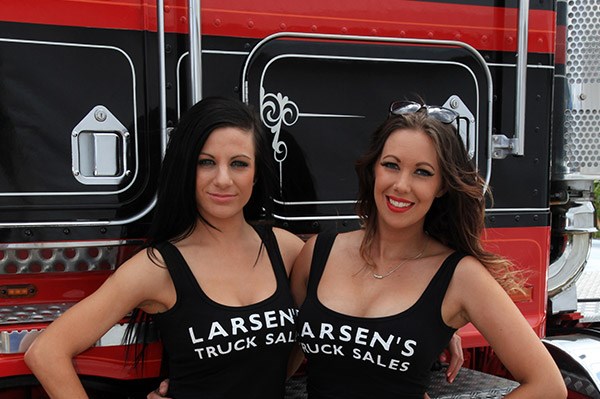 Alisa, left, and Hayley helped Larsen's Truck Sales win the Best Exhibitor award.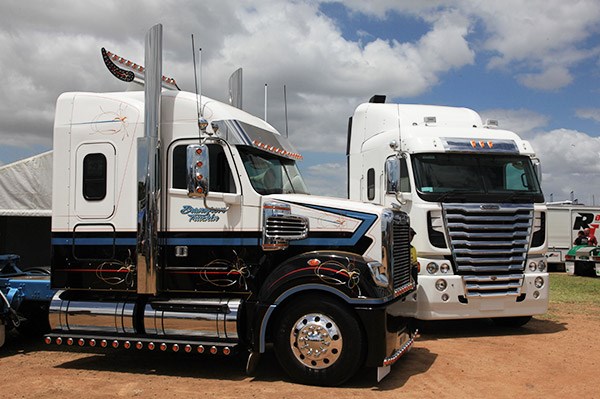 Bransgrove Truckin's Coronado, left, was runner-up in the Best Prime Mover 1 to 3 years category.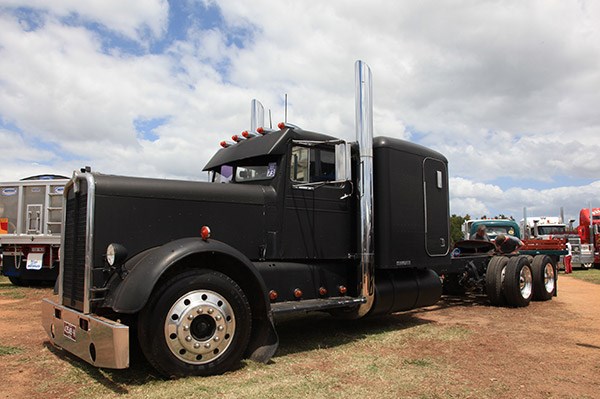 Mick Stoneham's 1955 Kenworth Rat Rod stood out from the crowd.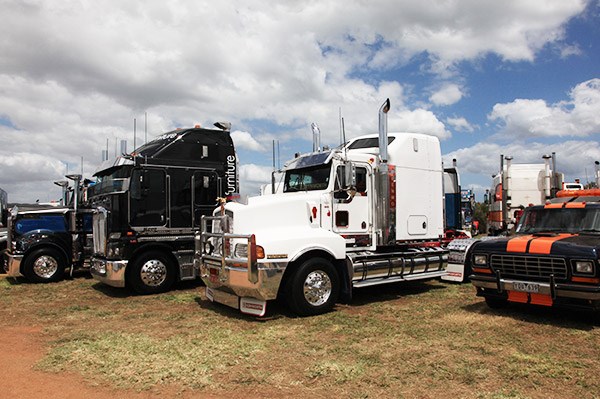 PJA Haulage's white Kenworth T601 not only picked up the Best Prime Mover 17 to 25 years award, it also was voted Rig Of The Show.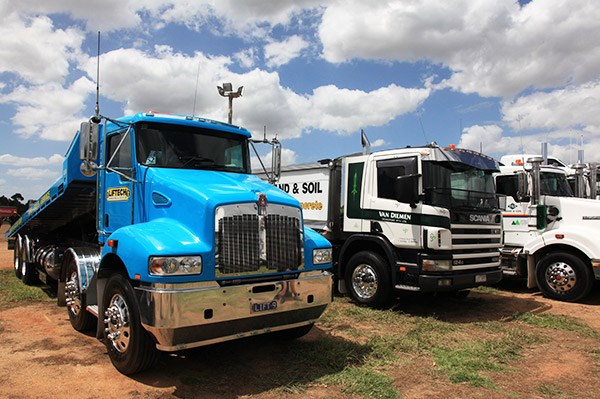 Liftech's Kenworth T359, left, picked up the trophy for Best Tilt Tray Bogie Drive.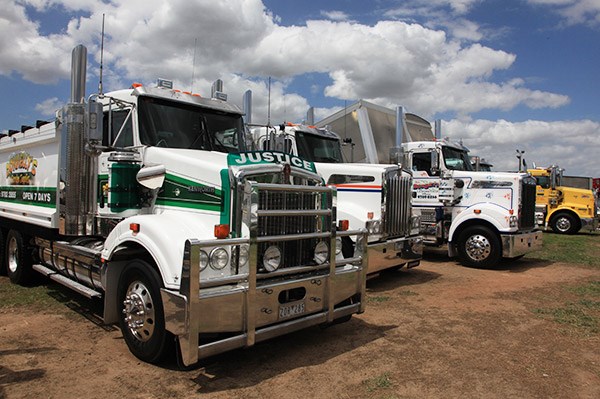 Donnelly's Garden Supplies' T650 was runner-up in the Best Tipper 1 to 3 years category.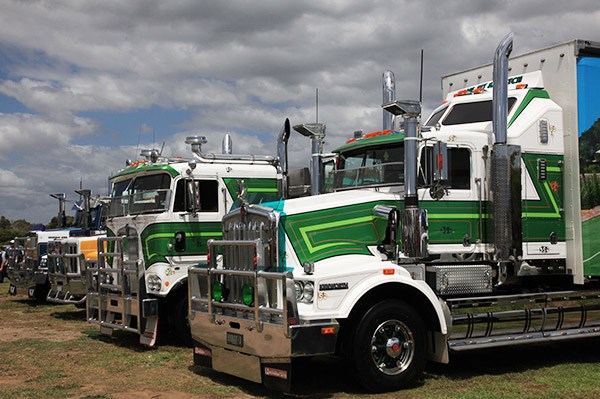 Budget Tennis Courts' Kenworth T650 took out the Best Rigid 9 years and over award.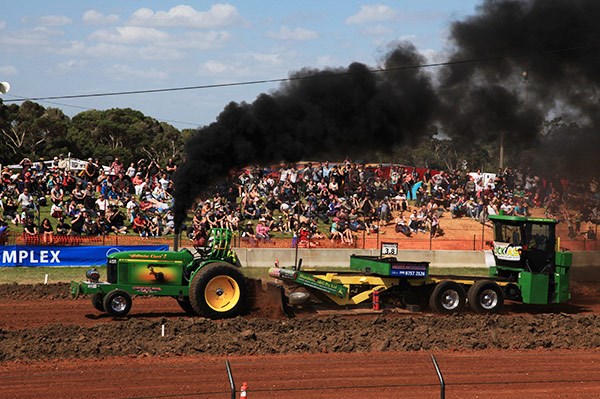 The tractor pull event brought spectators in from the big smoke.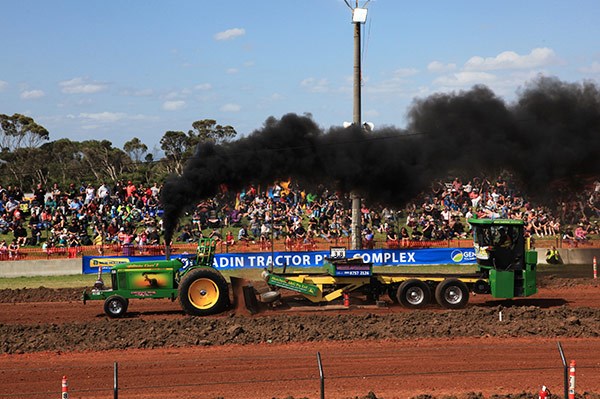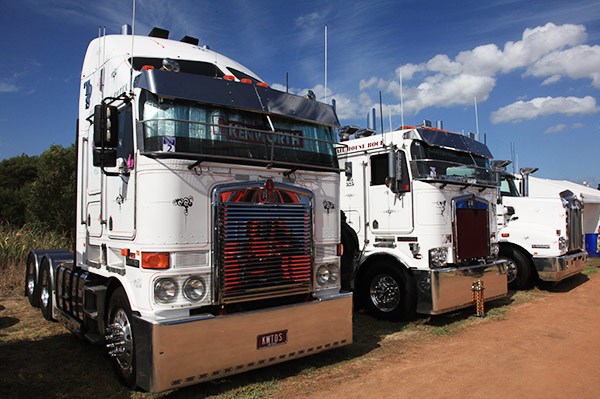 TDS Haulage was voted Best Fleet (3 trucks or more).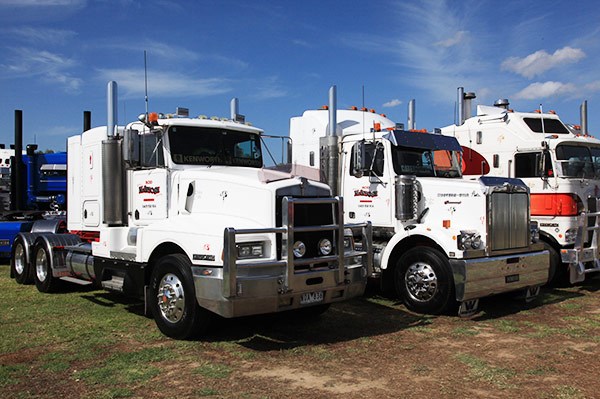 Two of Rod McIntosh's trucks — the Kenworth T600 was runner-up in the Best Prime Mover 17 to 25 years section.

The first big event of the year for on-road trucks had action, excitement and, of course, the shiniest rigs around Melbourne's south-east. Peter and Di Schlenk report.
With a relatively new committee on board, the 2015 Tooradin Tractor Pull and Truck Show, held on January 17, was yet another successfully run event.
Despite the changing weather conditions, truck owners and drivers were not discouraged. Some keen participants spent the previous night on-site, shrugging off the 1am downpour.
The majority of the trucks rolled up on the Saturday morning for an entertaining day which included live music.
All up more than 5,000 people attended to see 86 trucks entered in various categories and 24 exhibitor vehicles.
In addition there were cars on display, plus numerous food stalls and trade displays. A sideshow alley, face painting, dodgem cars and a jumping castle kept the kids entertained.
Early in the afternoon 20 vintage tractors put on a display that was followed by serious tractor pulling. Nine junior mowers and 45 modified tractors put on an awesome display.
The day was full-on with burnouts and tractor pulls keeping the crowds occupied in the afternoon and into the evening.
We spoke to a number of truck show participants, who brought along a mix of classic and brand new trucks and prime movers, and everything in between.
New gear
Daniel Miles, Matthew Tatt and Rob Hogan brought along some fairly new Victorian Freight Specialists gear, namely two Kenworth K200s and a T359, the latter picking up the award for Best Rigid Under 3 Years.
"They are updating the fleet a bit, so we thought we would bring them and show them off," Rob says.
"It has our new logo and signwriting; we have to keep up with the times."
The boys do a mix of local and country work with the trucks being double shifted.
Dan and Rob share a K200 with Dan doing local B-double work through the day and Rob on country runs each night.
"We are both clean freaks so it's pretty easy to share," Matthew adds.
"The three of us have known each other for 10 years and we tend to get all the nice shiny ones."
Before the K200, the boys had T404s and a T350.
"They have always had Kenworths but these K200s are very good. They're so comfortable and it's a grouse company to work for," Dan says, "and this is a great day to show off the gear".
Road train-rated
DRT Logistics' Kenworth T909 was one of the few road train-rated prime movers on show at Tooradin. The T909's driver Darren Marcus does a regular Melbourne to Brisbane run, hooking up the road train at Swan Hill.
"It's a good run apart from the skippys," Darren says.
"There are a lot out there, and with not much rain, the only green grass is on the edge of the bitumen."
Darren opted out of being an owner-driver more than a year ago, before joining DRT.
"I saw the light, although I actually get less time off now," he says, "but there are a lot less worries.
"I live this side of Melbourne and it is the first time I've come here. Usually I would be working, but not today. I'll go out tomorrow."
Darren's wife Debbie was there in support. She says some may think being a truck driver's wife is not easy, but she loves it.
"I don't complain, I just put up with all the stuff that comes with it," Debbie says.
"I stick up for them when they need sticking up for."
Previously Debbie spent a lot of time on the road with Darren, but now she's content to help him with the washing and cleaning of the Kenworth.
Double act
Shane Wilkey didn't know which truck to turn to when we caught up with him. On one side was a T409 SAR, the other a 1985 Aerodyne.
Shane drives the T409 for Pete Atkins of Rutherglen, while the cab-over is his own piece of history.
"It's a classic Kenworth," Shane exclaims.
"It's a bit of a toy; it has a Detroit D-Deck Series 2 in it, 3.7s on six rod, and has a 13-speed box. It's a bit of a rocket.
"It's all original except for the motor which was originally a Cat," he explains.
"It's 81 tonne road train-rated and I brought it down for a bit of a look."
Shane bought the rig to work it and for the first three weeks he subbied for Atkins, before getting behind the wheel of the T409.
Pulling a B-double, Shane is regularly running up to Sydney and Brisbane in the SAR.
"I have been driving for five years and on interstate for only four weeks with this combination, and it's awesome," he says.
"I'm lucky that Pete has given me a go at my age with this late model truck.
I love it and think I'll be with Atkins for a fair while.
"It's good when you are being looked after and I don't get pushed."
Shane says the Tooradin show is a great day, and was a great chance to show off the trucks.
Clean machine
Michael Willemsen brought one of Howe Haulage's Western Stars to the show.
Michael has been behind the wheel of the Star for three years doing local work around Melbourne carting a bit of precast concrete and semi-tipper work.
"It's a beautiful truck; it has a Cat C15 under the bonnet so it does the job easily," Michael says.
"It has a reasonably long wheelbase and gives a good ride and is very comfortable."
As well as being able to do the job, Michael likes his trucks to be clean.
"I've got to have a clean truck. It is a reflection of you as an operator and this is a good day to show it off and catch up with mates and other drivers."
Michael's son Josh, who was also at Tooradin, helped him clean the Western Star.
While many would tire of running around Melbourne every day, Michael says he would rather do that so he can be home each night, getting a good sleep.
Rare International
Colin Hook's International CO9670 was one of the rarest trucks on display at Tooradin.
"It's a hobby; it's the only one in the country," Colin enthuses.
"The American Airforce had it here at Pine Gap and it has only done 165,000 miles [265,542km] and has a little 6V92 Detroit in it," he explains.
"It's a 1981 model and is just a toy that I love to bring to truck shows. Hopefully I will eventually refurbish it."
Alongside the Inter was a Western Star owned and driven by Herb, who was reluctant to divulge his surname.
"I happened to be in Dandenong and Colin said the Tooradin Truck Show was on so we had better go down. We quickly gave the Star a wash yesterday and here we are."
Herb, an owner-driver from Shepparton, has been on the road since he was 19 and still enjoys it.
The Star is a 2007 and can usually be found pulling a float wherever the work takes him.
"I like big bonneted old trucks and this has been repowered with a Signature. It is a great truck and a credit to its previous owner, Phil Hedley."
It was Herb's first time at Tooradin, and he was rapt with the turnout.
"I'll definitely be back next year," he smiles.
"I might bring a few, I have some dust collectors at home."
Logging on
Surprisingly, only one logging truck turned up, a Kenworth T909 owned by Adam Dalley from Buchan in Victoria and driven by Brad Weller.
"We had a bit of a crack at cleaning it last night," Brad says.
"It's three-months-old and we like to keep it looking all right anyway.
"The whole set-up is new so we thought we had better whip it in here.
Brad has been driving trucks for 10 years, including a two-year stint in Western Australia on road trains.
"It was really good and then I came back to logging," he says.
"I love the peace and quiet and I don't have to deal with much traffic."
Just down the road
Gary Abrehart from Abrehart Transport brought four of his maroon-coloured trucks to Tooradin.
"We're locals from Pakenham so we thought we would bring them down,"Gary says.
"My drivers keep them tidy all year and so it is good to take them out and show them off."
Three of the trucks carry offal out of the abattoir and the residual carts, live cows.
"We get them going in and coming in," Gary says.
"I've got a great bunch of drivers and with a small fleet you can easily keep on top of the maintenance.
"Everyone knows what they have to do and they all do their job."
Of the four trucks, the two Western Stars were bought brand new while the Kenworth T904 replaced a W model that sits back at Pakenham.
The T601, an ex-Cootes' prime mover was bought for B-double work, hauling livestock.
"They are all getting old but they are very well maintained," Gary says.
"They're a pleasure to drive, they all have big horsepower these days so it makes the job easy."
Abrehart Transport drivers Gary van der Tak, Allan Fricke and Michael Fricke also came to Tooradin for the day.
"It's close to home and the boys can all go out and have a good day," Gary says.
Old Rat Rod
Despite its faded appearance, an old faded Kenworth Rat Rod received its fair share of attention at Tooradin.
Owner Mick Stoneham says the 1955 Kenworth has a 235 Cummins and a 5x3 joey box.
"This is the first show that I've taken it to," says Mick, who adds the Kenworth has only been in Australia for a couple of years.
Mick says a friend of his in San Jose, California, United States spent a long time working for the same company, and the Rat Rod was their working truck that ended up being parked down the back yard.
"The boss was keeping it for his son to do up and as the years went by, my mate kept badgering him to get the truck," Mick says.
"His son later got a new Kenworth. On the boss' death bed, he said that my mate could have the truck because he would do something with it.
"He told the mate to take it and now I have it; it certainly turns more than a few heads."
Last minute help
The club's president Allyn Reeve was appreciative of the event's sponsors, both large and small, his committee members and all the juniors who helped out, making the day a huge success.
In particular he singled out Metro Quarry Group, incorporating TGS Sand & Soil, for delivering 120 metres of top dressing after Allyn phoned them the night before the show began. The track's preparation was completed four and a half hours' later.
For the record, PJA Haulage's Kenworth T601 was awarded the top prize of Rig of the Show, and TDS Haulage pipped Victorian Freight Specialists for the Best Fleet award.
Storr Transport's Kenworth T904 received the Steve Gregson Memorial Trophy. The award is named after the late Tooradin trucking identity Stephen Gregson who was killed in a truck accident in 2004.
Next year's Tooradin Tractor Pull & Truck Show will take place on January 16, 2016.
Keeping the dream alive
The Australian trucking industry is well known for getting behind worthy causes, but Ride With No Limits was of personal importance for Glenn Booth of Bayswater Truck Centre.
Glenn, along with John Tomlins from Tomlins Transport, were at Tooradin to promote Ride With No Limits, a sponsored cycle ride around Australia founded by Glenn Carter to raise money for Emma Booth, Glenn Booth's daughter.
Carter, a close family friend of the Booths, has previously competed in ironman triathlons and marathons.
A car-truck accident in April 2013 left Emma with serious spinal cord damage after she and a friend were travelling home from an equestrian event in Albury. Ride With No Limits will help realise her dream of taking part in the 2016 Paralympics.
"She is a dressage equestrian and had already competed in a couple of international competitions and done well, but this isn't a cheap venture with flights and horses," Glenn Booth says.
"Glenn [Carter] hopes to ride around Australia in 10 weeks. He will ride 14,270km — 70 days — leaving Wantirna in Melbourne on April 18 and riding in an anti-clockwise direction heading up the Princes Highway to Sydney, Brisbane, up to Townsville and across to Mount Isa and Darwin.
"I am taking the old Ford LTL across to Perth and will be part of the support crew on the run from Perth back to Adelaide and Melbourne," John adds.
Emma's father Glenn has been selling the Kenworth brand in Melbourne dealerships for 10 years. In an unfortunate twist, it was a Kenworth truck that was the main cause of the 2013 accident involving Emma when it crossed onto the wrong side of the road.
More information on Ride With No Limits can be found on the website www.ridewithnolimits.com.
Tooradin Truck Show winners
Best Prime Mover Under 1 year: G & D Inverno, Kenworth T409 SAR
Best Prime Mover 1 to 3 years: NP Snow Cartage, Kenworth K200
Best Prime Mover 4 to 6 years: G & D Inverno, Kenworth T408 SAR
Best Prime Mover 7 to 10 years: Megatip, Mack Superliner
Best Prime Mover 11 to 16 years: Palamara Village Fruits, Kenworth T401
Best Prime Mover 17 to 25 years: PJA Haulage, Kenworth T601
Best Rigid Under 3 years: Victorian Freight Specialists, Kenworth T359
Best Rigid 9 years and over: Budget Tennis Courts, Kenworth T650
Best Tipper Under 1 year: P & A Burdett, Kenworth T909
Best Tipper 1 to 3 years: Cranbourne Pre-Mix, Kenworth T909
Best Tipper 4 to 8 years: Camilleri Transport, Kenworth T658
Best Tipper 9 years and over: A & K Dorling, Western Star 4800
Best Tilt Tray Bogie Drive: Liftech, Kenworth T359
Best Light Tow Truck: Somerville Motor Body Works, Ford F350
Best Heavy Tow Truck: Eagle Towing, Kenworth T404 SAR
Best Truck 25 Years and over: Larsen's Truck Sales, Mack Super-Liner
Best Novelty Esky: Tomlins Transport
Best Exhibitor Stand: Larsen's Truck Sales
Steve Gregson Memorial Trophy: Storr Transport, Kenworth T909
Best Fleet 3 or more: TDS Haulage
Rig of the Show: PJA Haulage, Kenworth T601
Subscribe to our newsletter
Sign up to receive the Trade Trucks e-newsletter, digital magazine and other offers we choose to share with you straight to your inbox
You can also follow our updates by liking us on Facebook. 

Trucks For Hire | Forklifts For Hire | Cranes For Hire | Generators For Hire | Transportable Buildings For Hire