2015 Sydney Classic & Antique Truck Show
---
Historic vehicles descended on Penrith's Museum of Fire on May 31 for the annual Sydney Classic & Antique Truck Show
Penrith's Museum of Fire hosted the fifth annual Sydney Classic and Antique Truck Show on May 31 and, despite threatening skies, an impressive array of yesteryear's commercial vehicles were on display.
Naturally, with the Museum of Fire's grounds being the venue for the event, there was no shortage of fire engines.
An impressive action display with uniform clad firemen putting a 1929 Dennis 250 through its paces impressed the crowd, especially the kids. Stephen Baistow, an officer in the fire brigade based in Wagga Wagga explained the heritage of the immaculately presented fire engine, which was built in Guildford, England.
"It's a predecessor for many trucks that Dennis has made over the years," Stephen says.
"Right up to today, they still make fire engines in England and buses as well, and utility vehicles."
Indeed, those attending the recent Brisbane Truck Show would have seen the latest Dennis Eagle refuse vehicles on display.
With the Dennis 250's working days long gone, Stephen says it is now in private care and belongs to the Historic Fire Engine Association.
Fixing things
Fast forward a number of years to a 1942 AEC Matador 0853, which the Sydney Tramway Museum brought to the Sydney Classic and Antique Truck Show.
David Critchley, the event coordinator from the Tramway Museum says seven Matadors were brought to Australia to be used as recovery trucks for the tramway and bus system.
"This was the first of them, and it's the only one surviving now," David says.
Initially, however, the Matadors saw extensive service during World War II as artillery tractors in the British army.
After the war they became surplus to requirements and began their second lives in Australia.
The government Department of Transport shipped the Matadors over in the 1950s for refurbishment before putting them into service.
"This one was mainly used at Brookvale Depot until 1978," David adds.
A 1950 Bedford, also from the Tramway Museum, sat alongside the Matador at Penrith. David explains the Bedford was used to maintain the overhead lines on the tramway system.
"There's a platform up the top that can be raised and lowered and it can also twist about 90 degrees," he says.
"If there was any problems with the overhead and the trams couldn't pass it, or it got too weak, out she'd go."
David says back in those days there was some rivalry between the tram drivers and the repair truck drivers.
"They'd be repairing the overhead and the tram would come up and they'd have to move the thing out of the way; apparently there was a bit of swearing involved."
The Tramway Museum is at Loftus in Sydney's Sutherland Shire, just outside the Royal National Park.
"We try to get to all the events," David says.
"We can't bring the trams out unfortunately, but these auxiliary vehicles are just as important."
Show regular
Despite its short history, David Curry is already a regular at the Sydney Classic and Antique Truck Show, this time rolling up in a 1964 Diamond T.
At least year's event he exhibited a 700 Series Dodge and a dual cab International.
David bought the Diamond T around nine weeks before the show. More importantly, he had it registered one day prior to this year's Haulin' The Hume on April 11.
"It's just a hobby I've always had," says David, who adds that the Diamond T is his fifth truck.
"I bought it from a guy at Austral, took it home and we've done a bit of work on it. What you see is what you get.
"It's got a 692 GM in it, 15-speed overdrive, 3.40 diff ratio, and all I know is that it was built in Melbourne by a guy called Terry Lowe.
"It had been in a paddock for 10 years when I got it. It was a mess."
David says, apart from painting the cab, he hasn't had the time to do a lot of work on the Diamond T.
"I haven't painted the bonnet or the sleeper or the chassis," he says. "But it's a lot of fun."
Preservation society
Other vehicles on show included Internationals, Ford Louisvilles, Volvos, Macks, Whites, a Rolls-Royce powered Foden and a 1928 Ford Model AA Truck.
There was also a 1979 Hino and any number of Kenworth K100s.
Museum of Fire committeemen Mark White and Ken Murphy were thrilled at the turnout, considering the grey skies.
"It's a brilliant show in showcasing all these old vehicles, and it ties in very well in what we're trying to do in regards to preservation here within the museum," Ken says.
"There are some really great vehicles here, the older ones, and some that have been restored to their former glory, and some that look like they're on their way to their former glory."
"It's also about getting young people into collecting as well, so we want the youth to take an interest," Mark adds.
"It's taken a few years but we continue to invest in it.
"Entertainment, free rides … it doesn't get much better. We're very happy."
Family recognition
It was a toss-up who was having the most fun at this year's Sydney Classic and Antique Truck Show — Rob Woolley or his three sons Tom, 11, Nicholas, 10, and Matthew, 8.
"They're actually spending most of the day on the dodgem cars," Rob says.
"I think they're running more ks up than I've done all year."
As well as his three boys, Rob brought along his pride and joy, a 1981 Kenworth K123. Despite his long association with the Volvo brand, Rob's enthusiasm for the cab-over Kenworth is obvious.
"I've had this truck close to two years," he says.
"I've spent 12 months on it, given her a freshen up, did mostly mechanicals and the chassis, detailed the cab but I left the cab paint for originality reasons and the patina of it.
"It's got the peppered stone chip look across the front of it, and I don't mind that old work enclosed look."
Rob's Kenworth has an 892 Detroit GM, with a 15-speed Roadranger overdrive 'box and Rockwell SP40 diffs. A couple of nice touches are the Keith bullbar and Ford Falcon hub cabs.
To give Tom, Nicholas and Matthew a stake in the K123, Rob has added the fictitious name of 'TNM Interstate Express' to the truck.
"I have a daughter who is five years of age, and I thought we needed to incorporate her as well, so I called it 'Miss Rhianna'."
The boys receive further recognition with the 'company' name 'Tomnickmatt P/L Mannum S A'.
Rob explains the significance of the South Australian town to the truck's yesteryear theme.
"In that road tax era trucks were registered in South Australia, and Mannum seemed to be a predominant place," he says.
"There must have been some accountants over there who were cooperative.
I can remember as a boy every second truck seemed to have Mannum on the side of it."
Rob also bolted a SA number plate on the truck for show purposes. It's the same plate his father had on a 1979 Fruehauf Trailer.
"I've kept that numberplate just for sentimentality," he says.
The K123 is also a working truck, running on full registration for his generational company SC Woolley Haulage Contractors, which his grandfather established in 1950. It was later handed down to his father before Rob took the reins.
"SC Woolley is my grandfather," Rob says.
"He had 22 years on the coal in Lithgow and the western areas of the state, and then 29 years on Orchy orange juice.
"That led us into bulk food grade tankers, and I now operate two FH Volvos on stainless steel food grade tanker work."
Rob is a member of the Western Sydney Historical Truck Club, which had strong representation at the show. It also has a close association with Haulin' The Hume, an event Rob's K123 participated in on April 11.
"It was a terrific weekend," Rob says.
Tourist attraction
John 'Dutchy' Oldenmenger's 1971 Volvo G88 has had many lives since he originally bought it back in the early 1980s. From being a long-time working truck, the old Volvo is now for show only, as it was at this year's Sydney Classic and Antique Truck Show.
Dutchy's first association with the G88 came a few years after he arrived in Australia from the Netherlands in 1980.
"I started working for a bloke who had a contract with Sims Metal in Sydney, and he put me on weekends in an old Fiat.
"We had an old driver who left and I ended up full-time on the Volvo."
Dutchy's runs would take him around Sydney, up to Newcastle and down to Port Kembla.
"I managed to do that three times a day, right across the city," he laughs.
"Even today they can't do that, that's why they called me the 'Flying Dutchman'."
Dutchy bought the Volvo in 1984, painting it blue and yellow with a white bullbar and roof. In 1992, he sold it to a mate, Les Kelton, who coincidentally was also at the show. Les worked it for a few years, running general freight.
"It had an engine problem and sort of got parked up and was going to be fixed, but it never happened."
Dutchy then had a tipping business, and although no longer working with Sims Metal, he was still hauling scrap metal, demolition and excavation materials, as well as waste haulage.
He sold the business, but another opportunity came up to work as a contractor.
"So I looked the old Volvo up again, and did an agreement to buy it back as a wreck."
Dutchy says it took 18 months of hard labour and frustration to get his old truck on the road again.
"Towards the end of the final restoration it became a tourist attraction in the whole neighbourhood," he smiles.
"Every Sunday, mums, dads and kids on pushbikes came to have a look at it."
The Volvo was registered in April 2003, much to the surprise of the transport department inspectors.
"I worked it exactly five years, and by that time I picked up a contract driving interstate and country work," he continues.
"It became a bit hard climbing the hills, so I thought I've got to get something better."
Dutchy had grown tired of sleeping behind the seat of a truck with no heater, so he opted for a Freightliner FLB.
"I kept the Volvo going for another three months, and that's when I put it on restricted rego," he says.
"My wife said 'are you going to sell it?' 'Nah, it's done enough work, I don't want to sell it. It's part of the family now'.
"So I kept it and don't regret a day of it."
Dutchy has added an Ace trailer to the Volvo G88 from the same era, and although the truck ran in Haulin' The Hume earlier this year, it won't be accompanying the trailer to Alice Springs for the Road Transport Hall of Fame Reunion in August.
"I'm going to tow this trailer and camp out in the back of it," Dutchy says.
"That's the plan."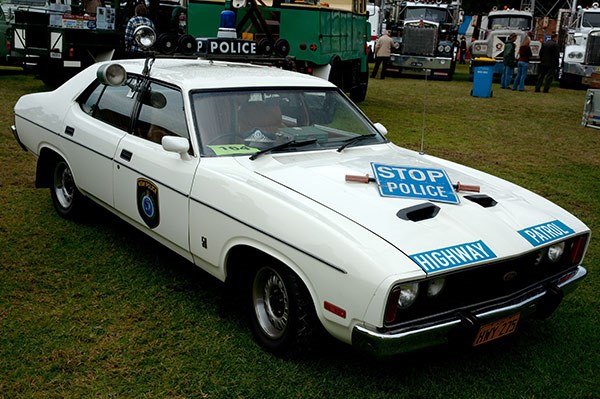 This exhibit may have brought back unpleasant memories for some. Photo by Brent Harrison.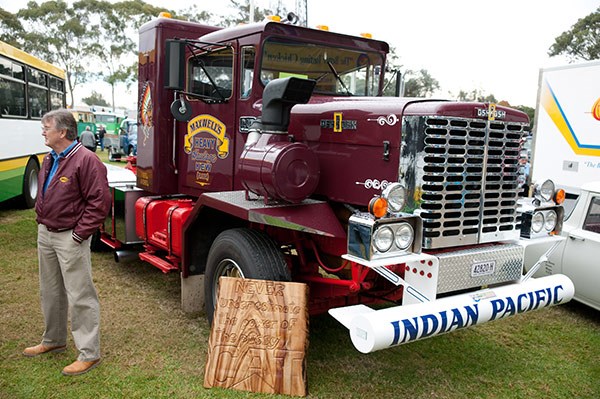 Kirby Maxwell's Oshkosh came down from Wauchope. Photo by Brent Harrison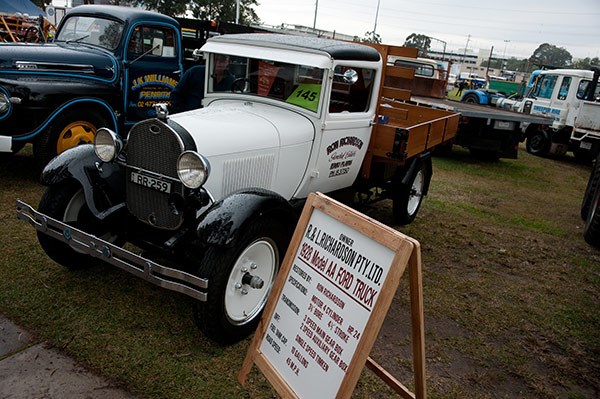 One of the oldest exhibits, a 1928 Model AA Ford. Photo by Brent Harrison.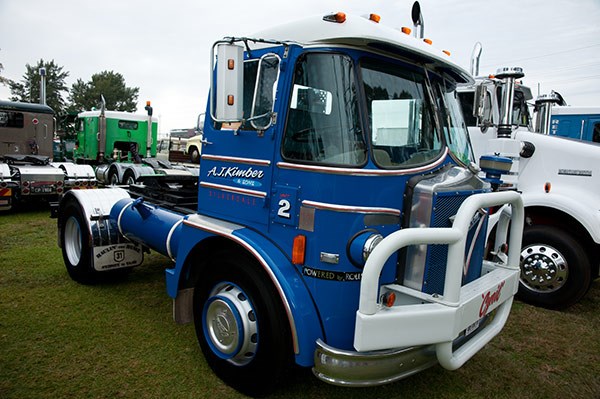 This Foden boasted Rolls-Royce power. Photo by Brent Harrison.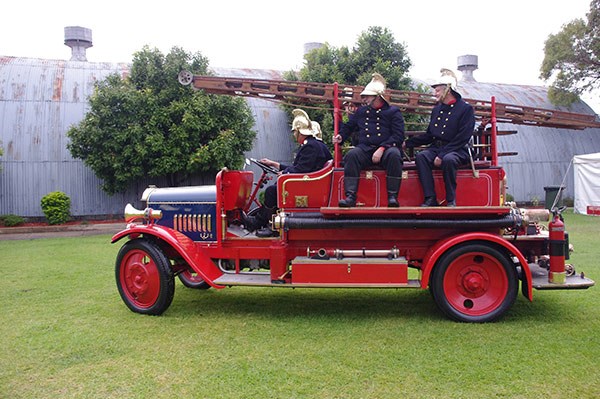 The 1929 Dennis 250 was put through its paces.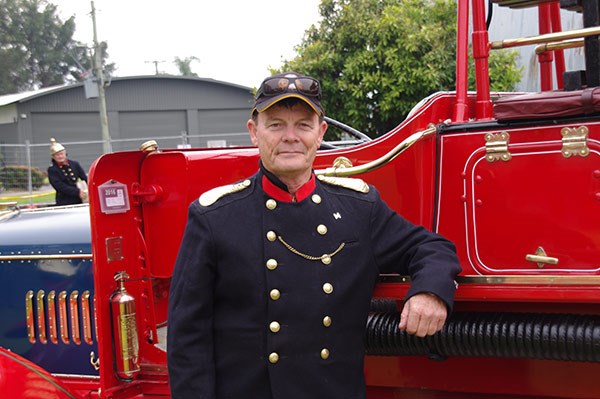 Fire officer Stephen Baistowfrom Wagga Wagga.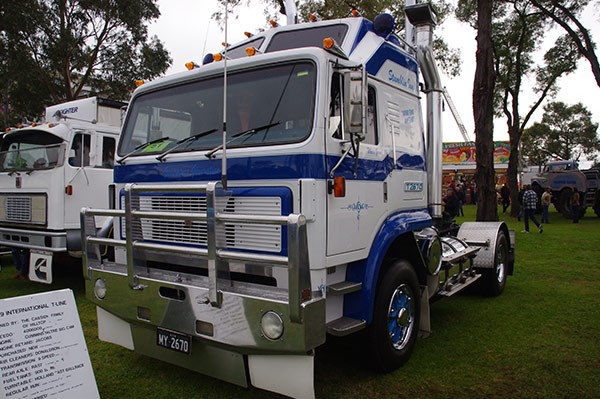 The Cassidy family's 1979 International T-Line.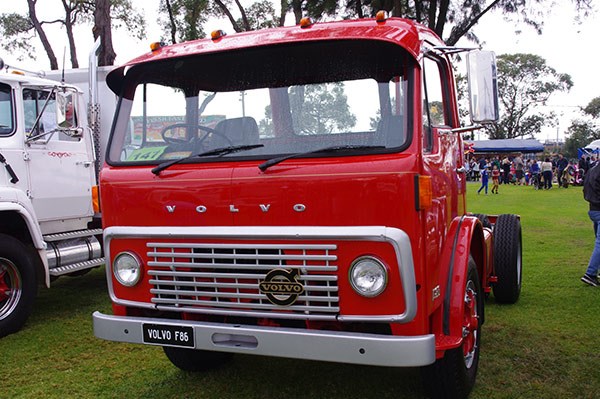 This 1986 Volvo F86 4x2 was in exceptional condition.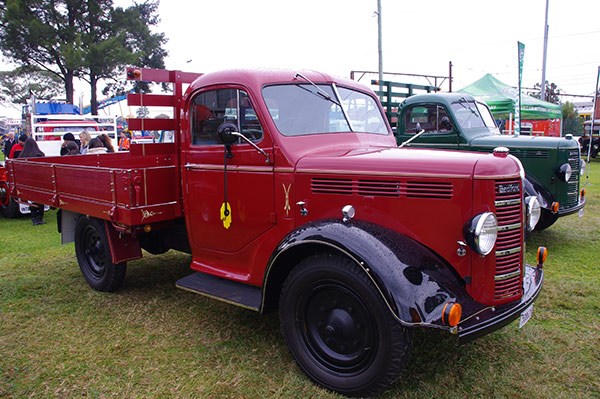 There was no shortage of old Bedfords on show.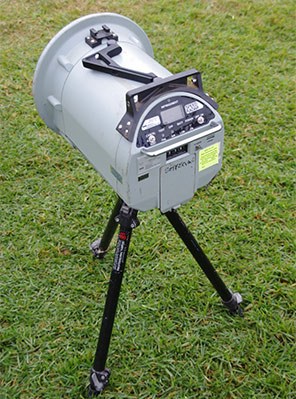 An early speed radar.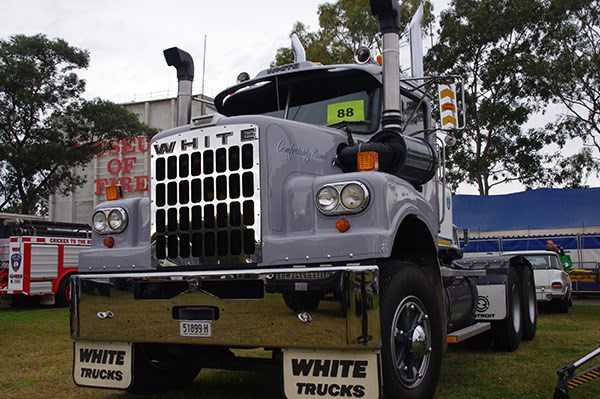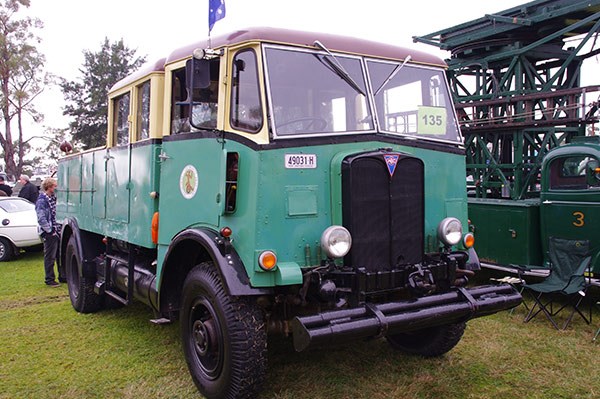 This 1942 AEC Matador 0853 was on the hunt for broken down buses.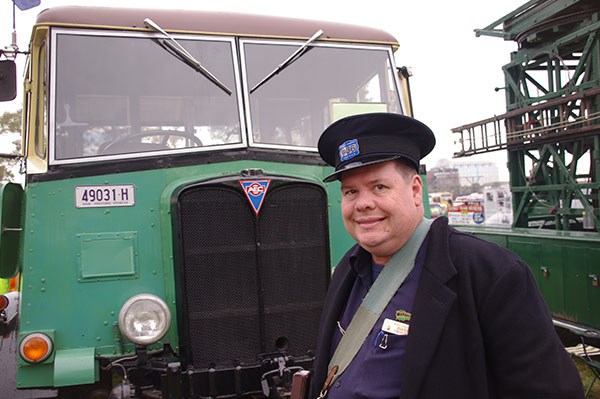 David Critchley from Sydney's Tramway Museum.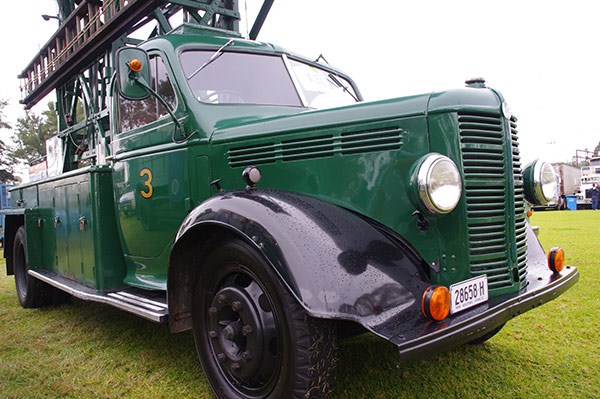 The Tramway Museum's 1950 Bedford.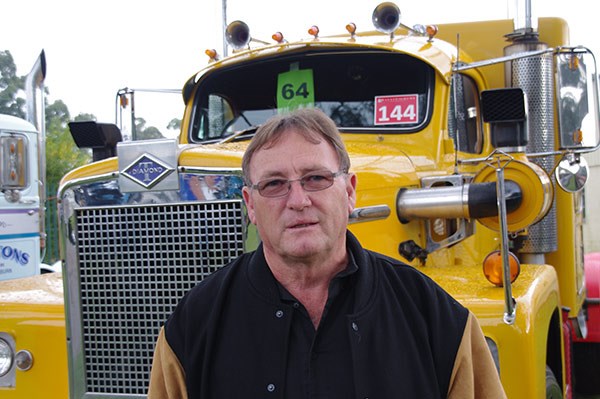 David Curry brought along his most recent purchase, a Diamond T.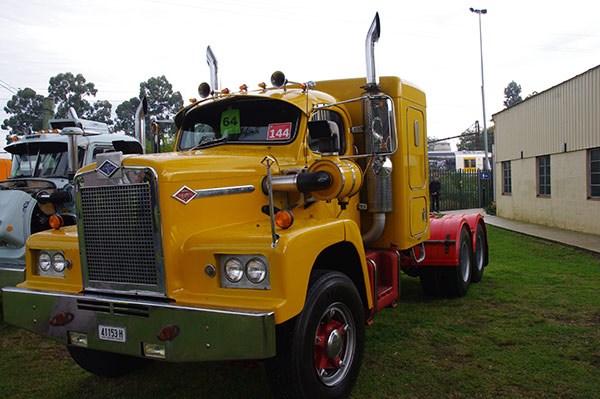 David Curry's 1964 Diamond T.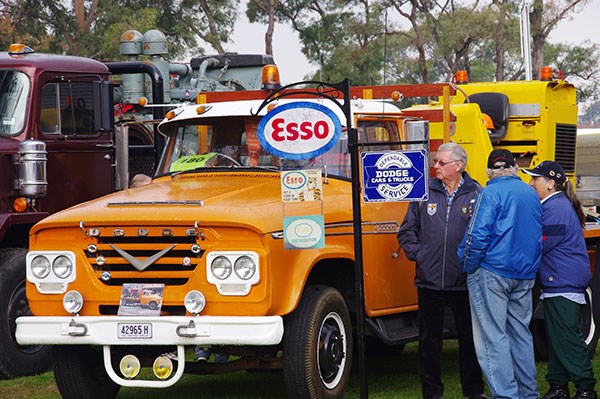 Like a scene from the 1960s.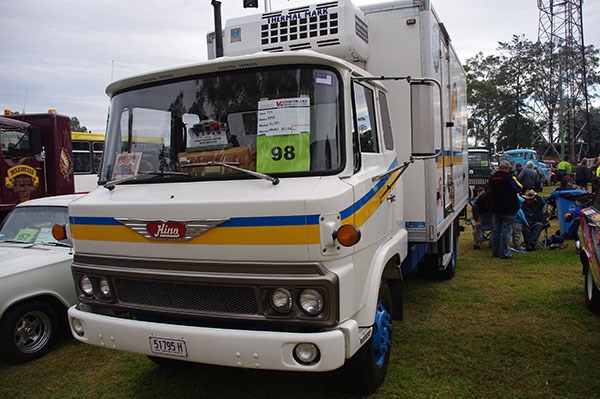 Maurice Velcich's 1979 Hino KL300.

Subscribe to our newsletter
Sign up to receive the Trade Trucks e-newsletter, digital magazine and other offers we choose to share with you straight to your inbox
You can also follow our updates by liking us on Facebook. 

Trucks For Hire | Forklifts For Hire | Cranes For Hire | Generators For Hire | Transportable Buildings For Hire