In Pictures: 2015 Riverina Truck Show and Kids Convoy
---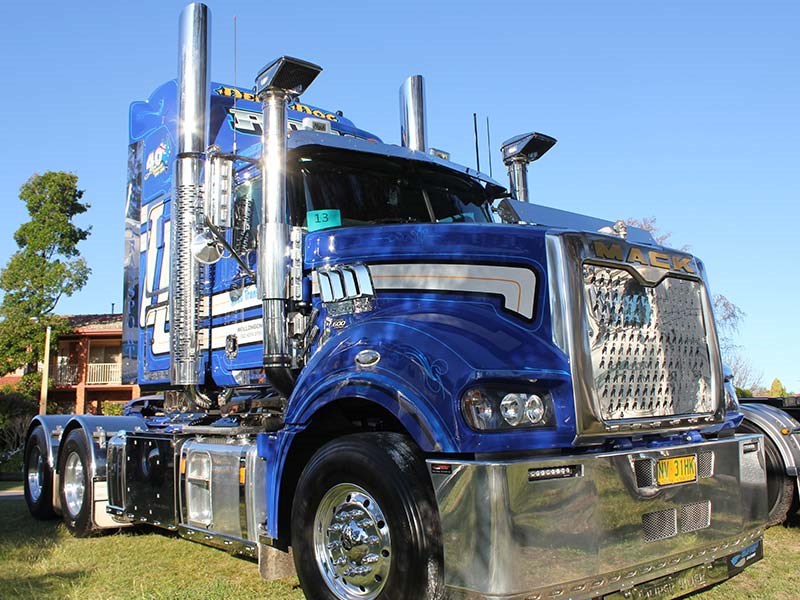 'Devil Dog': the multiple prize-winning Mack Super-Liner.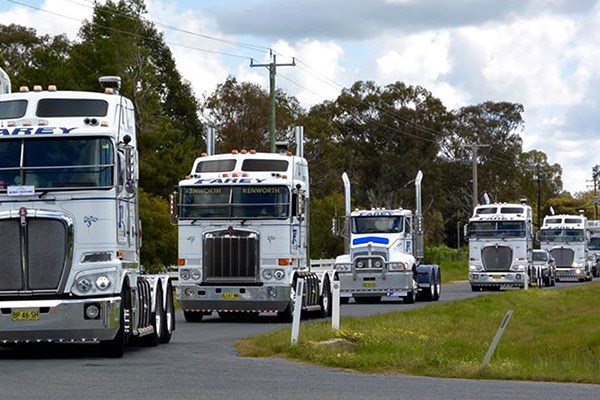 Farey's Transport was one of the sponsors and also picked up the Best Fleet award.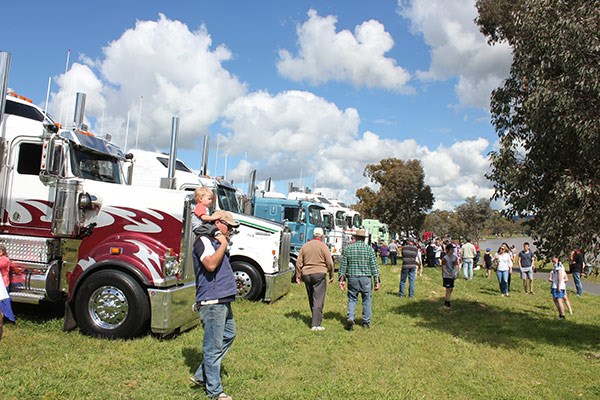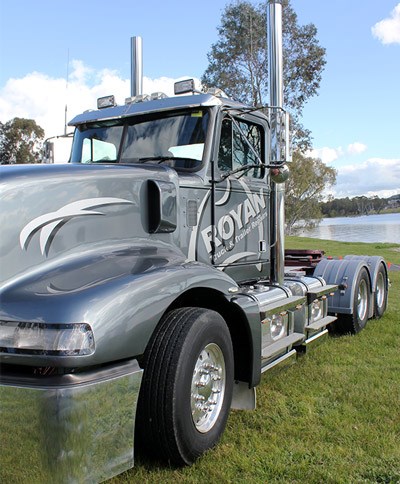 Royan's classy Freightliner.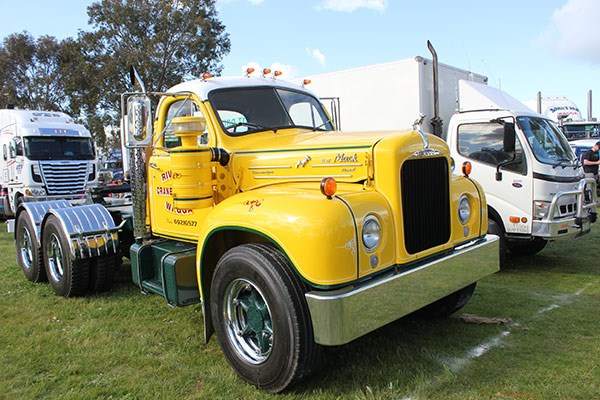 Riverina Crane Services' B-model Mack.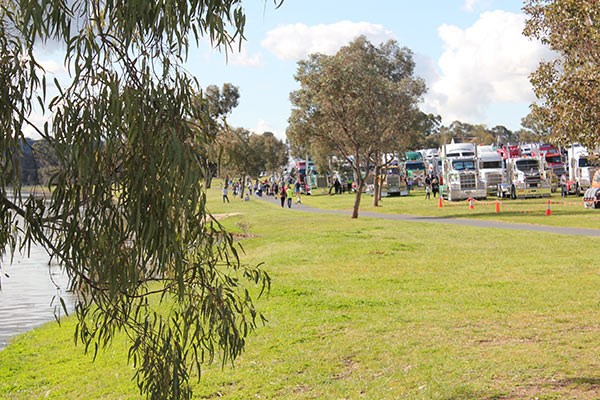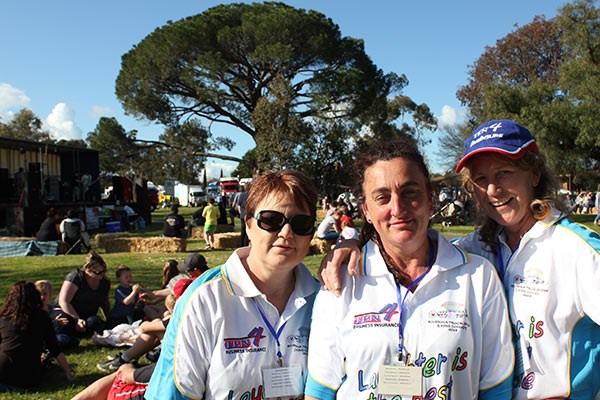 Valiant volunteers, from left, Lesley Walker, Leanne Deacon, and Susie Brown.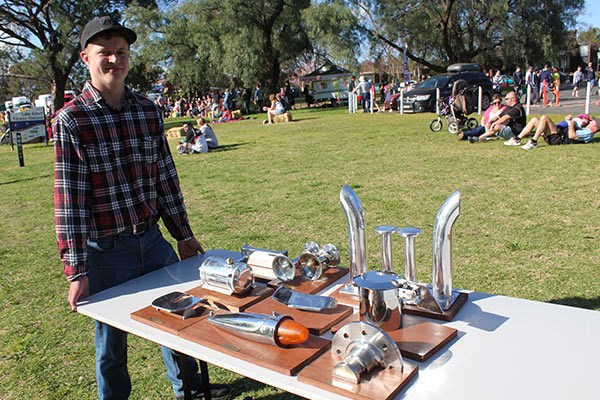 Volunteer Mathew Cook with the life like trophies.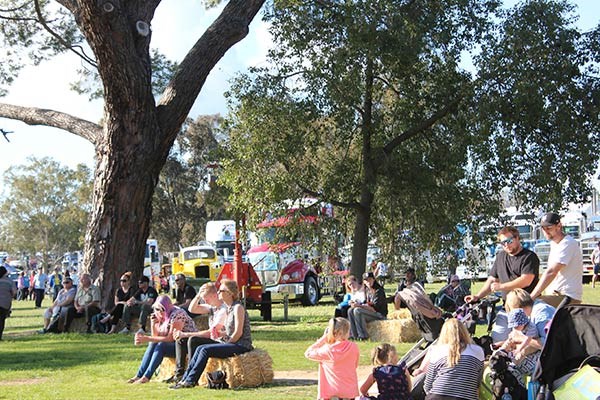 The crowd enjoying the music of country rock band Mighty Yak.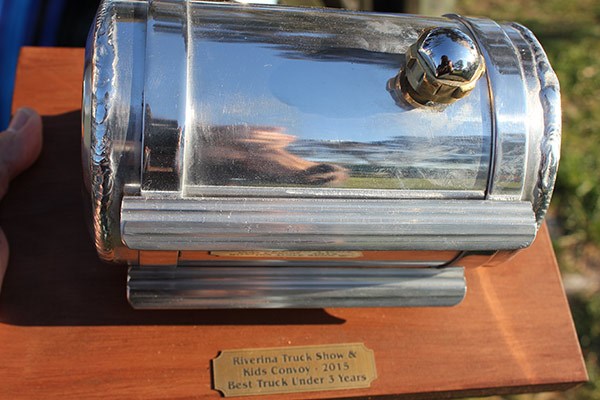 Miniature fuel tank trophy, made by sponsor Royan Truck & Trailer Repairs.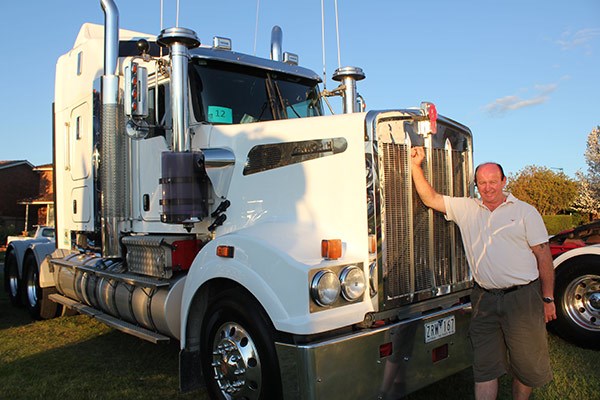 Peter Ovens with one of the many big bonneted Kenworths at the show.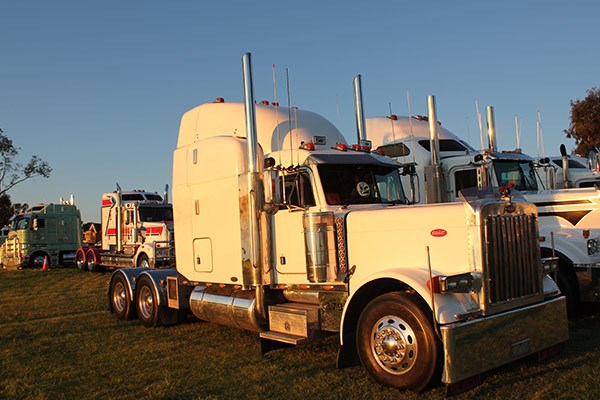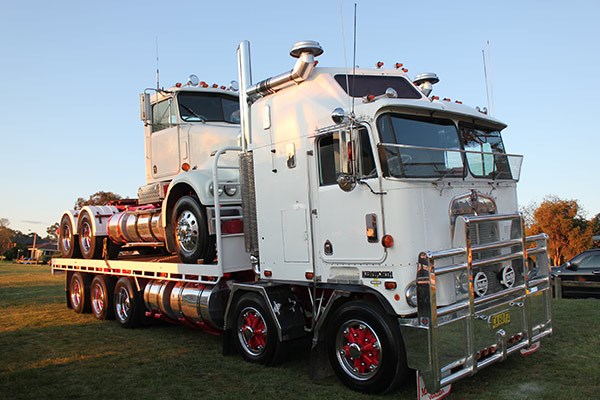 A piggybacked Kenworth.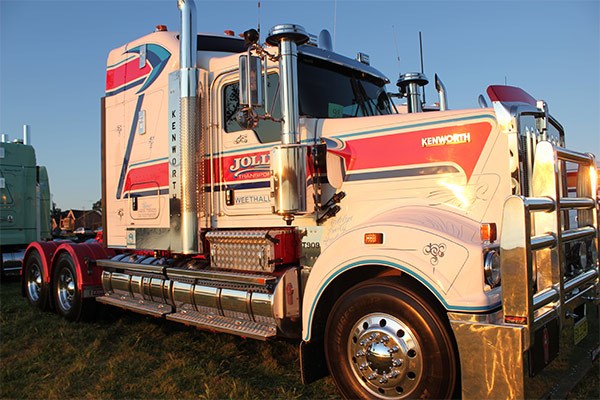 Jolly Transport's T909 won the Best Working Truck award.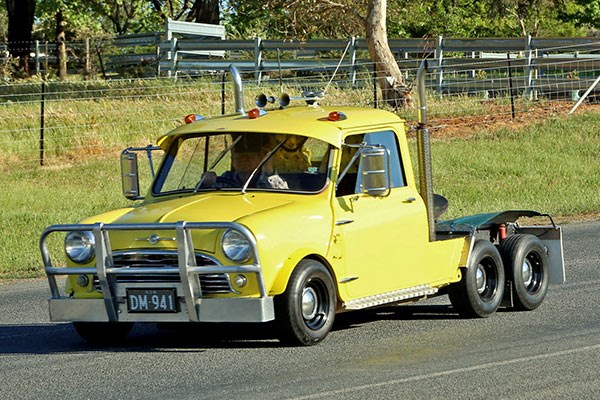 Not all the prime movers were of the big variety.

Gooden Transport came out on top in the Best Truck 10-20 Years category.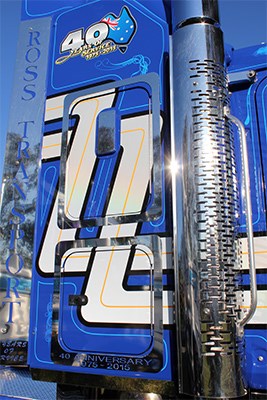 Four decades of Ross Transport.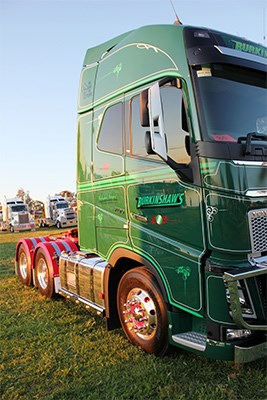 Burkinshaw's 700hp Volvo added a European presence.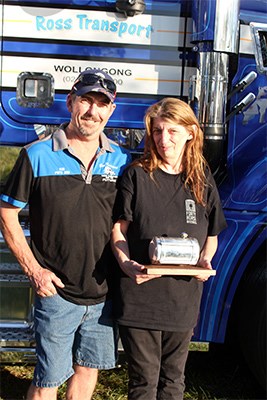 Charity truck show veterans Ron and Julie Duncan.

Ross Transport's unique Mack Super-Liner has been helping raise funds for charity at truck shows around Australia. Steve Skinner catches up with driver Ron Duncan at this year's Riverina Truck Show and Kids Convoy
Everyone in the Australian transport industry has heard of Wagga Wagga, a major trucking hub in south-western New South Wales.
The city of about 60,000 people is on the Murrumbidgee River on a crossroads between Sydney, Melbourne and Adelaide — just off the Hume Freeway, and on the intersection of the Sturt Highway and Olympic Way.
So it's no surprise that about 200 trucks turned up for the recent second running of the Riverina Truck Show and Kids Convoy on the shores of Lake Albert just out of town.
'Best Truck Under 3 Years' went to Ross Transport's Mack Super-Liner, and that's no surprise either. It's the fourth gong the big Bulldog has received at truck shows this year.
Proud driver and caretaker is Ron Duncan, from Ross Transport at Wollongong in the Illawarra region of NSW.
Ron and his wife Julie are what you might call 'professional' attendees at truck shows anywhere in eastern Australia which raise funds for charity.
Of course that involves volunteering a lot of their time, Ron working the shows in with his trips as a long distance driver pulling general freight tautliners, and Julie being a volunteer with Trans-Help Foundation and convoy committees.
They couldn't do it without the strong backing of Ron's employer Alan Ross, who himself has been a major supporter in terms of both trucks and dollars for the annual i98FM Camp Quality Convoy in the Illawarra.
"A lot of our trucks go to different shows and all he asks is: 'Let me know what's going on, where the trucks are going to be'," Ron says.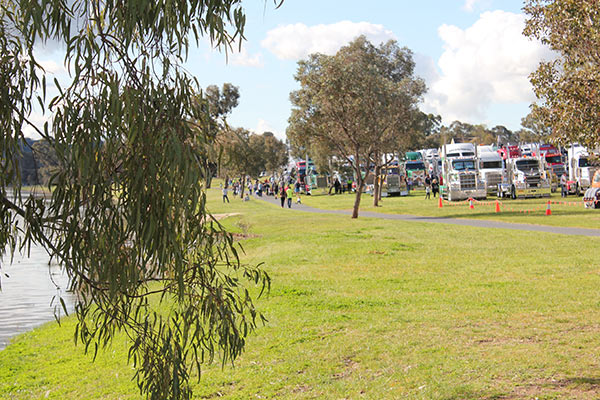 Four Decades
Ross Transport has almost 60 prime movers and its white trucks with blue striping are a familiar sight in NSW, traditionally associated mainly with the steel industry.
The company is celebrating its 40th birthday this year, with family matriarch Fran Ross still involved in her 80s.
"Fran is still in there every day, talks to all the drivers, knows all the longer term drivers by name," says Ron, who's been with the company for nine years and guesstimates that about 70 per cent of drivers have been there five years or more.
Alan Ross is Fran's son, and Ron says he is a hands-on owner and manager.
"Al is in the workshop or in the office every day," Ron says.
"You can ring Al at 11 o'clock at night if you need something and he'll talk to you.
"Like all companies, it's not the company for some people, but I'm really happy with the place."
To mark the 40 years, this Mack is painted in the original Ross Transport dark blue colours, which the company is reverting to for all new trucks.
Ron has a 40th anniversary of his own this year.
"I was driving trucks for my old man in Wollongong when I was 12 years old, which was 40 years ago now," he says proudly. We assume that was just around the yard or in a paddock, but we were too polite to ask.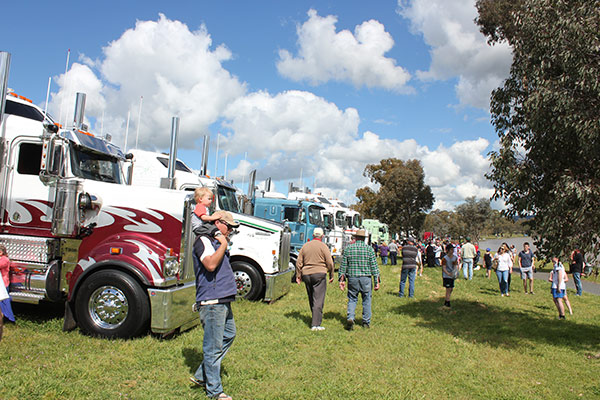 Custom Build
Apart from the dark blue paint job, the Super-Liner has another first for all new Ross trucks from now on — an Icepack bunk air-conditioner. There's a fridge of course, and a freezer in a toolbox which is accessible from the sleeper.
An aspect of the sleeper which is unique as far as Macks pulling 34-pallet B-doubles go, is that it's a 40-inch (102cm) High-rise. The standard Super-Liner size for B-double work is 36 inches (or 52 inches for 32 pallets).
"This was a custom prototype bunk that Mack had sitting up there, that they'd never used, and we wanted a slightly bigger high-rise bunk rather than the standard 36 inch [91cm], and they came up with this one," Ron says.
With the bigger bunk Ron's 34-pallet trailer combination can still fit inside the 26m B-double envelope; and he can fit in a queen-size single mattress. But he can't stand up inside the cab.
"They either need to lift the roof, or take out that hump in the middle in the joiner, or they could have shortened the bed because the bed comes so far out," Ron says.
We suspect his frequent travelling companion to charity truck shows as far afield as Townsville, Adelaide and Geelong — wife Julie — may not agree with the last option.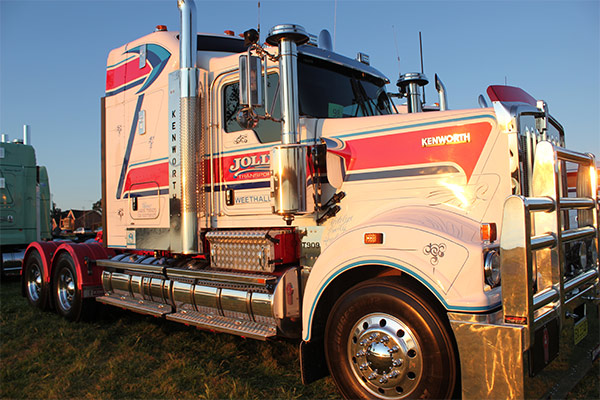 Under The Bonnet
This Super-Liner's 16-litre MP10 engine is rated at 600hp (447kW), which can be pushed up to 685hp (511kW) if desired. So needless to say it's got plenty of grunt.
The engine is matched to Mack's 12-speed automated manual transmission (AMT) called the mDrive.
So what does Ron think of the push-button gearbox?
"Love it," he says.
"I was a bit of a convert on them pretty quick actually. I was quite surprised.
"They actually take a fair bit of getting used to, because a 12-speed box against a standard 18-speed box … there's a big step in the gears that you're not prepared for and they'll pick up gears really fast.
"You can have a 65-tonne set of trailers behind you and it'll be doing 25ks an hour in seventh gear, and it's still building up. There's big torque and big walk in them."
Ron hopped into the Mack after four years clocking up 900,000km in a Western Star with an 18-speed Roadranger box and 600hp EGR Cummins power plant.
"I loved it," he says.
"To step out of that — I was umm-ing and ahh-ing — Al said he was going to get me another Star when the 40th anniversary came up.
"But he said Mack asked can we quote you, and Al said yeah, and they came up with a pretty good deal."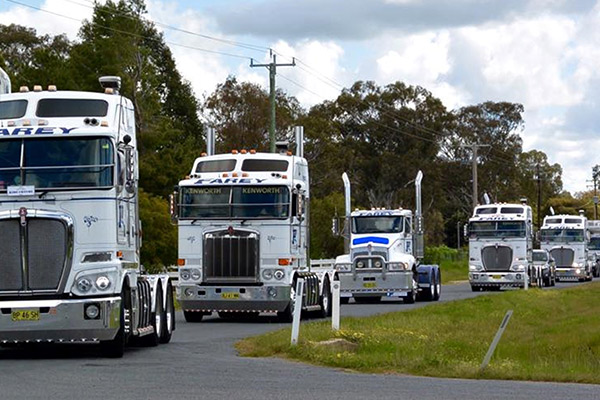 Driver Benefits
Ron reckons the Mack is "just a different truck in lots of ways".
"The European styling of them, in the ride, in the comfort, the noise levels within the cab — all our guys call it the Volvo, and I always say to them: 'It's not a Volvo, it's a bonneted Volvo, get it right'.
"That's coming to the fore in the quality of the trucks that we are driving on the roads these days.
"The K200s, they've come a long way from the Aerodynes in the style of driving them, and driver comfort levels and everything else."
While Ron loved driving the Western Star, he likes the Mack even better.
"The Stars, as much as they are a really, really nice truck to be driving, they are an extremely hot truck internally," he says.
"They've got an engine cowling for the three-quarter engine which is back inside the cab.
"We have 10 of them in our fleet — every one of them is the same in that you get a lot of heat coming through into the floor levels.
"But in the Mack, there's absolutely no internal heat in the cab."
As for the 2015 Truck Show, Ron reckons it came along in "leaps and bounds" compared with the successful debut at the Wagga Wagga Showgrounds last year.
"This is great," he says. "This has really picked up another notch. Great location; the lake; and everything else."
The 2015 Riverina Truck Show and Kids Convoy raised more than $31,000 for the Snowy Hydro SouthCare helicopter, Wagga Wagga Base Hospital Children's Ward, Camp Quality and Trans-Help Foundation.
There were plenty of interesting trucks and characters at the Riverina show.
We will catch up with a couple more in the new year.
Subscribe to our newsletter
Sign up to receive the Trade Trucks e-newsletter, digital magazine and other offers we choose to share with you straight to your inbox
You can also follow our updates by liking us on Facebook. 

Trucks For Hire | Forklifts For Hire | Cranes For Hire | Generators For Hire | Transportable Buildings For Hire