Truck tyre maintenance in the Australian outback
---
Outback Western Australia throws up some tough working conditions for truck tyres and wheels, but young road train veteran Todd Lupton has it covered. Steve Skinner reports
When it can reach almost 50C just standing in the shade, imagine how hot both dirt and bitumen roads can get in the Western Australian outback.
Combine that road heat with truck wheels moving at up to 100km/h, and you need pretty tough tyres. Not to mention rocks and mud, and the occasional cyclone.
Todd Lupton operates two road trains running from a mine nearly 400km inland from Port Hedland in the far north-west of the nation.
Two Western Stars (a 2000 model 4900FX and a 2013 4900FX) pull two triple side-tipper sets grossing 141 tonnes.
They each do two return trips in 24 hours. That's 1,500km a day, seven days a week. Another new Western Star operates further south (see below).
Lupton, Transport Manager with the family company Desert Enterprise Australia, reckons he's hit on a tyres policy which seems to work.
"We have a good run on the whole," he says.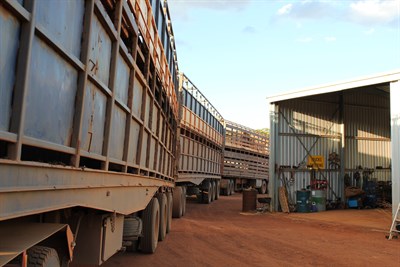 What Truck Tyre Pressure should you use?
He reckons one of the keys to success in summer is to inflate tyres about 20psi lower than the recommended cold inflation pressure.
Hence he runs steers at 102psi rather than 120, drives at 95psi rather than 110, and trailer tyres at 90psi rather than 110 cold.
From his experience that allows for the heating up in the west.
"I haven't had any problems whatsoever doing that," he says.
When spending most of his time on rough roads he goes as low down as 80psi on both drives and trailers "for extra cushioning".
Even at the relatively young age of 33, Lupton is a veteran of road train operations, having worked with his father Wayne in the outback since he was a teenager.
"Growing up on a cattle station, you had to fix everything yourself," Lupton points out.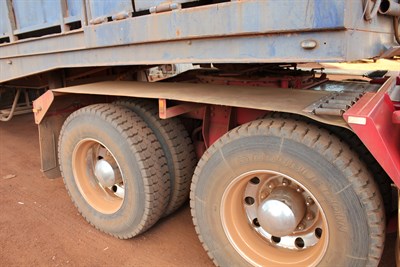 How often should you check tyre pressure?
Another essential part of Lupton's tyres policy would be in the truckies' textbook, if there was one: checking inflation pressures with a gauge every week.
He also keeps a close eye on how trailers are tracking, and aligns them as soon as a driver spots something amiss.
Lupton makes sure his drivers change wheels out on the road as soon as they spot a flat, because of the damage a flat overheated tyre can do to the rest of the truck, if it blows.
The spare needs to be of similar tread depth to the tyre on the remaining wheel, whether it's old or relatively new — otherwise one of them is going to wear "a damn sight quicker" than it should.
Another practice Lupton instils in his drivers is to stop when coming onto bitumen after a stint on dirt, to check the duals for any rocks which might be stuck between them. These rocks rubbing away at higher bitumen speeds could also cause a blowout.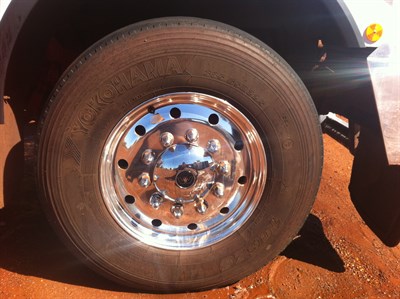 Super single steer tyres
The three Desert Enterprise Western Stars each run 385/65R22.5 super single steer tyres.
That means they are 385mm wide from sidewall to sidewall, compared with the standard 295mm.
One reason is these wider tyres enable more weight over the front axle, which is allowed 6.8 tonnes.
There is also more tread on the ground with the 385s, which is better in bad conditions.
"With the narrower 295 steer tyres over the front in the dirt and mud and clay, most people call them cheese-cutters; they slide over the road," Lupton says.
He adds the super singles provide more stability with several trailers.
"Everyone who's pulled three or four trailers would rather have that extra security at the front," he says.
"If you're pulling 140 tonnes you want to make sure you can steer where you want to go."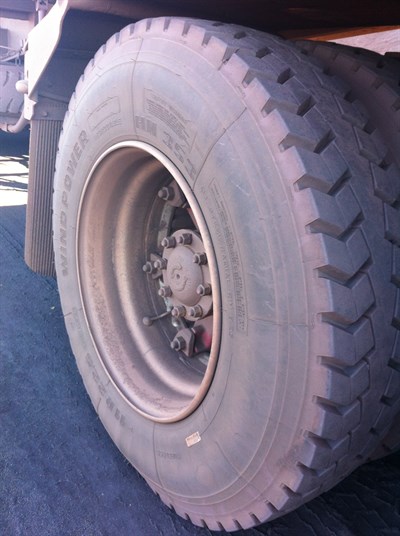 Are retread tyres safe in the outback?
Lupton is not a fan of truck tyre retreading in the outback, partly because of the higher running temperatures, which he believes could make them more likely to peel.
He's had truck tyre retreads which have blown.
"Some people swear by recaps [retreads], but I would rather run cleanskins," he says.
"For the price you can get tyres for at the moment, why would you stuff around with recaps?" he asks.
"If you can't afford an extra $100 a tyre, maybe you shouldn't be in the game."
Lupton points out not only can a blown tyre damage the truck, it could hit a car coming the other way.
Subscribe to our newsletter
Sign up to receive the Trade Trucks e-newsletter, digital magazine and other offers we choose to share with you straight to your inbox
You can also follow our updates by liking us on Facebook. 

Trucks For Hire | Forklifts For Hire | Cranes For Hire | Generators For Hire | Transportable Buildings For Hire