Shepparton Endurance: S Sali & Sons
---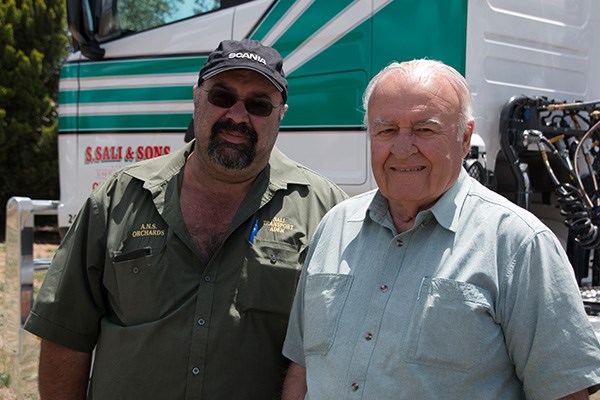 Adem and Sam continue the Sali family's 60-year-old trucking company.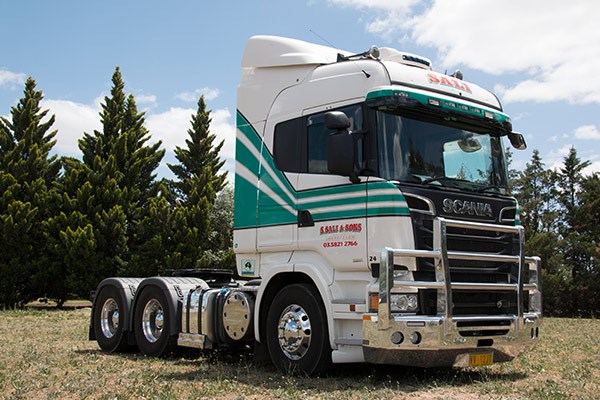 Drivers have given the Scania R620 the thumbs up.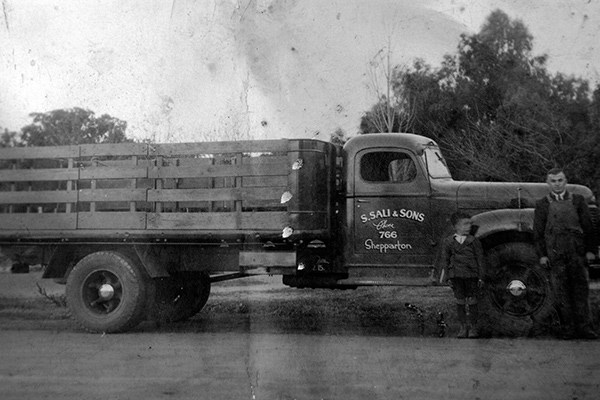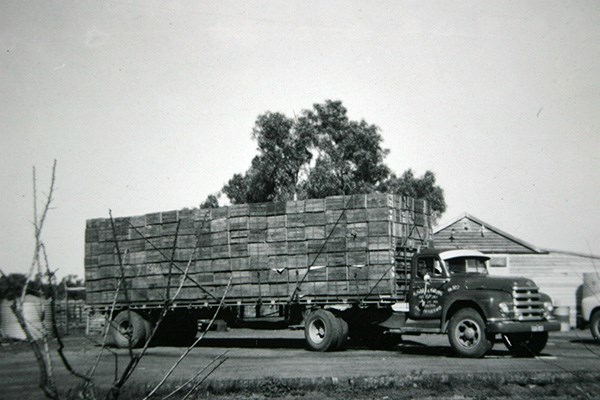 Sam Sali drove this Diamond T for 20 years.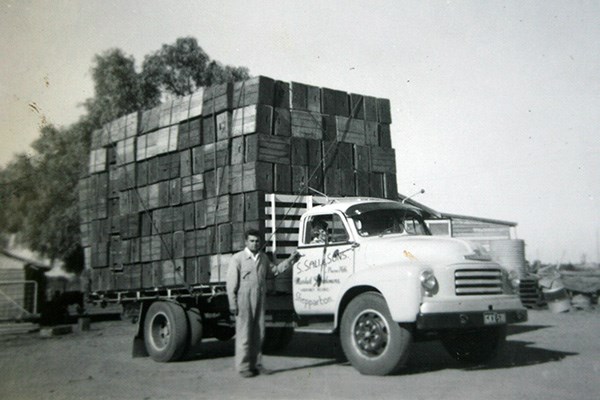 Sam Sali with the Bedford that launched S Sali & Sons 60 years ago.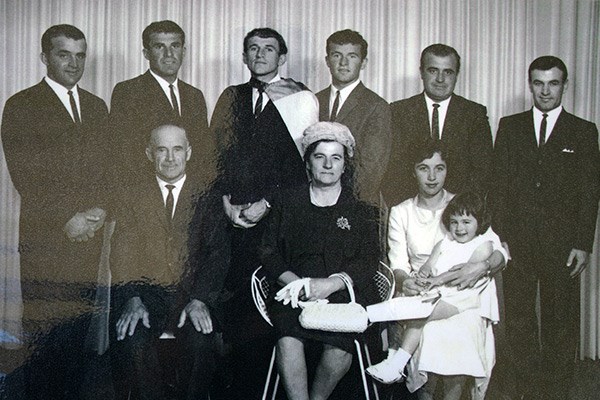 The Sali family in the mid-1960s. Back from left: Bill, Haset, Avni, Hismet, Sam and Alan. Front: Sabri, Hyri, Nina and baby Vivien.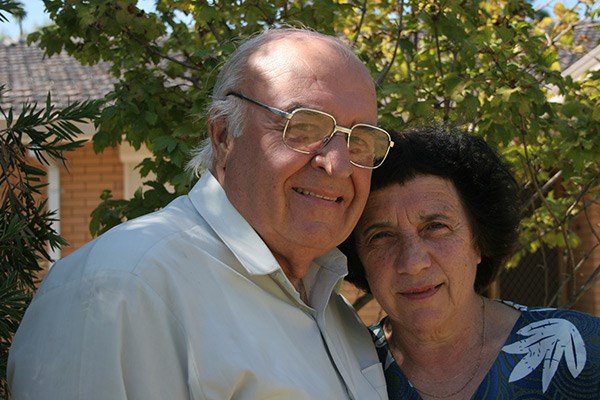 Sam and Nina Sali have been married for 53 years.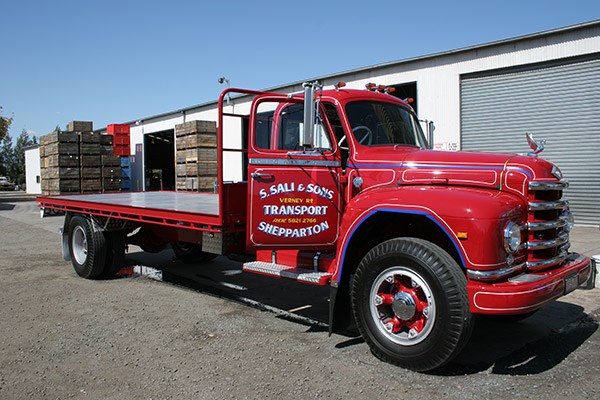 The restored Diamond T reminds Sam of the early years of the family business.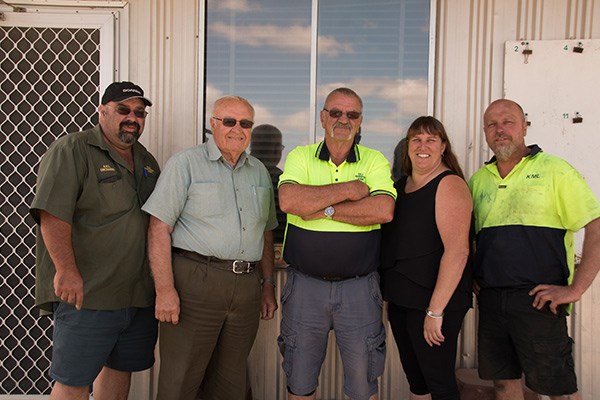 Adem Sali, Sam Sali, John Barrett, Leanne Chandler and Roger Weidenbach are a close-knit team.

S Sali & Sons celebrates its 60th anniversary this month. Sam Sali talks to Tamara Whitsed about the Shepparton company's rich history and bright future
Sam Sali is a qualified mechanic.
He spent almost 30 years driving his family's trucks before moving into the company's office in Shepparton, Victoria.
S Sali & Sons moves building material, food and general freight between Melbourne, Sydney, Brisbane and Adelaide. In peak periods Sam engages up to 25 subcontractors.
Boasting 10 trucks and 18 trailers, last year he purchased two new Scania R620s, while the business also has six Kenworths, an S-Line International and an Argosy — all painted in unique New England green livery.
Sam's years in the workshop and on the road have stood him in good stead.
"It's a big thing, having that practice, having that experience and having done the work," he says.
"It's a big plus in my opinion because it helps you understand both sides — not just sitting behind a desk."
His operations manager, John Barrett, also earned his stripes in the field, carting fuel and general freight for Salis.
"He can tell the guys exactly, just about, where to go and what to do because he's been there and done that," Sam adds.
John has worked for the Sali family for 41 years. It is a small team, but there are several long-term employees.
Leanne Chandler joined the staff in 1992 and has worked full time since 2001; Peter Jackson has been driving Sali trucks for 29 years; driver John Campbell has worked for the Salis on and off for 19 years; Paul Mahoney and Darryl Brew are also long-term drivers.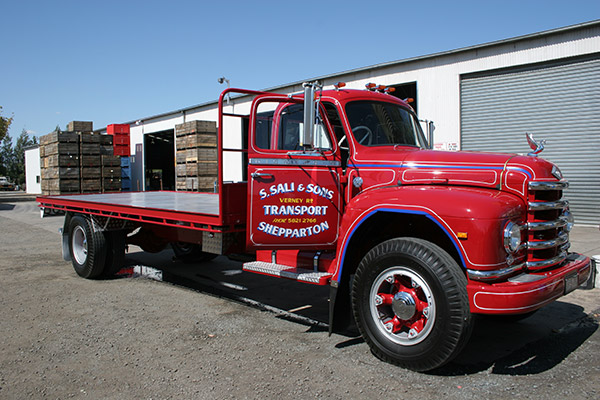 Family Pride
Sam's office is surrounded by his family's orchards.
From his desk he has a view across the truck yard to the house where he and his wife Nina raised Vivien, Noreen, Adem and Linda.
Born in Albania in 1937, Sam was only a few months old when he moved to Australia with his parents Sabri and Hyri and his brother Alan. His younger brothers — Avni, Haset, Hismet and Bill — were born in Australia
The family played a leading role in Australia's trucking industry, especially through their involvement with the National Transport Federation (NTF) and NatRoad.
Sam, Alan and Haset have all been inducted to the National Road Transport Hall of Fame at Alice Springs.
Alan passed away in 2002 and was inducted posthumously.
The 'S' in 'S Sali & Sons' stands for Sabri, but the patriarch spent most of his time managing the family's orchard, leaving Alan and Sam to establish the truck business.
Their enterprise began in January 1956 with the purchase of a Bedford six-ton tray truck.
Alan already had some trucking experience and drove the Bedford between Shepparton and the Melbourne market.
Sam cleaned and serviced the Bedford at night until he completed his mechanic apprenticeship in 1958, and then began driving the company's second truck, a Diamond T.
Sam's mechanical knowledge and Alan's public relations skills both contributed to the company's growth.
They began with local produce, but this was demanding and inconsistent, so in the 1960s they diversified into interstate freight.
BP was a major client from 1965 to about 1990, when Salis carted fuel into the Goulburn Valley.
Sam loved driving. His restored Diamond T reminds him of this enjoyable part of his career.
He was initially disappointed when Alan insisted it was time for him to step out of the truck and into the office.
But he understands why Alan wanted him to stop driving.
Building close relationships with customers, suppliers and staff is an important part of the Sali culture. This is easier to achieve from the office.
Alan was respected for his punctuality and customer service, and Sam is quick to acknowledge his role in building the company.
"I think that's what kicked our business off. Alan was a fantastic PR person. He had very good connections." he says.
Alan was devoted to his family, and his death was a great loss for the Salis.
He would undoubtedly be proud to see Sam and Nina's son Adem stepping up into a management role at the business.
Adem, who manages the family's 130 acres of orchards, has in-depth knowledge of the truck operation and is always ready to step into the office if Sam is away.
Customer Service
Customers who choose the Salis appreciate the personal service.
"With one particular client, I guess we've had a relationship since 1961, on and off," Sam says.
"We can't do everything, but we know that for the clients we specialise in, we service them to the hilt. That's how we can compete with national carriers."
He says the bigger companies have more trucks, but they also have more customers.
"Whereas here, you're dealing personally, direct," he says.
"If you call here you talk to John, Leanne or myself — or Adem when he's here."
Sam and his management team like to talk directly with clients.
He says it is important to phone them at the first hint of a setback.
"If you know about a problem, you let your customer know. Then you haven't got a problem.
"But if you wait till your customer rings you with the problem then you've got to solve the problem."
Sam admits recruiting drivers is a constant challenge and he wonders where the industry will find its next generation of drivers.
"The government's trying to push everyone to go to university, but not everyone can get university-degree jobs.
"If you like driving, it's fantastic. You see the country and get paid at the same time," he adds.
Sam has been outspoken against heavy penalties for 'trivial' infringements that have not jeopardised safety.
"When you're fining heavily you don't penalise him, you injure him. You take the bread and butter away from that family," he says.
He also thinks the points system is unfair because his interstate drivers can clock up over 200,000km each year but have the same number of points as a person who only drives a car locally.
Sam served on the NTF and NatRoad boards for 15 years and is still an active NatRoad member.
In 2003 he won the Australian Trucking Association (ATA) Award for Outstanding Contribution to the Industry.
He believes more people should join industry associations because governments take notice of organisations with large memberships.
"It doesn't matter what industry you're in, you must represent yourself through associations because then it becomes the voice that can be heard by governments," he says.
Most of his contemporaries have retired, but Sam — who turns 79 this month — still enjoys leading S Sali & Sons and plans to keep working.
"I'm sure when I decide to walk away, Adem will pick up the reins."
Subscribe to our newsletter
Sign up to receive the Trade Trucks e-newsletter, digital magazine and other offers we choose to share with you straight to your inbox
You can also follow our updates by liking us on Facebook. 

Trucks For Hire | Forklifts For Hire | Cranes For Hire | Generators For Hire | Transportable Buildings For Hire