Steeped in history: The Cleary Bros story
---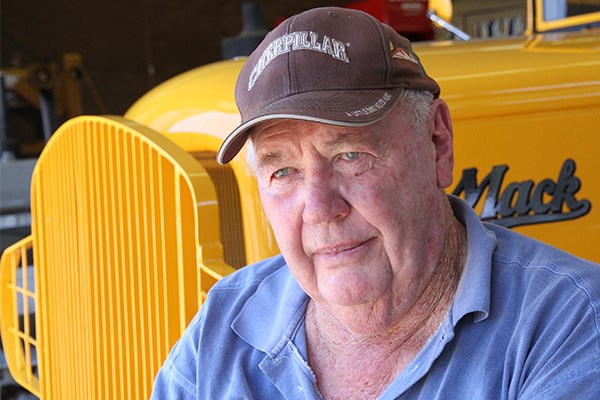 Denis Cleary: Mack has been an integral part of the Cleary operation since 1947.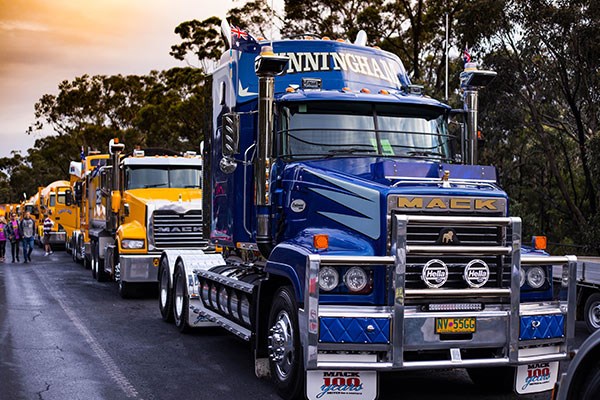 Top dog: Brett Cleary's fully restored Mack Trident 'Centennial' leads the Cleary Bros line-up at Illawarra's 2015 i98FM Camp Quality Convoy.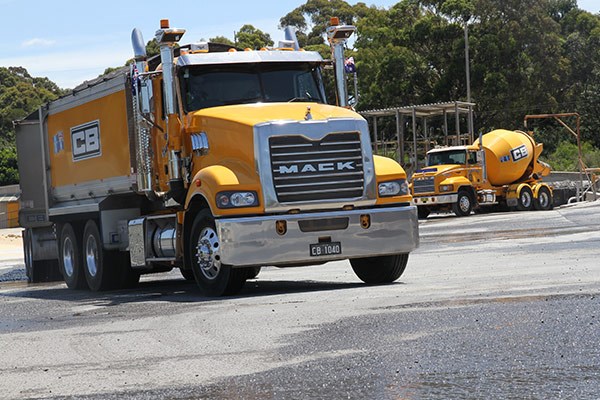 Recent additions: One of a pair of new Mack Tridents, each fitted with mDrive automated shifters. In the background, a Metro-Liner agitator.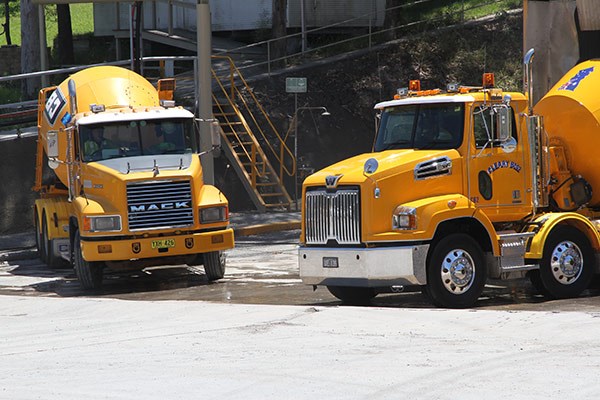 Agitator action: Mack has the bulk of the Cleary business but it's certainly not exclusive. Western Star's 4700 (right) has made a strong impression in the agitator fleet.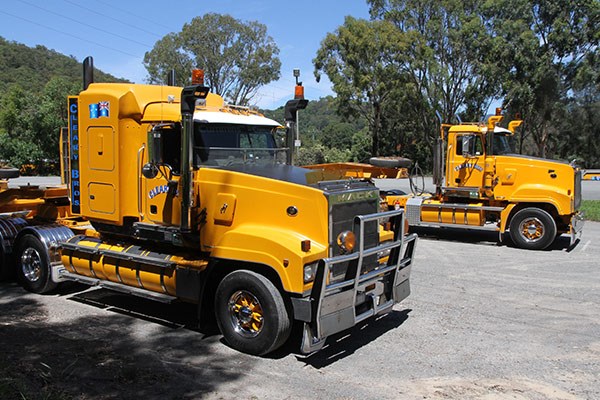 Big lifters: Mack Titans, used for all heavy haulage work.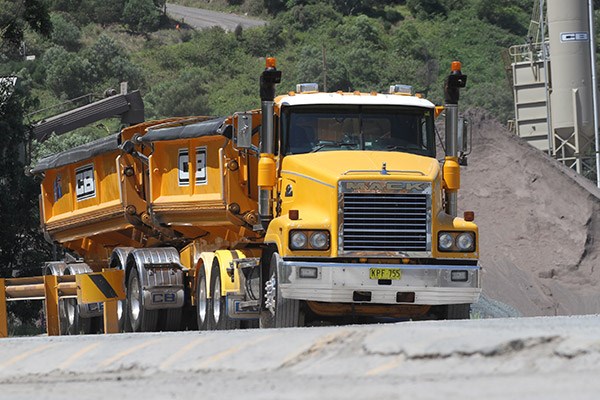 Good gear: A 17 year-old Trident hauling a 19 metre B-double side-tipper combination at Cleary's Albion Park quarry. Driver Roger Fife "loves it."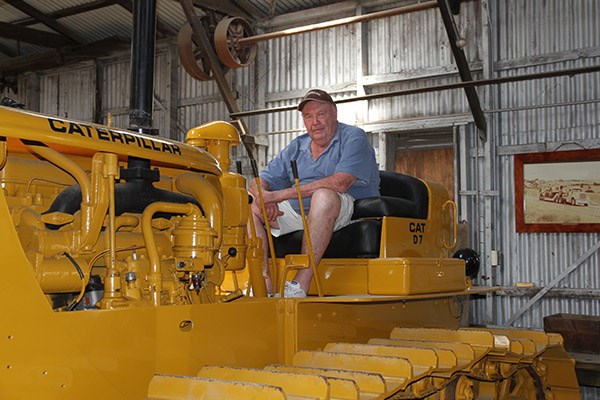 A pensive Denis Cleary on the immaculately restored 1957 D7 'dozer he operated as a teenager. It's stored in the workshop built by his father Jack Cleary.
In a throw-away world where today's latest is quickly tomorrow's trash, Cleary Bros takes a different tack, and have done so for a long time. Steve Brooks reports
Specks of dust drift serenely in the shafts of afternoon sun streaming down through the high windows of the old iron-clad workshop.
Framed in a beam of stark light, a big, barrel-chested man sits soulfully on the seat of a veteran D7 dozer intricately restored to its former, formidable glory.
It's quiet in here.
Ghostly quiet, and the silence is soaked with the spirits of men of another time.
They're still here.
You sense them as your eyes trace the stout timber beams supporting the overhead shafts and the heavy iron wheels that once drove presses and drills.
Imagination conjures the sharp, stinging smack of hammer on steel and the fiery spit of hot metal.
Along an opposite wall are rows of wooden shelves where thousands of nuts, bolts and washers were once stored.
They're empty now except for the dust but they still bear the neat hand-painted sizes of an imperial age ruled by inches and fractions.
A metal creak splits the still air as he tinkers with the levers of the dozer.
The 75 year-old knees now struggle with the climb up the track cleats but seated up here, in this shed, there's comfort.
The familiarity of age, stretching way back.
Back, maybe, to 1957 when this dozer was spanking new and as a strong young man still shy of his 18th birthday, he sat tall and proud at the controls of this boisterous, belching, magnificent machine.
He recalls it all.
The levers, the pedals, the quirks, the strength and the dangers.
They are extensions of himself and for a few moments Denis Cleary's mind hovers in another time.
There's so much of the Cleary family etched into every crevice of this old workshop tucked between beach and hill alongside the Princes Highway at Bombo, about 35 kilometres south of Wollongong.
It's here where his father Jack laid the foundations of a company which would become a household name far along the NSW south coast and where the value of work and commitment, initiative and resolve would be ingrained in the characters and mindsets of his sons John and twins Brian and Denis.
Cleary Bros!
"He was hard on us at times but he was fair and taught us well," Denis says fondly of his late father as he locks the door and we walk across the yard to a group of much larger workshops.
His brothers and their only sister Jill are now gone too, and there's a brief hint of sadness in his tone. John died in 2003 aged 71, Brian seven years later in 2010 at 70 years. He still misses them. A lot! "I try not to think about it too much," he says softly.
Still, there's an innate tenacity in him not easily hidden and while the daily functions of an earthmoving, quarrying, concrete and civil construction company employing more than 400 people are nowadays guided by Brian's son Brett Cleary, there remains in Denis a fierce resolve to keep a firm finger on the pulse of business.
Retirement! "Not while ever I still like coming to work, and I can't see that changing any time soon," he says intently.
"It's what I've always done. What we all did."
As he told me several years back, "John was the eldest and the boss in most things."
Eight years older than the twins, John Cleary left school early to work with their father and by the time Brian and Denis left school at 14, their big brother was already carving a platform for the future.
Growth of a generational giant
Following their father's death in 1958, John was the obvious choice to take the reins while Denis concedes he and Brian were still in their teens and content to spend the bulk of their time at the controls of either a truck or a 'dozer.
Soon enough though, company growth would demand much more of the twins.
It was on these foundations that Cleary Bros forged a relationship with the Mack and Cat brands which has endured for decades.
However, it was never an exclusive arrangement and the Cleary attitude has always been to keep an open mind on most things, including machinery.
On the truck side, for instance, Mack is certainly not the sole choice in a fleet that today operates everything from powder tankers, truck and dog tipper combinations as well as semi-tippers, B-double side tippers, a burgeoning fleet of concrete agitators, service trucks, on-site refuellers, fuel tanker, and dedicated heavy haulage units.
Matching this diversity is a multitude of makes and models, some bought new, others second-hand, covering several generations from Kenworth, Iveco (International), Ford and its Sterling successor, Volvo, Mercedes and an increasing collection of Western Stars, most recently 4700 eight-wheelers for agitator duties.
However, it's the bulldog breed which dominates the bulk of the business.
Mack is, without question, historically the most dominant brand in the Cleary operation, dating back to a rudimentary NR model bought new by Jack Cleary in 1947.
In the same year and with a confident eye on the Wollongong area's industrial future, he also acquired a two-acre site at Port Kembla which would eventually add another two acres and evolve into company headquarters.
Back on the NR, "It was an Army spec with a canvas cab," Denis says, "but back then trucks weren't a big part of the business.
There were a couple of early Internationals but we were mainly operating earthmoving machinery, and the NR was bought to pull machines around to different jobs.
It was a good truck for pulling big loads.
"In those days there weren't a lot of trucks that could do that sort of work."
He pauses for a few seconds before adding, "We didn't really get into trucks in a big way until the early '60s when we started to develop the quarry at Albion Park. It's just grown from then on."
Grown indeed, with Cleary Bros transport maintenance manager Les Lipinski confirming there are now 114 trucks in the overall operation with close to half carrying a bulldog on the beak.
"It's the service and parts supply, and the overall suitability of the model range for the work we do," Les replies when asked what has kept Mack such a prolific part of the Cleary operation.
"They're just a good truck all-round and we've stayed with what works for us."
Quarry and transport manager Steve Crandell holds a similar view, explaining that Mack's presence is entrenched across several generations, most notably with CH, Vision and Trident models in tipper roles, Value-Liners and Metro-Liners in a diverse agitator fleet, and Titans for heavy haulage work.
You can even find a relatively rare MCR cab-over still earning a living as an agitator.
Most recently, two new Tridents with MP8 engines and mDrive automated transmissions have joined the truck and dog tipper fleet, with Steve conceding to a high opinion of the automated shifters for both driver ease and efficiency.
According to Denis, the oldest Mack in the fleet is a '74 R-model working as a water truck. Then again, machines aren't the only things to live long in the Cleary fold.
Both Steve Crandell and Les Lipinski are among a number of long-term employees, with each notching more than 30 years apiece.
Part two of the Cleary Bros story, including a video tour of the family museum, is available here. Part three of the story is available here.
Subscribe to our newsletter
Sign up to receive the Trade Trucks e-newsletter, digital magazine and other offers we choose to share with you straight to your inbox
You can also follow our updates by liking us on Facebook. 

Trucks For Hire | Forklifts For Hire | Cranes For Hire | Generators For Hire | Transportable Buildings For Hire