Highway 31: The duel to see how far we've come
---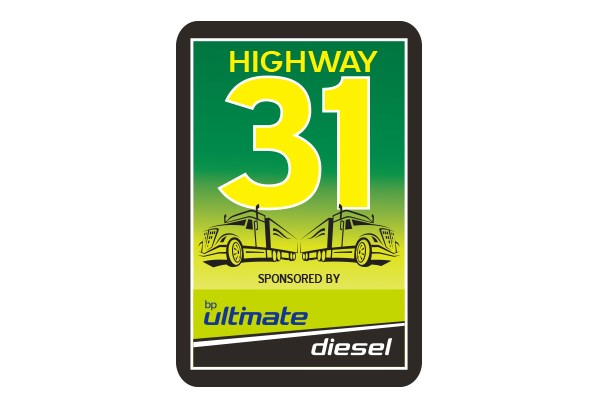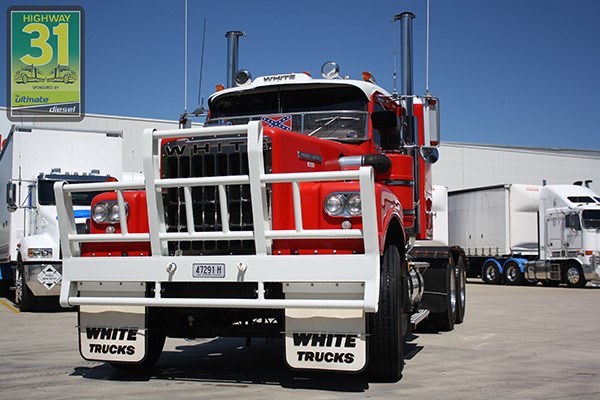 Trevor Elwood's 'Big Red Noisy Sh*t bucket'.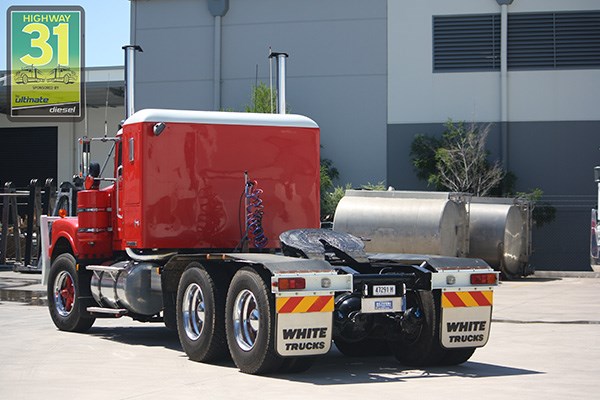 This truck looks as if it's fallen through a time warp from the late 1970s.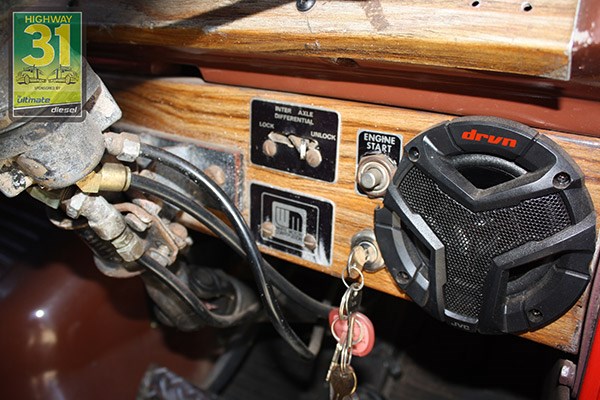 Turn the key and push the button, the resulting roar is something to behold.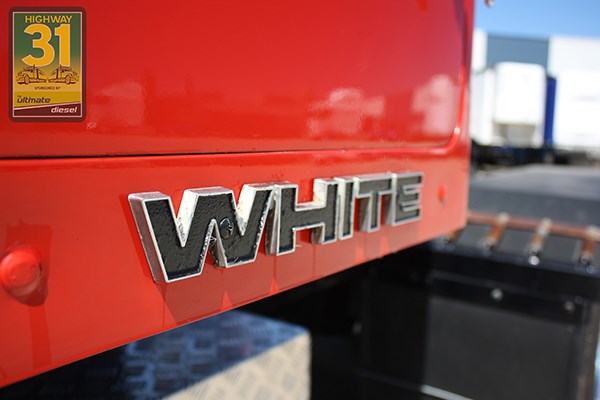 The name may have faded from view but Western Star lives on.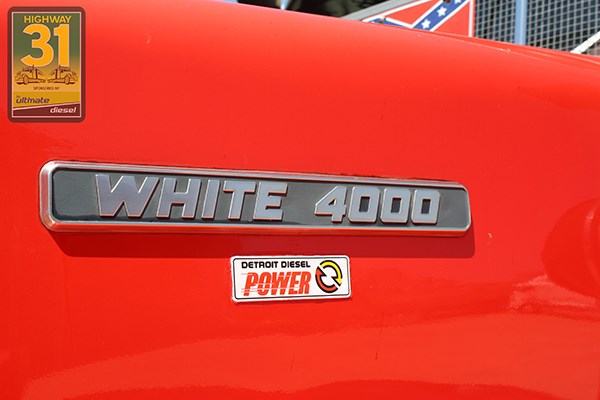 The name says it all; this 4000 is powered by a Detroit 8V71NA donk.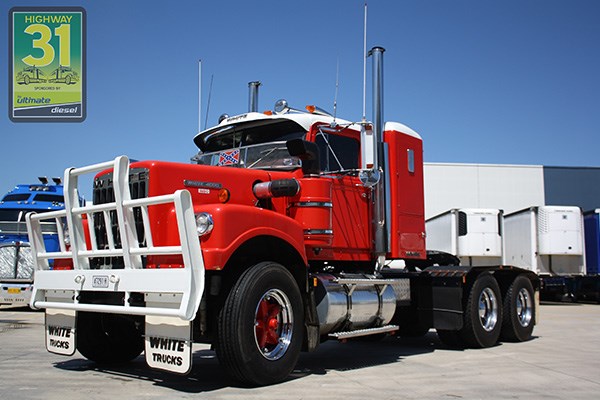 Classic American lines.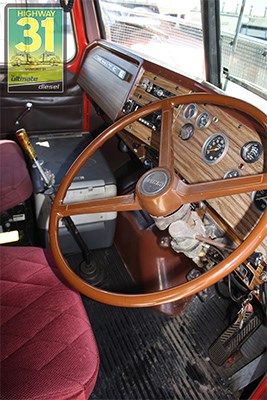 Real steel and just the basics.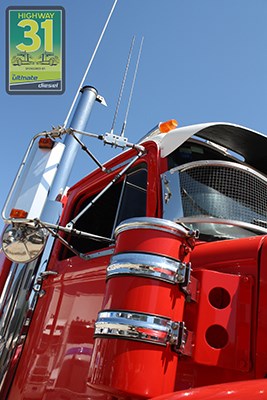 Cool and tasteful.

Just how far has truck technology come over the past four decades? In our latest on-road duel, Highway 31, Matt Wood and Steve Brooks will find out by taking a survivor from the 70's, a 1975 White 4000, and its modern-day incarnation, a brand-new Detroit powered Western Star 4900FX, on a ride up Razor Back, through the Hole in the Wall and over Bendooley Hill, among other old highway landmarks
Bird scarer, screamin' demon, Jimmy, window rattler, mobile oil leak and even Driptroit Diesel.
The old two-stroke GM Detroit diesel can be called a lot of names, not all of them complimentary; an engine famed as much for its aural drama as for its ability to drink copious amounts of fuel and leave an oily smudge of nostalgia floating in a highway sky.
But it's not until you've driven one that you realise just how far heavy-duty diesel engines technology has come.
The Detroit brand revived and prospered as a leader in truck engine technology with the computerised Series 60 back in the 1990's.
Yet for a whole generation of steerers the sound of an old GM engine converting fuel into heavy-metal fury brings about a misty eyed affection.
YOUNG EYES
I'm a little young to have seen the GM Detroit's heyday but I have heard many a folklore shrouded talk down memory lane.
So of all the old trucks I've driven over the years, none were GM powered.
I've spent plenty of time with various Detroit Series 60s, DD13s and DD15s, but the venerable two-cycle ancestor? No.
I figured it may be time for me to take a look at this classic engine and reflect on the massive changes in trucks since the highways of the 1960s, '70s and '80s.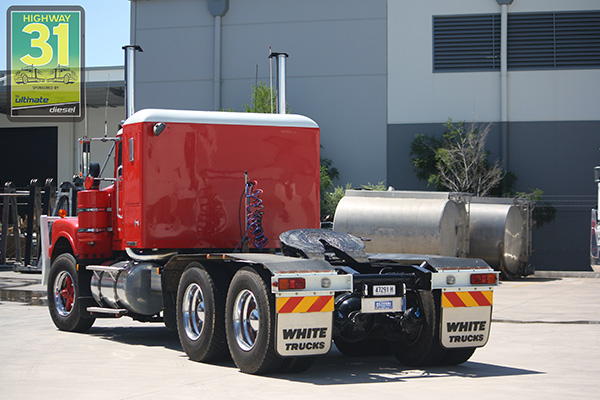 This truck looks as if it's fallen through a time warp from the late 1970s.
FALLEN THROUGH TIME
Enter Trevor Elwood and his 1975 White 4000, which is affectionately known as the 'Big Red Noisy Sh*t Bucket'.
This restored example looks like it's fallen through time from a Hume Highway that wound its way through the villages, towns and cities that dotted route 31 between Melbourne and Sydney.
Looking more 1970s than a Skyhooks album cover, the old White is actually the same age as Trev, born in 1975, but despite the miles that it may have travelled, according to Trev, "It's still better looking".
Behind the genuine Russ Engineering bulbar and under that timeless bonnet profile lies a naturally aspirated 9.3-litre (568 ci), 318hp 8V71 Detroit.
Clinging to the backside of the green V8 is a 15-speed overdrive Road Ranger tranny.
Into the 1980s for many, the king of the highway was the 892TTA Detroit with its twin turbo chargers and seemingly adjustable redline.
And while this 871 may say it's naturally aspirated, it's actually technically supercharged, as all GMs are.
This is because a uniflow scavenging two stroke needs air flow just slightly higher than atmospheric pressure to guide air and fuel though the engine.
A gear-driven Roots style blower helps feed the beast. It's kind of mildy blown.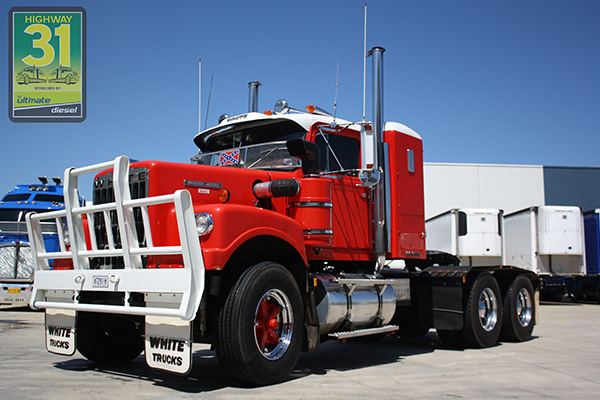 Classic American lines. 
OLD SCHOOL
It's engine technology that can trace its roots back to the 1930s and through World War 2.
Two-stroke GM diesels have powered everything from tanks to patrol boats to earthmoving equipment and air-raid sirens.
It can run clockwise or counter clockwise, which makes it easy to mount sideways across the back of a bus.
It was a tried-and-true technology that served as a cornerstone for many trucking business.
The funny thing is that it seems that everybody that was involved in transport back then keeps telling me that things were so much better in the old days.
So I was hoping that by taking Trev's old White 4000 for a drive I was hoping I'd find out what I'd missed out on.
As an aside I think I should mention just how humbling it is to meet someone who is more of a truck tragic than me.
To say Trev is truck mad is an understatement; Trev out-geeks me by a country mile when it comes to trucking. Seriously, I am in awe.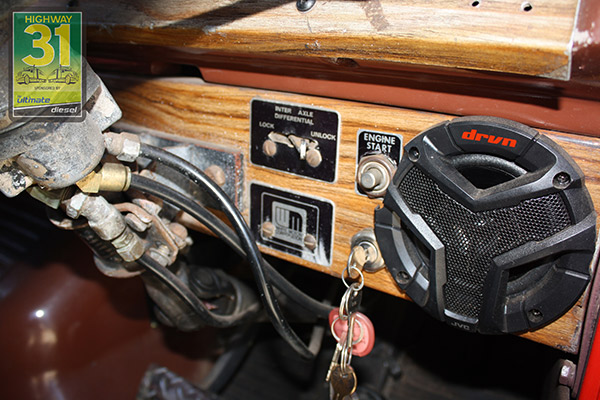 Turn the key and push the button, the resulting roar is something to behold.
BIG RESTO
This White 4000 was bought by Trevor as a project.
It's a truck that he remembers from his childhood in Western Sydney. It was owned by Billy Andrews, who was a subbie for Seaton's Transport.
By the time the White came into Trevor's possession it was a shagged-out tipper that had spent its twilight years groaning under the weight of demolition rubble.
The main aim of the resto was to create something that wasn't a show truck but that looked as if it had driven straight out of the late 1970s as a working truck.
There's no bling, as Trev wanted to keep the beast honest.
So after a two-and-a-half-year resto, 80 per cent of which was carried out by Sydney-based Dominico Oliveri at Oliveri Heavy Vehicle Repairs, the red 4000 finally saw light of day … and then the engine promptly exploded.
Trev mopped the oil from his brow and started collecting parts to rebuild another GM in his possession.
Then another complete engine came his way and the White was mobile again.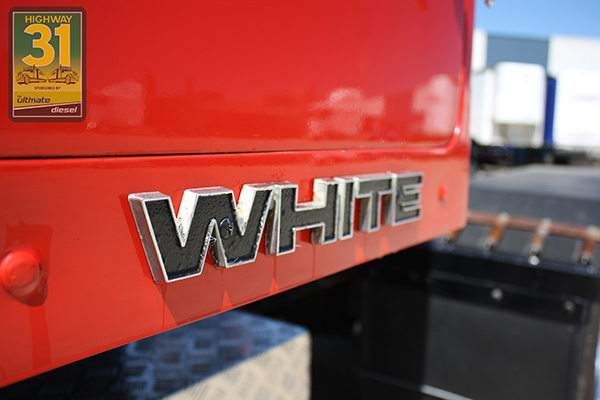 The name may have faded from view but Western Star lives on.
PERIOD CORRECT
Many parts such as diffs and the aforementioned bulbar were sourced from a White 9000 that Trev used as a donor in the build.
The steel-sprung rear end now runs a highway-appropriate 4.1:1 final drive on SP40s.
The cosy 27-inch crawl through sleeper came off a Road Boss.
The truck was originally equipped with a 13-speed 'box, however, that was turfed in favour of a 15-speed overdrive at some stage in its working life.
No wussy low-inertia 'box for this little black duck.
When I turned up for a drive there was an ex-Seaton's Transport spread triaxle clamped into the White's turntable jaws.
All that was required to complete the picture would be a tarp load and it would've looked at home parked in Yass's famed Gasoline Alley back in the day.
Trev asks me if I've driven a 15-speed before. I reply that I have, but not for about 15 years.
He smiles, "All right then, see how you go".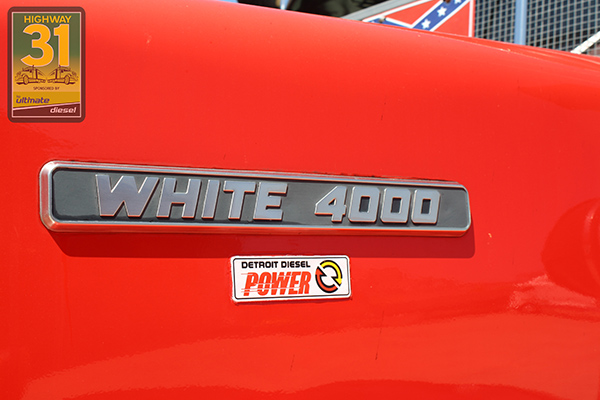 The name says it all; this 4000 is powered by a Detroit 8V71NA donk.
PHYSICS AND CHEMISTRY
The 4000's cockpit is snug, but not as skinny as an equivalent vintage Kenworth conventional.
The roof line feels a little low by modern standards but visibility is better than I expected.
I park my butt in the relatively new El Dorado seat, flick on the ignition and hit the starter button.
The resulting mechanical cacophony is almost violent in its execution. The sound of a rumbling Detroit V8 is like an audio x-ray of internal combustion.
The mechanical fuel system, valves sliding open and slamming shut, pistons climbing and descending in their bores, and the resulting exhaust rumble through the twin 7-inch sooters.
It's as if you can hear the whole mechanical process.
I haul the clutch to the floor and grab a gear to get going. While we idle away from a standstill, I realise that I've forgotten about first gear, which is around the corner in the 15-speed 'box.
I make a mental note to self.
I grab the next shift at 1,600rpm, flat changing rather than using that big heavy clutch. "C'mon get up it!" bellows Trev over the engine roar.
So I give it some jandal and go for the next gear. Fail.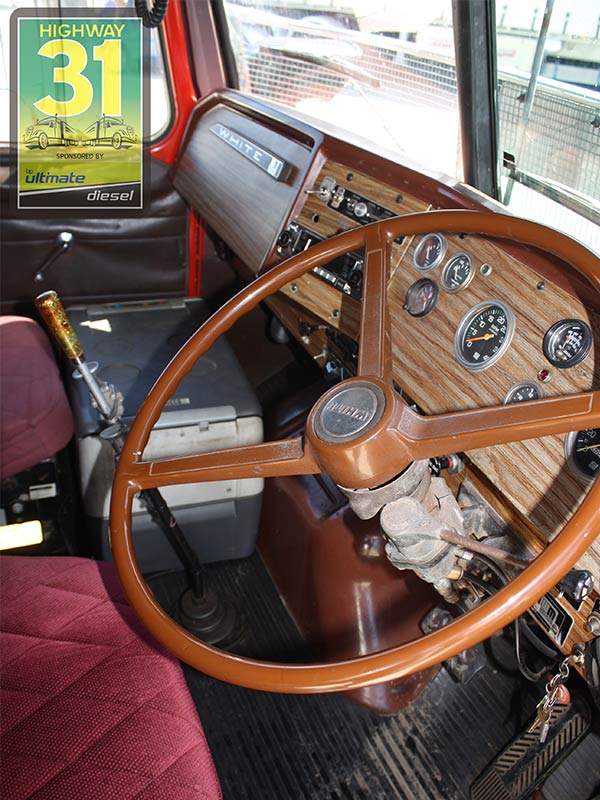 BACK TO FRONT AND ARSE ABOUT
The 15-speed requires you to go around the corner for the fourth gear stick position, and then forward for the fifth gear stick position. I'd tried to grab fifth from third.
So I regrouped and rolled out onto the main road and channelled my inner road warrior.
I buried the hoof and made a mental note of the gear pattern and we were under way. Many birds took flight.
In fact, I suspect the automatic doors of the local shopping centre opened involuntarily as I shifted into overdrive at 2,000rpm.
Funnily enough it seems as if the bulk of the engine noise is coming from the engine itself rather than the exhaust stacks.That old Detroit note was on-song as we thundered down the back roads.
At 2,000rpm it sounds as if the 871NA is trying to suck that big red bonnet down its gullet in an insatiable mechanical frenzy for air and fuel.
Once in the zone, and up to speed with the gear pattern, I let the big red White have its head.
My hands were never still on the massive steering wheel as I piloted the 4000, the left grabbing cogs when required, a decent throttle blip from the right foot required to down change.
This really was time-warp stuff as the steel-suspended rear end bucked on rough surfaces. Turning corners was a challenge in its self as the 4000 has a power steering pump the size of a thimble.
Thank god for that humungous steering wheel.
The steering lock itself is the stuff of prawn trawlers.
ALL BARK NO TORQUE
I try and imagine what it would be like to be running through the night on an old and winding road in a truck like this. Those old timers must've had balls of steel.
Even without a load on I'm using all the gears, the exception being not using the reduction splitter in bottom 'box.
The Detroit has virtually no torque, just 800 lb/ft at 1,600rpm.
No wonder Trev keeps yelling at me from the passenger seat to keep the right foot planted.
He then giggles like a lunatic. He's clearly having as much fun as me.
There's no question of just sitting behind the wheel of a truck like this and watching the scenery slide by. You are driving it, all the time.
It's an insight into what the job entailed back then. Load 'er up, tarp it and get moving.
The night a diesel soundtrack, complimented by squawking AM CB radios and the flashing of festoon clearance lights.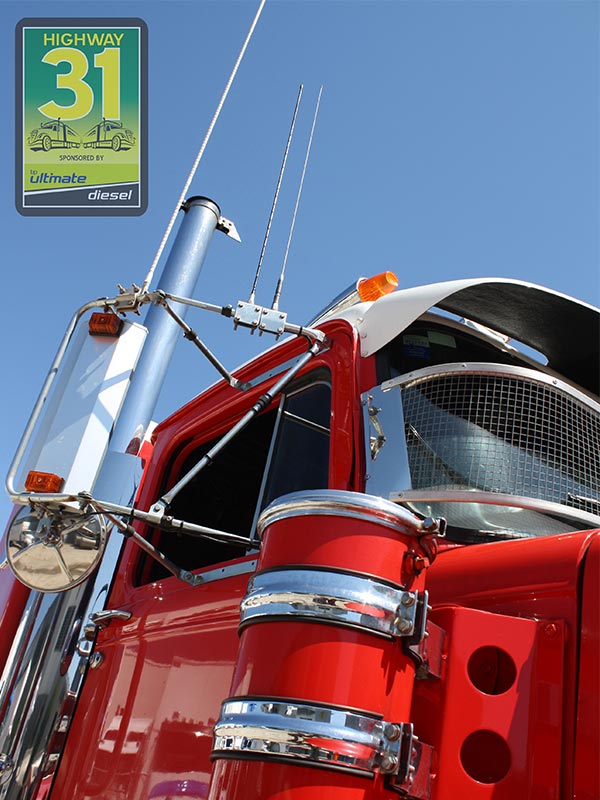 HIGHWAY CODE
Telegraphed intentions are displayed to others by an intricate code of flashing headlights and indicators.
Roadhouses now long gone serving comfort food for the road weary and tall stories that are told of a time before sterile fluorescent lit eateries.
It's all become the stuff of myth and legend.
Forty years after the birth of Trev's 'Big Red Noisy Sh*t Bucket', the White brand is no more.
This White, however, is a direct ancestor of the current Western Star range.
These days the Detroit brand lives on, though, and is now the technology arm of Daimler's North American business.
The Detroit logo can now be found on engines, transmissions and even diffs and axles.
In the US you can buy a Western Star with a full Detroit integrated driveline. And the brand has even moved into telematics.
How things have changed in the space of just four decades. After half an hour at the wheel of the White 4000 I felt as if I'd already driven from Melbourne to Sydney!
But I want to have a closer look at just how far things have come.
SHOOT OUT TIME
So to find out we're going to go for a wander along the old Highway 31 – up Razor Back, through the Hole in the Wall and over Bendooley Hill, amongst other old highway landmarks.
And I'm taking Trev's White with me.
Coming along for the ride we'll have a brand-new Detroit-powered Western Star 4900FX – the modern-day incarnation of the old White 4000.
So maybe things were better in the old days. We'll find out.
I'm hoping to glean a bit of an insight into those days of yore. Highway 31 awaits. Let the night roll on.
SPECIFICATIONS
Make/model: 1975 White 4000
Engine: Detroit 8V71NA
Transmission: 15-speed Eaton Overdrive
Power: 318hp/ 800lb/ft@1,600rpm
Final Drive: 4.1:1
GCM: 42,500kg
Make/model: Western Star 4964 FXT
Engine: Detroit DD15 EGR
Transmission: 18-speed Eaton UltraShift Plus AMT
Power: 560hp/1850lb/ft
Final Drive: 4.30:1
GCM: 90,000kg
Subscribe to our newsletter
Sign up to receive the Trade Trucks e-newsletter, digital magazine and other offers we choose to share with you straight to your inbox
You can also follow our updates by liking us on Facebook. 

Trucks For Hire | Forklifts For Hire | Cranes For Hire | Generators For Hire | Transportable Buildings For Hire