Shifting mobility in transport: Rugged tablets and IoT
---
Xplore Technologies' CMO Peter Poulin explains where mobile technology currently fits in the transport industry and the future possibilities
Xplore Technologies has been working in the rugged tablet space for over 20 years.
The company, which has spread its reach across the world over that time, is in the business of designing, integrating, and marketing electronic tablets for a range of industries with portable elements.
While it accommodates workers in energy, utilities, military, and public safety sectors, it is the transportation and distribution side of their products that is of most interest.
For transport or warehouse operators, their employees, and their customers, the advancing call for real-time communication is becoming a priority – be that for efficiencies, cost-effectiveness, or customer relations – and this is where Xplore Technologies believes it plays a role.
Speaking with chief marketing officer Peter Poulin, the move towards a connected world and advancing access to mobile coverage has enabled the company's tablets to take a prime position in a worker's arsenal.
"One of the primary areas that have changed is the need for real-time communication – anytime, anywhere," Poulin says of the changing needs of his customers.
"This enables workers to access critical information and make decisions at the point of service. 
"And it is not just the mobile worker that benefits from this real-time communication," he says, "mobile workers are also sharing information with office/central depot workers in real-time, enabling them to better deploy resources and increase productivity."
This connection with the head office is a key factor as they coordinate resources, invoices, and customer interactions for those on the road.
"It not only creates opportunities to improve productivity with real-time access to information, it also positively impacts assets utilisation, and customer service levels," he says.
"In the absence of real-time communication, a prescribed and unchangeable script/work-order must be followed by the worker.
"The organisation is [then] unable to adapt to changing conditions and priorities in real-time."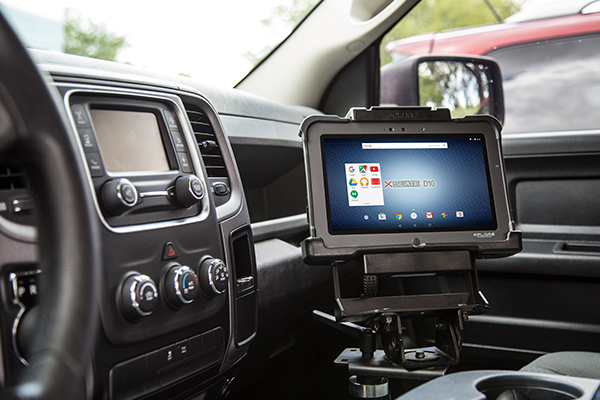 Xplore Technologies XSLATE D10.
Tough from the beginning
Xplore began with a focus on the outdoor worker, with designers seeking to create the most rugged product on the market.
"Since day one, the company has been focused exclusively on the tablet form factor," Poulin says.
"Very quickly that focus was sharpened on enabling field/mobile workers who operate in environmentally challenging conditions.
"This led the company to develop core competencies in ruggedisation, including resistance to drops on hard surfaces, vibrations, extreme temperatures, dust and water ingress, [and] glass breakage."
As part of these moves Xplore became the first manufacturer to adopt Gorilla Glass, the screen-protecting product found in devices from Apple, Samsung, HTC, and a huge number of other smartphones and tablets.
While Gorilla Glass, developed by Corning, is a tough, thin, and lightweight option, outdoor uses dictated Xplore look further outside the box.
"One of the primary issues the company needed to address early in its history was sunlight readable displays," Poulin says.
"We looked to the aviation industry. More specifically, we looked at how fighter aircraft dealt with glare and sun reflection.
"This led us to be the first to optically bond our displays, which made the displays much easier to read in sunlight and at broad angles."
Describing the company as "proud to be the leaders in innovative technologies," the Xplore CMO says "over the years, the company has continued to address use case-specific requirements, including certifying devices for use in hazardous locations."
These advances have meant "many of our innovations have been subsequently replicated by other industry players."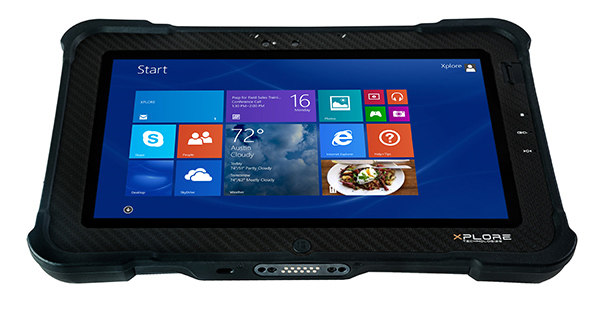 XSLATE B10.
Industry desires
Before moving into the future, and what it holds, the present for Xplore surrounds the XSLATE B10, a rugged 10-inch Windows tablet that has made splashes since it arrived in 2015.
It's success in being crowned the 2015 Windows Rugged Tablet of the Year by US-based technology media outlet Computer Reseller News lead to the launch of the XSLATE D10, an Android-powered equivalent.
The new cousin was then awarded Intel's Client Platform of the Year Award.
The Android tablet was the result of an industry "seeking more operating system flexibility," Poulin says, and its success is an indicator of a diversifying industry.
To accommodate the change to Android, Xplore had to go back and question what applications its customers wanted.
"Everything we design starts with the workflow/use case – how the work gets done," Poulin explains.
"In our experience, application software is what defines that workflow.
"For a long time, those applications were Windows applications.
"These Windows applications also easily integrated into most corporate IT infrastructure. It was easy for IT to support and manage due to their familiarity with the integrations requirements, security and management tools.
"However, more recently, we have started to see an increase in the adoption of Android applications.
"Our users are making those decisions based on a variety of reasons, including cost, simplicity, creating negotiating leverage with Microsoft, etc.
"From our perspective, it is important to follow the application software adoption in the industries we target. That is what led us to the Android introduction."
So what else does the industry want? Poulin predicts the rugged tablet market is after devices pushing both dimensional and power boundaries, but they will also see the benefits of the Internet of Things (IoT).
"The list has not changed much over the years," he says. "Make it lighter, with more battery life, at a lower cost."
And he says "the transport and logistics industries should certainly expect this in the future."
In terms of other physical advances, Poulin can see "the continued evolution of OLED displays as a potential game changer" as it offers a weight and size reductions.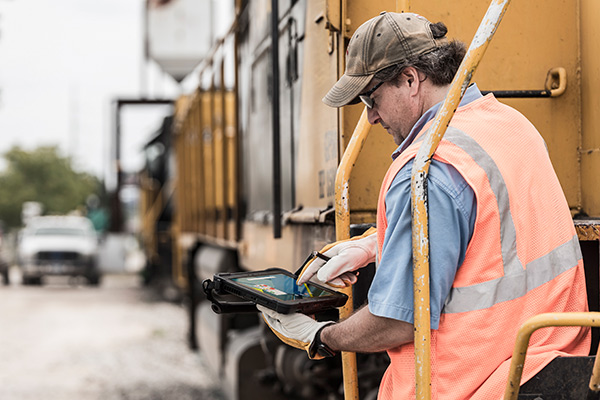 For communication, Polin says "we are also seeing the emergence of the vehicle as a hub, from a communications perspective."
"Instead of each individual device having communications capability (and potential a separate wireless contract), gateways are being deployed in the vehicles to which multiple devices can be connected via a Wi-Fi connection."
This gateway could further aid the move towards the Internet of Things, which promises automation and monitoring opportunities.
He is expecting "IoT sensors to be more broadly deployed," to track the movement of cargo, trailers, or freight in real-time, for example, as they move through the logistics chain.
However, the rapidly advancing IoT and wearable markets could pose a number of compatibility issues, he says, despite the "major advance in mobility" that they offer.
"The challenge here will be interoperability," he says.
"In the absence of clear set of standard communication protocols, it will be difficult to integrate these devices into a more complete solution; and, to get the economies of scale to make them economically viable for companies to deploy."
While it seems like a headache at present he concedes that in his 30 years in the technology industry he has learned two things:
"1. Disruptive technologies will emerge that fundamentally change behaviours," and
"2. It is virtually impossible to predict which of these disruptive technologies will be adopted by the users and bring forward a fundamental change to how work gets done." 
Future outlooks
Poulin doesn't hold back when it comes to the company's direction, he has clear goals on where Xplore is heading and how he and the team are going to get there.
"Our goal is to become the number one provider of rugged tablets worldwide, and we have already moved much closer to that goal, having gained significant share over the past year," he says.
"In fact, we are really excited to confirm that Xplore was the number one provider of rugged tablets in the Americas, two of the last three quarters.
"Worldwide, we are the number two provider of rugged tablets and we continue to be the leading innovator in the space."
While the present begins with the B10 and D10, the focus is on the horizon.
Subscribe to our newsletter
Sign up to receive the Trade Trucks e-newsletter, digital magazine and other offers we choose to share with you straight to your inbox
You can also follow our updates by liking us on Facebook. 

Trucks For Hire | Forklifts For Hire | Cranes For Hire | Generators For Hire | Transportable Buildings For Hire