The vital daily truck driver checks
---
It might seem like a simple no-brainer thing to do, but that vital daily check on trucks and trailers isn't being carried out by a lot of drivers, says a panel of experts.
As a driver or manager, have you ever filled out or accepted a week's worth of daily truck inspections on a Friday afternoon?
Such slackness has been known to happen, but in this era of greater legal responsibility you'd be mad to do it.
However it seems there is a much bigger problem in the Australian trucking industry when it comes to daily checks, and that's not actually doing the checks in the first place.
Whether it's through complacency, "deliberate ignorance" or a simple lack of knowledge, failure to do basic daily checks is rife in the industry.
That's according to an eminent panel of experts at the most recent Technical and Maintenance Conference. The TMC is put on by the Australian Trucking Association, Australian Road Transport Suppliers Association and Paccar.
One of the most interesting sessions at the TMC in Melbourne late last year was headlined "Training staff to do daily checks".
The chair was Chris Blanchard from Herb Blanchard Haulage at Grafton in NSW.
Blanchard led off the session by pointing out the numerous benefits of proper daily checks, including finding problems before they turn into much bigger ones; reducing the costs of after-hours call outs and vehicle towing; less unscheduled vehicle downtime; higher service level to customers; legal evidence of trying to do the right thing if something "goes south"; and of course safety.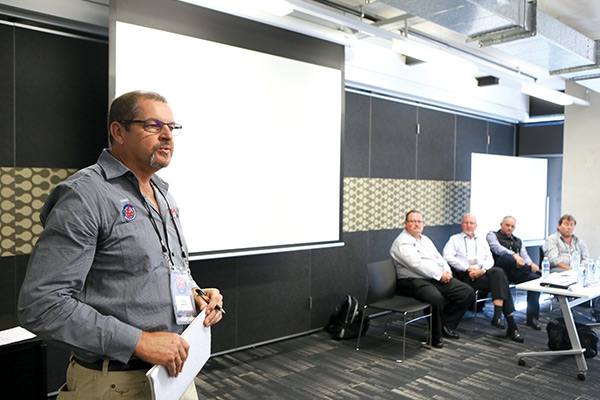 Chris Blanchard speaking about safety and reducing night call-outs.
 
TOLL'S TAKE ON CHECK FAILURES
The highest profile speaker was the former general manager of Toll linehaul and fleet services, Bob Lovf.
Now in special projects for Toll, Lovf – like all the speakers – had some fairly scary stuff to say about the ability and responsibility of new age drivers.
"Each trip in the late 60s and early 70s was regarded as an adventure into the unknown, and you wanted to know things before you went," Lovf recalled.
"Today, the people we are attracting, they have licenses to drive. There are a lot of other things missing out there.
"Is it completely their fault? No, because we have changed a lot of the structure of how we work."
With the advent of changeovers and shuttles, for example, "you just throw your bag in the truck and drive up the road."
And there is now "three degrees of separation" between the driver and what's happening right up the back, because of high torque engines and quieter, more comfortable cabs.
"In an Albion Clydesdale you had steel suspension with the seat riveted to the floor and the cab bolted to the chassis. It's completely different now," Lovf pointed out.
Lovf doesn't expect drivers to check the pressures on every tyre and the tension on every nut, but he does expect them to go around and give the tyres a thump, check for bald ones and look for loose nuts, for example.
He says there are a range of driver types.
"You have people who still do a great job because we have a lot of people who are older and they have done things for last 30 years that way, but the newer people coming in don't have that level of bush mechanic expertise to understand the workings of a truck as well as they should.
"And you have the other people that I call 'deliberate ignorants', where they don't want to lose that trip. If they find something, they go, and the next person can deal with it."
That gets onto Lovf's next comment, which will be appreciated by any overnight driver who has inherited an obvious problem when the mechanical workshop is closed and the tyres bloke has gone home.
"We are trying to push post-trip checks as a key, because then you have time to rectify the problem," Lovf says. "Otherwise you're swapping out … You've got to unload a trailer in some cases."
Lovf says Toll is making greater use of electronic technology to simplify and improve things, for example drivers taking mobile phone photos of problems.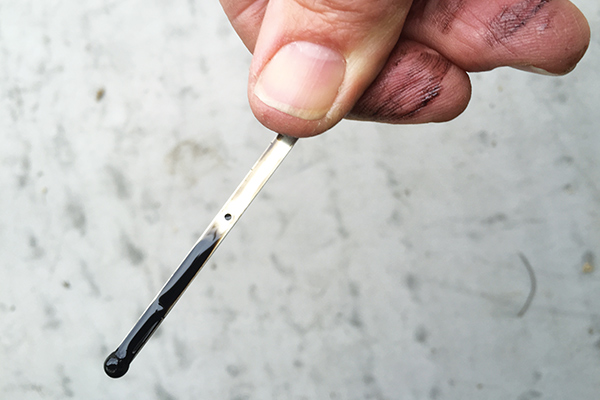 OUTBACK IGNORANCE
You might expect that slackness in daily checks would not be an issue for dirt road runners in the outback, where help is a lot longer than an hour away, but not so.
Spud Murphy is national fleet manager for Darwin-based dangerous goods specialist Directhaul.
"It's a challenge for all of us to educate the new school driver because the old school is going out as we all know, as operators and those skill bases are going and the care factor is going.
"A lot of the older school guys, their trucks are fitted out with toolboxes and stuff; the new school guy turns up with his lunch box, and he's expecting to go on a 10 day trip just with his lunch box. They've got no idea at all.
"So it's a pretty big challenge for us to mould and educate and up-skill these guys."
Murphy says the company has training modules through the year, toolbox meetings and drivers spend a lot of time in the workshop.
"Some guys don't even know how to back a brake off or stuff like that, so it's a bit of a worry.
"Unfortunately we don't have a lot of skill base to choose from because a lot of guys have been doing metro work and they come to road train work and it's a completely different kettle of fish for them.
"The challenge for all of us is just to get these guys to understand the importance of pre-start checks and how much money they can save us.
"Guys who have been doing bush work for years know the importance of checks."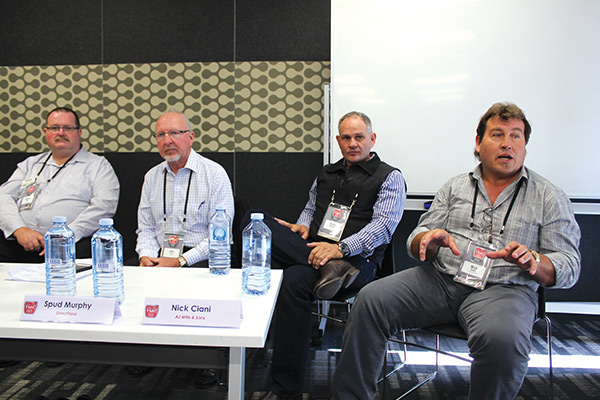 Left to right: Richard Brian, Bob Lovf, Spud Murphy, and Nick Ciani.
ONE ON ONE IS BEST
Nick Ciani, workshop manager at Lismore-based Mills Transport, was speaking after the long-standing company had announced it was closing its doors.
Ciani said the company was lucky to have long-term, older long distance drivers – average age between 50 and 60 – who had their own trucks and didn't do changeovers. He said this pre-mobile phone generation learnt the importance of pre-trip checks because they had to get themselves out of trouble if anything went wrong down the road.
Ciani started with Mills way back in 1979 and over all that time found that individual attention gets the best results when it comes to daily checks.
"You can have meetings, you can do the training, you can go right through all that – whether they take it or leave it or not, it's hard to know," he said.
"So when we do have a breakdown, we actually investigate why it broke down … Was it a problem that the driver should have picked up before he left?" Service time can also determine if daily checks have been done or not.
"I think that's probably the best training we have found is having that one-on-one with the driver all the time, bringing him into the workshop and showing him things that he should have picked up.
"To give them a list of things and saying this is what you have got to do, go and tick it and sign it off, I think you're just wasting your time. I think you've just got to get more personal with the drivers and show them why these things are happening."
Lance Fisher.
BALANCING ACT
TMC stalwart Lance Fisher from John L Pierce spoke from the floor about the risk of "driver overload" when it comes to pre-trip plans and the like, especially for "regimented" older drivers. Others raised the issue of good drivers who may be dyslexic or illiterate.
Fisher added it can be a fine line between what a driver and a qualified mechanic should be expected to do, for example when it comes to OH&S.
Chris Blanchard supported that "fine line" dilemma, saying there are a lot of situations where you don't want drivers without precise mechanical knowledge underneath vehicles.
"How many fleets here do not carry spare tyres anymore … There's quite a few, and we're actually the same," Blanchard said.
"We had a major injury to a driver with a runaway vehicle because of a ride height problem on a trailer that was not rectified, causing the bags to roll over and crease.
"He got under the vehicle with the brakes off, lifted it up, and had a rollaway. The bloke was very lucky not to be killed."
Perhaps the final word belongs to Jodie Broadbent, the outgoing head of Road Freight NSW, who said the industry has to spend more time training.
"All the job adverts say 'I want experienced drivers'," she pointed out. "We need to start investing back into training drivers and the things we want them to do.
"If you just want them to be steerers, train them to be steerers. If you want them to have a better mechanical knowledge, make sure you are doing that sort of training.
"As soon as you get rid of them because they're no good, they just become someone else's problem … And they're driving towards you, and that's even worse."
Subscribe to our newsletter
Sign up to receive the Trade Trucks e-newsletter, digital magazine and other offers we choose to share with you straight to your inbox
You can also follow our updates by liking us on Facebook. 

Trucks For Hire | Forklifts For Hire | Cranes For Hire | Generators For Hire | Transportable Buildings For Hire