Oregon artefact: 1958 Kenworth lives again
---
Western Sydney truck restorer Charlie Borg takes up the challenge of rejuvenating an imported weather-beaten 1958 Kenworth into a roadworthy truck while maintaining its original character.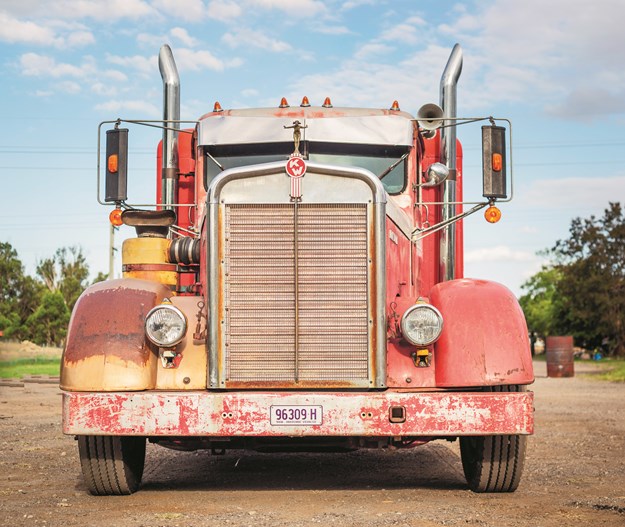 The onset of COVID-19 has no doubt driven a surge in the already booming historical truck movement over the past couple of years. The preference for staying at home and limiting social interactions on any sort of scale has undoubtedly led to much more 'shed time' for those mid-projects and resulted in some others previously relegated to the back burner for some time slowly but surely rolling their spider web-covered cabs out from their dusty caverns of 'blokedom'.
Even so, with so many projects on the go, I really don't know where Charlie Borg, current custodian of this 1958 Kenworth, finds the time.
Among Charlie's other toys and projects are a White Road Commander named 'Lizzy', a Kenworth SAR, a Kenworth S2 in the build, a restored 1956 Austin that was originally a Resch's brewery truck, a W-model Kenworth and a White 3000 part way through restoration.
Upon approaching Charlie's 1958 Kenworth – official model classification CC925C – my curiosity was immediately piqued by the inscription on the door – 'Lebanon Truck Service'. As many would, my mind immediately thought of that far off Middle Eastern country adjacent to the Mediterranean Sea, a land of kebabs and falafel. I wondered how many Kenworths made it to the Middle East, I naively thought to myself.
After initial introductions, obviously one of my first questions was, surely this truck is not from Lebanon, is it Charlie? "Yes," he proclaims. Lebanon in the USA to be more specific.
Charlie informs me that there are several towns named Lebanon in the US and, as indicated by the build sheet he has for this particular truck, Lebanon, Oregon is where this truck hails from.
A little post-interview Googling revealed there to be anything up to 47 Lebanons in the US!
Lebanon Truck Service of Oregon unfortunately didn't reveal much from Google searches and, apart from the build ticket information and address, not much is known to Charlie about the truck's obviously well-lived life prior to coming to Australia.
Lebanon is a small town in north-west Oregon with a population of around 17,000 residents and was once famous for its strawberry production and timber industry. The once thriving local timber industry eventually petered out in the 1980s. Perhaps Charlie's Kenworth was originally used for timber transport or, as the name on the door references, "truck service". Maybe it was used as a recovery or salvage truck for a truck repair business? Charlie is determined to find out some day.
As for recent history, Charlie can trace it back around five years or so when the truck (and an assortment of other Kenworth parts) were imported into Australia by Adam Lovell.
The truck was then on-sold to Bernie Learson of Premier One Cleaning Products. This is how Charlie, a friend of Bernie's through their love of historical trucks, came to first see the 1958 Kenworth.
According to Charlie, at the time Bernie was also restoring a Ford LTL model truck and reluctantly decided to let the '58 Kenworth go, to divert funds into his other project.
A deal was brokered and the Kenworth found its way to Charlie's place on Sydney's western fringe, near to the fast emerging second airport site. 
Original character
A vehicle bodybuilder/boilermaker by trade, Charlie was well placed to carry out the considerable task of customising and rejuvenating the 63-year-old Kenworth classic.
Much of the original characteristics of the truck remain. The power plant under the hood (in this instance I am comfortable using the word hood instead of bonnet) is still the original Cummins 220 horsepower (164kW) in-line six-cylinder turbocharged engine, complete with in-cab operated decompression lever for those cold winter mornings. The engine delivers power to the wheels via a five-speed Spicer crash gearbox (the 13-speed gear knob has been added to confuse the unfamiliar) and a three-speed joey box.
To better cater for the sub-zero operating conditions, louvered grille shutters controlled by an air solenoid and thermostat probe in the cooling system, control the amount of available air passing through the grille. This design would be of great benefit preventing the engine running too cold when operating in ridiculously cold climates.
After a lot of time and effort, cleaning and re-riveting the louvres in place, Charlie set about trying to repair the air solenoid valve, which didn't seem to be working properly, when he broke the housing in the process. Panic set in for a moment when Charlie questioned, where was he going to find a new one of those? After some research, he found they were still available new from the 'States. A new valve was soon in place, restoring the whole unique system to working order.
Destined to become further customised to suit its new owner's needs, the '58 had already seen some modification prior to Charlie taking ownership. Originally a bogie drive on torsion bar suspension, the truck had been shortened to a single drive on leaf spring suspension back in Oregon prior to starting its new life 'Down Under'.
Once in Australia, the suspension was once again upgraded to something a little more 'back-friendly', with AirLiner suspension from a Freightliner fitted to the rear. To the best of Charlie's knowledge, this was done by Adam Lovell.
Not content with the truck in its configuration when he bought it, Charlie set about modifying the truck for his own needs and taste, with the end goal being to finish up with a vehicle suited to indulging his other hobby, race cars. The truck was to be modified to transport his beloved Mini Cooper to race meetings.
While the suspension set up was a far cry from the original torsion bar design of old, Charlie believed he could improve things even further and set about re-engineering the truck to more modern levels of comfort.
Drawing from his experience in fine-tuning the handling performance of race cars, Charlie added dual ride height valves to the rear suspension, which sees the truck sit much flatter in corners. The front suspension was not overlooked either. In a system of Charlie's own design, the leaf spring packs were reduced to just two leaves to maintain front axle positioning. It was then fitted with a set of Kenworth air bags, added to bear the load. These too feature dual ride height valves for enhanced cornering and stability. 
Distinctive note
The offer of a short joy-ride in the truck by Charlie was quickly accepted and I was pleasantly surprised by the relative comfort the truck yielded. There was little of the expected bucking and pitching to be felt. The only discomfort I noticed came from sitting in the right-hand side of a moving truck without a steering wheel in front of me for reassurance.
The deep burble provided from the straight-through exhaust pipes provided the perfect soundtrack and gleaned many a turned head and a few waves as we trundled along one of the main arterial roads that will soon service Sydney's long awaited second airport. Charlie's suspension design concepts are 'on point' and really do work a treat.
It would seem the icy winters of northern Oregon had a distinct influence on the braking design for this '58 Kenworth. It would seem the risk of jack-knifing and front axle skidding were sufficient enough for the engineers of the day at Kenworth to regard the fitment of brakes to the front steer axle as a risk, so brakes were not fitted to the steer axle from factory. Obviously these conditions in Australia are infrequently encountered, so Charlie in his wisdom set about adding front axle brakes in a move that he thought surely worthy of bonus credits, come engineer inspection time? Perhaps not!
S-Cam brakes were eventually fitted to the front axle, which was not without its difficulties due to the left-hand drive configuration of the truck. When it did come to engineering inspection time, Charlie proudly offered his truck up for examination and was very forthcoming in pointing out to the inspector that the truck originally didn't have any front brakes at all but is now much safer by their fitment.
At this point Charlie says he saw an expression of uncertainty wash over the engineer's face. By fitting brakes, an act of what Charlie thought to be an obvious improvement in safety, he had inadvertently inflicted a whole new level of scrutiny the truck had to be subjected to get the design passed. After much balance and brake-force testing and general compliance headaches, the design was eventually deemed safe for road use.
To facilitate the transport of his Mini Cooper, Charlie has added an electrically operated, hydraulic tilt tray to the truck to enable easier loading of the car. 
Much like his vision with this truck, it seems Charlie is the kind of bloke that can see potential in all manner of bits and pieces. He points out to me that the steel angle used on the sub-frame for the tilt tray was salvaged from his childhood home at St Johns Park, demolished many years ago. 
Brassy lady
Adding to the personal touches featured on the '58, a brass woman resides proudly on the hood. Charlie goes on to explain: "My dad used to have a poultry farm and while on the delivery runs he would like to go to an old scrap yard at Yennora, which was on the way. I'm nearly certain he would have found her at that scrap yard.
"We would go on these runs in his old Bedford and the brass woman eventually found her home on the front of that truck. The woman then found herself in my brother's possession before he gave her to me. I was going to put her on a Kenworth S2 model I'm also restoring but I decided she would be better placed on the '58 model as the bonnet doesn't tilt forward and pose a risk of walking into her," he says.
"I have had a few trips to the USA and on the last trip I tried to find out a bit more on this truck's history without much success.
"I have the build ticket and know that it came from Lebanon, Oregon, but that's where it stops for now. I'm keen to try again someday."
According to Charlie, the Lebanon painted on the door often creates confusion. 
"I had a group of Middle Eastern guys come here for business one day and one of them noticed 'Lebanon' on the door and he became a little abrupt, questioning why I – obviously not Lebanese – had this on the door.
"After some explaining he settled down and took a photo of the truck to show his mates," Charlie laughs.
After getting the truck on the road, Charlie visited his mate Bernie to show it off. He says Bernie had always regretted selling the truck but was happy to see it up and running. While there, Charlie took Bernie's wife for a drive in the truck. Now yarns can be spun and truths sometimes get in the way but, as Charlie tells it, Bernie's wife didn't want him to sell the truck either and after the drive she didn't talk to him for two days.
Charlie says his dad used to say to him: "If you see something you like and you have the money to buy it, then buy it." That must have sunk in as that's exactly what he did with this truck. He could see the potential in it and, with his skills as a body builder and fabricator he has been able to save a lot of money on its restoration by doing the majority of the work himself.
Resisting the urge to paint her up pretty, Charlie is sticking with the age-weathered Patina look for the '58 Kenworth, holding on to the scars and ageing that stand testament to its 63-year life of toil and adventure spanning two continents.
The icy grey winters of North America it would seem, are far behind this little truck now, with a life of semi-retirement Down Under befitting of any hard-working 63-year-old assured.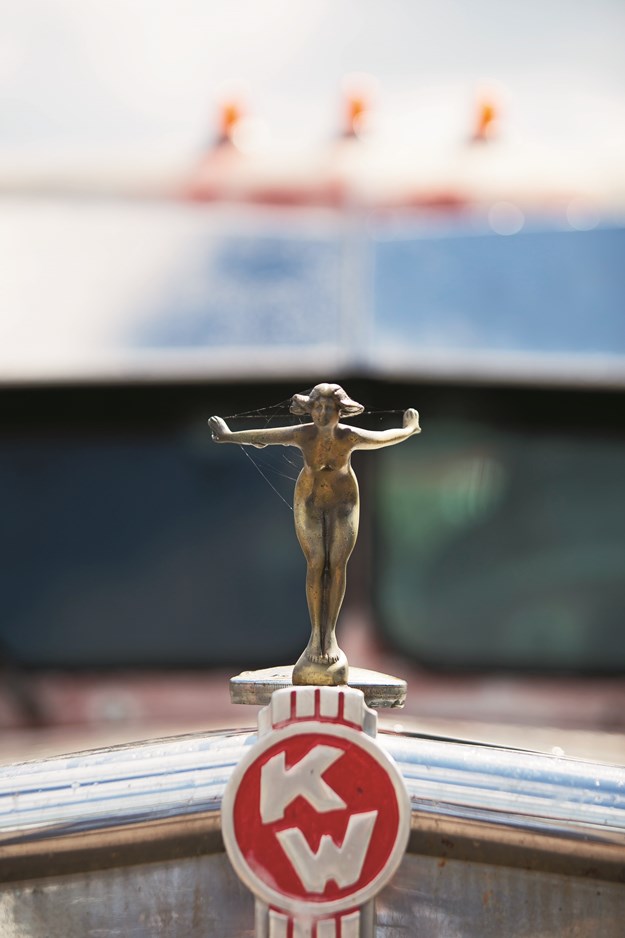 Subscribe to our newsletter
Sign up to receive the Trade Trucks e-newsletter, digital magazine and other offers we choose to share with you straight to your inbox
You can also follow our updates by liking us on Facebook. 

Trucks For Hire | Forklifts For Hire | Cranes For Hire | Generators For Hire | Transportable Buildings For Hire