Fuso Shogun set to muscle up in Australia
---
For whatever reasons, Japanese brands have been reluctant to step into the modern world with a genuinely effective and efficient 500hp engine. Until now! Fuso has seen the light and will later this year introduce Daimler Trucks' formidable 13-litre powertrain.
To be blunt, it was a surprise when word starting filtering through late last year that Daimler Trucks Australia was extensively testing a 500-plus 13-litre engine in Fuso's flagship Shogun model.
After all, Japanese makers have, over many years, appeared to have a historic and almost ritualistic indifference to engines of such size and output in their heavy-duty contenders.
Whether that apparent indifference has been driven by European masters in the case of Fuso (Daimler) and UD (Volvo), or by a dearth of domestic demand in the case of Hino and Isuzu, is contestable. Whatever, the lack of an advanced, efficient and potently powered engine in Australia's burgeoning 13-litre class has kept the Japanese contingent largely caponised as true heavy-duty contenders.
Take market leader Isuzu, for example. Sure, it sits consistently high on the heavy-duty leader board but much of that ranking comes from three and four-axle rigids rather than prime movers, despite the fact that Isuzu's Gigamax flagship is the only Japanese truck on the market with a 500-plus rating.
It is, however, easy to understand why Isuzu's heavyweight does not attract much business. With Giga's lumpy in-line six displacing 15.7 litres yet producing just 512hp (382kW) and a comparatively timid 1,663lb-ft (2,255Nm) of torque, it's not much muscle for such a big heap of heavy iron.
There has, of course, been plenty of talk and no lack of encouragement from Isuzu Australia insiders for an alternative power source for Giga. Indeed, it's no secret a 13-litre Volvo prime mover was bought and tested here for a number of years in a bid to convince Japan of the need for a respectably efficient engine. Moreover, rumours were rife not so long ago that Cummins' lively X12 engine was being considered for Giga but, to date, nothing has come of either enterprise.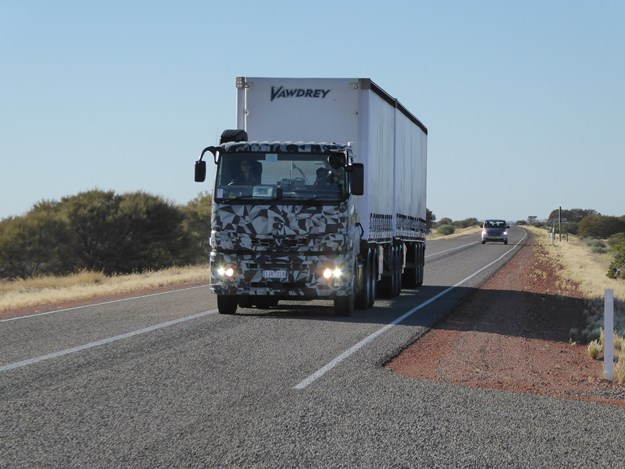 Maybe Isuzu's acquisition of UD from Volvo will deliver a more muscular contender but, given Volvo Group's long insistence that its highly versatile 13-litre engine will definitely not be finding its way into UD's likeable Quon, Isuzu's local leaders would be well advised to not hold their breath in anticipation.
Then there's the Toyota-owned Hino brand, the only Japanese truck with its own 13-litre engine and, with a new 700-series heavy-duty range set to hit the Australian market later this year, there was some speculation the markedly updated line-up might actually crest the 500hp (373kW) mark. However, and for whatever reasons, the word from within Hino is a definite 'No!'
So, back to Fuso and what is almost certainly the most overdue, enterprising and potentially rewarding move by a Japanese brand in the Australian heavy-duty sector for many years.
It's fair to ask though, will the 13-litre Fuso with its Daimler-derived powertrain be viewed by buyers as a competitively priced alternative to an equivalent Mercedes-Benz model?
"We have no fear whatsoever that the Fuso will encroach on Mercedes-Benz sales," affirmed Daimler Trucks Australia chief Daniel Whitehead.
"There are more opportunities for incremental business than any negative impacts. A lot more."
Quiet for a few seconds, he resolutely added: "This will not be a cross-over model but it will obviously have the full Daimler safety package and the target isn't necessarily other Japanese brands. It's more the likes of DAF, Iveco and Volvo.
The way I see it, it simply gives the market more choice."
Much the same response came in quiet conversation with the head of Mercedes-Benz truck business in Australia, Andrew Assimo.
"No, I don't see the 13-litre Fuso being a concern. Not at all, but it'll be a concern for our competitors."
Nonetheless, Whitehead didn't deny that it took a detailed business case with the surety of a reasonable return on investment to convince Fuso's Japanese hierarchy that the installation and thorough testing of a 13-litre Daimler powertrain in Shogun (known in Japan as the Fuso Super Great) was a good move for the Australian and New Zealand markets.
"The potential here and in New Zealand for a higher powered Fuso was obvious to us," he commented, before quickly adding, "but it took a lot of time and a lot of negotiation between Australia, Japan and Germany before it was agreed to start development and testing.
"And it certainly wasn't a quick or simple development process. There were plenty of engineering factors that needed to be considered before the project went ahead."
The exercise actually started in 2017, when a team of Fuso engineers flew to Australia for secret tests of a 13-litre prototype Shogun. It's worth noting that, at the time, this new generation Shogun hadn't even been launched and was still known in Japan as simply the 'Black Panther' project.
With the prototype quietly shipped to Australia, the primary intent of early testing was to gauge the suitability of Daimler's 12.8-litre OM471 engine in the Shogun chassis and ensure the truck's cooling system was up to the job of coping with heavy weights in the heat of Central Australia.
Consequently, and with sophisticated test equipment installed, the truck was hooked to a B-double set and, at a gross weight of 63 tonnes, sent on a return run from Melbourne to Adelaide and Alice Springs.
Australia, however, hasn't been the only testing ground for the 13-litre engine under a Fuso cab. According to Daimler sources, test units have notched upwards of 500,000km in the widely differing demands of South Africa.
Following the positive results of early evaluations here and abroad, final assurances and tweaks of the 13-litre Shogun specification are being determined this year by a 50,000km test program (including 10,000km in New Zealand) covering 800km a day on routes through regional Victoria, running as a flat-top B-double grossing 61 tonnes.
Daimler Trucks Australia is currently keeping timing for the 13-litre Shogun's launch under wraps but our guess is for some time in the third quarter of this year.
What we are sure about is that the powertrain will largely be the same as the current Mercedes-Benz 2651 model, which sees the Euro 6 OM471 engine dispensing peak power of 375kW (510hp) at 1,600rpm and top torque of 2,500Nm (1,844lb-ft) at 1,100rpm.
Likewise, the engine will drive through the same highly intuitive 12-speed overdrive automated transmission as its Benz counterpart.
As for the rest of the spec, Daimler isn't hiding the details: The final drive ratio is likely to be 4.22:1, tyres will be 295/80R on the steer and 11R 22.5 on the drive, mounted on a taper-leaf front suspension and airbag on the rear, while stopping power will come from drums front and rear.
With a GCM of 63 tonnes, shorthaul and regional B-double work will almost certainly be a targeted application, along with anything else befitting a modern, efficient and proven 13-litre powertrain with more than 500hp on tap.
There's little doubt the competition will be watching closely. Some enviously!
Subscribe to our newsletter
Sign up to receive the Trade Trucks e-newsletter, digital magazine and other offers we choose to share with you straight to your inbox
You can also follow our updates by liking us on Facebook. 

Trucks For Hire | Forklifts For Hire | Cranes For Hire | Generators For Hire | Transportable Buildings For Hire