Ingrained in trucking - Hollis Haulage
---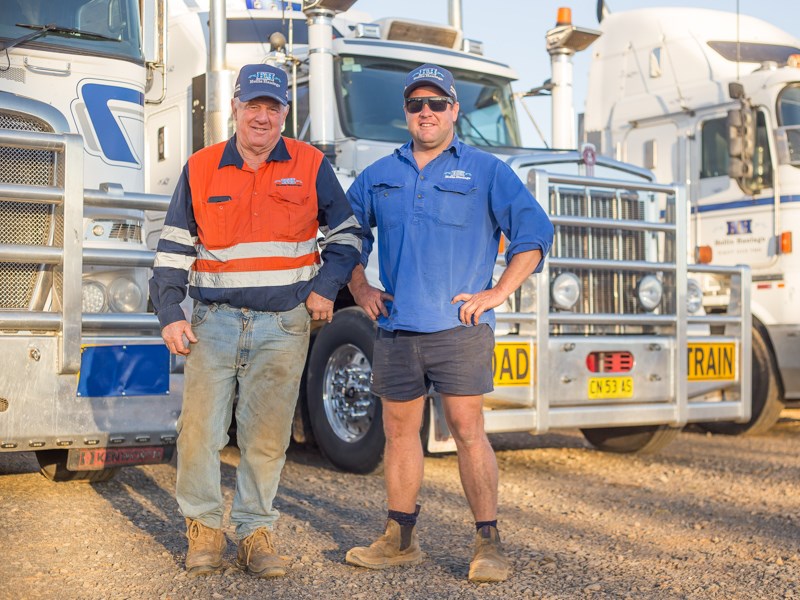 Father and son: Gary and Luke Hollis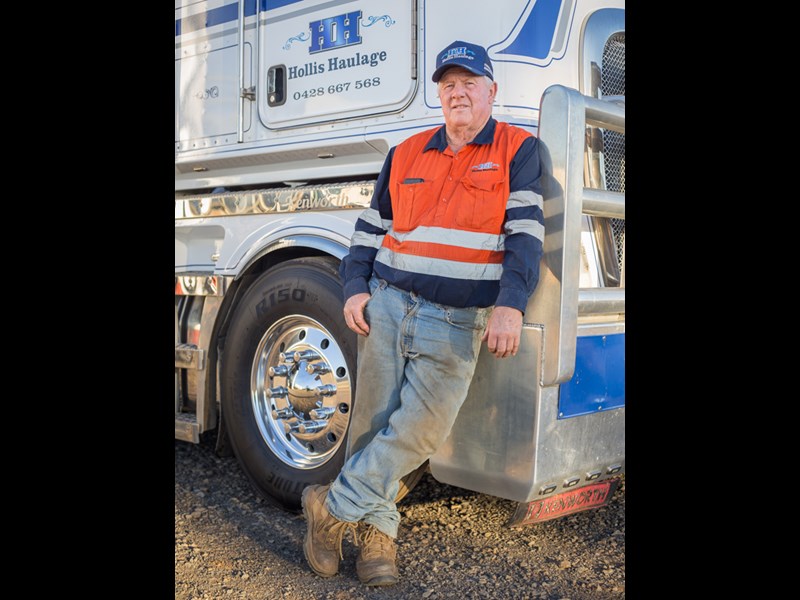 Along with his wife Bonnie, Gary Hollis set the foundations for Hollis Haulage near Tamworth in 1983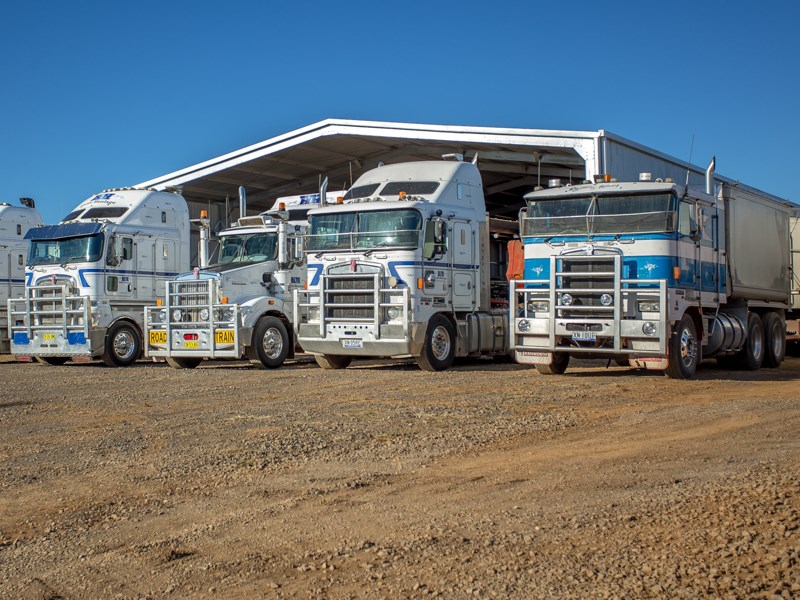 Kenworth heavy: The Hollis Haulage fleet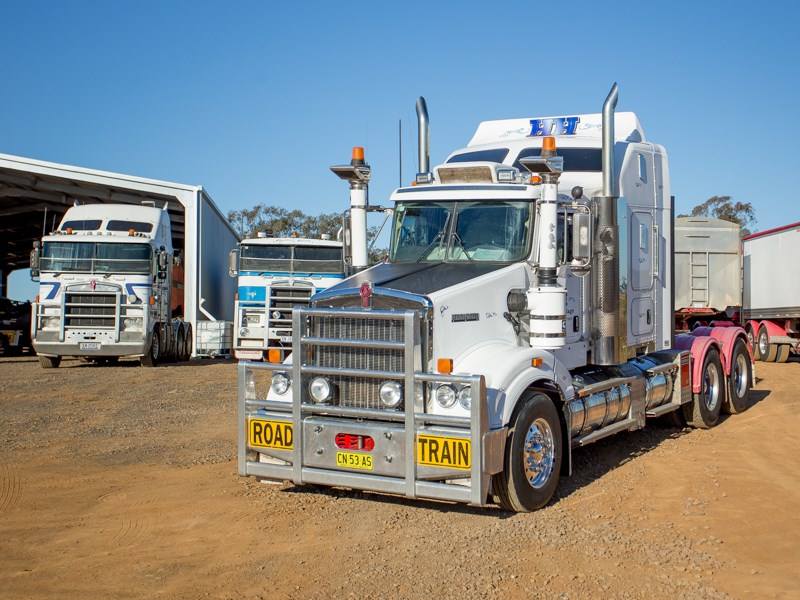 Hollis Transport's Kenworth T409 is soon to be replaced with a T659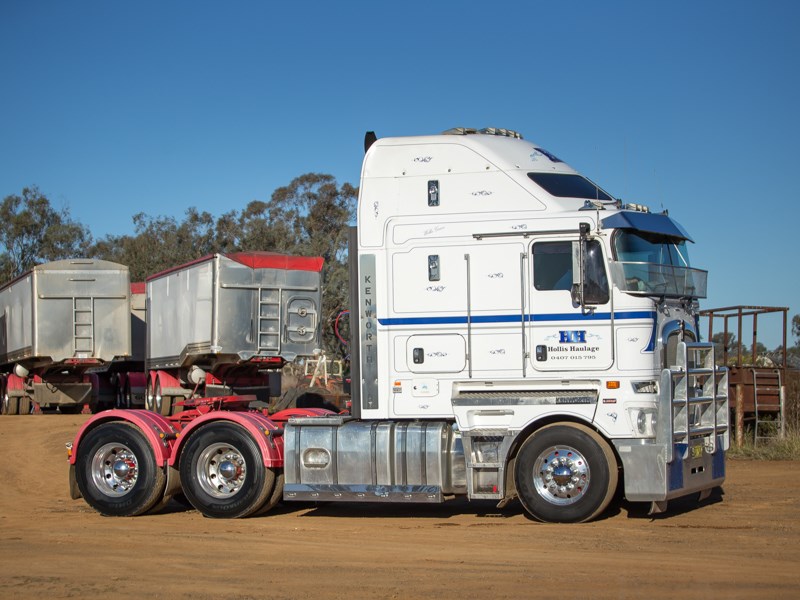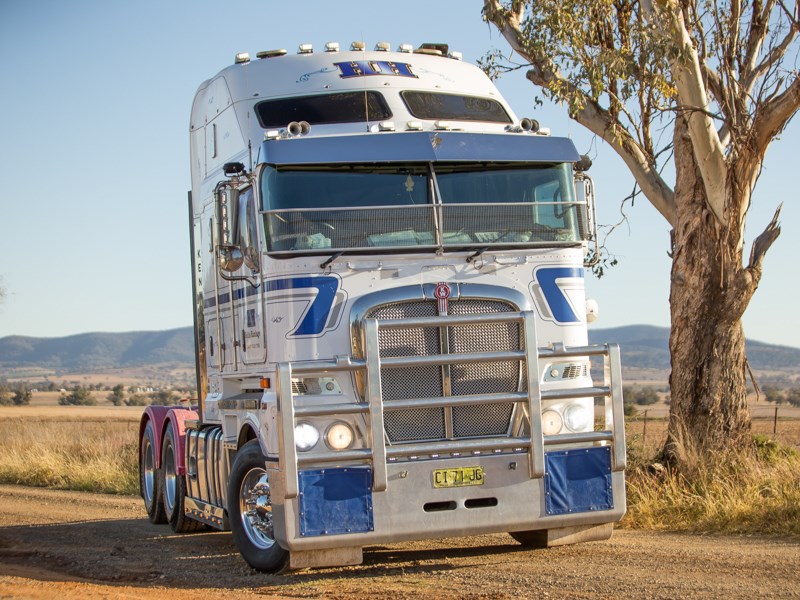 The K200 is one of the newest members of the Hollis line-up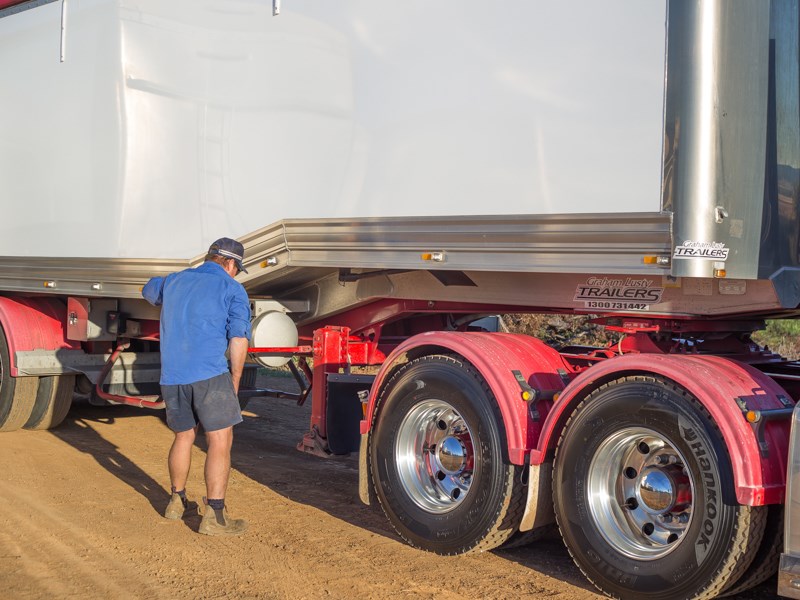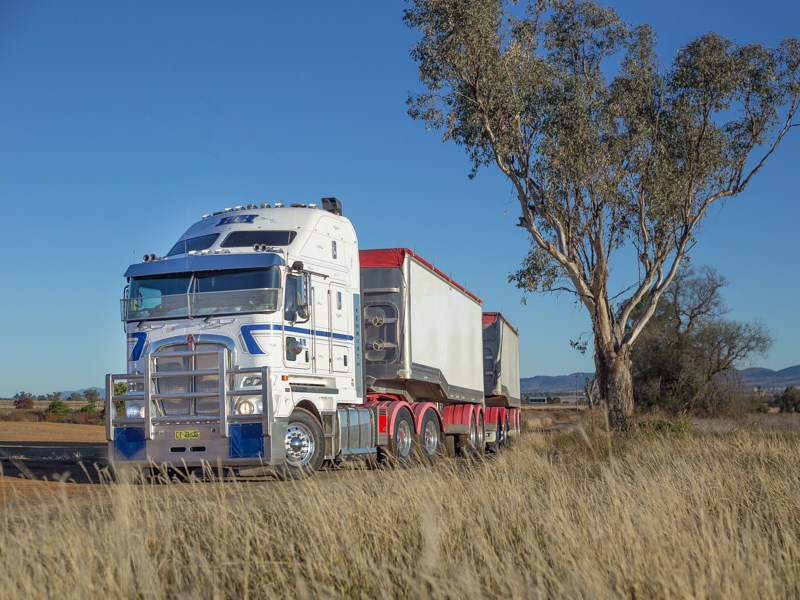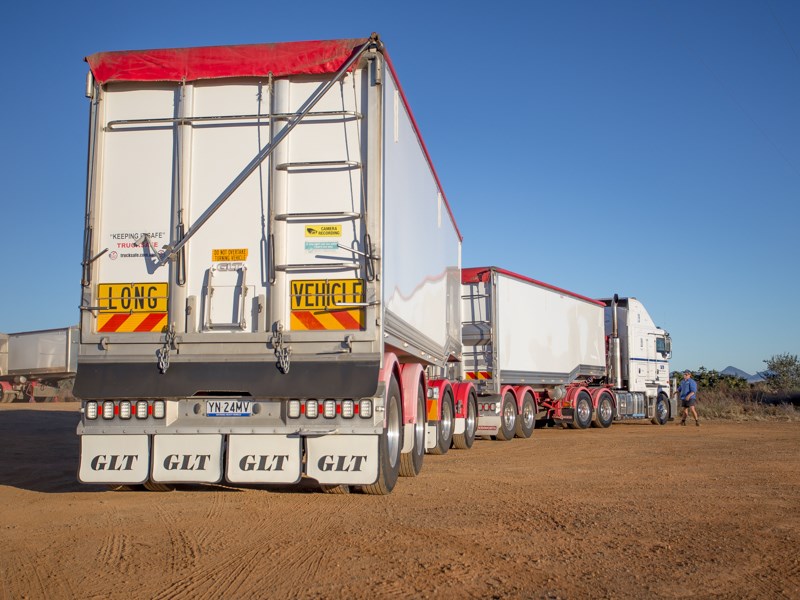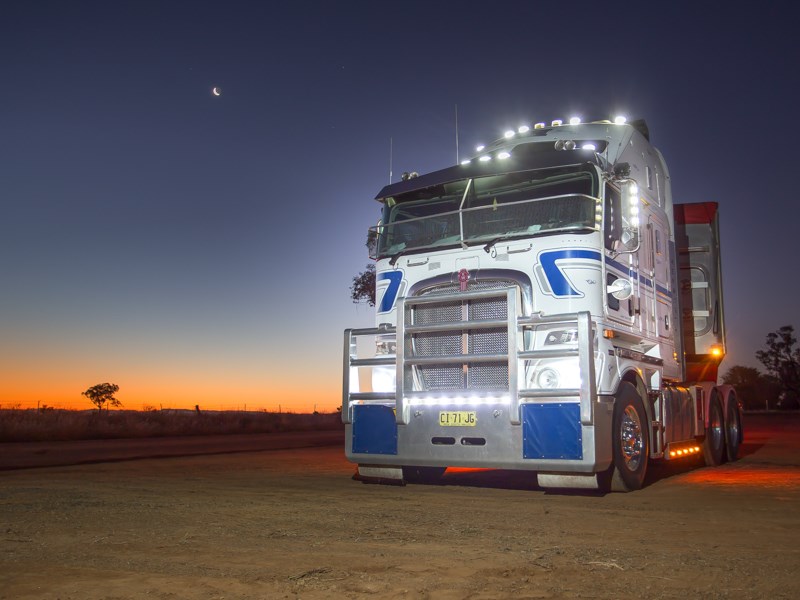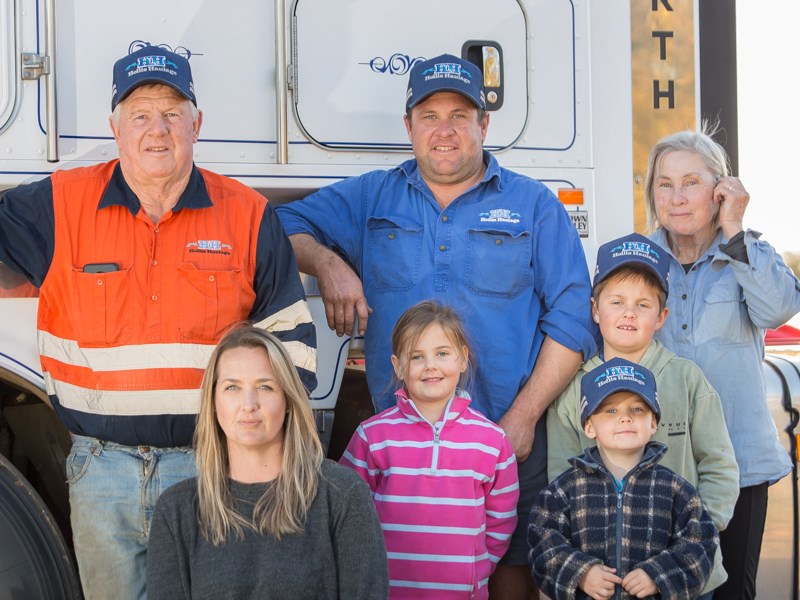 Three generation: (back row, from left) Gary, Luke and Bonnie; (front row, from left) Chelsea, Willa, Lochie and Fletcher Hollis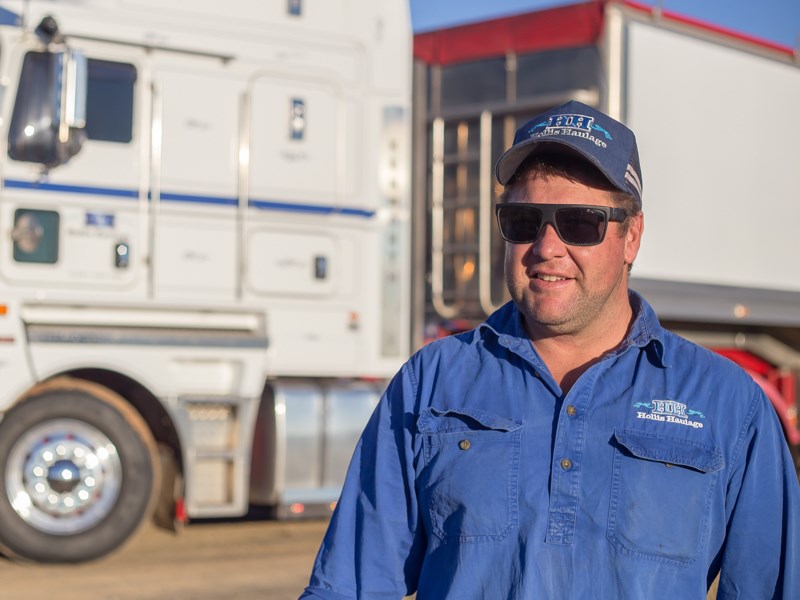 Luke Hollis spent six years in Port Hedland before returning to the country music capital

From a family history in transport, Gary Hollis and his son Luke have managed their way through the drought years by diversifying their Tamworth-based business.
As farmers sow crops early in the season, they place their faith in the weather gods that sufficient rain will bring their plantings to a bountiful harvest later in the year. Mother Nature can be a fickle woman, and sometimes has other plans for the way she disperses the water rations.
With the exception of the last grain harvest season, the Tamworth and Gunnedah region in New South Wales, like most of the country, suffered from a crippling drought for three years or more. The long dry spell and absence of any meaningful rain, left water tanks empty and crops thirsty.
Tamworth-based family-run Hollis Haulage, with its business model based heavily in contract harvesting, faced challenges of significant magnitude as the entire rural economy slowed to a crawl.
Starting in 1983 from the family's 100-acre, property 'Cedar Hill' just outside the country music capital, Gary and Bonnie Hollis set about building the foundations of what would eventually become Hollis Haulage. Bonnie worked (and still does) as a nurse while Gary, as his father and grandfather did, set about making his mark in the transport industry.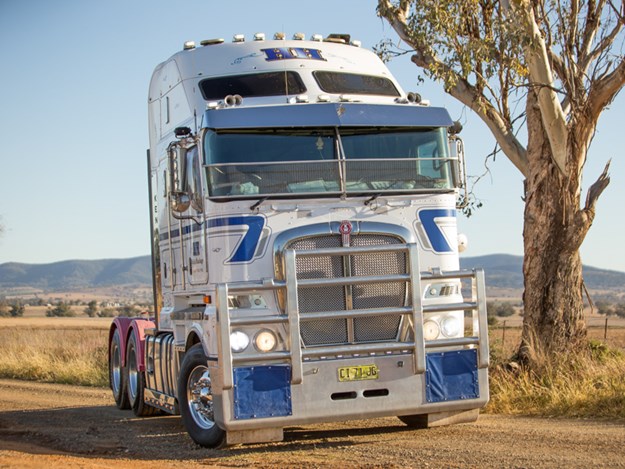 "My grandfather started out in transport working bullock teams from Wauchope to Walcha on the south-eastern edge of the Northern Tablelands of NSW. Dad drove log trucks in the same area before moving to Tamworth to drive stock crates, so it must be in the blood a bit," Gary explains.
In the early days, to supplement their small farm crop income, Gary would jump in his 345 cubic-inch V8 powered International ACCO to do a little bit of grain cartage work at harvest time for local growers. At harvest end, Gary and his trusty ACCO would cart spuds from the Niangala area, south-east of Tamworth, a bit of timber and any other work he could get his hands on for the truck.
Not one to sit idle, to keep the money coming in Gary also worked in town at the Repco machine shop, but according to Bonnie, Gary just wanted to be his own boss.
As the years marched on a Bobcat was later purchased along with a Volvo F10 tipper. This led to work for Gary cleaning out chook sheds and the like. A dog trailer was later added and a second newer F10 Volvo bought to replace the first one, which had served its purpose.
The eventual purchase of a K100E Kenworth truck and dog tipper combination, affectionately known as 'Rhythm and Blues' and later the first header, would lead the business of Hollis Haulage to its current focus – contract harvesting and rural commodities transport.
As farm kids do, they learn from a very early age. It doesn't matter how young you are, stuff needs to get done, and Gary and Bonnie's three sons – Mathew, Tom and Luke – were no exception. "They learnt very early on about machinery, that's for sure," Bonnie says. "They learnt quickly how to fix things."
As Gary recalls of the early day: "The boys would drive the header and I would drive the truck. It wouldn't matter if we were harvesting our place or someone else's, that's how it got done".
Maintenance costs
Life went on and the sons grew up and went in their different directions, with Luke Hollis opting for a stint in Western Australia working in his trade of auto electrician. Luke and now wife Chelsea spent six years in Port Hedland before the lure of a home-cooked meal drew them back to Tamworth.
Upon his return, Luke suggested to Gary that they should buy another truck. Gary still had (and still does have) 'Rhythm and Blues' and an International TranStar which tows a tanker trailer carting tallow at that time. Shortly thereafter the pair bought a Kenworth K104 and a float trailer.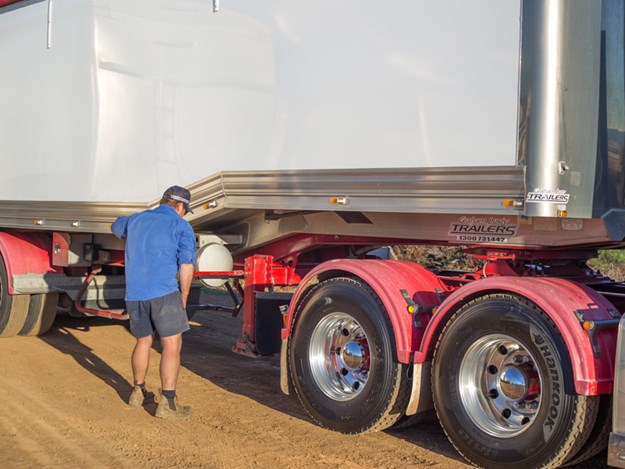 Over the subsequent years the business, grew and grew with the contract harvesting requiring more and more trucks to keep up with the headers and get the crops off the farms in a timely manner.
Luke admits that, by starting out with older gear, they realised the amount of time and associated costs with keeping the old equipment maintained and running was outweighing the cost to purchase newer, more reliable equipment. I hear this time and time again from operators who have started out this way, however hindsight is a wonderful thing and when dollars are tight in the early days of starting any business, it takes a lot confidence (and cash or debt) to make the decision to buy new from the outset.
From the official formation of Hollis Haulage in 2012, the truck fleet has now grown to seven trucks, four B-double sets, one A-double tipper set, four 45-foot drop decks, two B-double flat tops, a low loader and a tanker trailer. They also operate four of their own headers.
As the seasons do, they tend to run in cycles, and as history now tells us a drought was looming which would force Hollis Haulage to pivot its operations to alternate freight and make some tough business decisions.
According to Gary, "With the exception of the 2020 season, the last three years have been pretty dismal for harvest work. During the drought I had to do a lot of hay cartage".
Bonnie adds, "One of our trucks operating as an AB-triple was constantly running grain from far southern NSW up into southern Queensland feedlots. They had no grain, there was a real shortage.
"We also carted a lot of grain into local feedlots that had been shipped into the Port of Newcastle from WA. It kind of runs in cycles; the trucks had some work, but the headers really didn't."
While the headers were sitting silent in the sheds, the trucks remained somewhat consistent, or as consistent as could be expected considering the prevailing climatic conditions. "We do a lot of baled cotton work which comes from irrigated farms so, that helped a fair bit during the drought," Luke says.
Tough going
Although there was some work for the company, undoubtedly things were tough. And with tough times come tough decisions. Faced with the possibility of putting off one of the three employee drivers due to a reduced workload, Luke made the selfless decision to return to his trade for 12-months, ensuring there was enough work to keep on all of the company's drivers. "It was just too hard to put someone off who hadn't done anything wrong," Luke admits.
Conditions have since improved and Hollis Haulage seems to be back on track, keeping up with new innovations and higher productivity equipment.
"We have invested in hydraulic cotton bale trailers by Collier & Miller. These trailers allow round bales to be double stacked into the trailers raised hydraulic frame which, once the bales are loaded, descend down to partially crush the bales within the frame, eliminating the need to strap the bales and ensuring the load does not exceed height restrictions. We can get nine bales to a single trailer with this design," Luke says.
"All our trucks run on HML (higher mass limits), under the IAP (intelligent access program). We can run roadtrains into the outskirts of Tamworth near the airport and we are running our 26-metre A-double at 75.5-tonnes gross all the way into the Port of Newcastle. This combination yields us a payload of around 51-tonnes.
"We will evaluate the feasibility of adding a 30-metre combination if it is eventually approved for use on this route. We also have a new Kenworth T659 coming to replace our T409," Luke adds.
All of the day-to-day running of the business is handled by family members, with Bonnie and Luke sharing the logistics and compliance aspects.
Luke says he likes the seasonal nature of the work, but finds it a little harder now that he has kids. "Being away from home never used to bother me, it's just a little tougher now."
Toward the end of our chat out the back of Toyota ute, and amid the fading afternoon light and a chorus of squawking galahs, Gary hinted towards the desire to retire, although I'm not convinced he means it.
I do get the impression that Luke's kids (Lochie, Willa and Fletcher – have their names inscribed on the side of the company's newest trucks) might just be willing to step up and take the batten from Gary when their ages permit. Although as most country kids do, they'll probably be driving around the farm just as soon as their feet can reach the pedals, cementing a five- generation transport legacy for the Hollis family.
Subscribe to our newsletter
Sign up to receive the Trade Trucks e-newsletter, digital magazine and other offers we choose to share with you straight to your inbox
You can also follow our updates by liking us on Facebook. 

Trucks For Hire | Forklifts For Hire | Cranes For Hire | Generators For Hire | Transportable Buildings For Hire