Peterbilt tow truck a South Oz standout
---
NOVEMBER TRUCK OF THE MONTH: Nothing stands out better than a Peterbilt – especially when it's a tri-axle configuration painted up in rose red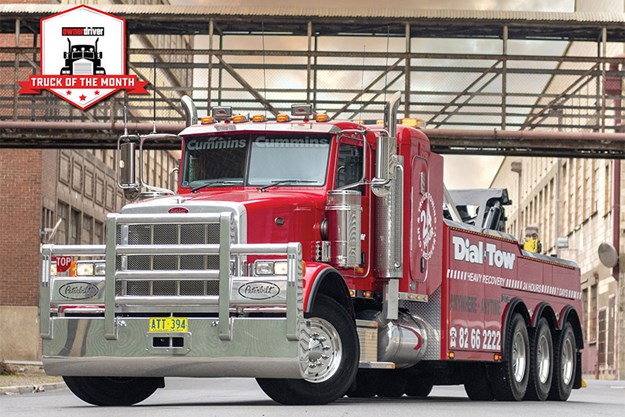 I have to admit it – my first real chat with a tow truck driver turned out to be a lot more enjoyable than I expected. Admittedly, I've always been fearful that I'd be trying to explain to a towie that it's not my fault, the gearbox came like that and the jack shaft was broken when I got it, all while sitting in the middle of a three-lane highway waving at the cars honking at me.
Instead, it turns out my first chat was while sitting on a crate in the shadow of a big red T409, sharing a cold can of coke and trying to contain my excitement at the idea of shooting a massive iconic Peterbilt. For once, real life beat my imagination.
The crate that my well-cushioned backside was seated on was in one of the workshops of Adelaide-based family business Dial-A-Tow and the tow truck driver that was giving me a rundown was Benny Rice.
Benny drives not just the T409 that was providing us some shade, but also the massive tri-axle Peterbilt that would be getting lined up by my Nikons once we'd finished our chat. He also organises and allocates the work for Dial-A-Tow's heavy recovery vehicles, as well as scheduling the drivers. Add in the mountains of paperwork he's responsible for and you begin to see why the Dial-A-Tow offices see more of Benny than his family.
With all that in mind, I was extremely grateful for his welcome reception when I chased him down to photograph the big Pete – Dial-A-Tow's newest heavy recovery truck.
Benny has been in the industry for a fair while now. His path into transport is semi-traditional, in an inverse way. Whereas a lot of us followed fathers or family into the lifestyle, Benny's love of trucks and desire to get behind the wheel led to his father giving up a job as a baker in order to take a job in transport. So, technically, father followed son this time.
When Benny finished school, he was still too young to get out on the road, so he found himself undertaking a panel beating apprenticeship. The company he worked for specialised in heavy vehicle recovery and repairs, so he was able to learn a trade and keep his truck passion alive. Any chance he could, he'd be in one of the tow trucks going out to help on a recovery.
As soon as he was able to, he obtained his licence and started learning to drive the big tow trucks.
"I remember my first job was a bus breakdown," Benny reflects.
"I was in a T350 and we went out there. Old mate beside me was telling me as we came along the highway, 'there's the bus, there's the bus … there goes the bus'. I hadn't really realised how much it takes to stop these things and flew straight by."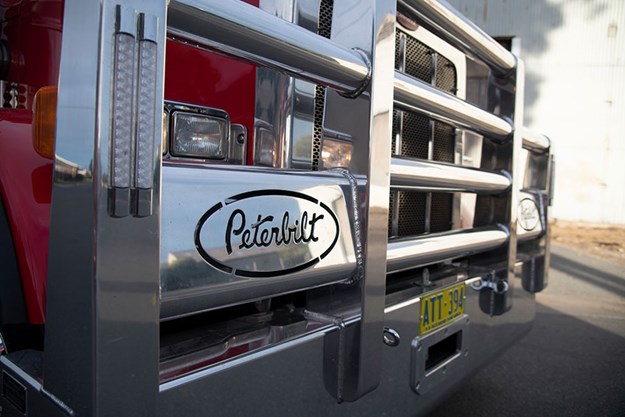 Since that day the panel beating played second fiddle to the tow truck life. It was a perfect fit for Benny. He got his truck driver fix as well as plenty of hands-on work and more than enough problem-solving dilemmas.
Eventually the constant burden of unpredictability and on-call lifestyle took its toll and Benny headed off to enjoy the comparatively quiet life of a truck driver, doing changeovers and Melbourne to Adelaide runs. It didn't last. It seems the tow truck world had hooked its underlift onto Benny's soul and he ended up returning to the fold, this time throwing his tools in with John and Tanja Hitchcock at Dial-A-Tow.
Humble beginnings
Now, let's do a brief rundown on this stalwart Adelaide towing and recovery business. John Hitchcock is the very humble man at the top of the Dial-A-Tow food chain and has been ever since he recovered his first car using an AR160 International fitted with an old school hand winch back in 1979.
John came and joined us in our comfy crate seating in the back shed not long after I got there. Dwarfed by the impressive several state-of-the-art tow trucks, I started our chat by asking John: "So, how long have you been in towing?"
"Oh, just over a couple of weeks now," came John's cheeky answer. This sense of humour and self-deprecation would become common in our chat.
From his humble one truck beginning in Adelaide, John has grown the business to nine heavy recovery vehicles and just over 70 tilt-trays, spread throughout Adelaide and South Australia.
The work undertaken by Dial-A-Tow sees them covering nearly everywhere from Northern Territory to Queensland, Victoria to Western Australia and New South Wales.
Starting with just small recovery jobs in his old International, John entered the towing industry during its illustrious unregulated days. My eyebrows were definitely raised as he filled me in on the working conditions of the early '80s.
Over the years things have, without a doubt, improved and the industry has become synonymous with ground-breaking equipment and skilled operators. Everyone is in a much bigger hurry and the general public are less forgiving of holdups on their daily commute, so the reaction of, and subsequent performance of, tow trucks and towies has become all the more important. John understands this and has built his business with the right equipment and, most importantly, the right people.
"Having good key people around and doing their job, working together, that's the important thing," John explains.
Being able to deal with any situation has also been a key to Dial-A-Tows success.
"We offer a full clean-up service," Benny points out.
"It's not easy finding someone at 1am to clean up a site."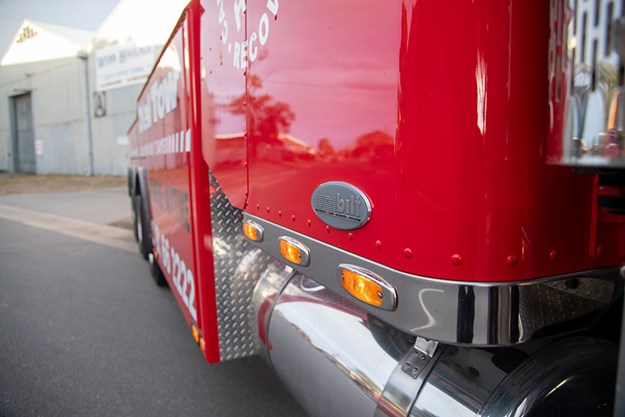 Seeing that kind of shortfall in the industry led to Dial-A-Tow buying its own skid steer with attachments, as well as tippers and excavators, allowing them to clear sites of vehicles and debris. It's this adaptability that's seen the company grow.
It would be fair to assume then that growing with demand is the reason Dial-A-Tow has such a large fleet of heavy tow trucks. John's sense of humour would have you believe otherwise.
"I'm addicted to buying trucks. I don't smoke or drink, I buy trucks."
That's the tongue in cheek answer I get when I bail John up about his nine heavy recovery vehicles, the big Pete being the latest addition.
Digging a little deeper, John's business acumen is more than just the 'boys want toys' approach he'd have me believe. Right from his very first 'big truck' (I'm emphasising the 'big truck' statement to reflect John's smirk) as he loosely defines his D-series Ford V8 Cummins as a big hook tow truck, the big rig that joined the team in the early '80s. As the size of the trucks in and around Adelaide grew so did the need for bigger tow trucks.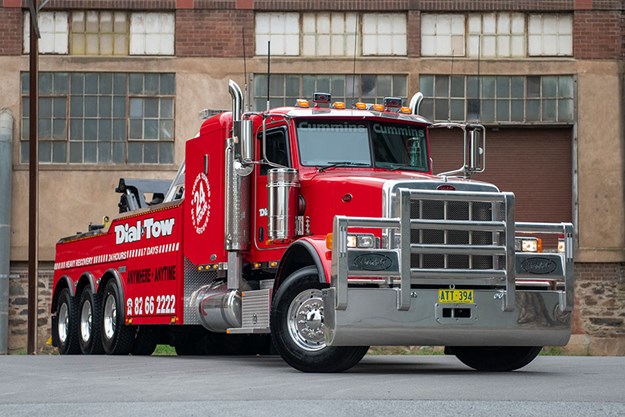 After the old D-series become too small for the jobs John was getting, he purchased a couple of other second-hand tow trucks, each getting slightly bigger, before he ordered and built his first underlift heavy recovery vehicle – the 2014 Kenworth T409. With the assistance of Lyndon from TruckWorks in Adelaide, John purchased a truck from Kenworth and the body from the United States and, together, Lyndon merged them and delivered John's first custom-built big rig.
Work kept growing and so did the fleet. As opportunities presented themselves, John made sure he grabbed them.
"When opportunity knocks, sometimes you just got to do it," he informs me.
One of those occasions, though sad as it was at the time, led to a major increase in fleet numbers. Illness in the family saw one of Adelaide's iconic towing companies, Shipp Brothers, selling a lot of their gear.
"Shipp Brothers had been around for about 81 years," John says.
"Dennis was unwell and sold a lot of it off. We bought the heavy recovery vehicles.
"I'm honoured to have that. As much as we didn't buy the whole business, I'm proud to have a part of that history."
John also added that, a year after he purchased the trucks, Dennis' son, Glen, started work for Dial-A-Tow.
The origins of the Peterbilt are also very much in the opportunity class as well. While Dial-A-Tow already had a wide array of heavy recovery vehicles from the Shipp Brothers purchase, it was still having to outsource a bit of its work, towing away certain setups or configurations because the current underlifts weren't available or capable.
One of John's regular clients had asked about doing more work for him, which got John thinking about buying more trucks … I mean thinking about 'an increase in company assets to enable increased productivity'. That's a much better line to feed the accountant than John wants another truck.
Bittersweet acquisition
This increase in work and need for an extra heavy recovery vehicle coincided with a sad time in the Australian transport industry. Trucking lost one of its most recognisable icons, Ray Scott. After his passing, a few of his toys went up for sale. One of those was the 2007 tri-axle Peterbilt 367 tow truck that had been brought over from the United States.
The truck had arrived in Melbourne brand new and been converted to right hand drive before making its way across to Ray's backyard in Mt Gambier. John believes Ray had all the intentions of using it to help with breakdowns and recoveries of Ray's fleet, but with only 18,000km on it when John bought it, he now thinks it may have ended up as just a project truck. Something to enjoy rather than work.
When John bought the truck, the team at the Scott Group repainted it in Dial-A-Tow's distinct red before it left Mt Gambier, so it was ready to hit the ground working the moment it arrived.
As I mentioned before, it's a big unit. When I asked John about the wheelbase, I got a very honest "long". Benny would later elaborate, informing me it is 12 metres from bullbar to underlift. The work gear on the back is a Century 70/35, which has a 35-tonne boom and 35,000lb (15,875kg) winches. The 2007 build means it's still sporting the Cummins EGR engine.
Where its biggest advantage lies is in the 27 tonnes it can get on the drive. Getting legal weights on the rear while trying to keep enough weight on the front axle can be a fine balancing act for tow trucks, so although you may hit your Fitbit step quota just walking around the Pete, it does make it a perfect setup for what John and the team need.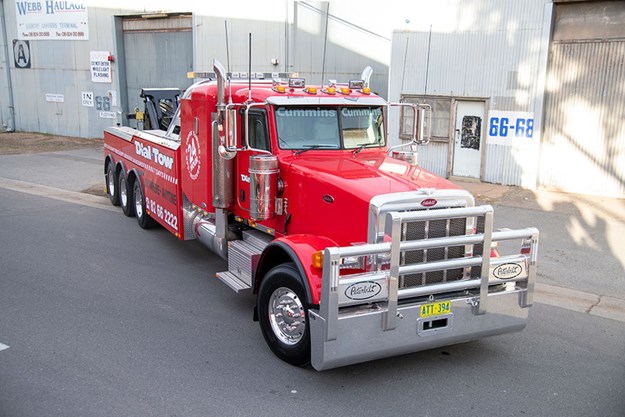 We haven't even touched on what it's like to drive, but any truck with the wheelbase of a Boeing 737 would ride pretty well. Peterbilts have established their name on the back of being comfortable and easy to drive, and Benny Rice will attest that his big Pete is no exception.
"It's a dream, it is a bloody nice comfortable truck to drive."
How about the manoeuvrability though, surely that would be a downside, I asked?
"Nah, it's actually pretty good," Benny replies.
"I was in town the other day getting into a yard with a truck and A-trailer and managed it just fine." Although he did add that being that long you just have to keep your wits about you.
With a lot of their work taking the drivers away, sometimes for several nights, John makes sure all his heavy recovery vehicles have a decent bunk on them. The Pete is no exception. The factory-built 48-inch (122cm) bunk, though a low roof, provides plenty of room for the odd night away.
I did eventually find the touchy subject in the Dial-A-Tow garage when the conversation moved onto shiny bits.
"We're arguing about bling," admits Benny, with John's follow up comment being "bling don't earn money".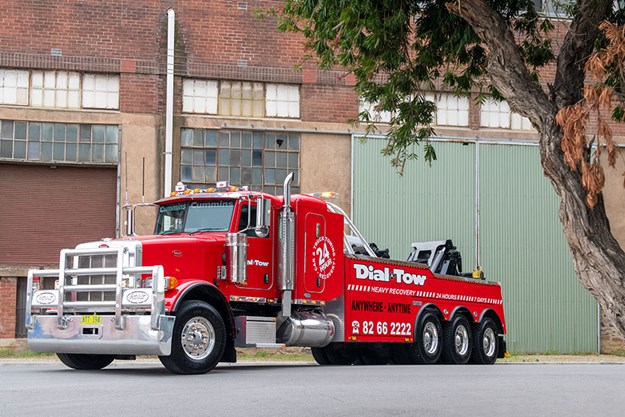 The big Pete relies a lot on its own staunchness and size rather than bling, though Benny has a few plans. It is worth noting John's attempts to pretend bling isn't important falls short when you see the effort put into the two other trucks that photobombed our shoot – the stunning T604, which is credit to Brenton, and the shiny T409 that is Benny's main truck. The bling may not make extra money, but the trucks sure stand out.
Well, much like my butt on the uncomfortable crate, I think it's time to move on and go enjoy a glimpse of this huge Peterbilt. It's a name eternally linked to 'cool trucks' and Peterbilt continues that trend with this rose red beast of a truck. Well done Dial-A-Tow. Fingers crossed I'll never need you.
Subscribe to our newsletter
Sign up to receive the Trade Trucks e-newsletter, digital magazine and other offers we choose to share with you straight to your inbox
You can also follow our updates by liking us on Facebook. 

Trucks For Hire | Forklifts For Hire | Cranes For Hire | Generators For Hire | Transportable Buildings For Hire