The new fully automatic long wheelbase version of Hino's medium duty FE model is easy and fun to drive around town

Most light duty and middle-sized trucks are well and truly in the bland department when it comes to any throaty sound.
But not Hino's 500 Series FE. When starting up a new FE for our recent review drive, ATN got quite a pleasant surprise.
For a 14-tonne GVM (gross vehicle mass) urban runabout, the FE sounds pretty ballsy. Something like a cross between a British thumper motorbike and a Subaru boxer engine.
So when you're out on the road, you know you're doing some real work. At the same time though, the noise isn't intrusive if you have the windows up.
Throw in an air suspended Isri driver's seat; fully adjustable steering wheel; terrific vision and electric heated mirrors; a tight turning circle; and nice steering and handling, and it's almost enjoyable fighting with heavy city traffic in a truck like this.
The test vehicle was a 4.8 metre wheelbase, 10-pallet general freight curtain-sider loaded with bags of sand.
The longest wheelbase FE chassis – at 5.5 metres – can accommodate a body fitting 12 pallets. Meanwhile the long wheelbase auto FE on display at the Brisbane Truck Show was a tilt tray.
The longer wheelbase versions have optional Hendrickson air bag suspension on the rear.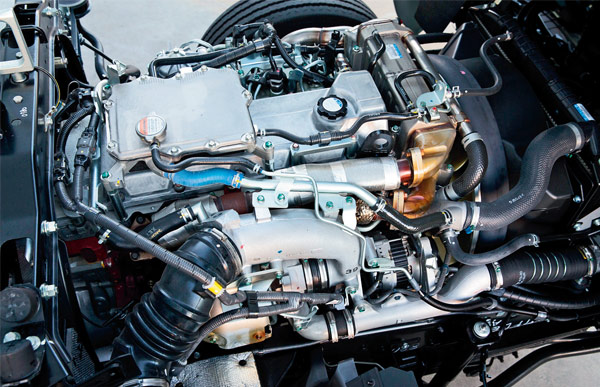 Engine
All FEs have the same 5-cylinder J07 engine — the '7' is a rather generous rounding up of the engine size, which is 6.4 litres.
This might seem on the small side, especially when compared with the Isuzu counterpart's almost 8-litre engine, but Hino claims this is the most powerful Japanese truck in its class, and our scrolling through the specs sheets seems to confirm this.
The J07 pushes out 260hp (191kW) and nearly 800Nm of torque, and you can feel the grunt on the road.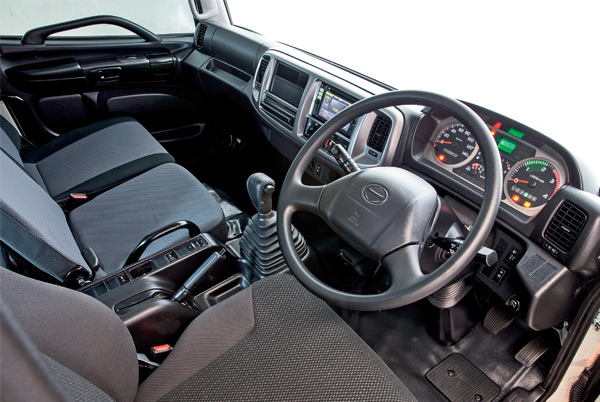 Transmission
Chief among the FE's "luxuries" is the fully automatic 5-speed transmission, undreamed of 50 years ago and, perhaps surprisingly, only introduced to the popular longer wheelbase versions of this model this year.
Hino's arch-rival and market leader Isuzu just beat it to the punch in offering a full auto in this class of truck — also an Allison — and their units have apparently been selling well.
And no wonder. I know I'd rather not be changing gears manually a couple of thousand times a day in city traffic. It's got to be less fatiguing in an auto.
The shorter wheelbase vocational-type FEs were first cab off the rank with auto last year.
It's not just drivers who are likely to appreciate this new automatic option. Hino says there has also been strong demand from customers for autos.
Hino reckons the Allison uses about the same amount of fuel around town as a manual; it's safer, because drivers can keep both hands on the wheel and concentrate on the road better; and it takes off from lights quicker than a manual.
Amazing as it may sound, these days it's apparently harder to find drivers who can even use a synchromesh manual. After all, most new cars are autos.
If a driver can't use a manual well, an auto could have the edge in servicing costs.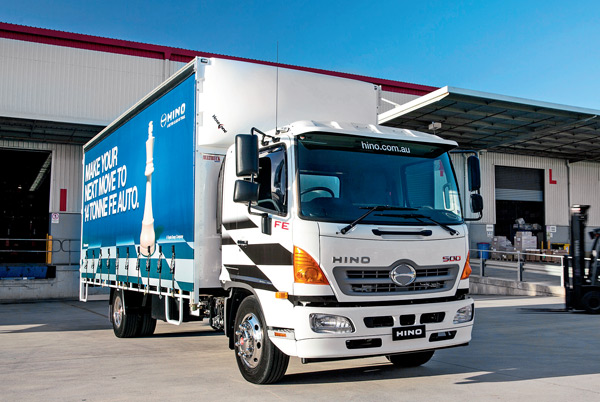 Performance
We cruised nicely on Sydney's M5 motorway and powered up steepish Sydney arterial roads with ease.
The 5-speed Allison is smooth and seems to change in the right places. Only a couple of times I manually knocked back a gear going up a steep hill at 13 tonnes all up.
The exhaust brake doesn't seem to do much in itself, but tells the transmission-control unit that you want to stay in a lower gear going downhill.
There is an 'economy' mode button on the cobra auto gearstick that reduces fuel use, by telling the transmission to shift at lower engine speed.
Surprisingly, there is no cruise control on this model, but Hino says there will be soon.
And unlike in the 300 Series light-duty Hino trucks, there is no vehicle stability control (VSC).
As far as we can tell, neither is there stability control in any other medium-duty Japanese trucks — you'll have to go European if you want that.
You'll also have to go European if you want disc brakes.
There is a driver's side airbag, but none on the passenger's side — unlike the Isuzu. Hino counters that most of these types of trucks won't carry passengers.
Specifications
Make/Model: Hino 500 Series FE 1426 long wheelbase automatic
Engine: J07 6.4-litre, emissions control EGR and Diesel Particulate Active Reduction (DPR)
Outputs: 260hp (191kW); 794Nm @ 1,500rpm
Transmission: Allison 2500 5-speed fully automatic
GVM: 14 tonnes
RRP: $103,000 – $109,000
Video: Barry Ashenhurst and Steve Skinner