As it happened: The RSRT Easter hearings
---
The events of the Road Safety Remuneration Tribunal 'safe rates' delay hearing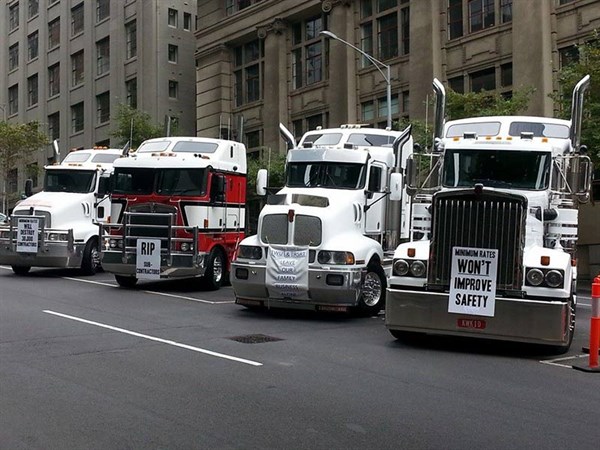 Day one - Saturday, March 26
Interested parties gathered outside the Road Safety Remuneration Tribunal 'safe rates' delay hearing at 9.30am in Melbourne.
Inside, it was not quite a full house though nearly all 50 observer seats were filled.
As the hearing kicked off as the Transport Workers Union again attacked NatRoad and the Australian Industry Group for their opposition to the contentious Road Safety Remuneration Order.
Almost half the 32 witnesses called were heard on the first day of the three-day RSRT Easter marathon.
The main lines of questioning, in search statements of fact only, were: driver numbers and status; modes of payment, if any, especially for backloads; customer RSRO discussions, if any; source of belief that RSRO spells contract-driver doom.
NatRoad's name was common in the latter but not alone.
Almost all firms questioned were awaiting the hearings' outcome before acting on subbies' future.
Some attempted their own rates calculations with great difficulty using official info.
About a one-third hike in certain rates was noted often. Reports of an inability of the FWO to help were reinforced.
Day two - Sunday, March 27
The issue of commercial confidentiality continued to simmer at the RSRT 'safe rates' order deadline delay hearing's second day.
Without NatRoad legal oversight, several witnesses would have revealed potentially relationship-breaking details in the course of cross examination.
This due to ignorance or misunderstanding of the position they were in. RSRT president Jennifer Acton gradually became sensitive to the point as the number of objections rose.
But the issue cut both ways, with pro-RSRO lawyers and supporters arguing that the supply chain needed to be held accountable and commercial confidences should be no shield if no contract was in force, as was sometimes the case.
The pro-RSRO side was also moved to call the tribunal's attention to an alleged leaking of confidential Coles evidence in SARTA's Facebook comments section. Acton said it would be looked into.
The bench's witness questioning, again led by Acton, followed the first day's pattern.
In the many clearings of the court for commercial-in-confidence evidence, some owner-driver observers remarked on the absence of RSRT questioning on RSRO implementation-delay matters and that safety issues had yet to be mentioned by anyone bar the odd unprompted hirer or owner-driver.
Questions on the value of a deadline postponement were eventually taken up by NatRoad representation and ALRTA executive director Mathew Munro but no one else.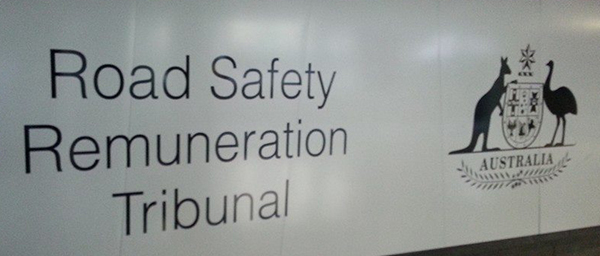 Day three - Monday, March 28
The final hearings day began with cross-examination of NatRoad industrial relations manager Arthur Spottiswood by TWU lawyer Mark Gibian, assisted at times by Linfox lawyer Maurice Baroni.
Spottiswood was put under close questioning on what he put in the association's newsletter on the RSRO and its attitude to the existence of the RSRT.
This centered on the pro forma document many industry RSRO-objectors and delay-seekers used to raise issues with the tribunal. Spottiswood denied orchestrating a campaign against the 2016 RSRO.
Questioning became heated at times and objections ensued, including the accusation that an effort was being made to use the common mode of individuals' complaints as a basis to reject them all.
Spottiswood said NatRoad was seeking a delay until the RSRO was fully understood.
He pointed to the differing FWO advice on coverage. That brought questioning on why it was an issue with the 2016 order when it was the same as the 2014 minimum entitlements RSRO.
This Spottiswood rejected, at which point the Commonwealth's legal representative helpfully pointed out the 2014 order used the term 'road transport driver' while in the 2016 order it was 'contractor driver'.
The last witness was Metro Freight Lines GM Daniel Cozzolino, whose considered calculation using RSRT tools was was the 2016 RSRO raising rates 30 per cent.
Both National Independent Trucking Association CEO Jerry Brown-Sarre and Graham Garner attempted to cross-examine Cozzolino over details of business dealings each had previously had with him or his firm. These failed to make headway under objections, though an email exchange was tabled.
The proceedings concluded with Garner informing the hearing he had been subject to social-media stalking and threats allegedly by a Metro driver.
A court official took details and RSRT president Jennifer Acton advised him to involve police.
Subscribe to our newsletter
Sign up to receive the Trade Trucks e-newsletter, digital magazine and other offers we choose to share with you straight to your inbox
You can also follow our updates by liking us on Facebook. 

Trucks For Hire | Forklifts For Hire | Cranes For Hire | Generators For Hire | Transportable Buildings For Hire