Scania's platoon is in tune
---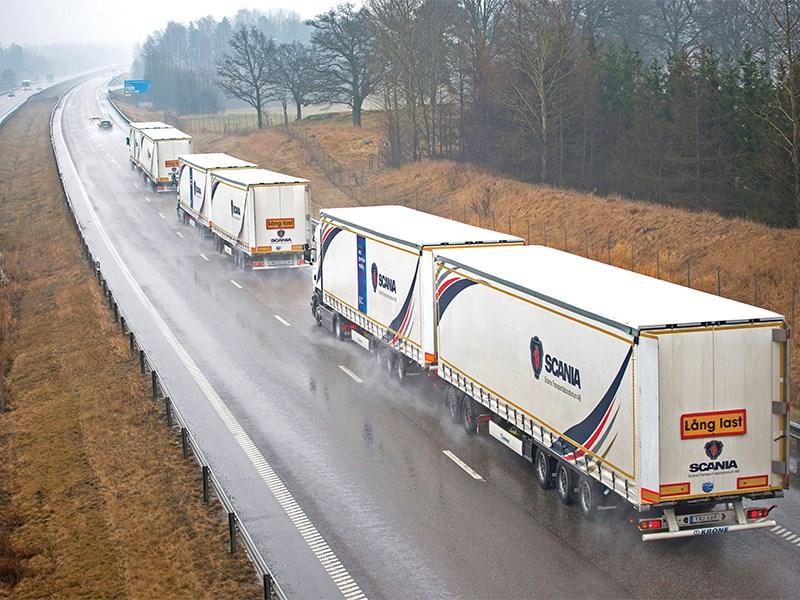 A Scania platoon struts its stuff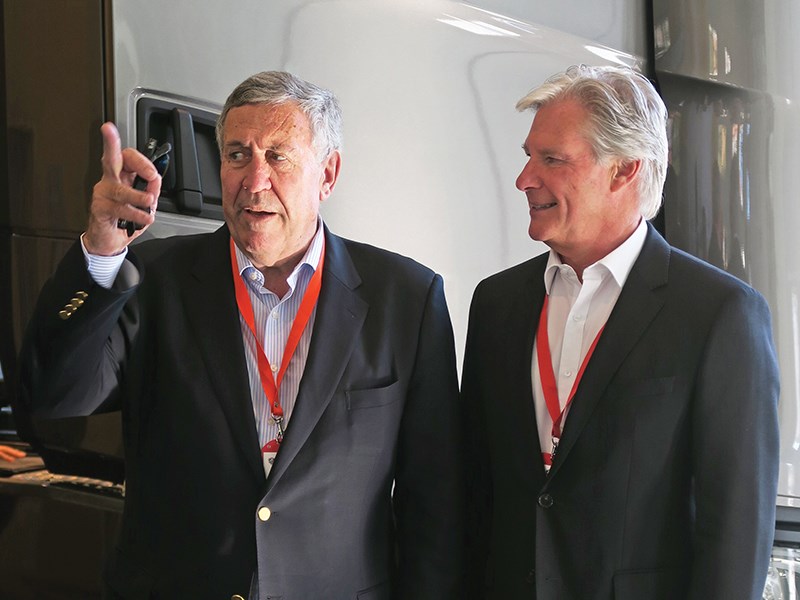 NSW freight minister Duncan Gay with Scania Australia MD Roger McCarthy at Scania's S�dert�lje HQ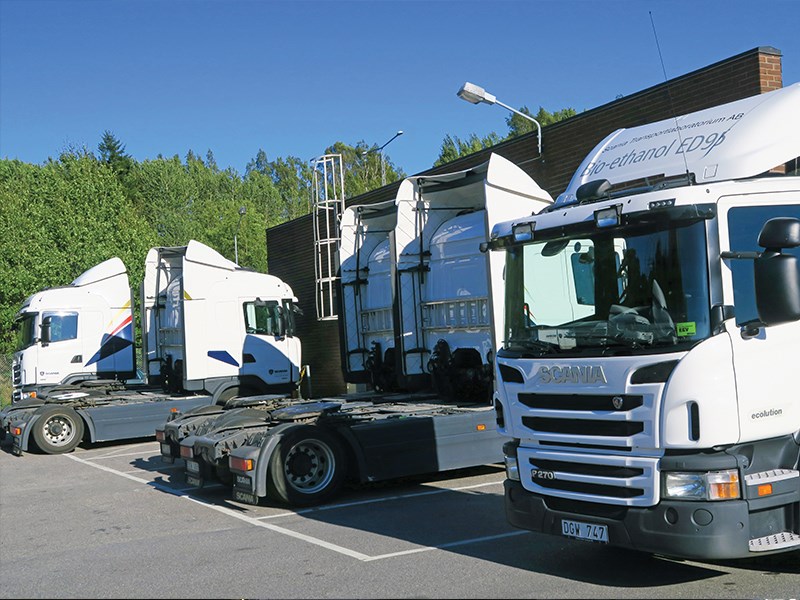 Some of STL's prime movers rest up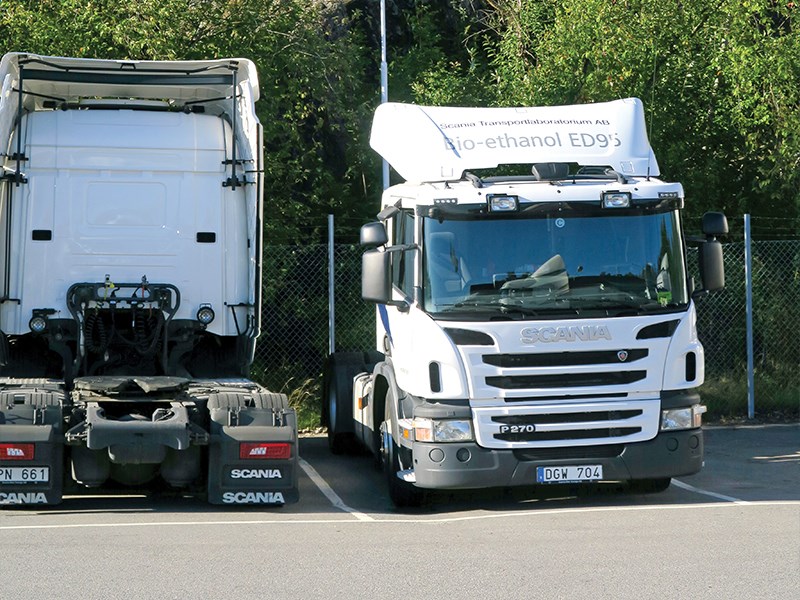 A bio-ethanol test vehicle

The driving strategy has many guises and Scania is reaping a financial reward in one of the basic ones
While automated platooning is the cause of widespread debate, a more hands-on version is already underway in northern Europe and paying dividends.
An example of how it can work was presented recently by Scania Transport Laboratory (STL) at its headquarters in Södertälje, Sweden,to a delegation of Australian journalists and New South Wales freight minister Duncan Gay and his entourage.
Gay, who was on a worldwind northern hemisphere tour of the US and Europe to gauge technological and regulatory developments in transport, heard that STL uses platooning to test on-board systems and save fuel.
The concept made headlines in March and April during the European Truck Platooning Challenge, a demonstration by European manufacturers aimed at grabbing political attention on potential efficiency and productivity advances.
Platooning generally is part of STL's function to test Scania's vehicles in real transport scenarios, its internal systems and to aid Scania's internal supply chain logistics needs.
In file                                                                         
STL – properly named Scania Transportlaboratorium – runs up to four of its trucks with gaps as narrow as 6-7 meters using active cruise control at 80 km/h.
"That's the closest gap you could have with the safety features that are on the trucks," STL vehicles manager Cem Kizilkaya says.
"That's the closest gap you can have with the safety features that are on the trucks," Kizilkaya says.
He admits drivers initially viewed it as too close but soon got used to it, to the alarm of project managers early on.
There are possible fuel savings of about 7 per cent to be had even for the lead truck due to backdraft, though not as much as those behind with an average for them of up to 11 per cent.
At the time of the visit, SCL had lifted its percentage of women drivers from 18 per cent to 20 per cent.
One of the more insightful hands is Andreá Pedersen, who went from school to truck cab almost seamlessly.
Pedersen is a fan of platooning as a fuel-saving technique.
Her focus is on the truck in front and she stays alert this way to gauge how the other driver is doing as well as listening to music and audiobooks.
"We always keep in touch to keep the platoon going," she says of using mobile phones through the truck's communications system to check how other drivers are bearing up.
The hard thing is to get non-STL drivers interested in joining the file, she reckons.
On SCL's experience of platoon driving, Kizilkaya says drivers are urged to be flexible with other vehicles on the road.
It has had no complaints in the three years, "not from the police, not from people around us writing emails, nothing like that".
He adds that some platooning is underway in Germany, at the European limit of 90 km/h and will less space between vehicles than SCL allows.
Pedersen says the slower Scania platoon is a source of minor frustration to other European drivers.
Logically, SCL sees platooning's future as being toward reducing the space between trucks and communications and understanding with other transport companies being such that impromptu platooning can occur at any time based on common power and weight.
Efficient operations
The STL operational testing concept began in 2008 when the research and development brains trust decided "direct feedback" and control of new concepts were needed to keep initiatives and new ideas grounded, STL managing director Jan Björklund says.
Originally, the thought was to have as pure an experience as possible and buy its own trucking operation but that was scotched due to customer concern in and around Södertälje, where Scania's global headquarters is based.
Horns were pulled in and STL has only one customer – the group.
It runs two freight transportation services using 37 trucks and 120 Krone trailers from Germany.
International long-haul between Södertälje and Swolle in The Netherlands is on the road 24/7 – with 112 weekly loadings of axles, gearboxes and engines going south and other parts such as air deflectors and palleted goods on return.
There are 48 drivers at 3.5 drivers per truck for the 14 trucks and 90 trailers covering 400,000km a year at 80 km/h maximum and 74 km/h on average.
Between Södertälje and Malmö, also in Sweden, they use B-double equivalents and semis in Denmark, Germany and The Netherlands.
Local distribution testing is pickup and delivery covering 30,000 km a year with 30 drivers at 1.5 drivers per semi travelling at 80 km/h maximum and 28 km/h on average.
Test track operation test fatigue, software validation surveys and internal operational testing, using 30 drivers.
These two divisions have one 'operative coordinator' for every 10 drivers and someone is available 24/7 to support them when needed.
With 630 km or 10-11 hours driving time between Södertälje and Copenhagen and about the same between Copenhagen and Swolle but only nine hours a day allowed in the European Union, STL must keep an eagle eye on fatigue, with driver pools at each major stop and driver swaps in between.
Stacking up figures
On-board IT has shown that carrying 34 gross weight tonnes for the longhaul task, Scania's average fuel consumption for 410-580hp (306-433kW) using 10 trucks over 4 million km was 26 litres/100km.
With an optimised specification for on the 410 hp engine, this fell to 24 litres (l) over 1.2 million km using three trucks.
The best 10 per cent of drivers, in three trucks over 500,000km manages 22l and others over 1.6 million km in four trucks manages 27l.
SCL believes the European average is around 30l but its best trips, taking into account weather, driver, truck and trailer variations, can go as low as 20l.
That said, due to a lack of a second floor in the trailers, engines taking up most of the floor space means trailers running at as little as 16 tonnes.
While Australian industry still argues about lowering speed 10km from the 100 km/h maximum, the division insists raising it from 80 km/h to 90 km/h ultimately means, at a cost of 10 per cent less fuel, 1 per cent more time is taken for the task, repair and maintenance costs are higher and the risk of deadly accidents rises 40 per cent.
Interestingly, SCL's drivers also have forklift licences and load their own trucks.
As with other European Union drivers, Pedersen has credit-card-sized electronic diary that slots into her truck's dash to record her performance through the tachograph.
It must be downloaded every 21 days and, along with company data, it acts as proof to regulators that she is keeping to her hours.
Sweating the data
Scania gets to test the value of its telematics on driver behaviour regularly, though Kizilkaya indicates it is used to inform and validate personal discussions with drivers.
As an example, managers found that their competitive nature allows low-cost driving skills, such as keeping to lower speeds, to rub off on colleagues, as they prefer where possible to drive with the better performers.
And this is measurable.
In return and as a paying customer, SCL gets to use all that Scania offers – trucks, trailers, finance, insurance, repair and maintenance, service planning, Scania Assistance, fleet management, driver training and driver coaching – be demanding and give feedback.
For instance, parts-carrying trucks have a three-hour window in the just-in-time schedule before vehicle production is impacted. 
And maintenance services look to have specific work done on a needs basis in a two-hour period, with only the particulate filter taking slightly longer than that to replace, an aspect that will be under design review as that is viewed as taking too long.
It also gets to test other makes of truck, including a Mercedes-Benz, a MAN and one from local rival Volvo, the latter two being the second generation of their Euro 6s.
Comparative performance is measured for the truck as well as the competitors' own services.
The operation's costs breakdown has 33.4 per cent due to drivers' generous Swedish wages.
Fuel is at 18.5 per cent but Björklund says the European average is closer to 30 per cent.
Vehicle fixed cost at 5.3 per cent for insurance and leasing, while 4.1 per cent goes on repair and maintenance, trailer fixed cost is 4.3 per cent.
Subscribe to our newsletter
Sign up to receive the Trade Trucks e-newsletter, digital magazine and other offers we choose to share with you straight to your inbox
You can also follow our updates by liking us on Facebook. 

Trucks For Hire | Forklifts For Hire | Cranes For Hire | Generators For Hire | Transportable Buildings For Hire