Real men drive pink
---
When Ross Transport were looking for a driver game enough to get behind the wheel of its pink Kenworth, Shane 'Zoom' Kissell jumped at the opportunity.
One of the most recent additions to the ever increasing pink truck brigade is a Kenworth T909 owned by Ross Transport of Wollongong. The first truck show it attended was at Casino in northern New South Wales where it won the People's Choice and Best Truck under-one-year-old awards.
Owner//Driver caught up with driver Shane 'Zoom' Kissell and his temporary offsider, Ross Transport workshop manager Aaron Parkinson. It was a big trip to Casino for Zoom, especially after he had only just recovered from a rollover not long before.
"I had been down to the Kenworth factory to pick up the T909 with the boss' daughter, True," Zoom explains.
"Six weeks later when the pink truck was ready for delivery on the Monday, I was involved in a major accident a couple of days beforehand."
To help out for the show, Aaron decided to jump in the truck with Zoom and grab the chance for a weekend away.
The boys had spent two days polishing and cleaning the truck with hardly any sleep but looking forward to having a day off in Brisbane on Sunday.
"I loved it, loved every moment. The best part of the day was rolling in and seeing all the little kids waving, both boys and girls," Zoom says.
"It's what it's all about. If we make people smile, it makes us feel we have done something worthwhile."
Charity minded
Supporting truck shows, in particular the i98FM Illawarra Convoy, is not a new thing for Ross Transport owner Alan Ross.
"They have donated $600,000 over the past decade," Zoom says. "We are part of the Illawarra Convoy in November every year with all of the fleet getting involved."
In addition, Zoom says Alan Ross is a very family-orientated man who cares about his drivers.
"He keeps everyone happy and goes out of his way to do so."
As Zoom states, a lot of people don't hear about the good work that the transport industry does. He points to the mural on the back of the T909's sleeper and the slogan 'Supporting the fight against Cancer and recognising Women in Transport'.
"Cancer is very prevalent in our population and affects everyone in some way," Zoom says.
Zooms relates the story of how he became the driver of the big pink truck. He was in the Ross Transport offices and overheard a conversation about who could possibly be brave enough to get behind the wheel of a pink truck. Zoom, however, had no hesitation, keen to drive it in the memory of his mother Lorraine. He believes that everyone knows someone suffering from cancer.
At any rate, Zoom says real men wear pink and drive manual trucks.
Alan's daughter True is the third generation to be involved in the Ross Transport business which was started by his parents Reg and Frances Ross back in 1975. Hence the 'Truely Frantastic' lettering on the side of the bunk.
"It's a great concept," Zoom says. "Alan is trying to promote women into transport, not only the partners at home but those who work in the industry.
"And then there's cancer awareness. It all just fell into place."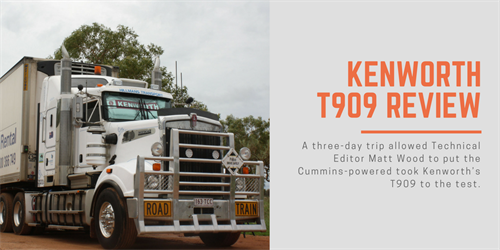 Steel and polish
Having been around trucks his whole life, Aaron was happy to be sitting alongside Zoom in the Kenworth.
He came to Ross Transport as an apprentice. Now he's running the workshop, although he admits to never wanting to work in the industry initially.
After finishing school, Aaron spent those first six months out of work, until his grandfather, Robert, visited from Queensland. As it happened, Robert knew Alan Ross and paid him a visit.
"Alan said 'yes' that I could start on Monday and that's where I have been since," Aaron says, who admits he never wanted to work in transport.
"You don't really want to follow what your family does; I wanted to step out on my own.
"But once I started I fell in love with the job. Now I am out here, polishing a truck for days and getting no sleep," he laughs.
"There is no other place to work as far as I am concerned. Alan is very good on maintenance; nothing goes out if it is not tip-top and no expense is spared," Aaron says.
Today, the Ross fleet consists of 57 trucks doing a diverse range of jobs around Wollongong in addition to running up and down the east coast.
"I cart steel and go wherever the steel takes us," Zoom explains. "The family had trucks in Griffith, a business called J & MF Kissell."
The Kissells had tippers and flat tops which, according to Zoom, they had built up into a nice little business that was later sold.
Zoom, who has been with Ross Transport for more than three years, loves driving the Kenworth and says it was brought to show off and draw attention. Plus he says everyone can relate to a Kenworth.
"It's just all class! It's tailor made pretty much and as far as we are concerned, there is nothing else."
As well as the pink colour, another nice touch is the black duck on the T909's bonnet.
"You see chrome ducks everywhere and you don't see pink trucks everywhere, so the black duck goes with the pink and the gear stick as well."
Subscribe to our newsletter
Sign up to receive the Trade Trucks e-newsletter, digital magazine and other offers we choose to share with you straight to your inbox
You can also follow our updates by liking us on Facebook. 

Trucks For Hire | Forklifts For Hire | Cranes For Hire | Generators For Hire | Transportable Buildings For Hire