The building of Boardman
---
Most family trucking businesses encounter plenty of and downs, but none more so than Boardman Sand and Gravel which has evolved over decades of generations. Warren Aitken writes
The Australian transport industry is full of generational stories. Many of those stories are full of highs and lows, in fact it's fair to compare the average Aussie trucking story to the notorious Bruce Highway. It's never easy, there are many pitfalls, it's far from smooth, it's a challenge just to stay upright and there's a fair few clowns coming straight at you. The Boardman family is one of those stories.
It was a pleasure to sit down with Jason Boardman and his mum Wendy in the shadow of their 2013 Mack Southern Cross which was bought as a tribute to Jason's father.
While Boardman Sand and Gravel is almost a household name on Queensland's Sunshine Coast, it was up in Toowoomba on the Darling Downs where Jason's grandfather Alf first got his boots dirty.
One of the first companies he was involved in was Compass Oilfields Trucking with Milton Modin and Wally Harbour, two other big names in the transport arena. If name dropping isn't enough, we can drop in some truck history as well. One of the trucks the company bought was a 1965 W923hp Kenworth with a 318hp motor, bought off Doug Wyton. For those up on their history, yes that was the first Kenworth sold by Brown and Hurley.
Before we move on from the Compass days we should drop another name in the mix. One of Alf's employees at the time was a young Neil Mansell, who would go on to run one of Queensland most successful transport companies. In the spirit of rounding this out, both Lennie and Jason would end up working for Neil Mansell Transport for some time.
When the Compass doors closed, Alf, who was also running a few trucks of his own, bought into Multi-Mix concrete in Toowoomba. He next decided to pack the family up and they headed down the range to the Sunshine Coast. He played an integral part in setting up the concrete plant at Cooroy.
By this stage Jason's dad Lennie who, like his son to come, spent his formative years hanging around the bootstraps of his father until he was old enough to get behind the wheel himself. Both Lennie and his brother Russell took to the truckie life like ducks to water, or more appropriately like oil leaks to a rear diff.
Lennie drove one of his dad's trucks for quite a while before buying his first truck, 'Wacco the Acco' and doing contract work. He carted peat moss into the now closed peat factory in Cooroy, hauling sand into the Caloundra racecourse when that was being built. There was hardly a project on the Sunshine Coast where you wouldn't see one of Alf's, Lennie's or Russell's trucks.
As things got busier, Lennie ended up putting on another couple of trucks. Like all good soap operas though there were lows that followed the highs. In Lennie's case an accident with one of their trucks coming down the Maleny range caused the dramas. Thankfully the driver was thrown clear and uninjured, but the fact that his licence had expired the previous day gave the insurance company all the excuse they needed to shake their heads.
The end result was Lennie sold up all of his trucks, bundled his wife Wendy and the kids, Jason and Annette, into a caravan and took one of his dad's concrete trucks up to work on the Burdekin Dam project. Wendy recalls 1984's camping adventure was not the most enjoyable time. "Lennie hated it!! He'd been his own boss and hated being told what to do," she recalls.
Tough era for trucking
The family returned to the Sunshine Coast. Lennie's brother Russell had a small truck contracted to Glendale Mobile Homes. It didn't take much arm twisting for Lennie to buy his own truck and the seeds of Boardman Brothers Transport began.
The late 1980s and early '90s were some of the toughest for transport operators. High interest rates and cut-throat competition saw many companies come and go. In fact, Russell and Lennie went from carting mobile homes to ATCO huts to farm machinery, tractors, headers and everything in between. Even with the tough times, Boardman Brothers grew to a fleet of eight trucks covering all of Australia.
As tough as the times were, Jason remembers them fondly. "I used to spend all holidays going everywhere with dad."
One particular two-week holiday break saw Lennie getting a Perth load when he was down in Sydney. Knowing Jason was due back at school, he transplanted him into one of the other trucks that was due to be returning to Queensland. When Lennie returned home two weeks later, Jason was still in the other company truck down around Melbourne. School be damned.
Eventually Boardman Brothers was sold. Lennie offloaded all the trucks with the exception of his 1989 Kenworth 425hp K100E. He continued running Case equipment nationwide for several years.
In what sounds like a script just for TV, Lennie put a relief driver on for a trip as Lennie had more than earned a break. Unfortunately the truck never returned to him. An accident down south saw the big Kenworth turned into a garden ornament. Once again, the driver was lucky not to be seriously injured but it was the final straw for Lennie.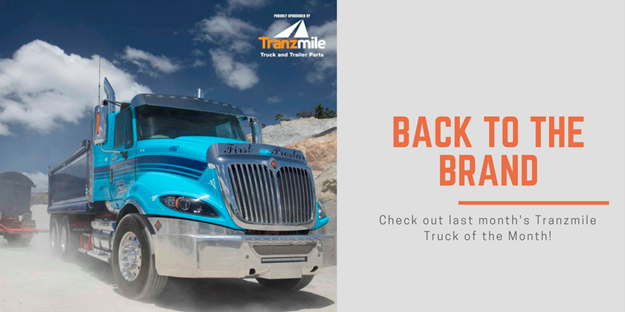 Back to business
Choosing not to buy his own truck again, Lennie joined Mansell Transport as a company driver. When he started at Mansell's there was an apprentice diesel fitter just finishing his final year. That apprentice was Lennie's son Jason.
Jason had ended up at Mansells after being there for his high school work experience blocks, as well as any school holidays that he wasn't with dad. Mansell's also assisted him in getting into the driver's seat. Well, getting into the driver's seats with a license is more accurate. The father and son duo worked for several years together on tanker work, rig shift, pipelines … you name it they covered it.
Even now Jason admits he looks back on his years at Mansell's as his best time in the industry but eventually both Jason and Lennie left the yellow and red of Mansell's for what was meant to be more local work at Caloundra Sand and Gravel.
I'm sure there's a few of you who, like me, are sniggering when we recall the amount of times we have heard the phrase, "sure, you'll be home most nights". It ranks right up there with "yeah mate, the showers are clean", "just one easy drop and you'll be home" or "your booking time is when we'll unload you".
Sure enough, Jason was hardly ever home. His ability to handle anything meant he was most often given everything. Lennie, meanwhile, had decided to step away from the big hours away from home and instead got into the owner-driver role again, purchasing a second-hand Mack Valueliner tipper. The truck was renamed 'Mackasauras' and in 2003 Boardman Sand and Gravel was formed.
Eleven months into his Caloundra Sand and Gravel stint, Lennie decided to purchase a second=hand Western Star and poach Jason back into the family business. It didn't take much to convince him.
The father and son team spent the next decade building a reputation as one of the Sunshine Coast's best. With a lot of major projects going on developing the local area, the team flourished. At one stage they had 50 tippers, including contractors, on the books when they were working the big pipeline job of the mid-2000s. Like everything though it came to an end. The company scaled right back at the end but was still extremely busy.
Losing life's battle
The year 2011 had started with the business flourishing but ended terribly for the family. Lennie Boardman, aged just 52, was diagnosed with pancreatic cancer. After a five month struggle the man that had fought everything trucking could throw at him lost his battle and passed away in 2012.
It hit the family extremely hard, none more than Jason who had grown up idolising his father and soaking in all his old school ethos and attitudes. Wendy, ever the strong wife and mother, admits how difficult it was as they attempted to grieve while also having to keep the business rolling. Wendy's focus on the families that relied on the business for their incomes and livelihoods, despite her grief, showed the character of the Boardman family.
One shining light that occurred in 2012 was the announcement of the limited-edition Mack Southern Cross Truck series. Salesman Steve Helm phoned Wendy to inform her of Mack's plans. Wendy's response at the time was "don't you tell Jason! He'll want one." She was spot on. Jason even admits "the truck isn't ideal for their line of work" but being as it was the year he'd lost his father, he knew straight away he wanted one to honour Lennie.
With each truck ordered the owners could choose a specific year to commemorate Mack's history in Australia. Steve Helm ensured the Boardman's got the number 2012. When Wendy requested a mural on the rear wall he commissioned Sonny from Bel-Air in Brisbane who nailed it. The other mark of respect shown by both Mack and Steve Helms was the effort he put in to having the truck delivered to Jason on May 29, 2013, the first anniversary of Lennie's passing.
The Mack is now five years old, it has clocked up over half a million kilometres and still looks stunning. In the six years since Lennie's passing Boardman's has followed the same track as many other companies, battling the costs and narrow profit margins, as well as dealing with the collapse of customers who owed them substantial amounts. However, like many others, they also kept fighting.
The Boardman fleet is sitting strong at 12, which includes the Southern Cross plus the Western Star that Lennie used as a dangling carrot to get Jason into the family business.
Jason is now continuing the legacy his grandfather, uncle and father had established in transport. It's never easy but having inherited the tenacity and perseverance of his father, Jason has big plans for the future of Boardman Sand and Gravel. It also doesn't hurt to have one of the country's best looking Macks on his doorstep to remind him of those that have gone before him.
"It's been his whole life," says Wendy when Jason struggles to find the words to encompass his motivation. "It's his enthusiasm, his love, it's in his blood. He's third generation in the truck industry; it's his passion."
That passion mixed with a few hard working tippers, continues to build the Boardman story.
Subscribe to our newsletter
Sign up to receive the Trade Trucks e-newsletter, digital magazine and other offers we choose to share with you straight to your inbox
You can also follow our updates by liking us on Facebook. 

Trucks For Hire | Forklifts For Hire | Cranes For Hire | Generators For Hire | Transportable Buildings For Hire