Leading the way in risk management
---
National Safe Work Month Special Report: How FBT Transwest manages risk and fulfils safety duties while dealing in dangerous goods
If you ask FBT Transwest managing director Cameron Dunn to point to the number-one factor that has got his lost time injury frequency rate (LTFIR) down to zero, he won't point to a noticeboard of WHS policies. Nor will he point to any quick-fix gimmick on the road.
He won't even point to the safety-assured accreditation, AS4801, which covers all five of its depots, or to the 18-month slog it took him to get the business issued with a Major Hazard Facility licence. Ask him why his business is so safe and he'll point to his head. "Safety," he says, "is a mindset. It's about belief."
Belief is a word Dunn uses a lot. Belief that you can constantly do things better, even if you're already at the top. Belief that systems need to change if we want our workers to go home safely to their families each day. Belief that if you instil the right attitude in your people then they will do the best possible job for you.
Dunn has a favourite saying: A good business is a safe business, and a safe business is a sustainable business. He's different. Not many managing directors would say they lie awake at night worrying if they haven't had a near-miss report made in a while. Most would think it's great news. But Dunn is weary of complacency. He's knows the moment you let your guard down is the moment tragedy can strike.
Many businesses make boastful safety claims but few have the accolades to back them up.
Dunn says the fact FBT's MHF licence comes with no conditions recognises the results of its safety philosophy: "We store around 600 tank containers of dangerous goods. To get that no conditions licence granted is a huge thing for us; it shows we're commited 100 per cent to safety."
FBT Transwest is a former winner of the Victorian Transport Association's 'Best Safety Practice' award, and is routinely held up as a shining example of how things can be done. There's a certain irony, of course, that a business specialising in dangerous goods is so safe. The business carts high-consequence goods, food and dangerous goods and specialises in bulk storage primarily for liquids and dry bulk. It's risky stuff, but Dunn says everything we do in life is risky – the key thing is how you manage those risks.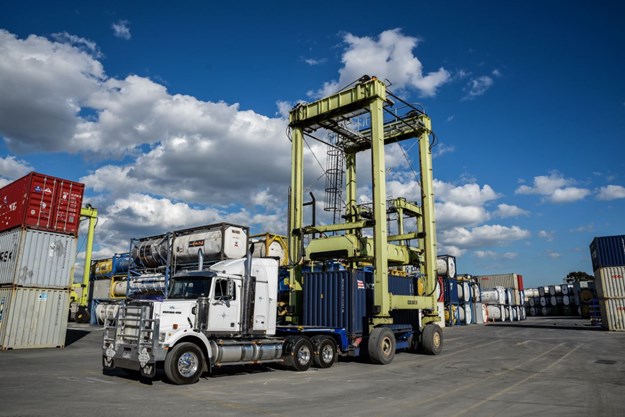 Drumming in the mindset
"My belief is we can prevent all injuries." There's that 'belief' word again, turned into reality by Dunn. And it's clearly no fluke.
"To have an LTFIR of zero is world class. It means we're not getting any lost time injuries. People ask me how I've done it, because if I've done it at two businesses now," hesays.
One of the ways he does it is by holding a two-day 'belief workshop' for all employees, where every aspect of life is presented within the frame of safety. The workshops are ongoing, rolling round as new employees roll in; making sure no one misses out on their induction into the safety culture of the business.
"We're getting into our employees' heads, challenging people's beliefs," Dunn says. "That's the starting point."
The workshops talk about what happens at home as much as what happens at work. Do you mow the lawn barefoot? Do you pick up the phone while driving a truck?
"It's about personalising the message. That's why we've been successful, because these belief workshops get down into people's core."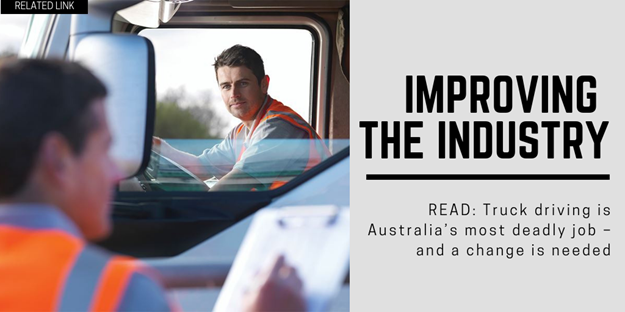 Using the safest gear
FBT Transwest has gone with Volvo FM as its prime mover of choice, for one main reason, its safety: "It's the safest truck I can get. There's no cab that's safer in the world."
Having a modern truck with Volvo's I-Shift automatic manual transmission (AMT) means Dunn doesn't have to find drivers with experience driving manual. In fact, he doesn't even look for experience when hiring drivers, he looks for something else. "I hire for attitude, not experience," he says. "You want drivers concentrating on the road and not worrying about if they've missed a gear change. That's why I love the I-Shift transmission. It also means our drivers aren't getting fatigued or injured."
The safety focus extends to dropping the trucks 100mm lower to the ground, to get a lower centre of gravity for the liquids they cart, reducing the static rollover threshold.
Vawdrey Australia supplies the trailers, which are fitted with electronic braking systems and disc brakes, as well as drive-away protection (the trailer can't roll if a hose is connected) and reflective conspicuity tape, part of a joint initiative with 3M and the VTA to bring high visibility tape to the entire fleet of trucks and trailers.
"None of this stuff is cheap," Dunn says. "But it means when I put a human being into a vehicle I give them the best possible chance of going home safely at the end of the day."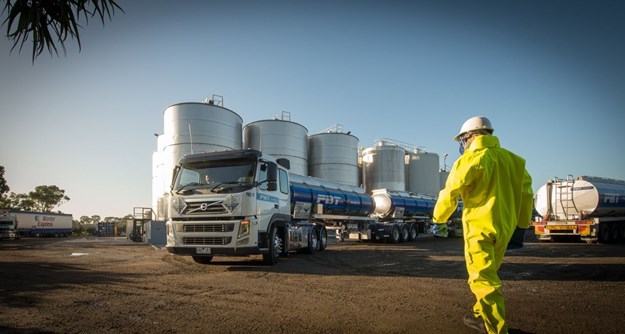 Getting the systems right
"The issue I see with the industry at the moment is that governments don't want to invest in the agencies, and they think the industry will self-regulate. I've been in the industry for 32 years and I can tell you it's not going to self-regulate."
Dunn is passionate about ensuring the right systems are in place across to make it harder for rogue operators to compromise on safety, but this comes down to making the customer accountable, too. He wants to see customers who set the contracts with transport companies to be held accountable for the decision making process they go through when awarding those contracts.
"It's all very well to talk about the Chain of Responsibility, but do you know how hard it is to prosecute a big customer who's made the choice to use a cheap contractor who cuts corners?
"My belief is that if someone gets killed then a judge should be able to compel that customer who chose Joe Blogs Transport to show their reasoning on why they gave that operator the contract. And if it's because he was the cheapest, knowing that he uses cheap labour, overworks his drivers, doesn't pay them properly, then the managing director should go to jail.
"So if you're going to talk about Chain of Responsibility you've got to talk about the whole chain."
Dunn says minimum standards need to be enforced on the road.
"Governments have to put more money into enforcement agencies," he says.
"There are only 35 VicRoads officers in Victoria, compared with 350 of their equivalent in NSW. Police should be able to concentrate on catching crooks, not pulling up and checking trucks, and WorkSafe doesn't have the power to pull up trucks.
"Instead of creating more systems we should be enforcing the law, or do you wait until there's another big accident?"
Dunn says his peers might hate him for advocating more enforcement.
"Bring it on, I say. It makes my business better. Pull up the trucks."
But a holistic approach is the only one that Dunn can see working: "It comes down to rewarding businesses who do things well.
"How do you reward those businesses? You make sure the economic decision-maker – the customer – choses transport companies that are safe. Hold them to account."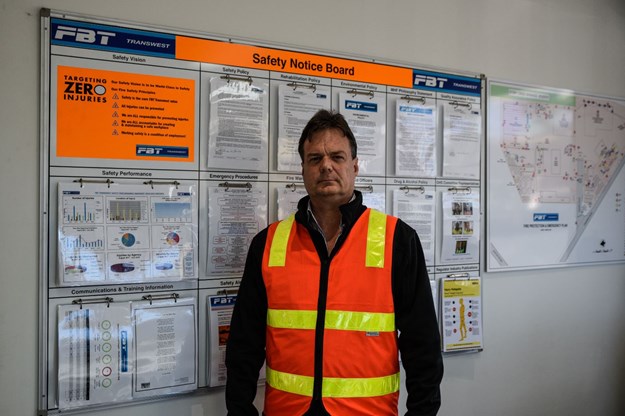 Safe training and licencing           
Despite the well-publicised driver shortage, FBT Transwest has drivers knocking on the door constantly, wanting to join the team. It means Dunn can choose the best. But a lot of companies don't have that luxury, which is why he wants to see the licencing process for truck driving to be overhauled, to encourage more people into the industry.
"At the moment, to get your car licence, you need to clock up 200 hours behind the wheel. But to get your truck you don't need any hours at all, you just need to pass a test.
"So that's a problem straight up. But then once you have your licence, it takes years until to move up through the licencing process to get your B-double licence and finally earn some decent money."
Dunn wants to see a pathway whereby young drivers can be driving B-doubles earlier, but with much better training.
"Give an 18-year-old a three or four month intensive course in driving B-doubles," he says. "If they then pass that exam then they should be able to drive a B-double straight away.
"Give them that pathway to earn decent money early on in their career. Then, all of a sudden, it becomes a much more attractive occupation. You'll attract more people and the drivers will be much safer, because they've been intensively trained through a competency-based pathway."
No silver bullet
If there's one thing Dunn wants to emphasise with safety, it's that there's no one thing. No one-stop shop, no silver bullet. But if the systems are right from the top down then we all have a better chance of getting home safe every day.
"I'm constantly looking at my fleet, looking around my yards, looking at my employees and thinking, 'what else can I do to improve?' You can't sit back and passive, you've got to be proactive.
"Instil a culture of safety, so that your workers are motivated to fill in near-miss reports, so that they come and tell you they notice something not quite right, and so they tell you if they've been injured. No one feels threatened at FBT Transwest. It's a no-blame culture."
Subscribe to our newsletter
Sign up to receive the Trade Trucks e-newsletter, digital magazine and other offers we choose to share with you straight to your inbox
You can also follow our updates by liking us on Facebook. 

Trucks For Hire | Forklifts For Hire | Cranes For Hire | Generators For Hire | Transportable Buildings For Hire