INDUSTRY COMMENT: Grab for Brisbane bucks
---
The Truck Industry Council appears to be bent on hijacking the successful Brisbane Truck Show
It's relatively easy to figure if something is successful or not. If not, it consumes funds then just wilts and drifts into oblivion. Much like any truck show ever held in an Australian city other than Brisbane.
If successful, however, it's a better bet than Winx that envy and avarice will conspire with wanton self-interest to cause lascivious fingers to dip into the fiscal froth. Much like the Truck Industry Council's (TIC's) apparent willingness to shatter Brisbane's stature as a world-class showcase of all that's new and exciting in Australian road transport.
In what amounts to little more than an assault on the enduring success of the Brisbane Truck Show, the TIC has outlined a plan to run its own truck show and industry symposium in 2021 – probably in Melbourne – effectively threatening the future of Australia's most successful and prestigious trucking event.
The threat is borne of the fact that TIC's members are the major exhibitors at the Brisbane Truck Show and let's face it, there can be no truck show without trucks, and specifically the big-name players.
For those who know little, if anything, about TIC – and there are probably plenty across the broad breadth of the Australian trucking community – the council describes itself as 'the peak industry organisation representing the united views of Australian-based truck manufacturers, truck importers, heavy vehicle engine companies and major component suppliers to governments, corporate Australia, other industry groups and the general public.'
The general public! Seriously? It would be an immense shock if the general public's knowledge of TIC's existence, let alone its somewhat secretive activities, would be any greater than the average person's knowledge of Pythagoras's theorem. At best.
Nonetheless, it's no secret that over a number of years there has been a venal under-current among factions within TIC, first about the cost of exhibiting at Brisbane and second, the funds accrued by the show's organiser, Heavy Vehicle Industry Australia (HVIA).
Consequently, what TIC wants, according to the increasingly rapacious comments of various council members, is for the funds directed to the HVIA as the cost of exhibition, to be funnelled back to TIC's own coffers.
Obviously, this hasn't gone down well with the HVIA. Moreover, several sources report that attempts at concession or compromise between the two entities have ended in nothing more than enmity and discord, claim and counter-claim.
International spectacle
At stake is the show itself, long established as Australia's premier trucking spectacle, drawing visitors to the Queensland capital from every corner of Australia, New Zealand, the Pacific region, the US, Europe and Asia.
In an industry regularly beset by poor public opinion and media hatchet jobs, the Brisbane Truck Show has endured and evolved over many decades to be the single-most effective and complete showpiece of all that is good and optimistic about Australian road transport. The one place where, every two years, the industry dresses up and presents itself as a united, highly professional national enterprise, saturated with some of the hardest working people in the country, operating some of the most advanced and efficient equipment in the world. What's not to like?
Typically, the recently concluded 2019 event attracted the sort of attendance other industry confabs can only dream of. Almost 37,000 people attended this year's event – up an impressive 10 per cent on the previous show, and while some TIC members gripe about the cost of exhibition, just as many were prepared to admit that good business is invariably done in Brisbane.
---
Read how the 2019 show has been hailed an enormous success, here
---
Most importantly, it is the one industry event with the ability to draw people from every level of the trucking industry; from grassroots drivers, operators and their families, fleet owners and their senior executives, through to corporate and regulatory operatives from around Australia.
What's more, in an industry screaming for new talent, it was particularly pleasing this year to see large numbers of uniformed school kids eyeing future employment prospects.
Meantime, it's a salient fact that large groups of people from every corner of Australia and overseas head to Brisbane for the truck show and while they're at it, add a holiday on the Gold Coast, Sunshine Coast, Barrier Reef or any other part of the Queensland coast.
Like it or not, Bris-vegas brings in the people and when it comes to a national showcase of the trucking industry, nothing and nowhere have the inherent ability to compare with the Queensland capital.
Industry showpiece
So please, tell me how Melbourne or any other southern capital for that matter, can replace Brisbane as a destination for a trucking event of truly international standing and with equal attraction?
Sure, all exhibitors say the same thing: It costs a motza to go to Brisbane.
Fair enough, but this is the industry all exhibitors make their livings from and it appears an extremely shallow and short-sighted view to threaten the existence of an event which historically provides the platform to showcase not only the latest and greatest products, but the glistening spectacle of an industry proud of its existence and achievements.
Surely the goodwill generated by the Brisbane Truck Show is equally worth a motza.
On the other hand, numerous entrepreneurs with profit as their guiding principle have tried and failed to mirror Brisbane's success. Even so, with TIC bankrolling an event with the decidedly dull title of the Australian Truck Exhibition and Technology Symposium, it won't surprise if those same entrepreneurs are the ones who answer TIC's call for expressions of interest for the management and organisation of its proposed event. Indeed, they will be bending over backwards to get their fingers into the froth.
"It will be a world-class event of international standing, designed to inform existing and potential customers about current and future product offerings from TIC members, and for members and exhibitors to conduct and generate business," claims professional lobbyist and TIC chief executive officer Tony McMullan in a press statement.
Yet what part of that statement isn't already satisfied by the Brisbane Truck Show?
Make no mistake, TIC's motive is money. Specifically, keeping its members' money in-house rather than supporting the most successful and exciting trucking event in the Southern Hemisphere.
But from a purely personal perspective, and with hand on heart, it matters little if the show is organised by the Heavy Vehicle Industry Association, the Truck Industry Council, the Country Women's Association, the Nullarbor Numbats Guild, the World Wankers Forum, or any other partisan party.
What matters is that the Brisbane Truck Show continues to exist as it does today. It is the jewel in the crown of Australian road transport, where pride and passion showcase the trucks, the technology and the people that truly make this industry and this country tick. Pardon the pun!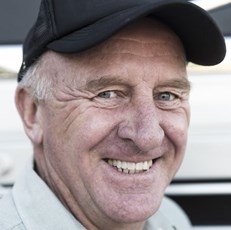 Steve Brooks began his career in journalism in 1972. Following stints as a truck driver and policeman, he joined Truck & Bus magazine in 1978, the beginning of a 35-year career in truck magazines and media consultancy. Steve is currently the technical editor for Bauer Media titles ATN, Owner//Driver and Deals on Wheels. Bauer Media is Official Media Partner of the Brisbane Truck Show.
Subscribe to our newsletter
Sign up to receive the Trade Trucks e-newsletter, digital magazine and other offers we choose to share with you straight to your inbox
You can also follow our updates by liking us on Facebook. 

Trucks For Hire | Forklifts For Hire | Cranes For Hire | Generators For Hire | Transportable Buildings For Hire