Bubble reborn
---
Graeme Troutbeck developed an addiction to restoring Volvos as an apprentice mechanic. So far he's restored three iconic Volvos to their past glory, including this stunning and extremely rare F86 Volvo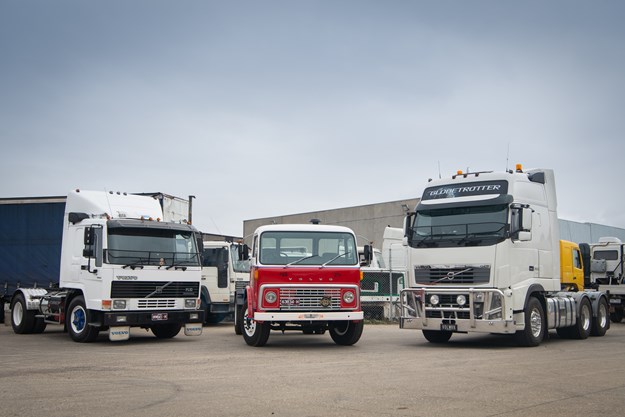 When you are addicted, you are addicted. Whether it's a bad addiction like drugs, drinking or 'doof' music, or whether it's a good addiction like washing, polishing or driving your truck, addiction is addiction.
Restoring classic trucks seems to be an addiction that there is no 12-step program for as yet and it seems it's an addiction easily picked up. It's not restricted to drivers wanting to relive their glory days, or owners restoring a part of their history. Truck restoration can become an addiction for anyone for any reason.
In the case of Melbourne's Graeme Troutbeck, who started work as an apprentice mechanic at B&G Transport Repairs, his addiction began after mastering the art of fixing Volvos and so far he's restored three iconic Volvos to their past glory: a FL10, a FH16 XXL Globetrotter, and this stunning and extremely rare F86 Volvo.
Now the F86 is not a truck you see a lot of these days. Back in the '60s, '70s and even '80s the little bubble was a common sight around Australia. The trucks were originally imported into the country by Mayne Nickless and in their day set the benchmark for comfort.
They didn't set the world on fire with pace and power but held their own when it came to torque. The original F86s were just a cab (or forward-control cab) mounted onto a Volvo Viking model chassis.
Fitted with a TD70A engine, the truck put out a whopping 185hp (138kW), about the same as an iPod mini these days. With Volvo's eight-speed synchro gearbox the trucks weren't built to set land-speed records. A lot of the early models all had double-reduction diffs though and were geared pretty low. So they may have only got up to 80 kilometres an hour, but they could tow your house whilst doing it!
The F86 Volvo was still a common sight when Graeme first began working on them during his apprenticeship. Graeme honed his skills on them as well as the other models that were surfacing around Australia. He enjoyed the challenge the Swedish stable afforded him. "A lot of workshops couldn't fix a lot of the faults in Volvos, so we started to slowly specialise in them," Graeme tells me. "It gives you a good challenge when you are working on them, especially the air systems on the old models."


VOLVO FOCUS
B&G Transport Repairs eventually became Volwreck as Graeme and his business partner John Lirosi expanded their back-yard wrecking collection into a specialised Volvo wrecking and parts business. For almost two decades now they have been in Campbellfield supplying second-hand parts, aftermarket new parts and sound advice to Volvo owners throughout the country.
As the business grew and their collection of old Volvos mounted out the back, Graeme's desire to start restoring some of the old wrecks that were coming in started to take hold. His original plan was to find and restore an F86 as that was the truck he'd enjoyed working on the most "I just always wanted to restore one," he admits matter-of-factly.
But his first rebuild wasn't actually the 86. "We wanted our own truck so we could go and pick up wrecks," Graeme says, "so the first one was actually the FL." The truck resto was a big job. "I wanted it back to original," Graeme says, "so we stripped it right back. It was only single drive, and someone added the bogie drive." And so, the addiction had begun.
Graeme confesses there are still a few finishing touches to chase down to get it back to original. All in good time though.
Having their own truck meant when Graeme found a F86 up in Bridgewater, Bendigo he was able to go get it and bring it home. The cab and chassis weren't in too bad of a condition and Graeme decided this would be his Mona Lisa. He just had to get it running. "The motor was in pieces," Graeme recalls. "All the heads were off it; it had seized up the timing gear. The mechanic had pulled all the pistons out thinking it had seized up the crank or something." It was a situation he was happy to admit he'd never seen before and I think it was this rebuild challenge that may have appealed to Graeme.
Graeme was lucky enough to get his hands on one of the last rebuild kits for a TD70a and went about restoring it to original condition. His dedication to staying true even extended to sourcing original steel pipes as were fitted in 1972.
Over the course of five years Graeme slowly worked on the project; sometimes having to make a conscious effort to shut himself away for a half hour or so and muck around getting little bits accomplished.
Finishing the job was made easier by having a back yard full of spare parts. Numerous G8885s and F86s litter the wrecking yard and Graeme admits they used parts off nearly every truck they had.
Graeme chose to keep it in the original colours but had the whole thing resprayed with a fresh coat of paint. He was able to rope in the services of Bob Conway for some masterful scroll work. Graeme parked the truck in the corner of the shed and gave Bob free rein. "Just do it as you think suits" were his only instructions.
When it came to the interior Graeme was thankful for the care that had been taken. The inside of the truck was still in really good nick and just needed a freshen-up. All the original wiring is still in use, though some repairs were needed to the dash. "Someone had drilled a couple of holes to put a radio in [and] these [trucks] didn't have radios when they came out," Graeme informs me. Whilst the dash was restored to original condition, a slight modification was made to enable him to charge his mobile phone. Seems they didn't have that feature in the '70s either!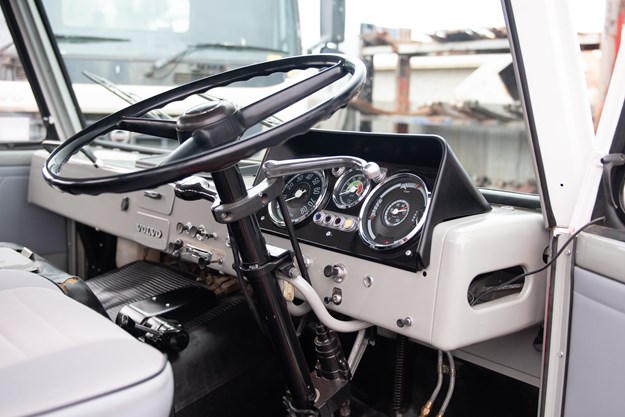 GOOD AS NEW
The end result of Graeme's five-year restoration is breathtaking. The little F86 could have rolled out of a 47-year time capsule, such is the attention to detail. It looks as good as it did the day it rolled off the boat onto Australian soil, with Graeme also pointing out that even back in those days the Volvos were setting the benchmark for luxury "It's still got that comfort, you get thrown around a bit, but it's still got that comfort," he says. It may not have the quietness as its modern-day counterparts, but even with the galvanised cab Graeme points out you can still hold a conversation easily as you drive along.
With the Swedish Bubble fully finished Graeme loves to take it around to many of the historic truck shows, often seen on the transporter being towed by the original restoration, Graeme's FL10, or the newest resurrection, the FH16 XXL Globetrotter.
I'd definitely class Graeme's addiction under the healthy category. Like any addiction though it's hard to break and there's already another classic Volvo in his yard getting ready for a 'return to glory'!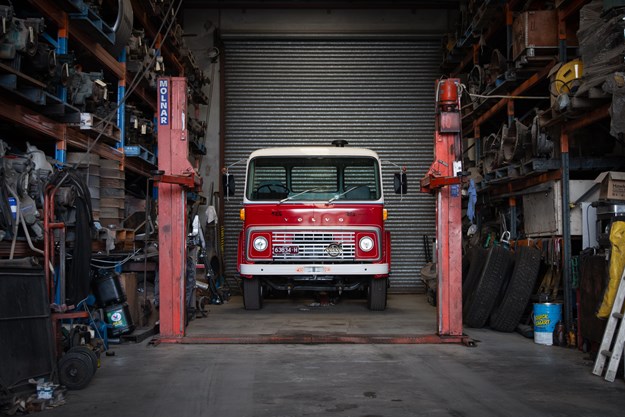 Subscribe to our newsletter
Sign up to receive the Trade Trucks e-newsletter, digital magazine and other offers we choose to share with you straight to your inbox
You can also follow our updates by liking us on Facebook. 

Trucks For Hire | Forklifts For Hire | Cranes For Hire | Generators For Hire | Transportable Buildings For Hire