'70s Star
---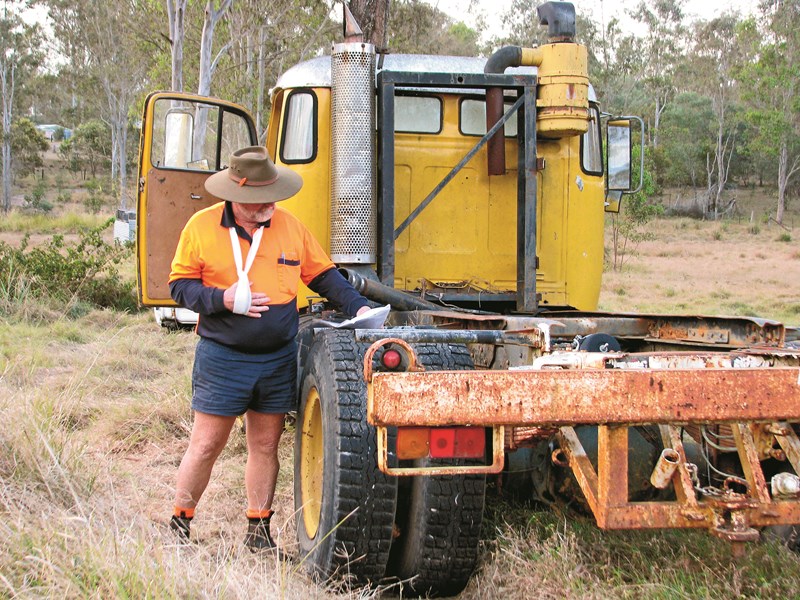 Trevor Davies looks through the rare manual found inside the old 1418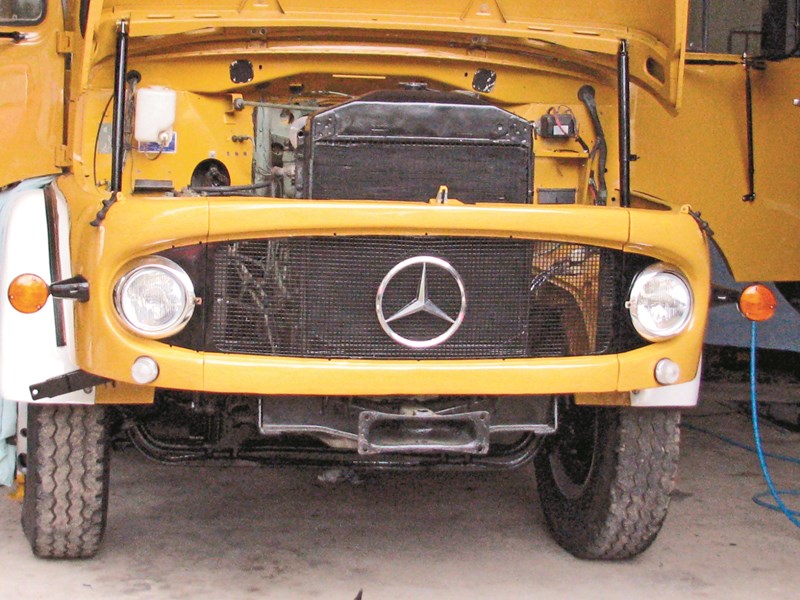 In true testament to the longevity of the Mercedes motors the old 1418 still fired up after nearly five years sitting in a paddock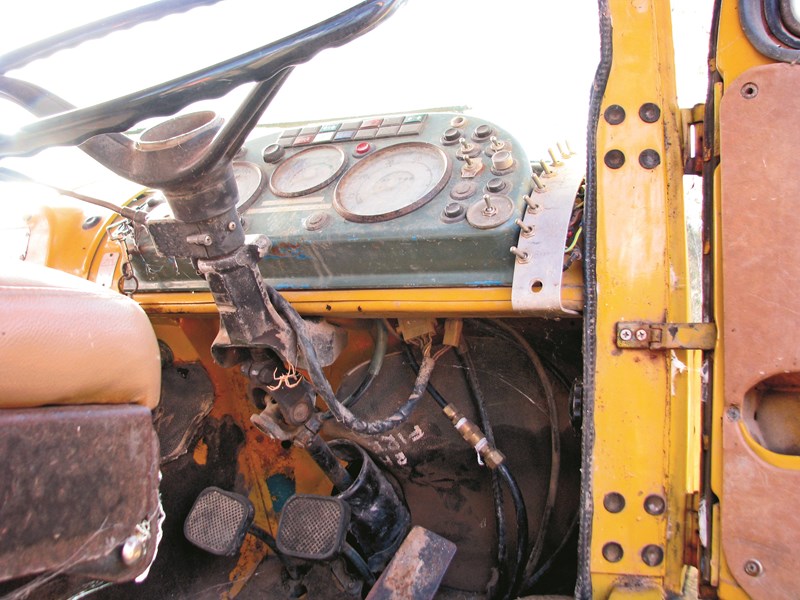 Trevor and Phyllis spent the next 12 months removing all of the rusted-out pieces, all of the bolted-on extras and ripping out the dilapidated interior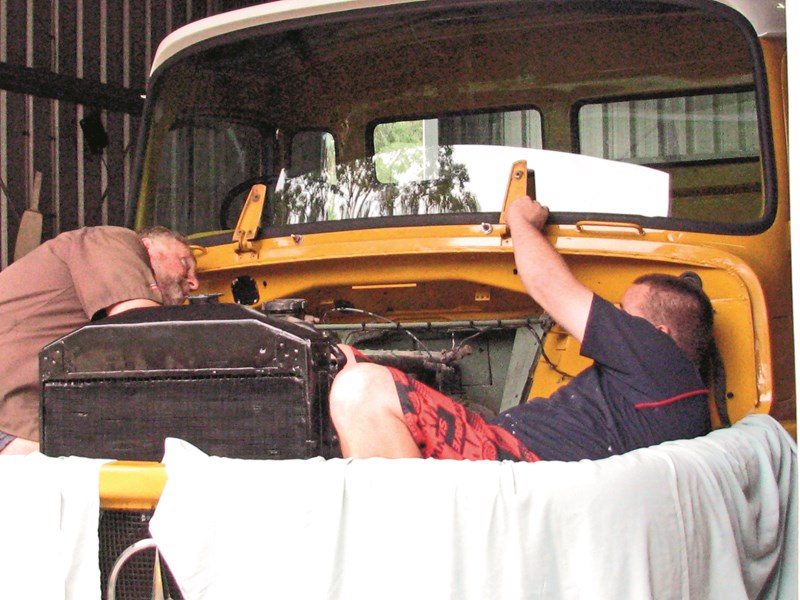 Trevor (left) and painter Craig Erickson get the 1418 ready to reattach the big bonnet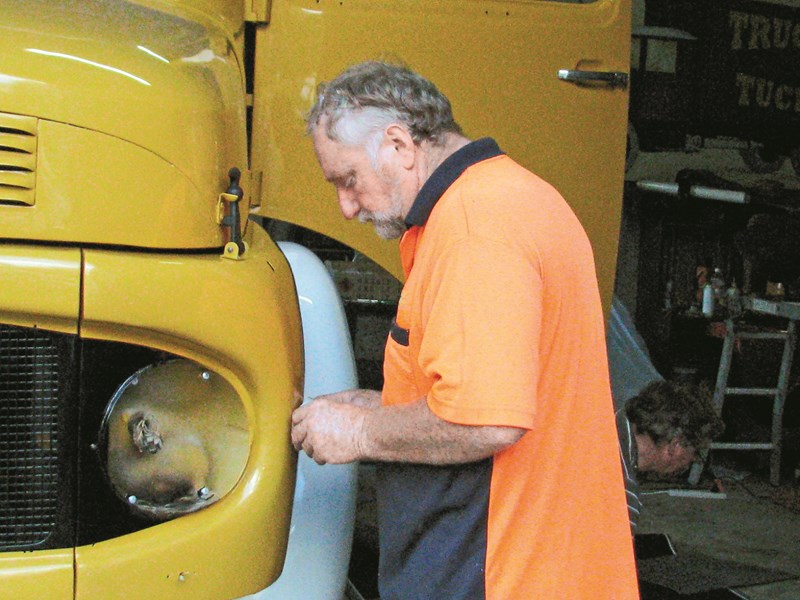 Trevor works on the finer details, fitting new rubbers around the mudguards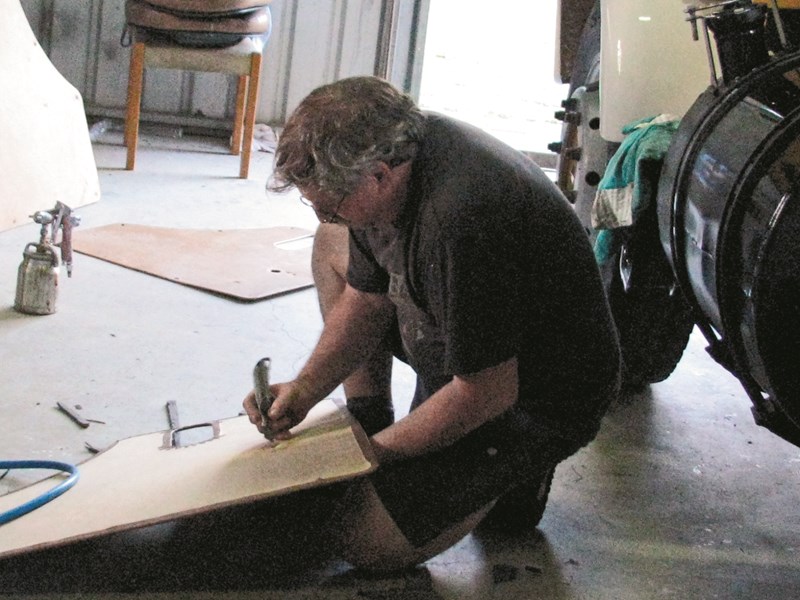 Upholstery expert Leigh works on the door panels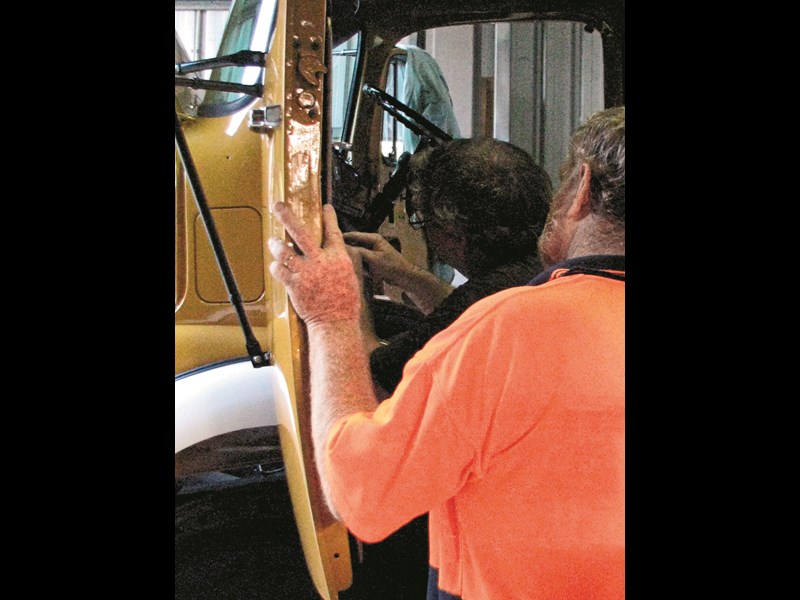 Leigh and Trevor refitting the newly refurbished door trims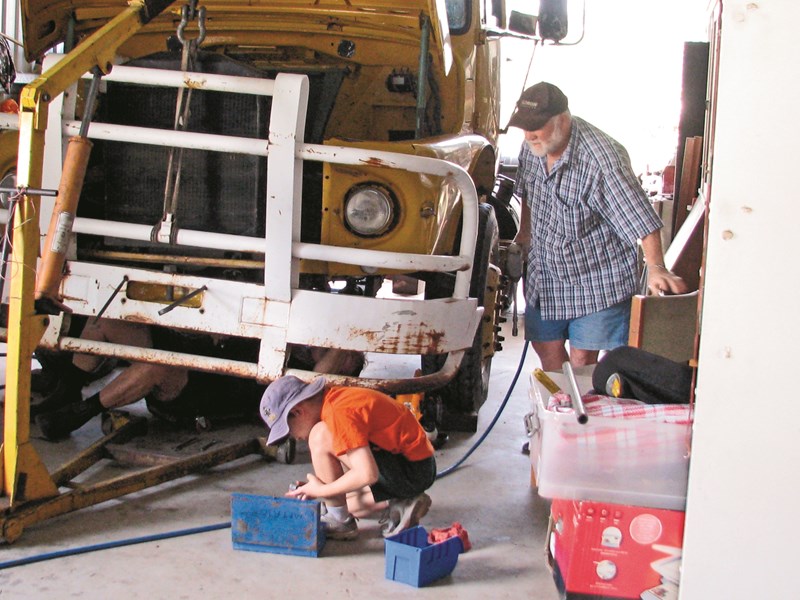 More help with the tear down, this time old friend Gary Davies is overseeing Phyllis and Trevor's grandson Jayden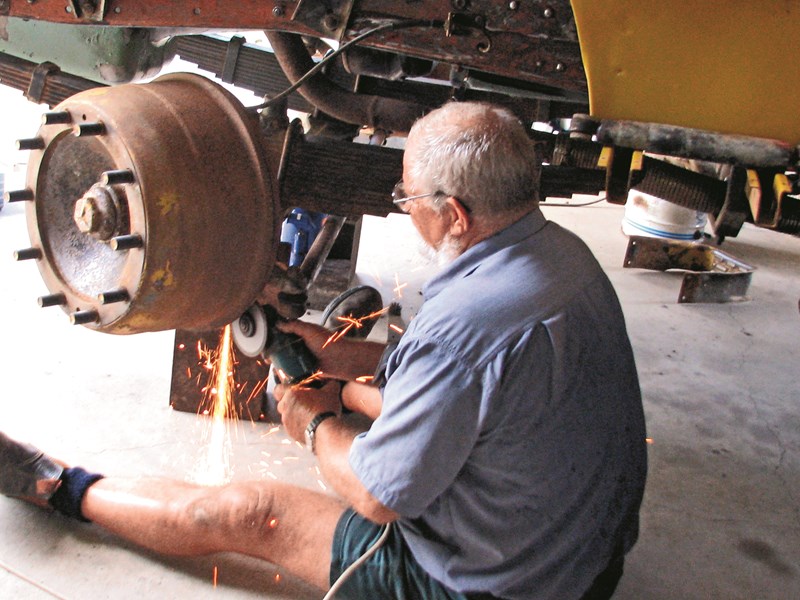 You don't stop by for a cuppa at the Davies without earning it. Club member Alan Murray learned that the hard way when Trevor put him to work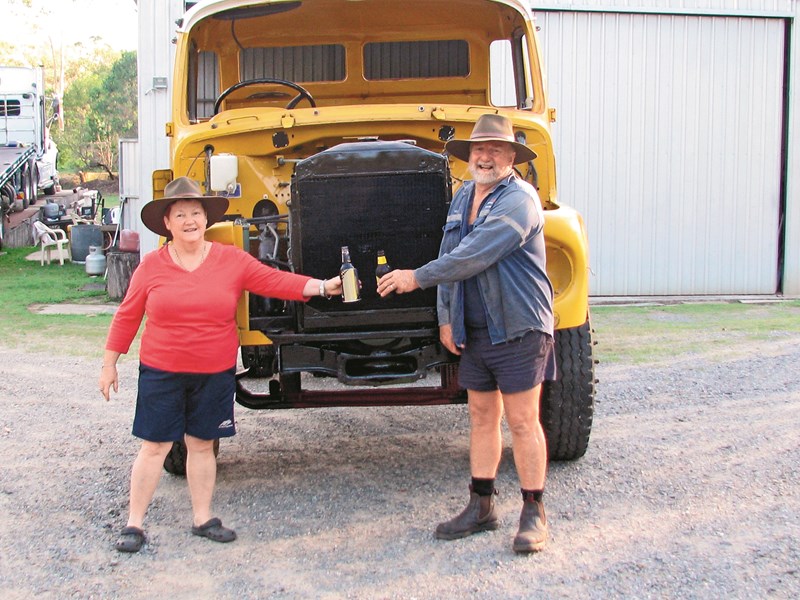 Phyllis and Trevor toast the return of 'Thelma-May' from the painters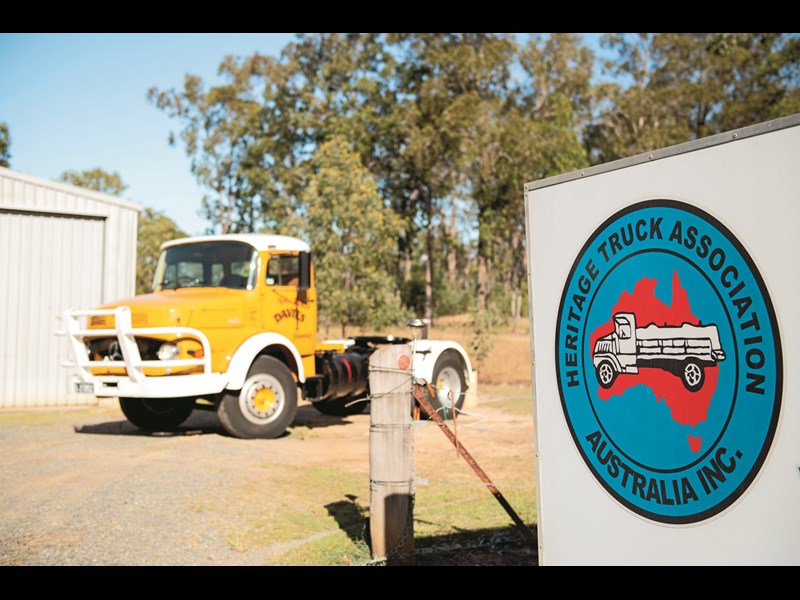 Trevor and Phyllis both joined the Heritage Truck Association as a way to meet and learn from like-minded truck enthusiasts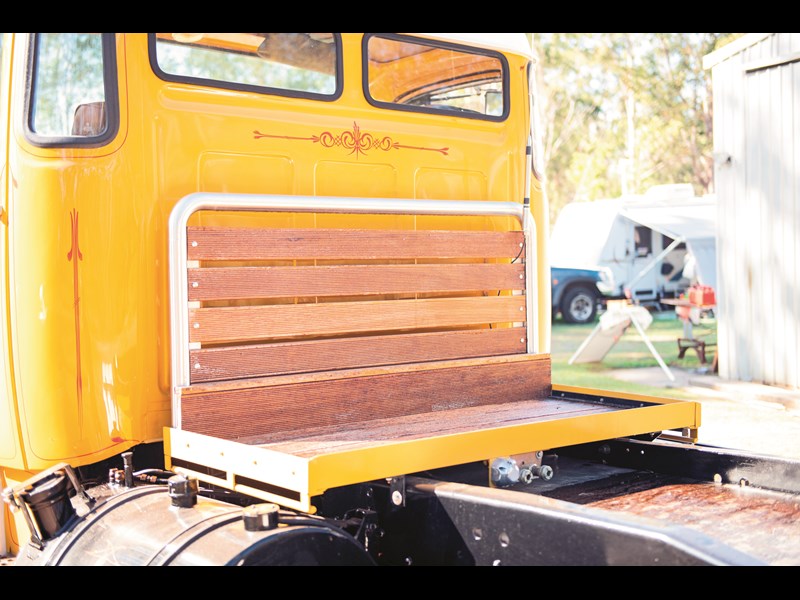 Phyllis was adamant they would retro-fit an old 'Hungry Board' to the rebuilt 1418. In the days before 24-hour servos there would normally be a couple of 200-litre drums of fuel tied up the back. Now it's more likely to be lunch boxes and deck chairs!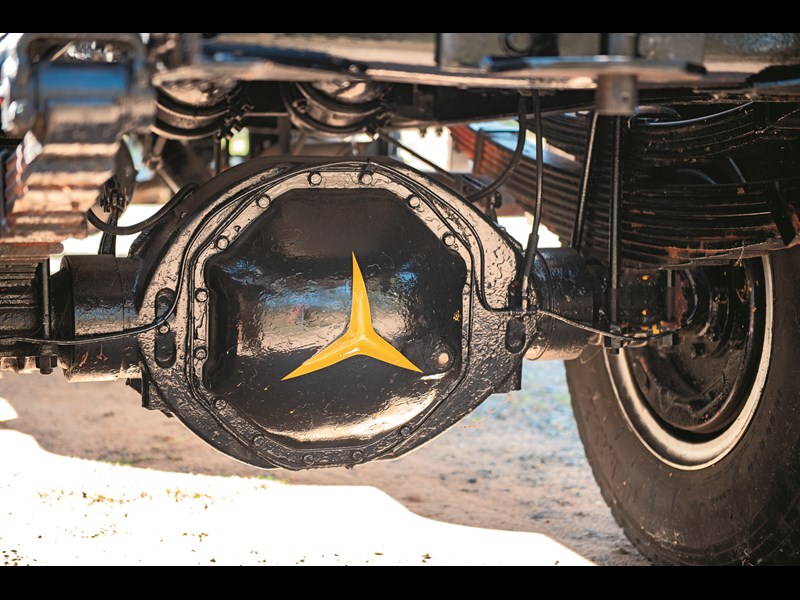 The care and precision that Trevor and Phyllis took in restoring her show the passion they have for the 1418s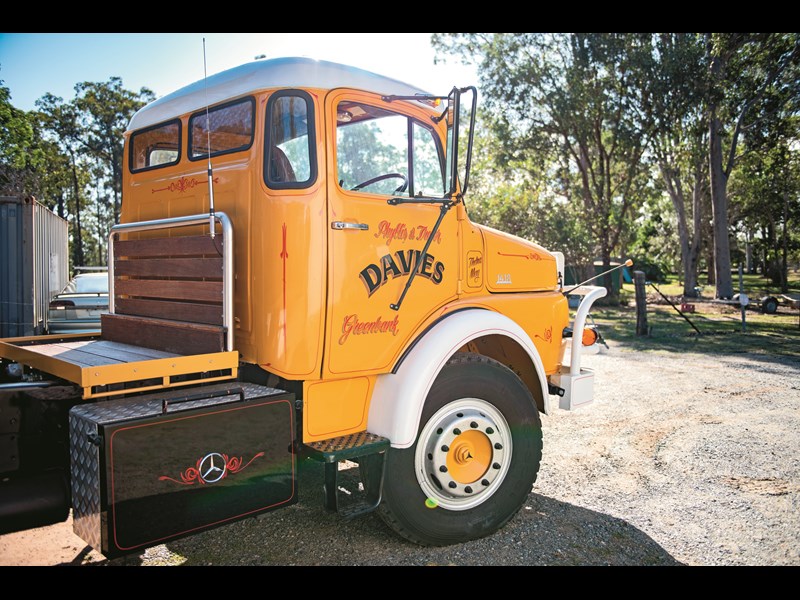 Another friend repainted the cab in the new Caterpillar yellow, with its original white guards and bull bar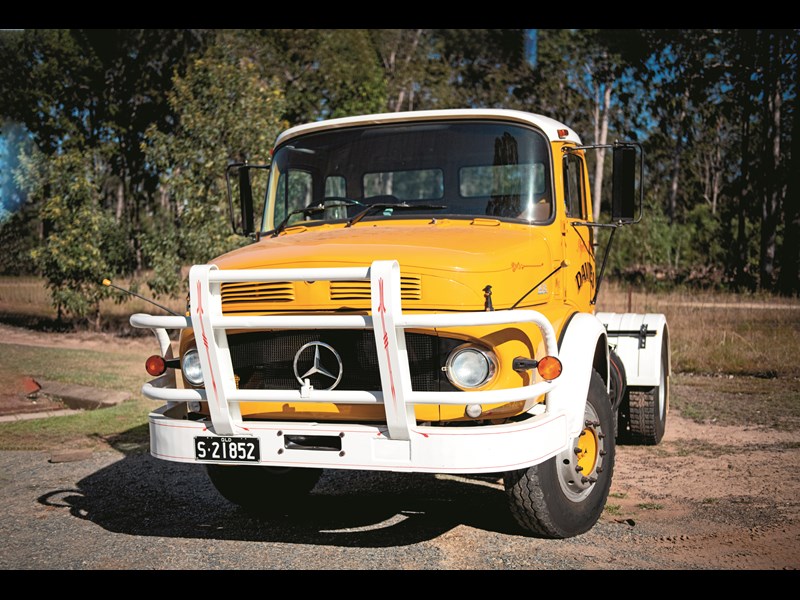 The 1418 Mercedes Benz is a truck that's played a major role in Australia's transport history and preserving that history is just as important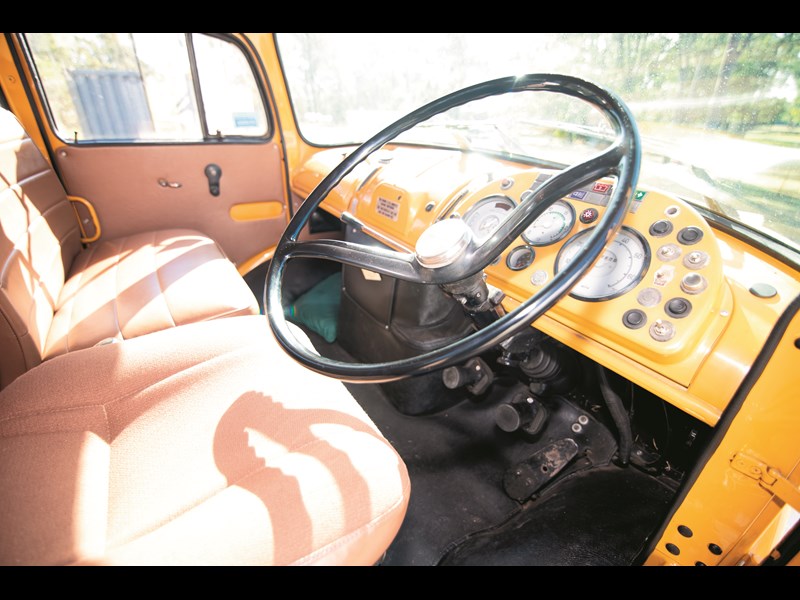 The interior had been rewired and then new upholstery fitted

Trevor and Phyllis Davies share a mutual love for the rare and rarely seen Mercedes Benz 1418. And they now have three 1418's in their collection, including this beautifully restored 1972 model named 'Thelma-May'
Hindsight is a wonderful thing isn't it. It allows us to look back and judge the choices of those before us with an air of superiority. We can be especially judgemental when it comes to aesthetic choices.
When it comes to the 1970s there are many things we can shake our head in bewilderment at: bell-bottom jeans, flower power, lava lamps, even afros, though I do believe tube tops were invented then and there are very few complaints about them!
Another immediately recognisable symbol of the 1970s that cops a fair bit of flak for its out-there appearance is the bulging bonnet of a big 1418 Mercedes Benz. The unmistakable front end of the 1418 may have given it a face that only a mother could love, but the fact is the early Benz's were a staple of the Australian transport industry.
Mercedes garnered a real foothold in the Australian market with the 1418 when it landed on local shores in the late '60s and early '70s. Even though they were only packing 180hp they surprised more than a few with their reliability and strength. There were even a few spotted doing the truck-breaking run between Adelaide and Darwin with double road trains in tow, on roads a lot less sophisticated than the 1418s were at the time.
Another feature that seems to make the early-model Mercedes unique, the 1418 and 1419s in particular, is there are very few of us older truckies (yes, I remember the days of changing spider rims and before cell phones so I'm in the older bracket now) that haven't got at least one or two memories directly related to our Mercedes' experiences. It is a truck that seems to have played a role in the development of many companies and many people; from big companies to small operators like the team we are looking at today – Trevor and Phyllis Davies.
For those involved in the heritage truck scene, Trevor and Phyllis will be two extremely familiar names. Trevor is the president and Phyllis the secretary of the Heritage Truck Association Australia Inc. In fact, Trevor is known as 'The Voice of the Show' for the work he does running commentary at as many of the Heritage Association shows that the couple get to.
What got the couple involved in the association in the first place was a mutual love of the aforementioned Mercedes Benz 1418. The couple unintentionally now have three 1418 Mercedes Benz in their collection, four if you count the poor blue girl sitting in the paddock supplying parts. The couple have a 1972 1418 named 'Thelma-May'; a 1974 1418 called 'Gracie'; and a yet-to-be-named 1977 1418.
The Davies family affiliation with the trucks stems from both Trevor's and Phyllis' lineage. Though Phyllis has only had her HR license for the past seven years, her life has revolved around the transport industry. With her entire family being involved, it was only natural that she would enter the industry at a young age and stick with it.
Phyllis' Mercedes crush stems back to her dad who owned several 1418s himself. Technically, 'Thelma-May' is Phyllis' truck and it is in the same colours as her dad's original 1418.
Trevor's Mercedes Benz crush goes back almost as far, to his early working days when he purchased a 1418 for his first interstate truck. Trevor had worked as a subbie for Simons Transport and the regular work had him all over Australia. "His sister helped pay the rego," Phyllis tells me, "and his mum would pack a lunch box full of sandwiches and off he'd go."
The 1418 become the building block for Trevor's long and successful owner-driver career. Though the 1418 would be replaced with a 3070 International and then an S-line, it would always be a special truck. So much so that when Trevor chose to leave the owner-driver life, he and Phyllis decided to hunt one out to purchase. That decision led them to 'Gracie', the 1974 1418.
It was no easy feat though. The couple had actually been touring around Australia looking for a 1418 for a while. It seemed every time they heard of one for sale they arrived just after the truck had been snapped up.
Fate has a way of intervening with these kinds of things though and it just so happened that Trevor and Phyllis were visiting the Mt Gravatt Show in Brisbane when it was announced over by the in-field commentary team that Roy Thompson was looking to sell his immaculate 1418. Before he'd even put the microphone down Phyllis had sent Trevor over to lock up the deal.
Within the week 'Gracie' was in the Davies' shed. The truck was already in exceptional condition. Roy Thompson was the truck's third owner and used it to cart his restored Dennis trucks around to shows. The name 'Gracie' came from the previous owner Ian Chapman, who bought the truck to cart machinery around. He set it up with the deck and ramps and admitted the cost of the truck and the work it did meant the truck became his saving grace, hence she became known as 'Gracie'.
There wasn't much that was needed to be done to 'Gracie' as Roy had kept it immaculate. Trevor did replace the diffs and a few other little jobs to keep it in top condition. His plan to get a bull bar for 'Gracie' would be the decision that would result in Phyllis getting her own 1418, 'Thelma-May'.
A quick side note: with the purchase of 'Gracie' came the introduction to the Heritage Truck Association. Trevor and Phyllis both joined as a way to meet and learn from like-minded truck enthusiasts. It was one of the friends they met there that happened to phone Phyllis up one day in 2013 and point out that there was a 1418 being used as a garden ornament down in Jimboomba that had a perfect bull bar on it. Trevor and Phyllis took 'Gracie' down to 'stiff-bar' the old girl out of a paddock and onto the back of a friend's transporter. When the truck was dropped in at their property another good friend and expert in truck restoration, Ron Toy, had a look over and declared: "It's in good nick, it wouldn't be hard to fix up." At this suggestion Trevor lost the bull bar and Phyllis vowed this would be her truck. So began the restoration of 'Thelma-May'.
The single-drive 1972 1418 they had rescued from paddock life had been used as a water truck for a construction company in Pimpama, south of Brisbane. Most of the truck was in good condition with the exception of several holes in the back of the cab where people had drilled randomly to affix different equipment. "It looked like it had been shot with a machine gun," Phyllis says. At the end of its water truck days it had been sold to another Mercedes fan in Adelaide; unfortunately that gentleman passed away suddenly and the truck ended up out to pasture on his daughter's Jimboomba property.
The timing of the purchase of 'Thelma-May' coincided with Trevor having some time off the road with a shoulder injury so it was a perfect project for the Davies family. Trevor and Phyllis spent the next 12 months removing all of the rusted-out pieces, all of the bolted-on extras and ripping out the dilapidated interior. Phyllis laughs as she recalls the family effort that went into fixing the dashboard wiring. "Trevor had the bonnet off and was on that side, our daughter Sonya and I were inside sticking labels to each wire, left hand indicator, right hand indicator, it was a mess!"
Trevor took care of the mechanical side of the old girl. Though in true testament to the longevity of the Mercedes motors the old 1418 still fired up after nearly five years sitting in a paddock. "I got covered in a lot of black when she started up," Phyllis laughs. It did fire up though.
Trevor gave it a full work over during its tear-down stage. Once all the rusted and unwanted extras had been removed the truck was sent off to another friend who repainted the cab in the new Caterpillar yellow, with its original white guards and bull bar.
The interior had been rewired and then new upholstery fitted. A little extra sound proofing was added around the firewall and all the original gauges reinstalled. "The hardest part was finding the little warning lights," Phyllis admits, referring to the lights that sit just above the rear of each door. The advantage of being members of the Heritage Association really came to the forefront when undertaking projects like the one Trevor and Phyllis were into. "There's always someone who knows someone or has tried something that will help," Phyllis says. Though she does admit a lot of the expertise and knowledge around some of Australia's iconic trucks is being lost as the old timers pass on.
In a little under 12 months 'Thelma-May' (Thelma is Phyllis' mother's name and May her middle name) had gone from a slowly deteriorating garden ornament to a revitalised iconic Aussie truck. The care and precision that Trevor and Phyllis took in restoring her show the passion they have for the 1418s.
Since it's restoration they have added a third 1418 to their collection, 'Albert Charles' (named after Trevor's father), a 1977 model. This one was actually a New Zealand truck that had been sold to a steel company in Sydney. It was used there to cart coils of steel to the rail sidings. The heavy work took its toll, with the chassis having to be welded together after snapping, but the sturdy Mercedes running gear is still in top notch condition.
The 1418 Mercedes Benz is a truck that's played a major role in Australia's transport history and preserving that history is just as important. It's because of people like Trevor and Phyllis Davies – as well as the Heritage Truck Association – and all the work they put in that we can all enjoy the view of these classics. In particular, the rather rare and rarely seen, 1418 Mercedes Benz.
Subscribe to our newsletter
Sign up to receive the Trade Trucks e-newsletter, digital magazine and other offers we choose to share with you straight to your inbox
You can also follow our updates by liking us on Facebook. 

Trucks For Hire | Forklifts For Hire | Cranes For Hire | Generators For Hire | Transportable Buildings For Hire