CLASSIC DEALS: THE MAKING OF LEGENDS
---
Spawned in the shadows of the iconic W-model, it was perhaps inevitable Kenworth's classic T900 would one day notch 'Legend' status. Yet embedded in this story of a remarkably resilient truck are the steely pride and fierce passions of people devout in the Kenworth creed: 'Australian Made. World's Best'. They live it. They breathe it. Right to the end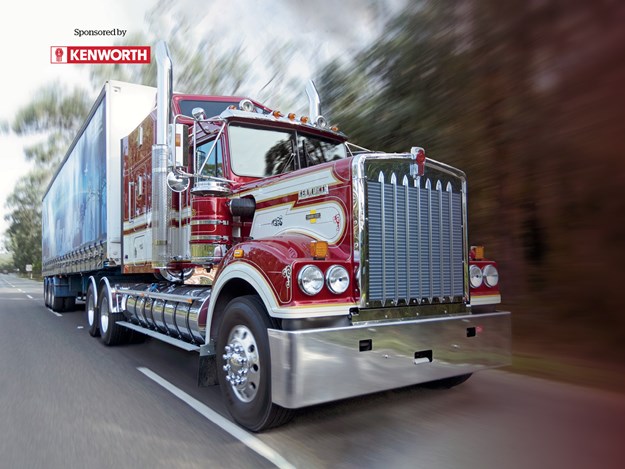 Almost a decade into his long and laudable career as Kenworth's first Australian managing director, Andrew Wright had been quick to react to the downturn. As he saw it, the economic signs were foreboding. With his bean-counter brain kicking into survival mode, retrenchments at the Bayswater (Vic) head office and factory came hard and fast.
Everything depended on the factory's ongoing viability and Wright was uncompromising in his determination to protect the future and avoid Kenworth becoming just another importer.
Yet seemingly overnight, Kenworth, generally, and Wright, specifically, became pariahs as commentators and competitors publicly lambasted the cuts as corporate overkill. Cries of "too much, too soon" and "putting profit before people" were loud and long.
As time would soon show, an astute Wright had simply seen the writing on the wall clearer than his contemporaries. In fact, as the extravagance and excesses of the '80s collapsed into the economic doldrums of a new decade, and truck sales continued to slip lower than a frog's freckle, there were more than a few executives openly wishing they'd followed Wright's lead and made the tough decisions sooner rather than hovering in vain hope of a quick recovery.
Whether we had to have it or not is debateable, but this was certainly a recession that hung around far longer than anyone expected. Road transport was hammered particularly hard, and difficult decisions were forced on companies of all persuasions – especially those with significant investment in local manufacturing tailored almost entirely to the domestic market. Companies like Kenworth.
In fact, things were so crook in the Bayswater bunker that then sales manager Russell Davey rang a town crier's bell after every order that had been credit approved. A collective cheer went up every time it rang but the clangs were few and far between.
Behind the scenes, though, with business in the pits and the factory building barely half a truck a day, Kenworth was quietly working on the creation of something new. Something for better times ahead but with the immediate ability to generate interest and excitement in an otherwise depressed and depressing market. Something big, bold and home grown.
Back then, the star of the Kenworth camp was unquestionably the revolutionary T600. Launched on the Australian market in 1987, the slippery 'Anteater' had turned conventional truck design on its head with its intense accent on aerodynamics. Yet as well received as it was by fuel-focused operators, T600 did not tick all the boxes for everyone.
Something was missing, and it was that 'something' which, at the back end of 1990, first came to life as a prototype T900.
FLEXIBLE OUTLOOK
Probably the most respected engineer in the heavy-duty truck business, and regarded by many as one of the most likeable and principled people you're likely to meet anywhere, Gary Hartley recalls those days with the relaxed confidence of one who has both survived and succeeded.
In years to come, Wright would promote him to chief engineer and under his watch would evolve an eclectic range of trucks which, whether they made it to production or not, would at least typify Bayswater's capacity for application engineering on a defiantly Australian scale.
Examples are plentiful but in some minds, including this one, the ability to radically transform an archaic K-series cab-over into the modern form of the K200, and most recently create an entirely new future with the widely acclaimed T610, are convincing testimony to the prowess of Kenworth's design skills and engineering resources.
Back then, as we spoke in his Bayswater office, it was a typically humble Hartley contemplating life after Kenworth. Retirement beckoned, and before this story first appeared in print he would have pulled the plug on almost 30 years with Paccar Australia.
The pride was palpable as he candidly reflected on a company and the people who had had such a dramatic influence on the laid-back bloke from Bundaberg in Queensland.
Immersed in the culture of a proud and often aloof company, and surrounded by some of the most passionate and pragmatic people he would ever meet, Hartley took to Kenworth like a duck to water. Yet he was quick to concede that of all the colleagues and customers he would come to meet and admire, none stood taller than the stout, rotund and fiercely intrepid Allan Stead.
'Steady' retired in 2004 after 39 years in the Kenworth camp, largely in customer service and support roles where his mechanical and product knowledge were both invaluable and critical at all levels.
Sadly, he passed away early in 2017 but his legacy is huge, with a smiling Hartley reflecting: "Steady wasn't always politically correct but his experience and knowledge were exceptional and we'd often spend a lot of time just talking about how things could be made better.
"That's one of the things I've really enjoyed about working here. You don't have to wait for a new model to make improvements. It's just an ongoing thing.
"Every day someone is thinking about how to improve something, whether it's a particular model or processes in the factory, or whatever.
"Anyway, for me and a lot of others, Steady was inspirational. He just had the ability and the passion to push anyone's enthusiasm to another level, and people at every level went to him for his input and advice. And I mean every level.
"I miss him a lot. I know I'll never meet anyone like him again."
YEAR ZERO
For Hartley, however, it all started in January 1988, arriving at Bayswater with a degree in mechanical engineering and a solid background in the aircraft industry.
The long-serving Charles Adams was then chief engineer, appointing Hartley to concentrate largely on strengthening durability aspects of the T600's cooling system. After all, while the T600 was certainly revolutionary in design, it wasn't without its issues, and it took time, test and constant appraisal to build the durability demanded by a critical Australian market.
In many eyes, the T600 could never fill the gaps left by the tirelessly tough W-model and SAR, which had been dropped to make way for their slippery successor.
In a move to at least partially fill the void, the ultra-dependable and Australian-designed T650 with a set-back front axle appeared soon after the T600 and even now remains a versatile stalwart among Kenworth conventionals.
But still, something was missing. That classically Kenworth image so deeply rooted in the W-model was gone, and it certainly didn't escape Bayswater's attention that since the demise of its classic conventional, sales of Western Star's 4800 and 4900 models had improved considerably.
To many Kenworth insiders, Star's growth was blatant proof that the market for big, broad Yank beaks was alive and well.
Certainly, these were difficult days, yet even Western Star's increased competitiveness came to be one of several factors conspiring to create new momentum for Kenworth.
PROJECT JABIRU
Difficult as it was, the recession was at least providing the scope to think of new projects, inspired to a large extent by a group of customers (not least Kiwi operator Mike Lambert) pushing for something akin to the venerable W-model and vowing to put their money where their mouth was, if and when such a truck ever came to life.
The other factor was Andrew Wright. Accountant by profession, fiercely determined and hugely competitive by nature, and a truck nut by desire who loved dabbling in design concepts – much to the occasional frustration of his senior staff – Wright was all ears when people like Lambert started giving assurances they'd be more than happy to buy a modern long-bonneted truck built on the design principles of the iconic W-model.
This was, after all, a lean time when any truck sale was a big achievement. So, with his penchant for dabbling in design duly stirred, Wright set Charles Adams and his engineering team to work on a secret new model exercise code-named 'Project Jabiru'.
Why the project was named after a big Australian stork (maybe the big beak?) is anyone's guess but, as Hartley explained, the goal was to produce a long-wheelbase truck loosely based on America's W900S model with a set-forward front axle. Still, there was never the intention to simply 'Australianise' an American truck. That idea was fraught with durability dilemmas, whereas local engineers had proved with the SAR in particular that a truck built in Australia, for Australia, had the ability to hit the market with a minimum of teething issues.
Meantime, with new truck sales in freefall, the urgency of the project was not lost on Kenworth employees, from the factory to the top office. The desire to succeed was intense. Livelihoods depended on it.
It was, Hartley said, an incredible team effort which took the project from concept to the first prototype rolling off the Bayswater line in just nine months and, critically, confidence in the truck called T900 was high from the start.
Yet in what has since been shown to be something of a trend at Kenworth, hard times are also a time to invest in new initiatives. In this case, and despite the obvious fact that most company budgets were firmly in lockdown, Kenworth poured more than a million dollars into a new-fangled system called computer-aided design, or CAD.
"The T900 was the first model we started using computer-aided design to generate parts drawings and it was certainly a major factor in getting the truck from concept to production in such a short time, and for a prototype, in such good shape," Hartley commented.
Today, of course, computer-aided design and manufacturing are part and parcel of production processes everywhere. But, back in 1990, this was advanced technology that signalled the end of drawing boards at Bayswater.
There were, of course, early glitches and not everyone took to the new system well.
"Progression from drawing boards to CAD came with its challenges," he recalled. "At the time, there were not many other companies using mainframe CAD, so we were somewhat on our own initially."
Still, and despite the magnitude of the investment under such difficult economic conditions, it was an adamant Hartley who insisted the long-term efficiencies were evident from the outset. Today's systems are far more advanced but it had to start somewhere and, in more ways than one, T900 marked the birth of a new era for Kenworth.
CHRISTMAS PRESENT
As Christmas 1990 drew close, an invitation arrived. If I remember rightly, it didn't say much, just asking if I'd like to visit Bayswater for a preview of 'something special'. Stupid question, really. Of course I would.
Typically, Kenworth had done a good job of keeping a secret, and after a look at the new CAD system in operation, our small group was finally shown the T900 prototype at the back of the Bayswater head office.
It took just one look to realise they'd nailed it. The character and image of the big, bold classic Kenworth conventional was back. Bigger, bolder and, from all indications, better than ever. Better still, I'd get to drive it the next day.
The following, edited paragraphs are extracts from a report I wrote in the February 1991 edition of the highly regarded and sadly defunct Truck & Bus magazine, yet the words are perhaps as apt today as they were then.
"The foundations of the T900 are not those of the W-model. The cab shell is that of the [wider] T600.
"From appearances alone, the exercise has been successful because the T900 embodies all that was attractive and sought after in the W-model, including an even longer bumper to back-of-cab dimension to enhance ride and steering qualities.
"And if some idea of a truck's handling can be gleaned from a couple of stints around a dirt track in the backblocks of GM-H's proving ground at Lang Lang in Victoria, then the T900 certainly has the standard of steering response and road feel Kenworth claims for it.
"The superbly presented prototype came equipped with all the good gear (and) it was hard to imagine a more well equipped or desirable workplace, all encased in a truck that oozes image and prestige."
Some of that good gear included innovations such as laser-cut exhaust shields, bulkhead sleeper doors, the initial choice of round or rectangular headlights, dual-skin firewall, and a modular Aerodyne sleeper that would endure until 1998 when the new T904 delivered a fully integrated sleeper. Back then there was also the choice of the latest engines from Cat, Cummins and Detroit Diesel.
HIT THE MARK
Without putting too fine a point on it, success was immediate. Sure, not in great numbers given the economic difficulties of the day, but the response from operators was undeniably strong as the one and only prototype went on a promo trip across several states.
Sadly, however, that first T900 met a disastrous end when Melbourne wharfies managed to drop a container on the truck as it was about to be loaded onto a ship for demo duties in New Zealand.
Even so, Kenworth knew it had indeed created something special and, best of all for a company determined to haul its way out of a recessionary rut, those operators who had expressed a willingness to buy a big-bonneted successor to the venerable W-model proved to be good for their word. Among them was New Zealand's Mike Lambert, who in mid-1991 placed an order for four units including an 8x6 tri-drive version.
It was, however, perhaps inevitable that with the T900 invoking the image of the W-model, there would come calls for a model to replicate the sloping snout of the all-Australian SAR. Thus, in the back half of 1992 came the T950, which for almost 15 years would sit alongside the T900 and its successors as flagships of Kenworth's conventional class.
The rest, as they say in the classics, is history. In fact, both the T900 and T950 would become classics in their own right, building formidable reputations and aspirational stature in everything from rigid truck and dog work to severe road train tasks across the length and breadth of the country and beyond. 
Emissions regulations and subsequent engine technology would, however, have a significant impact on both models. In the T900's case it would lead to several evolutions starting in 1998 with the higher stance of the T904, followed by the T908 and today's highly popular T909.
For the record, well over 5,000 T900 derivatives have been built since the first prototype rolled out of Bayswater, and it's a number sure to keep growing as the T909 consistently accounts for around 20 per cent of Kenworth's production.
Unfortunately, the impact of emissions would be completely destructive for the T950 as the cooling demands associated with emissions-related engine technology took effect. A bigger cooling package simply couldn't fit under the drooping snout, and at the end of 2006 the model was dropped from the Kenworth range.
Like the T900, though, the legend had already been created and the T950 would not be allowed to slide quietly off the radar. At least, not forever.
LEGEND 900
In simple and perhaps cynical terms, the 'Legend' concept was just a clever marketing initiative. Bring back the defunct T950 as a tricked-up, limited-edition series and let the true believers indulge. Then if that proved successful, repeat it with the T900.
Back in 2017, Paccar Australia sales and marketing director Brad May begrudgingly accepted the commercial inference but with blunt certainty said there was more to it. Far more!
Then again, you'd expect nothing less from a man who is unashamedly a Kenworth 'tragic'. So, too, is his older brother, national fleet manager Steve May. In fact, if Kenworth was a colour, the May brothers would bleed it, and it's an infusion which started a long, long time ago.
First, their father Kevin whose regard for the Paccar product, both Kenworth and Peterbilt, as a driver and owner was countless times the topic of conversation over the kitchen table. As Brad admitted, the images were ingrained from a very young age.
From there, it was probably inevitable the brothers would work at Bayswater. Here, of course, was Allan Stead who would become mentor and mate to both, and whose blunt pragmatism and staunch integrity would have an indelible influence on Kenworth careers which in Steve's case had notched 35 years and Brad's, almost 25 years.
Anyway, back on 'Legends' of the mechanical kind, Brad May was quick to cite the reduced cooling demands of Cummins' ISXe5 engine as a major motivator in the 2015 return of the T950 in limited edition 'Legend' form. Cooling difficulties with the previous EGR Cummins were, after all, the main reason the T950 went out of production in the first place so it stood to reason that a cooler Cummins should form the foundation for a limited edition 'special'.
"We always knew there was an appetite for bringing back successful models no longer in production and the T950 was the perfect place to start," Brad explained. "It was actually Mike Fowler from Cummins who said 'the e5 runs so cool, you could bring back the T950'.
"So we did, and history shows it was very quickly accepted, which gave us the confidence to follow with the T900."
Quickly indeed! Kenworth limited the T950 Legend to just 75 units, and the order book was full in less than 48 hours. Operators slow on the trigger simply missed out, and to say there were a few ruffled feathers is an understatement of some magnitude.
"Yeah, we definitely copped some flak," Brad admitted.
RECOGNITION
It was a situation which would not be repeated with the Legend 900. With customers given plenty of advance notice, the order book was opened for one day only in July. True to form, Kenworth won't say how many orders were taken, but the whisper is a number above 250. Incredible!
As for the suggestion that the 'Legend' series was simply another way to sell trucks, a candid Brad May said: "Of course it's nice to get a good commercial result, but there's a lot more to it than that.
"It's a celebration for us and for a lot of our customers. To do something like this is a way of recognising the contribution of many people, in what we've achieved in this country and what the brand has achieved for lots of operators."
Thoughtful for a moment, he continued: "It resonates with people and rekindles something special.
"People get caught up in the pressures of transport and some might even come to resent the industry they work in. But then you produce a truck like this and you see something in their eyes. They remember what they liked, even loved, about trucks in the first place.
"People who are normally stern businessmen, successful people who don't ordinarily show much emotion … it arouses a passion in them, something good, something very proud."
He's right! Typically, Kenworth had done a good job of keeping details of the Legend 900 under wraps but, from the moment people set eyes on it at the 2017 Brisbane Truck Show, there was an obvious stirring in the hearts and minds of many.
At a quick glance, the Legend 900 differs from the current T909 with its return to a modular bunk and a cab sitting much closer to the chassis than its modern descendant. Consequently, the batteries of the Legend sit between the rails behind the cab rather than under the sides of the cab.
There is, however, certainly no shortage of heritage. From the crafted woodgrain Fuller gear knob, the flat dash, the split windscreen, big exhaust stacks, the special badging and decals on the seats, in the bunk and on the hood. Even the KW bug is from a time long gone, while under the hood, the X15 Cummins is painted black with a red rocker cover, recalling the N14 'Redhead' of decades past.
As Brad May mentioned, you could see the passion in their eyes. The wistful gaze, a soft hand sliding across the guard, a dreamy look inside the cab, a moment of reflection on times past, a nod of respect to the 'Steady' script on the back of the bunk. And that was just me! 
IN THE SEAT
I knew I had to drive it. Just once. Not far, but far enough to remember a time when the T900 first forged a monumental influence on Kenworth's future, and the reasons why some trucks truly deserve to be called 'Legend'.
Still, I was under no illusions. The 'Steady' truck was the only Legend 900 in existence, and in a magnanimous tribute to man and machine, it will not be sold. Instead, it will spend its days in Kenworth's Hall of Fame in Alice Springs. Understandably, Kenworth didn't want to risk the truck spending any more time on the road than absolutely necessary.
Fair enough, but in 1990 I'd driven the original T900 when it was the only one of its kind, so why not this one? Besides, I reckon Steady would've given me the nod anyway. 
And so it was that on a crisp, sunny winter's morning in the backblocks of Bayswater I fired the Cummins into life and, with Brad May in the passenger seat, steered the big beak through the 'burbs and into the hills through Yarra Glen, up The Slide and north up through Yea.
It wasn't far, all up a round trip just a touch over 300 kilometres. But it was enough and I loved every moment. The raw pleasure of it. The ride and handling of a true driver's truck, the slick shift of the stick, the muted growl of the engine gurgling through seven inch stacks, the classy finish of the cab, and all the touches defining the Legend 900 as something truly special.
And, best of all, the sheer pride and satisfaction when you climb in, especially when someone's watching. Cool, really cool!
Snippets of 1990 slipped in and out of the memory bank, and for a few brief moments I was reminded of other people, other times, and why I've spent nearly 40 years driving, talking and writing about trucks. It's in the blood, I guess, and on very rare occasions something comes along to rekindle the passion, and suddenly the hook goes in a tad deeper. 
When it's all boiled down, I suppose it really is all about a truck and a driver.
In what seemed a heartbeat, we were almost back at Bayswater.
"So whose idea was it to dedicate the truck to Steady?" I asked.
Brad took a while to answer, before finally, "Mine. Do you reckon he'd like it?"
"Mate, he'd have a grin from one chubby cheek to the other," I responded.
Across the cab, the silent smile was enough.
Editor's Note: This story was first published in 2017.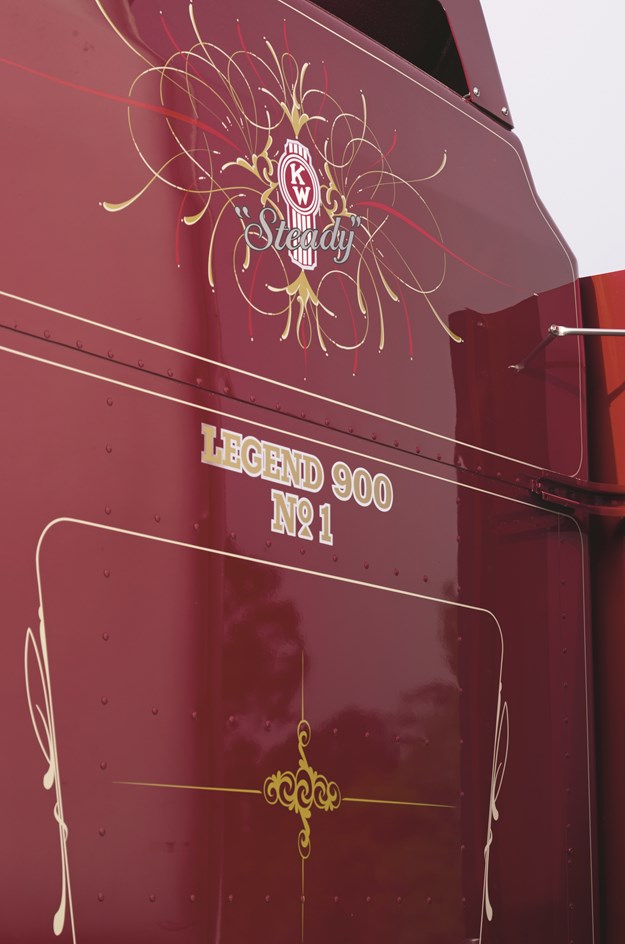 Subscribe to our newsletter
Sign up to receive the Trade Trucks e-newsletter, digital magazine and other offers we choose to share with you straight to your inbox
You can also follow our updates by liking us on Facebook. 

Trucks For Hire | Forklifts For Hire | Cranes For Hire | Generators For Hire | Transportable Buildings For Hire