DEALS RESTO: KIRK RAABE'S ICONIC '72 W925 'BLACK BEAUTY'
---
Inspired by his mate Andrew Rackemann, Kirk Raabe and his support team who have done a great job of breathing life back into another one of Australia's most iconic truck models, a 1972 W925 now known as 'Black Beauty'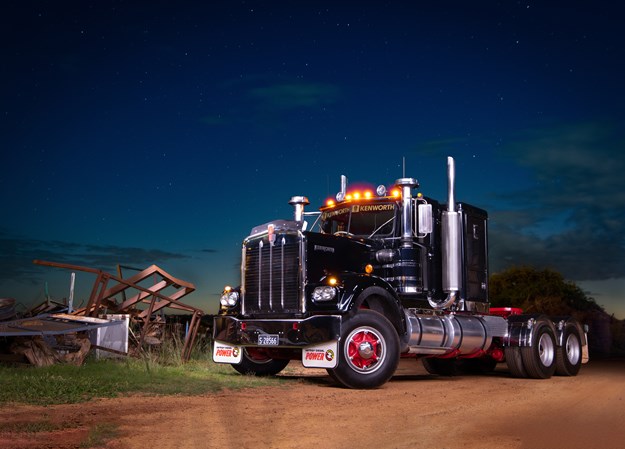 'The truck that Facebook built'. 'A mechanic's hobby'. 'Far from original'. All these could have been appropriate titles for this story, as all of them sum up exactly what Kirk Raabe's 1972 W925 is all about. This beautiful black beast of a truck is built with bargains from Facebook. It is the after-hours work of a busy mechanic and it is definitely not in original condition.
But summing up why Kirk Raabe actually has this stunning black rig is best left to another Kenworth W-model tragic, Andrew Rackemann: "He just wanted to be in the cool kids club!"
While I'm sure most of you would much rather just look at the photos of this cool classic ride than hear me rattle, here's the story as briefly as I can tell it. This one-of-a-kind 1972 W925 is owned by Kirk Raabe from Kingaroy. Kirk is actually a diesel fitter by trade and spends his days fixing and repairing trucks. He does have a bit of truck driving under his belt, but you wouldn't class him as a life-long truckie. That shows just how much of an addiction the classic old Kenworths can be.
Kirk spent a fair amount of time helping his good friend Andrew Rackemann work on his W-model and it seemed that the Kenworth virus latched onto Kirk in the process. As such, Kirk decided the gap in his garage could do with filling and he went fishing for his own truck project.
In 2016, after a fair bit of work, Kirk hooked this 1972 W925 down in Burren Junction, New South Wales. The truck, though far from pristine, was still earning a crust as a farm truck towing a single around for a local cockie. Apparently, Ipswich Earthmoving bought the truck when it came off the line back in 1972, the same year we lost Olegas Truchanas (come on guys, he was a nature photographer, remember); and the same year M.A.S.H first hit our TV screens. It rolled off the production line as a short chassis day cab and was spotted pulling a float throughout North Queensland and even the Northern Territory.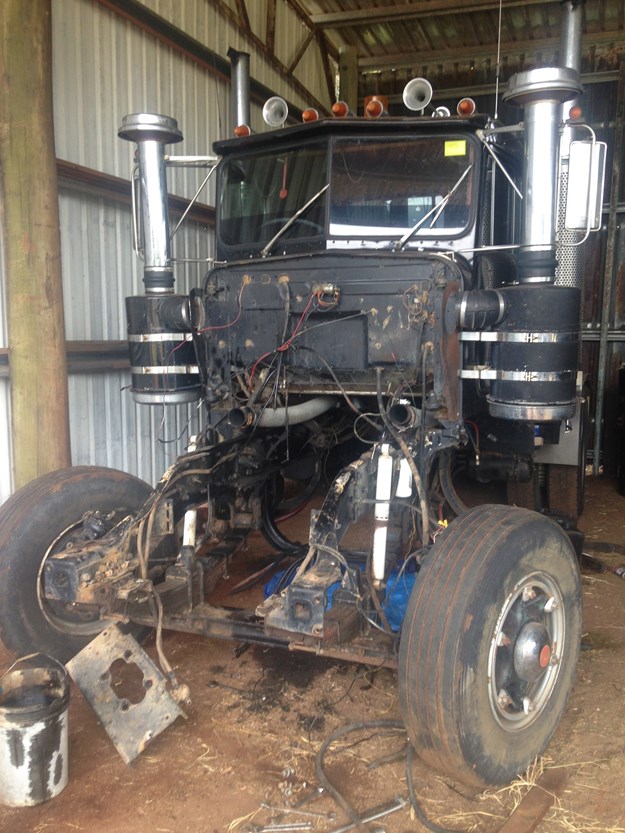 Kirk is very hazy on how long it was there and the path it bounced along to end up at Burren Junction but along the way the 250hp (186kW) Cummins motor was replaced with a Detroit 8V71. The big Detroit was obviously worked pretty hard and by the time Kirk and Andrew were tasked with driving it back up from NSW to Kingaroy the old girl was blowing more smoke than a Woodstock reunion. I think it was little surprising to both men that the engine made it all the way home, which is more than can be said of one of the wheel seals. That was a fix-up job at Dalby.
Once the old workhorse was back in Kirk's garage the tear-down began. The whole thing was pulled apart and stripped back. Although the truck was already black, as were the tanks and chassis, Kirk had the team from D&S Paint and Panel redo the whole thing. His original entire Matt Black idea was soon shot down and the choice was made to go for the red chassis and gloss black look instead.
While all the rear end and even the 15-speed overdrive gearbox still had plenty to offer, the same couldn't be said for the well-worked 8V71. It would have been more use as a fantastically oversized paper weight after its hard life and so Kirk went looking for a replacement. Like any good mechanic he found a replacement on Facebook. A few phone calls, a couple of handshake deals and there was a well-used 8V71T, out of an old K123, sitting on Kirk's workshop floor.
For those with slightly more mechanical knowledge that me, which is damn near everyone, you are probably asking: "A cab-over motor into a W925. What? How?" Well those are all very good questions and the refit involved a lot of ingenuity on Kirk's part.
"We modified a lot to get it to fit," he admits. "Everything was mounted at the back on a cab-over because they had plenty of room." The painful task of moving turbo, alternator, compressor and many other parts kept Kirk busy for a fair while.
Like any good truck restoration story, Kirk was that annoying owner who waited for the whole thing to be reassembled before he changed his plans and decided to stretch it and add a sleeper box to it. God forbid he work out that major change before he'd re-assembled it; which for the record was done in true bush mechanic style. Kirk had attached two pieces of two-inch water pipe under the cab and used an old farm tractor with hay spears to put the freshly painted cab back on. That task was a lot easier for the tractor than when they put the motor and box back in; on that occasion the poor old tractor flattened the front tyres and Kirk had to wind the relief valve right up just to get the job done.
Nothing is easy though and with the cab and motor back in the chassis rails Kirk informed everyone that he'd been surfing Facebook again and found a 36' Coonabarabran sleeper box. The cab came back off and in the shed, on old carpet and iron sheets (safety first, can't have the carpet catching fire). Kirk and his team cut the rails and extended the chassis by 1.25 metres. There is plenty of speculation as to Kirk's motivation for this extension. I'm a firm believer that it was motivated by his desire to have a bigger truck than his good mate Andrew. Andrew will jokingly inform anyone who listens that it had something to do with giving Kirk space for his alleged unnatural relationship with goats. Andrew's wife pipes in to say it's just so he has somewhere to hide away. This seems most likely as the refurb of the sleeper included fitting a TV, DVD player and a Veisa picked up from a yard sale. I'll leave the motivation behind it up to you guys to interpret.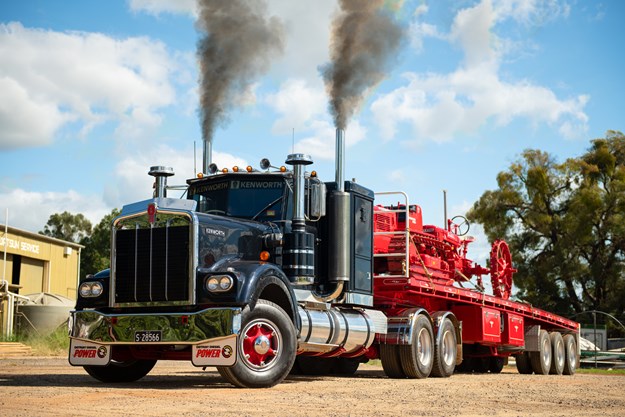 The motivation behind Kirk's next Facebook shopping expedition is a lot easier to nail on the head. "I just wanted it because it's noisy, no practical reason, just for the noise," was Kirk's response when I asked why he fitted an air start system to his Kenny. Apparently, they were an option on Kenworth, he tells me, it's just no-one really wanted them. Kirk however did, and yes, I'll admit I did launch myself a little vertically when Kirk started it up as I was having a close look around it. Did I mention he also removed the muffler off the air-start system, just for a little extra noise!
Was the job done you may ask? Is any rebuild ever finished? It's hard to say. Kirk's 1972 W925 is definitely ticking all his boxes though. It's got the old-school cool looks, it's got the neighbourhood disturbing noise, it's got the rumbling, smoke blowing classic two-stroke engine, and he's added in the modern luxuries of TV, DVD, sleeper air and power steering.
Well done to Kirk and his support team who have done a great job of breathing life back into another one of Australia's most iconic truck models. She definitely is a 'Black Beauty'.
Subscribe to our newsletter
Sign up to receive the Trade Trucks e-newsletter, digital magazine and other offers we choose to share with you straight to your inbox
You can also follow our updates by liking us on Facebook. 

Trucks For Hire | Forklifts For Hire | Cranes For Hire | Generators For Hire | Transportable Buildings For Hire