Lampson Transport: bringing out the big guns
---
Lampson Transport, the heavy haulage specialist responsible for some of the biggest hauls in Australia, gives an insight into the process behind its projects
Size may not matter to some, but to a business like Lampson Transport, it is the predominant measure of its worth.
The heavy haulage specialist has been behind (and in front of) some of Australia's biggest load hauls around for nearly three decades, orchestrating convoys weighing hundreds of tonnes through some of the unlikeliest of places.
Like the organised chaos of a toddler learning to walk with the supervision of their parents, a Lampson convoy can be seen navigating its way carefully but unconventionally along its route, veering into wrong lanes or taking up whole roads to get to its destination.
The public may only see the massive machines in front of them but, as managing director John Lee goes on to explain, big moves require even bigger efforts behind the scenes to plan and organise the operation.
SUPERLOAD
Hauls that captured public attention in Victoria lately were dubbed 'superloads', with Lampson working alongside state roads and traffic authority VicRoads to complete the deliveries.    
One of those involved power company AGL sending a 255-tonne generator from the Loy Yang Power Station in Gippsland to Germany to manufacturer Siemens for specialist repair and maintenance.
Upon its return, Lampson transported the generator back from the Port of Melbourne to Loy Yang, a journey that comprised three nights and some 200 kilometres.
The convoy stretched 108 metres, much longer than an A380 Airbus (73m), and weighed 650 tonnes in total.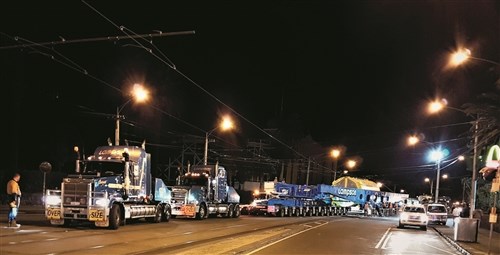 Even longer than that was the transformer delivered from the Port of Geelong to the Haunted Gully Terminal Station near Lismore, used for distributing electricity from the Stockyard Hill wind farm to the Victorian grid.
The convoy there weighed 663 tonnes and was 115m long, comprising two 14-axle platform trailers and five prime movers.
The top speed of such a convoy is about 25km/h, making for slow and steady progress.
PROCESS
The process for a project like the superload starts about three months before a truck key is turned.
The procedure can involve feasibility studies, route surveys, engineering reports, pre-project consultation, transport configuration, and organising permits with governing states or infrastructure owners.
For example, in the Stockyard Hill job, traffic lights had to be removed and replaced, powerlines lifted, and steel supporting structures placed over road infrastructure such as bridge crossings and culverts.
"It is a full-time project for our engineering personnel," Lee says.
"The process nowadays revolves around VicRoads as they arrange cooperative meetings with the required private and government infrastructure organisations.
"The complexity increases with the number of parties involved, where the scheduling for least impact occurs at different times for each organisation.
"Bridges, rail, overhead cables and power must all be surveyed by the responsible parties along the selected path."
Lee says one of the biggest issues with the freight task is that the first choice of travel route, which is typically the fastest, is generally not possible due to physical constraints.
"Therefore, the time for re-surveying and finding alternative roads must be factored into the planning time prior to transport," he says.
"The involvement of overseas shipping places further pressures on the process, where arrival and departure timing can be dramatically altered due to weather influences on ship movements.
"Transport configuration such as trailer axles and prime movers are also a factor of the load, as is terrain and allowable travel reactions," he adds.
"Bridges, culverts or other structures have load limits so the addition of more trailer axles is one method utilised to reduce the point loads on roadway structures.
"Other equipment such as steel bridging mats and also plates are utilised to carry or spread out axle loads to a greater area, abutments or piers.
"Temporary strengthening of structures may also be required if the addition of trailer axles is not beneficial or possible.
"Calculations are completed for each transport project that determine the amount of force required to tow or push the load plus transport equipment up and down grades along the travel route."
Impressively, Lee notes that these recent superloads only sit about mid-way in the scale of overall mass and complexity that he and Lampson deal with.
He cites the 1996 Mobil Altona refinery 873-tonne converter vessel move from Williamstown Port to the Altona site as one of the company's most memorable.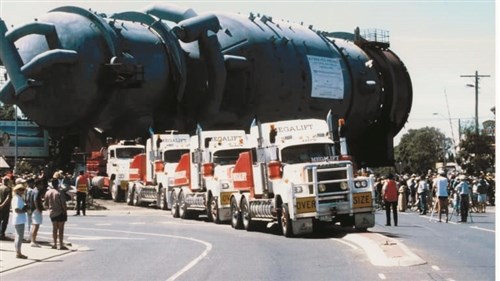 EQUIPMENT
Lee says a prime mover is generally required for every 200 tonnes of gross weight moved, and then more may be added for a factor of safety and to increase travel speed.
"Lampson prefers Mack Titans as its main heavy-spec on-road prime mover with rated capacity of 180 to 200 tonnes, configured with double chassis, spring suspension, heavy diff, joey box and hub reduction for low-speed traction," he says.
"Lampson has other larger Hendrickson 360, Kenworth 848 and C540 prime movers for heavy off-road haulage work."
In a case of swings and roundabouts, while the latest vehicles and computer-aided technology to model projects in advance makes it easier to predict problems and reduce risks and delays, time saved in that process is offset by increased infrastructure and congestion around the country.
"Technology has certainly helped us survey routes in a more efficient manner using various geographic applications, however, in reality, the method to move these items has not changed over the years," Lee says.
"The degree of increased infrastructure has certainly acted to reduce the ease that large items move to and from ports around Australia; the design of bridges and other crossings do not always take into consideration present or future transport needs.
"There are very few ports and surrounding roadways that can cater for these type of moves without intense involvement of state road authorities and very seldom are there specific oversize heavy transport corridors available.
"It is sometimes impossible to move equipment directly into or out of a state and the transport has to re-route through other states – for example, to access central NSW or Victoria, very large items must travel through Adelaide or Port Pirie in South Australia."
ONGOING OPERATIONS
Not all of Lampson's eggs go in one basket.
Lee says the company is equipped to handle a number of operations simultaneously.
"We can have multiple projects going at the same time as Lampson operates a fleet of on-road and off-road type platform modular trailers," he says.
"Our transport and lifting work extends to mining and large construction works that are varied in physical size, weight and complexity.
"There are always large projects in the planning stage and we hope to return to Loy Yang in the near future for more transformer turnaround projects plus other new wind-farm transformer installations across the state."
Subscribe to our newsletter
Sign up to receive the Trade Trucks e-newsletter, digital magazine and other offers we choose to share with you straight to your inbox
You can also follow our updates by liking us on Facebook. 

Trucks For Hire | Forklifts For Hire | Cranes For Hire | Generators For Hire | Transportable Buildings For Hire