Wild Ride
---
After a 12-month restoration, old machinery tragic Andrew Rackemann has fulfilled his long-held desire to own a classic W-model Kenworth
"It's a Kenworth! All the cool kids have Kenworths!" That's the quintessentially Australian response I got from Andrew Rackemann when I questioned him about his purchase of a beat up old 1975 W-model Kenworth eight years ago.
With a history of buying old tractors to fix up and show and a realisation that the police get a little antsy about towing historic tractors round on a car trailer Andrew was able to justify his purchase of an old paddock-parked truck to his lovely wife Gabrielle (though the purchase of the truck did have to wait until Andrew took Gabrielle for a well-deserved holiday first. A promise is a promise.) The fact the parked-up paddock truck was a 1975 W-Model Kenworth that just happened to have a 692 in it, well that was no accident. Nope, that's exactly what Andrew had been looking for, for many years, because once again, in Andrew's words, all the cool kids have Kenworths.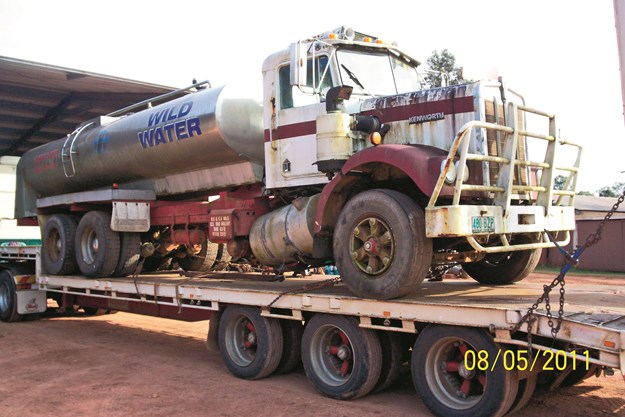 Andrew grew up and has worked around machinery all his life. But he admits that until he finally got his hands on 'Wild Ride' (I'll explain the name later, it's not what you think) he had never even driven a W-model Kenworth. He's driven just about everything else, working with a lot of earthmoving equipment, truck-and-dog tippers and even spent a fair bit of time doing oversize loads around the country.
His desire to own a W-model though seems to stem from his love of the motor underneath them. "I just love those old two-strokes," Andrew says with a passion. Andrew has about 10 historical tractors in his shed. "You buy them as wrecks and the challenge is to get them restored and going again, but I needed something to move them around," he says. And as he'd always loved the W-models it was a perfect excuse. "Except it seemed the harder I looked, the harder it was to find one and they were out of our price range," he notes.
That was until Gabrielle's son, who was working for the Department of Main Roads down near Landsborough in Queensland, happened to be parking his backhoe up next to an old W-model and gave Andrew a call. He informed him of the old girl sitting next to his backhoe and quicker than you can say last call at the local, Andrew was down to Landsborough.
Rod Wild was the man who owned the W925 that Andrew had his eyes firmly locked onto. According to Andrew, when it rolled out of the factory it was a Shell Oil company order. Packed with the 692 Detroit Diesel, the short wheelbase Kenworth pulled fuel tankers around the Queensland countryside.
When Shell had had enough of it, they sold it onto Johnny Harrison at Kilcoy. Johnny had an earthmoving business and had stuck a float behind it to pull D8s around, "It would pull them, but not real quick," Andrew jokingly informed me.
It turned out that when Johnny bought the truck the second-hand turbo that Shell had put on it was buggered. Once that was replaced the legendary Detroit pulling power finally surfaced.
Johnny then sold the truck to Rod Wild who held onto it until Andrew sweet-talked him into the sale. Rod used to tow a double-deck stock crate all over Queensland and northern New South Wales. When it retired from that work Rod had it stretched out, had a 13-speed box replace the factory 10-speed and then added a steel deck to it, turning it into a rigid. The deck was then replaced with an old milk tank which was refurbed and used to do domestic water deliveries.
With the water tank still on the truck it eventually ended up as a paddock sculpture for five or six years until Andrew arrived in May 2011 to make an offer. Unbeknownst to Andrew his first attempts to buy the truck weren't with the actual owner. "I ended up having a chat to Ian Wild," Andrew recalls. "I said 'would you be interested in selling it?' He said 'F#$kin oath you can have it! It's me brothers'."
Eventually Andrew did the deal with Rod himself and along with the W-model he got the water tank (which he didn't want) and the 22-foot steel deck (which he very much did want).
So on May 8, 2011 the W-model was loaded onto the back of a mate's low loader. I'll just point out here that the low loader was behind a Mack Superliner and Andrew joyfully points out, "that's the only time you'll see it on the back of a Mack!"
The motor was in good nick but had not been running for some time, so while the cab and everything else was being worked on, Andrew had a friend, Steve McNae of McNae Contracting, who had done his apprenticeship at Detroit, to come and start the engine up. Gabrielle chimes in here pointing out Steve knew exactly what to do, and what not to do to avoid it blowing up. He must have been a good apprentice because he got the old 692 running and with the exception of a few wear and tear ideas the motor has been as good as the day it first fired up.
The same can't be said for the rest of the truck. When it rolled into Kingaroy on the float the fuel tank was at an angle not designed by Kenworth, the paint and panelling only had a vague resemblance of its original glory days, and it seemed the bonnet was a bit out of alignment (this turned out to be from a little incident involving the truck taking an unsupervised roll down Rod Wild's back yard, using a rather large tree as an emergency brake).
Andrew made a pledge, though. He said he would have it registered by the end of August 2012, a big ask when it was a hobby project that at that stage didn't have a running motor. True to his word though at 3:55pm on the last day of August he walked into the Department of Transport and registered the rig.
The year had involved a lot of work by Andrew himself, many good friends, and a lot of local companies. Christmas Eve 2011 rather than singing Christmas carols Andrew was in the shed sandblasting the cab and getting it ready for its new paint job. Andrew was determined to give the truck a 1975 look to match its era. Kev Pomerencke from Kevys mobile sandblasting and painting did a fantastic job of helping Andrew to restore it to near new condition.
"Originally I wanted to paint it a coffee colour," Andrew informs me, adding that his sign writer told him where to go with that idea and Gabrielle sided with the sign writer.
Once the painting was done all the scroll work was hand painted by Brendon Leitch from BL Customs Signs. Brendon did the deck as well and if you look closely at the scrollwork, he has even incorporated Andrew's initials into the artwork.
The motor was in good running order though looking a little worse for wear, so Andrew and Kev also repainted that as well. "I did paint it silver but have since found out it was one of the original green 692s," Andrew says.
Not a lot else was needed mechanically as the Kenworth running gear was still standing the test of time.
Same couldn't be said for the truck's interior; though nothing a bit of elbow grease, some fresh paint and some beautiful re-upholstery from Steve Priday couldn't fix.
All this effort meant on the last day of August 2012 Andrew was registering a near new looking 37-year-old truck. Even now, as the truck's rear view mirrors watch its 40th birthday disappear behind it, it looks better than the day it first hooked up to a shell tanker back in 1975.
Before I wrap up, I need to deal with a couple of issues. Firstly, I did promise to explain the name behind the truck. Obviously, it can have several different explanations: a 44-year-old truck with 44-year old steering and suspension is going to definitely be a 'Wild Ride' but that isn't it. The original options Andrew was leaning towards included 'Global Warmer' and 'Climate Changer' as he happily points out, "there is nothing compliant about those old two-strokes". However, in the end Andrew wanted to keep Rod Wild a part of the truck, as it had featured so heavily in Rod's life. Hence 'Wild Ride' is an acknowledgement of its previous owner.
So that's number one. The second thing to address is that Andrew did do a great job of filling me in on the truck's history, but he forgot to credit that special someone who ensures the truck is always showroom shine ready, whether it's heading around town for a photoshoot or lining it up for a truck show. That person is Andrew's daughter Candice. With almost as much passion for Wild Ride as her father, Candice does a great job of always ensuring the big W-model is good to go.
It's now been seven years since Andrew got 'Wild Ride' registered again and he loves turning up to historic truck and machinery shows and turning heads. The local coppers are much happier to see Andrew's tractors being towed on something a bit more appropriate. And Andrew himself is stoked to be enjoying the sound, smell and look of his old W925 Kenworth, summing the truck up very well in one line: "She's a pretty honest old truck."
Subscribe to our newsletter
Sign up to receive the Trade Trucks e-newsletter, digital magazine and other offers we choose to share with you straight to your inbox
You can also follow our updates by liking us on Facebook. 

Trucks For Hire | Forklifts For Hire | Cranes For Hire | Generators For Hire | Transportable Buildings For Hire