Battle of the Big Boys
---
On the back of what promises to be another strong year for heavy-duty truck sales, 2019 is also emerging as a battlefield as the two biggest names in the business go toe-to-toe for market supremacy. In one corner there's long-term leader Kenworth and in the other, the brand which for decades has been relentless in its desire for the top spot: Volvo! Right now, the contest has never been closer, says Steve Brooks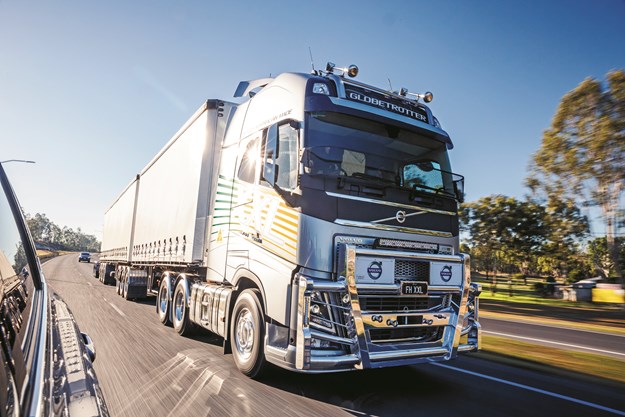 While some experts are saying the Australian economy is coming off the boil, there's certainly no sign of the heavy-duty truck market cooling down to any great extent. None at all.
Sure, figures for the first half of this year suggest the market won't reach the extravagant heights of 2018 when more than 14,300 heavy-duty units were delivered but even so, with the first six months of 2019 pointing to a yearly total approaching 13,000 trucks, national sales volumes are anything but lethargic.
The two big players, and certainly the two biggest beneficiaries of such a strong heavy-duty sector, are Paccar Australia and Volvo Group Australia (VGA), which collectively commanded just a fraction under half of all new truck deliveries up to the end of June.
With three brands in its stable – Volvo, Mack and UD – VGA remains the undisputed king of the corporates, notching 28.5 per cent of the heavy-duty category in the first six months of the year. Or, delivering 1,834 units across its three nameplates.
Some way back with 1,452 deliveries, Paccar's pair of Kenworth and DAF accounted for 21.1 per cent of the heavy-duty category.
Yet despite the steadily increasing ascendancy of VGA, Kenworth continues to reign supreme as the top-selling heavy-duty truck brand in the country.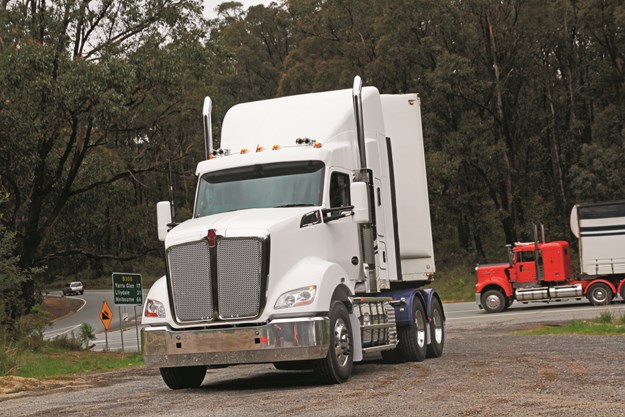 However, the once sizeable chasm between traditional market leader Kenworth and aspiring assailant Volvo had been whittled to just 50 units at the end of June, with Kenworth delivering 1,154 trucks for 18 per cent of the heavy-duty sector and Volvo, 1,104 units for a 17.2 per cent slice.  
No risk, these are strong numbers indicating that each brand will again comfortably breach the 2,000-truck mark for the full year. That said, though, there's no question the contest between the two market heavyweights has never been closer and for Kenworth particularly, the challenge to stay on the top rung of the ladder is perhaps more intense now than ever before.
Critically for both Kenworth and Volvo, the importance of maintaining top slot on the heavy-duty sales chart has far more to do with commercial viability than corporate kudos. Since the early '70s, both brands have been proudly and expertly produced in Australia – Kenworth at its Bayswater (Vic) plant and Volvo at its Wacol (Qld) facility – but with hard-nosed and ever vigilant executive masters at corporate headquarters in the US and Sweden, the local leaders of each brand (Andrew Hadjikakou at Paccar and Martin Merrick at VGA) are well aware of the need for consistently strong sales volumes to maintain and indeed protect the viability of local production.
What's more, and despite occasional, somewhat cynical assertions by some Paccar proponents that the number one slot is not a defining factor in the overall measure of success, it's a good bet the loss of heavy-duty market leadership after such a long stretch at the top would not sit well at either Bayswater or Paccar headquarters in Seattle.  
On the other hand, to snatch leadership from Kenworth after decades of determined effort would be cause for major celebration at Wacol and Volvo Group HQ in Sweden.
That said, though, Paccar won't be a pushover. This is one exceedingly tough and tenacious outfit with a highly regarded model range and strong customer base, and while Volvo might now be closer to Kenworth's crown than ever before, taking the final steps to market leadership will require a consistently strong sales effort, no doubt laced with attractive commercial incentive.
Meantime, Paccar's confidence and commitment to the Australian market remain firmly entrenched with a $37 million expansion to the Bayswater facility now well underway and on track for completion within the next two years, in time for Paccar Australia's 50th anniversary. It is, however, an expansion program with significantly more long-term effect than may first meet the eye.
Kenworth is the jewel in the Paccar crown and no doubt, will remain that way for as long as most of us can see into the future. Somewhat ironically, though, Paccar Australia boss Andrew Hadjikakou announced the Bayswater expansion program in the back half of last year as he handed over the keys (to Melbourne-based Cahill Transport) of the first locally assembled DAF model.
Above all else, both the handover and the announcement were the first definitive signs that the Dutch truck is being prepared to play a far bigger part in Paccar Australia's future than many might appreciate, or even consider possible given that DAF's share of the heavy-duty market to the end of June was an unremarkable 3.1 per cent achieved on the delivery of just 198 trucks.
Product Profiles
For now and probably many years to come, a new crop of Kenworth conventional models combined with the absolute success of the K200 cab-over are almost certain to keep Bayswater buzzing and the Paccar purse plump.
The wide-cab T610, for example, has achieved stellar success in the few short years since its launch while more recently, and sporting the same 2.1 metre wide cab, the new T360 and T410 are now critical weapons in the Kenworth arsenal.
Still, there's much at stake. In particular, a great deal rides on acceptance of the T410, which still carries a couple of question marks as Kenworth continues to reorganise its conventional product portfolio around the wider cab.
For instance, the 410 is powered exclusively by Paccar's own MX-13 engine and as well credentialed as the DAF-designed MX may be, it's yet to be determined how the market is accepting Kenworth's newest model in the absence of a Cummins option. Similarly, while the availability of a Paccar-branded 12-speed automated transmission in addition to Eaton automated and manual shifters adds another string to the 410's bow, the Paccar transmission is somewhat hamstrung by a current gross weight limit of just 50 tonnes. What's more, and unlike the T610, there's currently no SAR (set-forward front axle) version of the 410, though it's a fair bet Bayswater engineers are already in the process of ending that anomaly.
Meanwhile, at the top of Kenworth's conventional class is the T909 but as yet, it's not known when the wider cab will be adapted to the revered flagship or more importantly, how the market will react to replacement of the existing 'classic' cab. Much the same can be said for the utilitarian T659, although it's to be wondered if rationalisation will see this durable workhorse follow the former T609 into mute extinction.
Even so, none of these factors is likely to change the fact that Kenworth is entrenched as the undisputed king of the conventional class. The concern for Paccar, however, is that conventionals today represent just 30 per cent or so of sales in the total heavy-duty sector.
Furthermore, the conventional truck market is about to become even more competitive as Freightliner prepares to hit the market hard with its new Cascadia range while competition will ramp up even further when Mack eventually gets around to introducing features derived from its long-awaited Anthem model.
Yet the most pertinent fact of all, and arguably Paccar's greatest concern, is that cab-overs rule the heavy-duty business. Massively!
Fortunately for Kenworth, its greatest success story is unquestionably the K200, which continues to be a front-runner in the endlessly burgeoning B-double business despite a multitude of European competitors, obviously led Volvo.
Unfortunately though, K200 does not give Kenworth – or more relevantly, Paccar – the span of model derivatives that allow it to target a wide spectrum of applications. In effect, K200 is a heavy-duty linehaul and multi-trailer specialist.  
On the other hand, brands like Volvo, Mercedes-Benz and Scania offer cab-over models for a multitude of tasks, from shorthaul distribution to top-weight roadtrain roles and everything in between.
Set to add more fuel to the fires of cab-over competition, overall market leader Isuzu, which now sits comfortably in third position on the heavy-duty ladder, is eagerly anticipating the opportunities certain to flow from its 'technical relationship' with engine giant Cummins. Indeed, coupled with Isuzu's marketing might, this is a combination with huge potential and if all heavy-duty competitors aren't concerned, they should be.  
Despite all these elements, Kenworth's K200 is the only US cab-over on the Australian market and currently accounting for around 30 per cent of all Kenworth production, is sure to remain a premium player in Australia's linehaul freight industry for years to come.
However, as we've reported several times, there's no escaping the fact that DAF is Paccar Inc's global cab-over platform and for that reason alone, any form of cab-over development outside Australia will be centred entirely on DAF. Not Kenworth!
So, when it comes to the seemingly ageless K-series, Paccar Australia is well and truly on its own, much as it has been since the North American market largely abandoned cab-overs many years ago.
Consequently, it appears inevitable that the day will come when economic and production viabilities will conspire with engineering evolution and technological innovation, and maybe even corporate idealism, to end the life (as we currently know it) of one of the most enduring models to ever grace heavy-duty road transport, anywhere.
In short, the only cab-over successor to the venerable K200 will be a DAF-based derivative, developed with the full engineering resources and production capabilities acquired in almost half of century of building trucks in Australia, for Australia. Indeed, of all the product developments ever to take place at Bayswater, none will be more fascinating or intriguing to witness than the creation of a DAF-derived cab-over flagship to eventually supersede the seemingly indomitable K-series.
Perhaps more to the point, though, the Dutch brand will be also tailored to deliver a range of models aimed at taking a far stronger stake in the Australian heavy-duty truck market and potentially, provide Paccar with a platform to maintain its premier position in years to come. At least, that appears to be the plan, but Paccar doesn't have time to waste. The Europeans are on a roll and catching up won't be easy.
Assembly of some DAF models – notably the versatile and much underrated CF range – at the Bayswater plant to enhance Australian requirements certainly appears to be a first step in the right direction, even if current DAF sales are less than inspiring.
Still, taking DAF to a higher plane where it can compete more effectively with its European counterparts may also require something of a major cultural shift within Paccar. A shift that sees the company put high levels of marketing alongside the engineering and production prowess that for almost half a century have made Kenworth such an enduring success.  
Big Business
In the meantime, Volvo will continue to ramp up the attack, arguably more aggressively than ever now that heavy-duty market leadership is in plain view. Aiding its cause in a big way is the long-awaited FH XXL cab.
Officially launched a few months ago at the Brisbane Truck Show, the XXL is the cab Volvo desperately needed to stifle driver complaints about poor sleeper space. Sure, it isn't in the same league as, say, the K200 'Big Cab', but it is most definitely a far more appealing and spacious driver environment than any continental cab offered in this country past or present, and that includes the original XXL shed.
In fact, given the current closeness of the leadership contest between Kenworth and Volvo, some insiders suggest the XXL could well prove to be the tipping point in Volvo's favour. Time will tell!
However, Volvo also has a number of other developments up its sleeve. For instance, while insiders are typically loath to talk about new products before they hit the market, there are quiet whispers the company is currently testing a turbo-compound version of the 13-litre engine used in both FM and FH models. Other whispers say there's also a 16-litre turbo-compound unit being tested.
Despite Volvo Australia's silence, it's no secret the turbo-compound engine known as the D13TC has been available in Volvo's North American range for some years while in Europe, it's now being used to enhance fuel efficiency in partnership with Volvo's I-Save technology.
Simply explained, a turbo-compound system employs a second turbine driven by engine exhaust to bolster performance by feeding energy through a gear train to the crankshaft via the flywheel.
There is, however, nothing particularly new about the technology. In fact, 'the other Swede' Scania was arguably first of all truck makers to offer a turbo-compound model, around 30 years ago.
Nor will this be the first time Volvo Australia has used turbo-compounding to boost performance. Soon after the turn of the new century, and in desperate need of higher horsepower to meet B-double demands, the company introduced a 500hp (373kW) turbo-compound version of its former 12-litre engine. Unfortunately, it did not do well.
This time 'round, however, greater fuel efficiency through increased torque output are the stated goals rather than pumped up power. According to European sources, Volvo is claiming a seven per cent improvement in fuel economy from the I-Save powertrain utilising a 300Nm boost in peak torque output provided by the turbo-compound system.
Part of the engine's design is a new piston profile that Volvo claims 'improves combustion and increases efficiency by guiding heat and energy to the centre of each cylinder'. Critically, Volvo is also advocating the use of tall rear axle ratios to make best use of the turbo-compound engine's greater torque output.
It's all part of what Volvo describes as a 'long haul fuel package' consisting of tailored cruise control and transmission functions, its I-Roll freewheeling feature, a variable output power steering pump to reduce parasitic losses, and automatic engine idle shutdown. Again according to European sources, the combined features are capable of producing a seven per cent improvement in fuel consumption on long-haul operations when compared to the 'standard' D13 Euro 6 engine.  
"We have tailored every aspect of I-Save to suit long-haul operators, especially those that typically drive more than 160,000km per year," states Mat Franzen, powertrain strategy director at Volvo Trucks.
And of course, when it comes to long-haul markets, they don't come any longer or heavier than Australia.
Meanwhile, back on the big question: will Kenworth end 2019 holding on to heavy-duty leadership or will Volvo finally push its way to the top perch?
Right now, the jury is still out until the end of the year and it appears an even-money bet but rest assured, the whips are cracking in both camps. 
Subscribe to our newsletter
Sign up to receive the Trade Trucks e-newsletter, digital magazine and other offers we choose to share with you straight to your inbox
You can also follow our updates by liking us on Facebook. 

Trucks For Hire | Forklifts For Hire | Cranes For Hire | Generators For Hire | Transportable Buildings For Hire