Bobbins Transport: keeping the customer satisfied
---
Bobbins Transport had its humble origins on the NSW south coast almost 50 years ago. Now the multi-toned silver and blue trucks are a regular sight along the east coast
Hands up all of you that can recall seeing the stunning silver and blue colours of a typically shiny Bobbins Transport truck. I bet there's a fair few hands in the air right now, which probably looks very strange to all the people around you who are now wondering what you are reading. But let's continue anyway.
Bobbins Transport isn't one of the biggest fleets around; they now have nearly 30 prime movers on the road and in their eye-catching colours they leave a lasting impression when spotted.
Now hands up anyone that can easily point out on a map where Pambula is? Not so many hands I bet. There should be though, because Pambula, the little town of three pubs and around two and a half thousand people, is the birthplace of the Bobbins Transport story.
Pambula is located a little south east of Canberra. It's a stunning little holiday mecca just down the road from the seaside retreat of Merimbula. It's also the home of Neville and Lyn Bobbin, the founders of Bobbins Transport.
Neville began his trucking life back in 1970 when he purchased a brand new ACCO, painted up in vibrant red, and began hauling logs from around the local area into a new mill in Pambula. He spent over a decade working the steeps slopes of the Bega Valley hauling pulp logs to the mill.
In 1980, then with a second truck, he started covering the before-and-after side of the mill's requirements. He would bring the logs in and cart the mulch out, not on the same truck obviously. He's good, but not that good.
In 1982, after the loss of a close friend in a logging accident, Neville understandably decided to get out of the logging game. With his trusty International and vibrant Volvo, Bobbins Transport began to focus solely on the product coming out of the mill. Neville would buy the mulch and then sell and deliver it to landscape suppliers and local customers. He also started to branch out, working with other landscape supplies and fertiliser for his clients.
The company soon began to expand as the loads were going as far as Sydney, Melbourne and Canberra. In order to be able to cart product out and palletised freight back in, Bobbins Transport worked with a local company to build their own multi-purpose trailers.
"We built our own walking floors," Neville informed me. "We wanted convertibles but no one would build them, so we did." Those custom built trailers were the beginning of what would be the new direction for Bobbins, moving away from mulch and into general freight.
Over the next decade the fleet grew as the work rolled in. Bobbins Transport's presence in the community saw it expand to eight trucks and a staff of 15 by the start of the 1990s. With this growth the decision was made to move the Bobbins Transport yard from Neville and Lyn's property in Greigs Flat to their first official yard in nearby Pambula. By this stage in their history almost all their work was based around general freight in and out of the local area. Most of the landscape work was gone and the company was picking up more general freight and fridge van loads.
A quick side note here: it was during the late '80s that the Bobbins colours emerged as well. Neville's original trucks were yellow but when he purchased a second hand SAR, which had been traded in at Gippsland Trucks at Bairnsdale, Victoria by a local abattoir, he decided to adopt the colours the trucks had originally had. A good decision if you ask me.
From the mid-'90s the path of Bobbins Transport continued upwards. By 2003 the company was up to 14 prime movers and a staff of 30.
Pambula's pallets
In 2004 Neville built his first cold storage facility as the company started specialising in the distribution of frozen and chilled products. As the Pringles' slogan goes, 'once you pop you can't stop', and over the next few years several more cold storage facilities popped up as Bobbins' reputation saw them steadily expanding.
Their facilities went from storing a few pallets to storage for thousands of pallets. As well as the Pambula depot, the business now has depots in Sydney and Melbourne. As for the fleet, Bobbins now numbers 28 prime movers and seven rigids.
The prime movers cart refrigerated goods, general freight and machinery from Melbourne to Brisbane and everywhere in-between. The rigids work just as hard with Bobbins running trucks up and down the coast daily between Melbourne and Sydney, keeping all the small towns stocked up.
With a new yard currently under development in Pambula, the Bobbins Transport team is still on the rise and the fleet is expanding further.
It's more than just the good service that keeps Bobbins at the top of the game though. Another key ingredient in their success is the relationships cultivated over the years.
One such rapport was formed decades ago with the team at Gippsland Trucks. Neville began buying his trucks off Keith White in the days of AM radios and hasn't stopped since. The yard has filled up with Kenworth's and DAFs, and the bond built with Keith has flowed onto Keith's son Darren who has taken over the job of keeping the Bobbins fleet up to date. In fact, the latest Kenworth's include the two stunning limited edition T900s.
Another quick side note. While the fleet continues to be predominantly branded with the big KW emblem, there has been the sneaky addition of the Mercedes-Benz badge of late. It seems the Bobbins colours look good on any manufacturer.
The extra mile
Another relationship area that has kept Bobbins Transport thriving is within the company. Employee retention and recruitment is a big issue in a small town.
The whole Bobbins family are involved in the company themselves and a lot of locals have had their start at Bobbins Transport.
"Like any place we do get some staff turnover; people always chasing the extra dollar," Neville admits.
However the amount of long serving Bobbins employees is a testament to the company.
"John Pocock, the little Welshman has been with us 37 years," Neville tells me. "He's an absolute gentleman of the road."
Neville also points out he has several staff that have been with Bobbins for over 15 years.
The relationships Bobbins has built around the community are also a contributing factor. Neville makes a conscious effort to use local suppliers, tradesmen and services whenever he can. They have also been heavily involved in local charity events and helping to raise money for the local community. From the local Bega Convoy for Kids to supporting many local sports teams and charities, it's an important part of Bobbins Transport.
Even outside the area Bobbins Transport goes that extra mile. In 2009 when the Victorian fires devastated Kinglake, Neville linked up with the local Pambula Rotary Club to collect furniture and clothing and ended up sending two trailer loads of goods to the affected communities.
When Bundaberg flooded in 2013, Neville was straight into it again, once more working with the Rotary Club to collect donations. This time they filled three trailers with fridges, mattresses and anything else useful for the flood effected region. Bobbins sent a couple of two-up teams out as soon as the first two trailers were loaded, Neville driving one himself accompanied by a fellow driver.
Neville's son Brendon Bobbin quickly teamed up with another driver to get the second load up, although Neville happily points out the 'old fellas' got there well before the 'young-uns'. (Brendon was calling out from his office with a rather lame excuse for getting beaten, but I think Neville can take the win this time.)
So with nearly 50 years of transport time put in, Bobbins Transport continues to grow. The trend Neville set for adapting and growing as needed has seen him change from logs to mulch to general and refrigerated products. That attitude and ability to meet their customers' needs will keep Bobbins big city fleet, based out of the small country town, flourishing well into its fifth decade.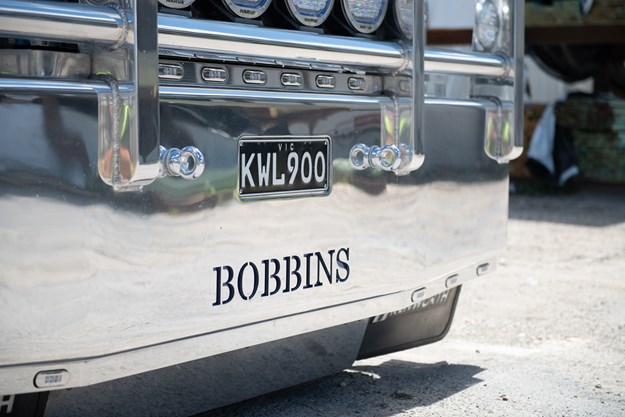 Subscribe to our newsletter
Sign up to receive the Trade Trucks e-newsletter, digital magazine and other offers we choose to share with you straight to your inbox
You can also follow our updates by liking us on Facebook. 

Trucks For Hire | Forklifts For Hire | Cranes For Hire | Generators For Hire | Transportable Buildings For Hire