Freight Shaker
---
The Wilkinson family's shed is filled with several one-off projects; the biggest of which is the bright red, one-of-a-kind FLB Freightliner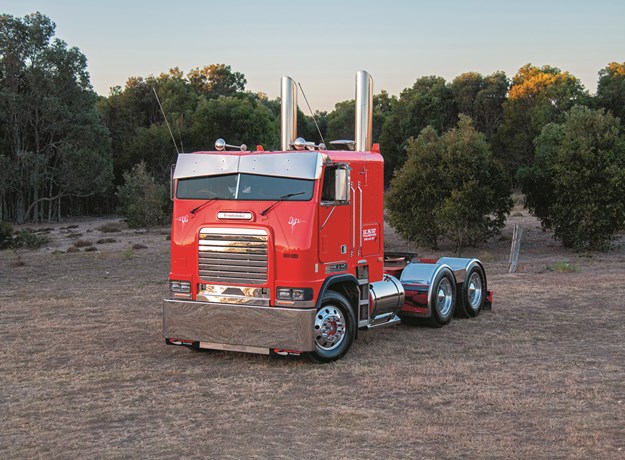 Back when horses pulled carts, smoking was good for you and you couldn't find a McDonald's to save yourself, a famous French artist named Pablo Picasso said, "every child is an artist. The problem is how to remain an artist once we grow up." A deep and perplexing problem to mull over, right? Well, there is an answer: you can either refuse to grow up (an option my wife says I've perfected) or you can do what Steve Wilkinson and his son Harley have done and turn your work into your art. And their longest running art show is this incredible FLB Freightliner.
The Wilkinson name has been around trucks for several decades. Steve's granddad drove trucks, his father owned and drove trucks, Steve owns and drives trucks, and now the tradition rolls on with Steve's son Harley, a fourth-generation truckie. To say it's in his blood is a little bit of an understatement.
What makes the Wilkinson trucks and their history a little different though is that all their rigs are home built. "You don't have to have a lot of money to do a truck up," Steve informs me, though he cheekily adds, "oh it helps, but you don't need it." He expands on that by adding, "all you need is an imagination and a willingness to have a crack". It's that attitude that's seen the Wilkinson shed filled with several one-off projects; the biggest of which is the bright red, one-of-a-kind FLB Freightliner.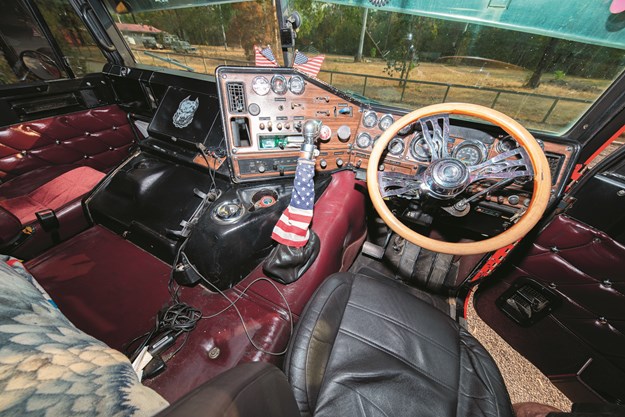 Steve purchased the truck a little over five years ago. A passionate Western Star man he stumbled across the FLB one day in a pretty sad state. "The paint was ok," Steve's son Harley recalls, "but the wheels had had it and a lot of odds and ends had been thrown on just to sell it". While cosmetically the truck needed some loving, Steve found himself drawn to the unmistakable shape of the 'Terminator Series' FLB. It's a feeling we all know well when we jump in a certain truck and it just feels like we belong. This was the feeling Steve got when he first fired up the 1997 Freightliner FLB and looking out the small windscreen, threw her into gear and held it flat.
"When you drive it, you feel like you're driving a truck," Steve tells me. It was love at first with the Freightliner and there was no doubt it was going home with him that day.
The Wilkinson family had been buying old rigs and sprucing them up long before the FLB came up the driveway. In fact, the FLB was bought solely as a working truck to do local flattop work around Brisbane. Even Steve's wife laid down the law on that one: "No, it's a work truck, just leave the bloody thing alone!" she said. Yeah nah that didn't work either. Harley kicked off the upgrades by innocently suggesting "let's just add a visor, eh?", and we all know it's a slippery slope from there. Steve summed it up best when he quipped: "It's like saying you're just going to wash the windscreen; you never stop there." Tell me that's not one of the most relatable statements to any truck lover.
The truck was still doing its job, with a flat top behind, pulling containers and steel out of the Port of Brisbane and delivering all around the city. The wheels were turning and paying the bills by day; and by night the FLB was in the Wilkinson Studio. That's not a typo; I did say studio. It spent time in the workshop too, where the mechanical side of the company keeps the truck's hearts in tip-top condition. However, an artist works in a studio and the Wilkinson boys are artists. They make and modify all their own pieces for all of their trucks. When they aren't working in the trucks or on the trucks, chances are they are thinking about bling for the trucks.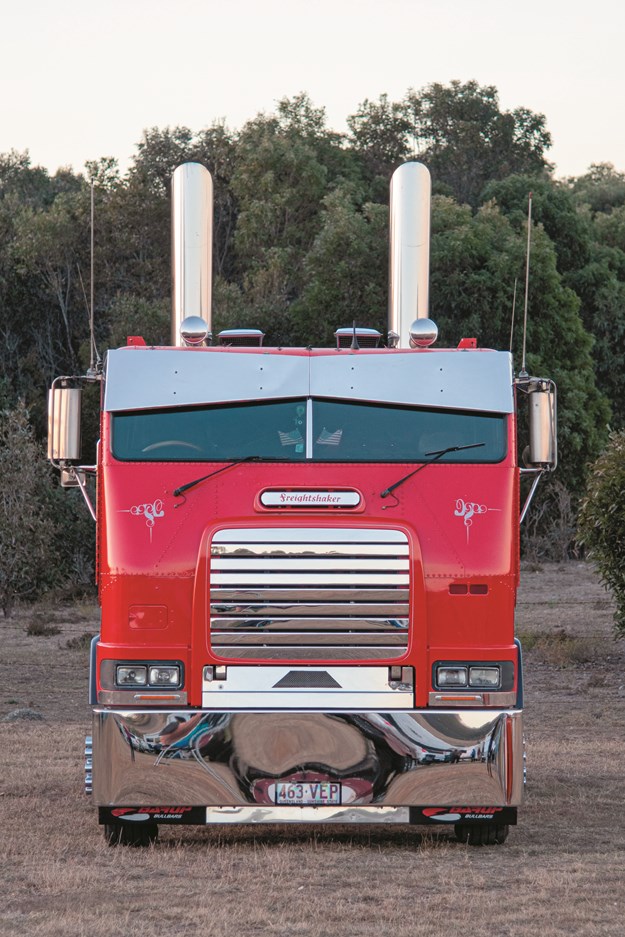 That's the life both Steve and Harley have grown up in. Steve openly admits it's more than a job, it's their way of life, and he even remembers that when Harley was knee high to a grasshopper and Steve was out tinkering with a truck, Harley had to be involved as well. Not at his father's request, but of his own free will. The skills and techniques they've acquired have all been self-taught in their own shed; using a four-foot bender and an angle grinder with a steady hand. Though Harley laughs as he admits: "The first of anything we make is always shit."
It doesn't deter this passionate trucking family though as they find a way to use the tools and skills they have to get the look they want. A good example of this steers right at you from the front of the FLB. The grill came about when Steve was bending some stainless for another fanciful idea he'd come up with. Unfortunately, the piece didn't fit and rather than throw his toys out of the cot, he started trying to envision where else he could reuse the stainless. Walking past the grill he held it up and low and behold, it fit. Next thing you know he's altering the curved edges and creating a few more pieces and there is a custom Wilkinson Grill. In another example, the guards on the back came off one of his old Western Stars. Rather than waste them Steve repurposed them for the FLB, adding some extra custom stainless to tidy them up some more.
If you think that the stacks look big then you would be right – 10-inches big to be precise.  All the other big and little additions, from the bowtie visor to the heavy looking rear end, have all come about from the artistic ideas of Steve. Harley's had his say as well but on this truck the final word does go to Dad.
The Freightliner FLB is meant to be the focus of the story, especially considering their rarity. Steve was told that only 206 of these extremely staunch-looking weapons were brought into the country (they were a stop-gap measure while waiting for the Argosy to arrive on Australian soil), so it should be the centre of attention and you can understand my excitement when I realised I'd get to shoot such a cool looking truck.
However, I found out that it is the people behind the truck that really took my attention. Steve and Harley are passionate truck lovers, loving the job, loving the smells, loving the sounds and loving the adventure. When they bought this FLB it created a passionate love of the old FLBs. In fact, since the acquisition of this one, Steve has purchased, rebuilt and sadly on sold two others, but this one is destined to occupy a garage bay until either it or Steve rusts out.
I extend a lot of accolades and a fair bit of jealousy to the Wilkinson team. As a fellow truckie I can match them with my passion and appreciation of trucks and trucking. Unlike them though, I have a little less than zero skills when it comes to being able to manufacture and create ideas for a truck. Somehow the father and son duo have been able to take an already staunch-looking truck and elevate it to a 'Samuel L Jackson' level of staunchness.
It's not a truck for everyone and that's okay because it wasn't built for everyone. Art is subjective; some people could spend hours looking at the Mona Lisa whereas I'd be happier with a Calvin and Hobbs cartoon. Steve and Harley love trying new things with the FLB, a statement reinforced by the fact that the FLB is in its second makeover phase now. Having a passion for not just the work but the working vehicle is what keeps the wheels and heads turning in the Wilkinson Camp.
If I was a talented enough journalist I would be able to finish this story up by getting across to you all the heart-driven passion that this father-and-son team have for what they do. To some it's just a job, to most it's a way of life, and to people like Steve and Harley it is life. Sadly, I'm not that talented, so it's best I let Steve himself sum it up for me. "We live and breathe it, 24 hours a day, seven days a week. It doesn't stop. Whether it be right or wrong, this is our life, it's a passion."
Long live the passion.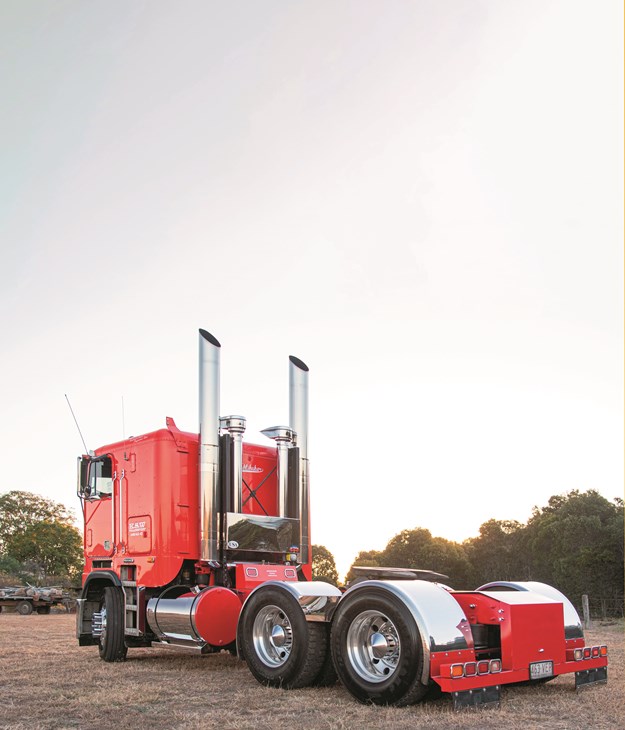 Subscribe to our newsletter
Sign up to receive the Trade Trucks e-newsletter, digital magazine and other offers we choose to share with you straight to your inbox
You can also follow our updates by liking us on Facebook. 

Trucks For Hire | Forklifts For Hire | Cranes For Hire | Generators For Hire | Transportable Buildings For Hire