Mad about Metal
---
A hobby quickly turned into a highly sought-after business for one young artist, turning metal into prized pieces of art. Warren Aitken finds out what goes into the one-of-a-kind creations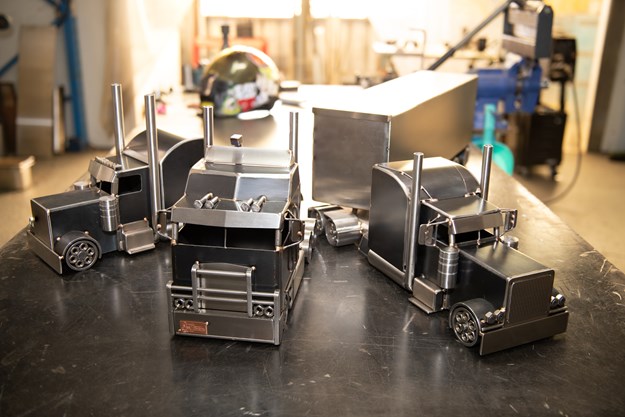 Now before we start let's make one thing perfectly clear, this is not an infomercial. It is not a paid write up to drum up business and there will be no buy one, get two offers being made.
The reason for that is actually because Mitchell Agate at Metal Models is already flat out with over six months of orders on his books.  The young artist is already working 12 hours a day, six days a week just to keep up. What this is, is an introduction to the amazing artwork coming out of a small Gatton workshop, artwork that is being sent to countries from NZ to Canada, the US to Scotland. Artwork that people are happily lining up and waiting months for. All from a mad car fanatic with incredible welding skills and who up until a few years ago couldn't pick a Scania from a Skoda.
So, let me introduce the man behind the welders' mask, Mitchell Agate. Mitchell's dad runs Gonzos Racing Pipes, a world-renowned company when it comes to fabricating all things race cars.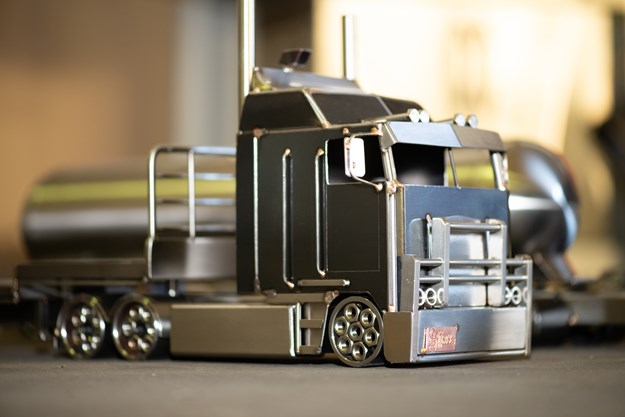 Right from a young age his dad's engineering passion rubbed off on Mitchell and upon leaving school he followed in his father's footsteps when it came to fabricating and welding, first working alongside him in his workshop before branching out to further diversify his skills with Kennedy Welding in Brisbane. Eventually he returned to assist his father at his Gatton workshop.
Whilst his days were spent with commercial builds and repairs, Mitchell had transformed his basement so when he 'knocked off', he could express his more creative side and further develop his welding skills by designing artwork.
The engineering skills were a lesson from his father, the artistic skills though, Mitchell admits, came from his mum Sue. It was in her basement that he first started to expand his welding beyond the practical. The pieces he was creating turned out to be very popular with friends and friends of friends and he found himself a bit of a market. His first automotive piece was actually a 1:10 scale tube chassis Pro Stock car.
With his artwork selling, his first car done and like all of us, a hankering to earn a few extra dollars, Mitchell spoke to his dad about the idea of trying to build a truck and if it would sell. That first truck was based off a Peterbilt and after several people came through the workshop and to quote Mitchell "were 'tripping out' on it" he decided to throw it up on a Facebook page and see if it would sell.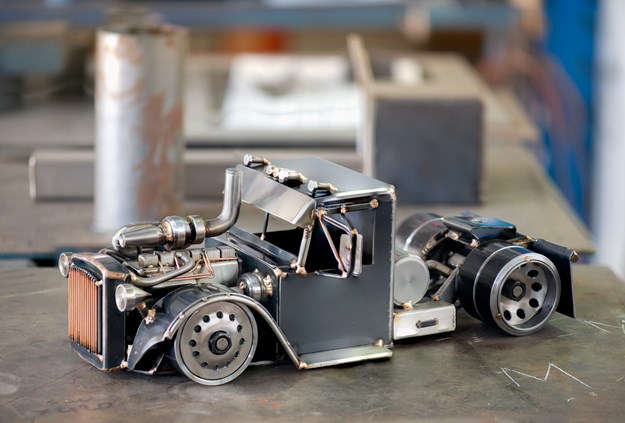 Less than 30 minutes: that's all it took for the sale and all it took to change Mitchell's after work hobby into a now highly sought-after business. With the sale of the first truck, Mitchell tried again. Another 30-odd hours of work produced a second truck and again it was snapped up on social media. From there Metal Models took off. Mitchell again posted on social media offering to build customised replicas and seriously the poor boy couldn't even get his first beer cracked before enquiries flooded in.
It's now been a couple of years and the interest keeps growing. Mitchell has had orders from seven different countries, with the US making up nearly 40 per cent of his orders, despite the fact it's almost cheaper to buy an actual ticket to America than it is to post something there. The Metal Models are not lightweight – even moving them around for me to take photos would have had Health and Safety requiring a two-man team and a forklift.
He has custom built everything from harvesters to forklifts, stretched-out Petes to truck and dog UDs. Every project is a one of a kind, based on the client's photos. There's no mass production line here. Like me, most people have an attitude of 'I want it and I want it now!' Fortunately, those requesting a Metal Model are more than happy to join the six-month (and growing) waiting list.
With each build being different the time Mitchell puts in is incredible. A bulbar alone can involve 3-4 hours' worth of work.  A truck in its entirety can take in excess of 30 hours and that's just the welding. That doesn't include the time Mitchell has to spend looking at photos and working out exactly how he's going to go about it.
Enough waffling from me, check out the photos as they demonstrate the extent of Mitchell Agate's skills.  If you are keen on getting your truck replicated as a Metal Model, then you will have to be prepared to wait.
Good things do take time.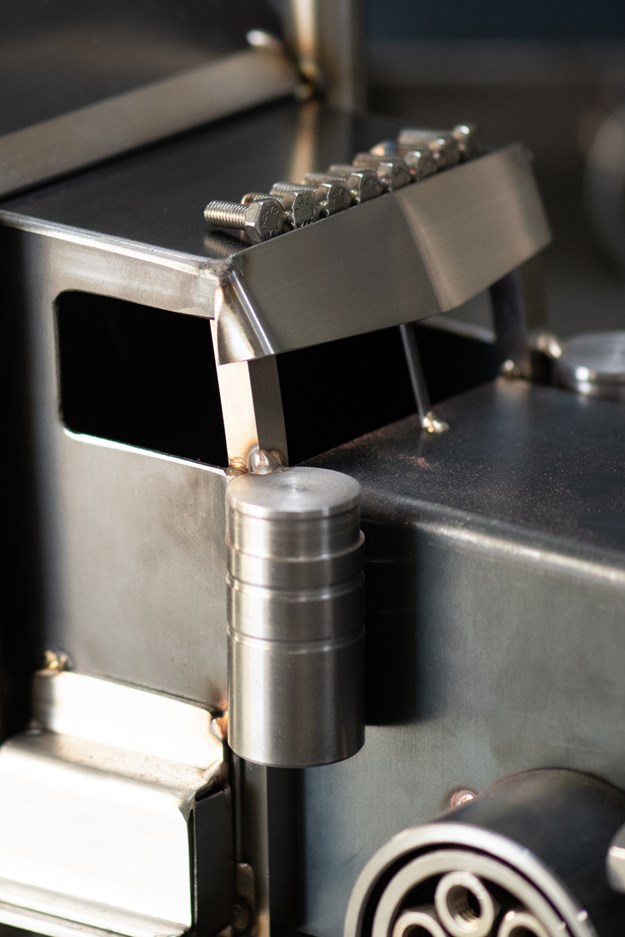 Subscribe to our newsletter
Sign up to receive the Trade Trucks e-newsletter, digital magazine and other offers we choose to share with you straight to your inbox
You can also follow our updates by liking us on Facebook. 

Trucks For Hire | Forklifts For Hire | Cranes For Hire | Generators For Hire | Transportable Buildings For Hire