Peter Fox: inside the den with the Linfox boss
---
As the long-serving executive chairman of Linfox Logistics, Peter Fox commands a powerful presence with a well-etched reputation for tough tactics. Yet his standards are high, reaching far beyond trucks and Australian shores, as he explains in this revealing and exclusive interview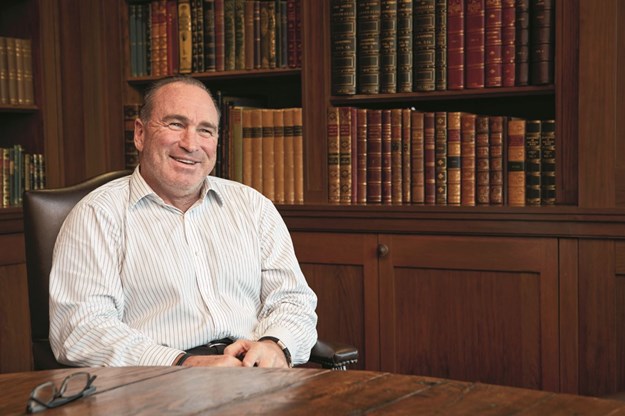 In some respects, Peter Fox is very much like his father and in other ways, different. Significantly different.
Lindsay, of course, is the founder who did the hard yards. One man, one truck, and a fierce determination to build something bigger. From here on, the life and times of Lindsay Fox need no help from me. It has all been said before.
Yet there are those in the corporate sector who say – albeit very quietly – that Peter is perhaps too much like his father. Brutal in business, an uncompromising character. Too tough according to some!
Personally, I don't see him that way. But then, I'm not trying to sell him anything or competing for a contract – matters that would, I'm sure, change the dynamic dramatically.
Nonetheless, there is something about Peter Fox I find completely engaging. On the record or off, in a random meeting or, as in this instance, an interview many months in the making, his views are vast, varied and invariably framed by 'the big picture'.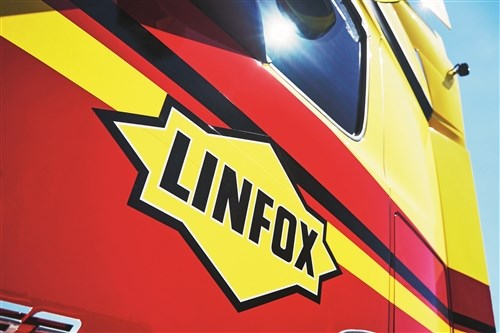 Second of Lindsay and Paula Fox's six children, he is now way closer to his 60th birthday than his 50th and easily recalls the family's early years and his father's immense work ethic. An ethic which appears to have comfortably carried from father to son. 
Fortuitously, while Lindsay was working and building, their eldest son was watching and learning from the ground up. There were no shortcuts but, from the outside looking in, ascension to the top of the family business was perhaps inevitable, so long as the resolve, the aptitude and the commercial smarts stacked up.
Obviously they did and by age 30, Peter Fox was installed as executive chairman of Linfox. For Lindsay, succession planning obviously started early.
Succession is also on Peter's agenda but there's certainly no rush. After 26 years as chairman, he concedes the baton will be ultimately passed to the third generation but right now, "It's too early. There are 14 grandchildren, they are only just coming out of college.
"It's a decision that doesn't need to be taken for the next 10 or 15 years," he says frankly.
Yet as much as fruit never falls far from the tree, it also sprouts a life of its own and the simple fact is that Peter Fox is a generation apart from the 82 year-old father and founder of the sprawling Linfox empire. It would, however, be a monumental mistake to misjudge the depth of the bonds that bind.
To the core of its being, this is a family business. And in this family, family is everything.
Even so, walking off the street into Linfox House is perhaps little different to strolling into any other high-end edifice on Melbourne's ritzy St Kilda Road. 
Once inside, though, things change fast when you're headed for the big office upstairs and, after pre-arranged bona fides are established, you soon enough find yourself inside another sanctum, surrounded by stunning Australian artworks, not least a series of breathtaking Albert Namatjira landscapes. 
---
Linfox recently shared its big Brisbane build blueprint
---
Seated at a large desk down the end of a confrontingly long and open office, surrounded by company mementoes, Peter Fox appears glued to a bunch of papers before disappearing into a small alcove and seconds later, the unmistakable sound of a paper shredder. I can't help thinking, 'Game over for something, or someone.'
He soon emerges bearing a broad smile, strong handshake, warm welcome and a day's growth on his face. He looks tired.
"Sorry, just catching up on a few things. Only flew back in last night. Let's talk in here," he says, striding past the big desk where it's impossible to ignore the photos of Peter or his father with a few well known faces. Like several US presidents, or a couple of prime ministers from here and elsewhere. This is, indeed, the world of movers and shakers.
In an ornate, small room walled by beautifully bound books spanning everything from Australia's earliest history to a first print of Darwin's Origin of Species, Peter appears to quickly relax, recalling the last time we spoke, a few years earlier during an impromptu few minutes at the Tokyo Motor Show where electric vehicles, and specifically Fuso's development of electric light trucks, were high on the agenda.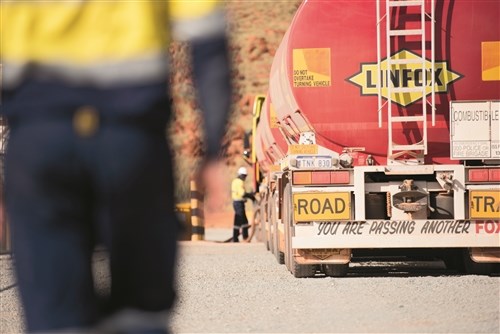 Technology would again figure highly during this discussion, for very good reason.
The Linfox business spans many enterprises but none more, of course, than the transport and logistics operations at the core of the company's interests. Even the simplest overview delivers some extraordinary numbers: like, more than 30,000 people working across the group's businesses in Australia, New Zealand and Asia, and a fleet of around 7,500 "motorised units" ranging from 'round-town utes and distribution trucks to regional and linehaul single trailer and B-double sets, heavy-duty roadtrain combinations and a specialist fleet of Armaguard money movers.
In effect, enough vehicles of one sort or another to generate a fuel bill around $3 million a week. Yes, a week!
As for company turnover, well, since returning to a private entity after a relatively brief stint as a public company, Linfox annual turnover is nowadays not for public consumption. Billions, however, is not an exaggeration. 
Yet it's a candid Peter Fox who admits revenue has grown markedly despite a substantial and purposeful decrease in the client base over the past decade and more.
"At the beginning of the GFC [Global Financial Crisis] in 2008, we had over 300 customers. Today, the customer base in Australia is down to 80," he explains.
"Our customers have become bigger customers," Peter continues, citing the example of BHP, which 11 years ago was a $40 million account. "Today it's over two and a half times that."
As he puts it, the customer base is "… a thing of quality rather than quantity, a thing of less is more.
"Revenue has, in fact, doubled over that same [11-year] period but the size of the customer footprint has shrunk by about two-thirds."
It is a footprint, however, that for many years now has stretched way beyond the national horizon.
BEYOND SHORES
Australia, obviously enough, is the centrepiece of Linfox operations and it's an emphatic Peter Fox who says simply, "You don't forget the importance of this market.
"I'm a diehard fifth generation Australian, so you never really get away from that, but our marketplace has developed beyond the shores of Australia."
Indeed it has, with Linfox International Group operating throughout South-East Asia.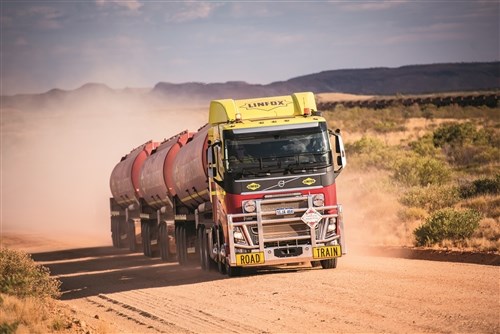 "Thailand, Indonesia, Vietnam, Hong Kong, Singapore, Malaysia and now, a couple of other countries," he explains.
"The last two years we have been very interested in what's called the Mekong Delta which is Laos, Myanmar [Burma] and Cambodia."
At this point the conversation turns up several notches as Peter Fox unfurls an expansive grasp of the cultural, commercial, political and social diversities of international markets, notably throughout the Asian region. It is a grasp which to a large extent determines those markets where Linfox chooses to pursue opportunities and those where, for any number of geopolitical, commercial or even cultural reasons, abstinence is the preferred option.
In quiet conversation it soon emerges that there are distinct reasons why Linfox eyes the potential of emerging markets in Laos, Myanmar and Cambodia far more favourably than, say, the Philippines where there is no desire to participate. Likewise, there's no ambition to be in China. None!
The abiding impression, however, is that Peter Fox is fully cognisant of commercial and political worlds far beyond Australian borders, much as some of the world's biggest truck makers – notably the export-oriented European brands – see Linfox as far more than simply an Australian customer.
It is, for instance, no coincidence nor a case of contrived corporate nicety that Lindsay and Peter Fox have intensely close relationships at the highest levels of global giants such as Daimler and Volvo Group.
Consequently, on the hushed assertions by the senior executives of some brands operating in the Australian market that Linfox is simply too tough to deal with, that buying decisions are based more on price than product, it's a blunt Peter Fox who immediately responds: "I'd say we're tough but fair, and the thing I would say to suppliers is 'It's about the relationship'. If you don't have that relationship, there's no ticket to play."
Quiet for a moment, he continues, "We had a predominant preferred supplier in Mercedes-Benz [Daimler) for over 30 years. Prior to that it was International Harvester. In more recent times we have a preferred relationship with Volvo and that stems predominantly from the relationship we have with the chairman of the board (Martin Lundstedt)."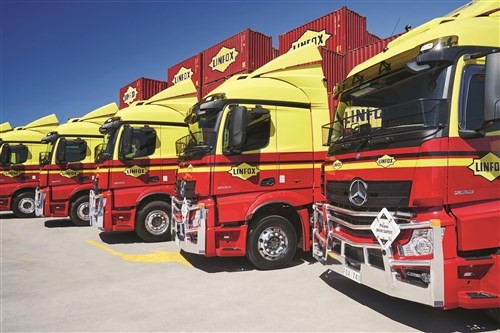 In fact, Volvo's obvious ascension and Daimler's apparent decline appear to have far more to do with relationships at the top than any issues or shortcomings on the product front.
Still, "We stay open to who we have preferred relationships with," Peter adds, seemingly as a warning shot that nothing should be taken for granted.
As for the modest presence of US trucks in the Linfox fleet – other than Volvo Group's Mack brand – Peter Fox says it has far more to do with currency exchange rates between the Australian and US dollars than anything else. Where the Aussie dollar has fallen dramatically against its US counterpart, he contends, "It hasn't fallen to the same extent against the Euro."
Besides, Peter insists there's much to like in modern European trucks "… whether it be Scania, Volvo, Mercedes-Benz or DAF. To me they are all really good products, comparable in quality.
I wouldn't discard any of them.
"We view a truck in its whole-of-life costs, what it's going to cost us per kilometre to maintain while it's with us, what's the guaranteed trade-back when we're finished with it, what's its warranty life.
"There are a whole lot of pre-conditions. For anyone to say we only purchase purely on price, that's a fallacy.
"The difference, at the end of the day, comes back to who we have the deepest relationship with and we have broader relationships today with Volvo."
As Peter was quick to point out, however, the door is always open. For example, "In recent times we have bought over 100 Scanias, so I think with a change of leadership at the top of that organisation, our relationship with Scania is only going to improve from this point."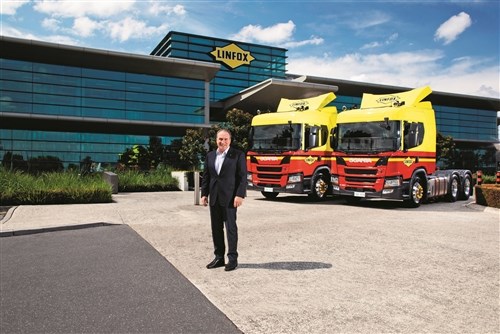 But isn't that simply a case of keeping each of the brands honest?
"Not necessarily," he fires back. "We wouldn't always give it all to one brand anyway. We have a preference to have two providers and, sure, we are happy to be buying the lion's share from a preferred supplier but we also like having a back-up provider," he adds with a shrewd smile.
The smile quickly fades, however, when asked about assertions in some quarters of the transport industry that Linfox's strong stance on matters such as emissions compliance and safety are driven more by its blue chip customer base than the company's own ideals.
"Right, let's start with emissions," says an abrupt and apparently annoyed Peter Fox, obviously intent on setting the record straight. "In 2009, I took myself to the Copenhagen [Denmark] climate change summit. I have a personal view to ensure a legacy that I leave this earth in a better condition than I found it."
In the same year, Linfox emitted over 600,000 tonnes of carbon dioxide into the environment which he emphatically states, "… was way too high. I'm no scientist but if we destroy the air, then we all get wiped out."
Two years earlier, Linfox had set a target to cut greenhouse gas emissions across the business by 50 per cent based on 2006/07 levels and in 2016, in its 60th year of operation, the company both reached and exceeded that target.
"The organisation took a stand and said 'if we can emit less into the environment, we should do something about it'. Basically, I'm just a keeper of the [company] culture," he said seriously, "making sure we protect what we've got and really, Linfox has always been ahead of the curve when it comes to setting the standard with emissions."
Thoughtful for a moment, "We still await the federal government saying when Euro 6 standards are going to apply to this country but we've had Euro 6 in place now for two years. Every new vehicle we now put into the organisation is Euro 6."
Also on the environmental front, the evolution of electric trucks continues to gain the company's interest with Peter confirming that two electrically-driven 12 tonne Volvo trucks will be joining the company for local delivery trials within the next 12 months.
As for safety, it's a buoyant Peter Fox who says he's immensely proud of the company's achievements. "In 2005, we launched the Vision Zero program. Back then, we had a lost time injury frequency rate of 38. Today, the rate is 1.5."
Still, it can be better, particularly in Asia. "Fatalities don't occur as frequently as they did 20 years ago in Australia, but they still happen at a far too frequent rate for me in Asia," he frowns. "Those things really hit to the heart of the organisation because no one should be getting killed in the workplace in this modern age. It's crazy!"
So, on the question of who actually drives Linfox's initiatives, customers or the company, a defiant Peter Fox declares, "It is not the customers. We drive it as an organisation because it just makes good sense."
PUSHING AHEAD
Nor, he insists, does the company wait for politics to determine the introduction of new initiatives or new technology. "We are a leader. We do not sit around waiting for the federal government to hand down a regulatory framework."
Gathering thoughts for a few moments, it's a blunt Peter Fox who states, "We are such a laggard in the regulatory environment in this country," citing as prime examples the ongoing use of logbooks and the failure to implement electronic work diaries, specifically through the use of digital tachographs. 
"Logbooks are horse and cart technology, an indictment on the industry, the government and how we operate in this part of the world as a developed country.
"Europe, for nearly 20 years, has had a digital tachograph [yet] we bring trucks out here and the digital tachograph system is disconnected. It's appalling.
"I've been on three occasions to see federal ministers and Dad's been a big advocate of the digital tachograph and electronic work diary for 15 years but they're just not interested. It falls on deaf ears, but we won't be giving up.
"If the Europeans can do it across countries, why can't we with just 26 million people and the number of fleets we run? Why can't we get harmonisation across the states and adherence to a digital tachograph that has an electronic work diary?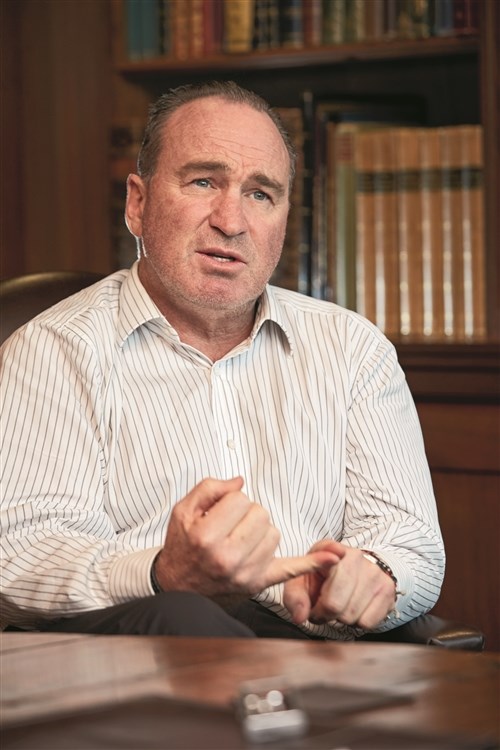 "We are absolute Neanderthals in this country in regards to our regulatory framework."
The frustration is obvious but again, "We are an organisation that leads and we are not sitting around waiting for the federal government to hand down a regulatory framework that makes sense for this country.
"We have already introduced 800 telematics devices that we are going to use as electronic work diaries in our business. Why would you wait when the technology's already there and proven?"
On the other hand, it's a defiant Peter Fox who contends that while technology for its own sake is "a waste of time", some aspects of advanced technology need time to mature. Automated driverless trucks, for instance.
"We believe in automation," he attests, "but I certainly don't see in the next decade a driverless truck on the road.
"We've talked about regulation, so imagine how you'd go trying to put a driverless truck on the road?"
Besides, driverless technology still has many hurdles to overcome, Peter agrees. Nonetheless, "There's a massive amount happening through new and highly automated warehousing operations.
"Automation is not just about trucks. Warehousing and distribution is a major part of our industry and the technology of RF scanners and automated guided vehicles has huge potential in bringing efficiency and productivity gains into our broader industry."
REAL CONCERNS
Yet as the conversation drew to a close, it was blatantly apparent that political procrastination and the apparent apathy of those in power to implement programs of national benefit, remain sources of frustration and even annoyance to Peter Fox. 
Like, for example, the continuing absence of an inland rail freight corridor linking Victoria to northern Queensland. "We've had this discussion for two decades, but what infrastructure has been built?" he asks.
"The need for our industry to have a line between Victoria and Queensland to take traffic off the Newell [Highway] is a no-brainer but even if the button was pressed on it today, you're not going to have that train set operating for another 10 years.
"And what about electricity? We've got an endless supply of natural gas but it all goes to Japan and Korea. Why wouldn't we be self-sufficient with our own gas supply to generate electricity? It's a clean source of energy.
"If you looked at it afresh, in terms of powering this country for the next 100 years, you'd go for gas all day long."
Much the same, Peter believes, can be said about water management, or rather, the lack of it.
"Where's the plan for what the country requires for the next 20 to 30 years?" he questions with a shrug.
"We need to be at the forefront of using the technology that's available to us, but I fear this country will get left behind.
"We can't rely on 'she'll be right mate' or 'we're the lucky country'.
"We have to be open and adaptive, productive and extremely efficient, and we need governments prepared to make things happen.
"Otherwise, in the next 10 or 15 years, we will definitely get left behind," he concludes.
FIRST LOOK AT THE 'LIN-DOUBLE'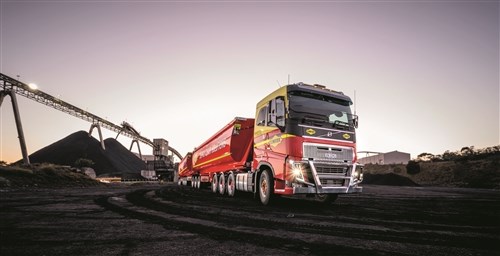 We've known of its existence for some time but only now are the first 'official' images of an innovative Linfox A-double combination starting to emerge.
Said to be the first of its kind in Australia, the combination known within Linfox as the Lin-double, is custom designed to maximise productivity,  efficiency and safety in the haulage of high gross loads of coal in the Illawarra region, including the notorious descent of Mt Ousley.
Power certainly won't be in short supply with a Volvo FH700 tri-drive prime mover providing the muscle to haul gross weights of 85 tonnes – and potentially more – in a tri-axle tipping trailer coupled to a six-axle tipping dog.
Logically enough, much of the combination's development has centred on providing the retardation power to cope with hauling such substantial weight down the long, steep descent of Mt Ousley.
The unit pictured here is said to be among the first in an order of around 25 Lin-doubles set to move coal 24/7 on a relatively shorthaul route from the Appin region south-west of Sydney to the Port Kembla area.
Subscribe to our newsletter
Sign up to receive the Trade Trucks e-newsletter, digital magazine and other offers we choose to share with you straight to your inbox
You can also follow our updates by liking us on Facebook. 

Trucks For Hire | Forklifts For Hire | Cranes For Hire | Generators For Hire | Transportable Buildings For Hire