Service with a plus
---
Early on his working life, Gary Fleming learnt his people person skills in the retail world. It's stood him in good stead as customer service, coupled with his loyal team of drivers and his small fleet has helped his Canberra-based towing business to thrive.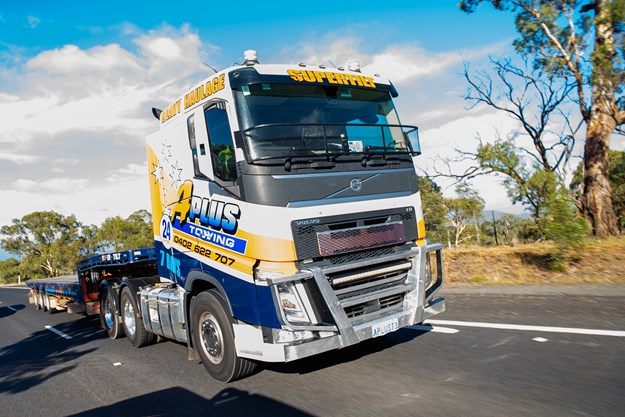 As a man who once received an A-plus for a magnificent macaroni art piece, I know the kind of effort that's needed to obtain a grade like that and the kind of pressure that sits with you once an A-plus is linked to your name.
Before anyone tries to dispute the worthiness in my case, I would like it noted that that fine piece of surrealist macaroni artwork also made it all the way to the fridge door! Yes, it's true, once my wife got home, she tore it down and told me to start acting my age, but that's irrelevant.
The point I'm trying to make is there's a stigma attached to anything with an A-plus linked to it, therefore when a very young Gary Fleming decided to start his own company and chose to name it Aplus Towing, he was setting himself a very high standard to live up to.
With Aplus Towing recently putting their 10th truck on the roads around Canberra with a team of 15 happy workers, it seems like Gary and his lovely wife Lisa are doing everything right, meaning they are matching there Aplus name with Aplus service.
Gary grew up in an Air Force family, which meant his childhood was spent all around this great country. Rather than follow the family into the armed services, Gary chose to follow his passion for driving and machinery. This did not happen straight away as he had to take another path first.
When Gary left school he headed into the retail sector, one of the early options available to him. It's a decision he's very thankful for now as he believes it taught him how to interact with his customers, skills that he would use in the years to come.
"It made me who I am, in working with customers," Gary said. "Smiling, always being approachable."
While doing the retail jobs he put himself through a TAFE course that enabled him to get the licenses required to break into the earthmoving and truck driving side of life.
"I love driving things, I love trucks, tractors and always wanted to do the earthmoving thing," Gary recalls.
His first job had him as a delivery driver around the Canberra area where he had the best of both worlds – plenty of driving but also the face-to-face customer service that he excels at. Following a short stint in the mines, he was approached to learn the ropes at a local Canberra towing outfit.
"At the time I had a really good job," Gary confesses. "I was really reluctant to do it [take the job] because I was comfortable where I was.
"It ended up changing my life, being a tow truck driver."
That decision was the start of a path that would lead Gary to where he is now. He took the job because it was bigger trucks, and it was a new challenge.
Learning the game
For the next 10 years Gary earned his stripes learning all the ins and outs of towing, from recovery to equipment deliveries. Eventually he moved on. In need of a break and, in order to help financially solidify himself, he headed back to the mines.
The mining lifestyle is hard on families though, and with a loving wife and a house full of kids Gary chose to come back home and start his own business. True to Gary's character the first person he spoke to about his plan to buy his own tilt tray was his former employer.
"Out of respect I went to him and said 'I'd like to buy a tow truck, what do you think?'" Gary recalls.
His old boss was supportive of the plan, knowing Gary wasn't the sort of bloke to go under cutting for business. The two are still good friends and continue to throw work each other's way when required.
Aplus Towing was in 2013 formed with the purchase of a second hand 2006 Hino FD. The truck was bought off Sunstate Towing and had already racked up 300,000km but would become the backbone of Gary's fleet. Six years later and the truck is still on the road. There is now well over one point one million kilometres on the old Hino with no end in sight.
With Gary being a 24 hours a day, 365 days a year towie, the little Hino worked tirelessly from day one. His work ethic and dependability built him a solid reputation with his customers and as they grew, so did he.
Eventually he had to bring on a weekend driver so his wife and kids could remember what he looked like and in no time at all he hired his first fulltime driver. Within a couple of years there was a need for more trucks, including his first brand new heavy rigid Isuzu.
"It was one of the scariest things I ever did," Gary confesses. "I had to work for it but it meant I could do bigger moves."
From that moment on, the company boomed. Aplus Towing's reputation led to enquiries from some major organisations and that led to more and more work. The size of that work and the volume meant Gary had to go through another "scary as hell' moment and purchase his first tractor unit, an FH Volvo, and his first super tilt trailer.
Since those early years the Aplus team has kept expanding. Driven by Gary's dedication to safety and professionalism, the company has thrived.
Young drivers
One of the keys to success as far as Gary is concerned is his workers. Like a good husband he speaks very highly of the support and advice he receives from his lovely wife Lisa and also praises his brother Matt who is influential in the logistical side of the company.
"I'm blessed to have good staff, I'm blessed to have drivers that want to be here," Gary tells me with pride.
The majority of the company's drivers have all been trained from the ground up. "There's a lot of young guys that just want to work and learn," Gary reflects. Knowing how difficult it was for himself as a young bloke to get experience Gary has been a firm believer in giving young guys a go. The faith he puts in them is repaid by the work they do and the way they represent the company to the customers.
"One big thing for me is listening to my drivers, they are the ones out there doing it.
"If I can't help them and listen to them then I've failed as a manager."
It's an attitude like that that has seen Gary build a staff of talented people around him. His focus on safety is also second to none. All the Aplus units are built with every conceivable safety feature, from the ATB Engineering trays to the (are you running a disco bro?) lights along the sides of every truck.
"Yeah, people give me a little bit of curry about the lights and strobes," Gary admits. "As long as they can see me then so be it." Gary's done the roadside rescues and accident recoveries, so he knows how important it is for his drivers to be safe and seen while on the job.
Each truck is also fitted with more cameras than the 'Big Brother' house. These not only give the drivers security for any incidents that may occur but because they are all tracked in real-time, it allows them to contact the office if they have a difficult job and get some advice from the more experienced towies.
Custom built trailers
The Aplus fleet now runs three FH Volvo prime movers with custom built Super Tilt trailers. There's a couple of 'monster', as Gary calls them, twin-steer FYJ Isuzus that are fitted with 30,000lb winches. Meaning they can get into anywhere and pull out anything.
There are several other tilt trays and quite recently Aplus has put a 260hp FSD automatic Isuzu on the road. "We've nicknamed it 'Dumb-Dumb'" laughs Gary. "But I love it; it is fantastic for what we do."
As far as a home base, the Aplus team has its own kitted-out workshop, though it's mainly used for minor maintenance jobs, electrical work, guards and Gary's addiction to building new and interesting toys.
"Yeah, we're working on a new setup for doing carpark recoveries," he informs me, before showing me the latest Gary creation.
While he does have the facilities for servicing his vehicles, Gary's a firm believer in using local people and supporting local businesses as much as possible.
"It may cost a little more, but that's okay," he admits. That doesn't just stretch to using the likes of Canberra trucks for servicing their trucks, but using local companies for their uniforms, their print work, their painting and signwriting.
Where to next for Aplus? Well, Gary's not aiming to set the world on fire. He's happy doing his work and doing it well.
"I do what I do because I love it, and I do love it!"
He also thanks many others within the industry for helping him get where he is with their advice and help. From Claytons Towing up in Brisbane to GRS, one of Sydney's most renowned companies. "As long as I'm learning I'll keep going," Gary says.
Although Gary still has a few years to go before he hits his fourth decade on this planet, he has done a great job of gathering together and growing an Aplus team of trucks and workers.
As an older bloke, I normally enjoy my God-given right to complain about anyone younger than me. Sadly, I can't do that with Gary Fleming at all.
His family company, Aplus Towing definitely deserves an A-plus rating almost more than my macaroni artwork did.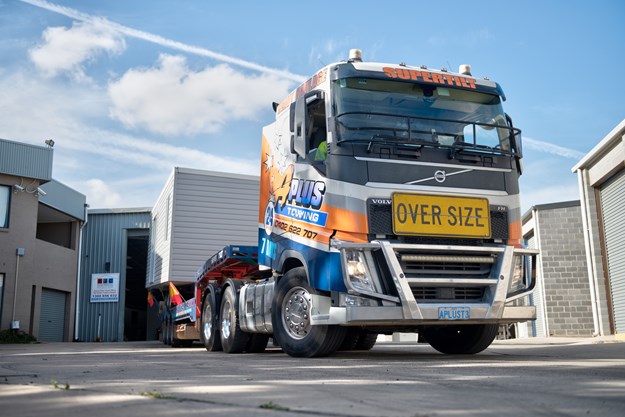 Subscribe to our newsletter
Sign up to receive the Trade Trucks e-newsletter, digital magazine and other offers we choose to share with you straight to your inbox
You can also follow our updates by liking us on Facebook. 

Trucks For Hire | Forklifts For Hire | Cranes For Hire | Generators For Hire | Transportable Buildings For Hire