Smitten with Macks
---
Wayne 'Smitty' Smith bought his first Mack more than a half century ago. But, despite the enticement of retirement, the old B-43 is still on the road – just like its owner.
Imagine rolling up to work one chilly morning, ready to start selling the latest and greatest Volvo trucks and you can't get in the door because some young fool has parked their F86 Volvo right across your driveway. That's the scenario that occurred way 52 years ago for Bob Oliver, a salesman at Volvo Trucks in Laverton.
He banged on the door of the old truck and out rolled Wayne 'Smitty' Smith. Now I'm sure there were a few expletives thrown around as the two men discussed the motivation for Smittys unorthodox parking, but I'll take some creative licence as I mock-up a 'PG' version of what may have occurred 52 years ago.
"Good morning Wayne, how can I be of service this fine morning?"
"Good morning Bob, I'm here to purchase that B-43 Mack you have caged up in your yard!"
"Are you sure I can't interest you in a …"
"Nope I want that Mack."
That was 1967. On that very morning, without a set run with no guaranteed work, Wayne 'Smitty' Smith rolled out of Laverton with his very first truck. Over five decades later that same Mack is still turning heads when Smitty pulls up to job sites. They say 'it's not the size of the dog in the fight, but the size of the fight in the dog that counts.' Well this dog surpassed the diminutive size of its cab a long time ago.
Smitty himself wasn't from a trucking family. He actually grew up on a dairy farm in South Gippsland. Walking to school as a kid however, he recalls the old model Macks rolling past and remembers telling his mates, "I'm going to buy one of them one day".
His mates laughed but the trucking bug had well and truly bitten Smitty. As soon as he was allowed, he got a job driving a tip truck for a local company.
"The old man couldn't talk me into going on the farm," Smitty says. "I just wasn't interested, I wanted to drive."
The tip truck work only fuelled his passion for driving. It didn't take long before local tippers weren't enough, and he wanted to try interstate.
"I couldn't get a job doing interstate as I didn't have enough experience," Smitty confesses. Then with a huge grin, admits, "So I went down the lie trail."
When you know what you want, you do what you can to get it. Smitty admits he 'conned' his way into an interstate job with a local company based out of Adelaide. He also admitted he worked pretty hard to back up the stories he had fabricated at the time but in the end, he proved his worth as a driver.
First purchase
The obvious next step for Smitty was to buy his own truck. A few years after becoming a company interstate driver, he was sitting in a roadhouse one random day, having dinner with a mate. It was then he learned about the B-43 for sale at Laverton.
Smitty knew the truck; he had actually worked for the previous owner and had even tried to purchase it previously. On that day when he found out it was for sale, he bolted out the door quicker than a buttered bullet, leaving his dinner companion staring at a vacant space and with an extra meal to pay for. This brings us back to our opening paragraph in 1967, with the slightly confused Volvo salesman unable to get the gates open at his sales-yard.
With his first truck purchase, Smitty handed in his notice and a week later Wayne Smith Transport was on the road and looking for loads.
In the late '60s there was plenty of work around for those who wanted it. An ad in a newspaper from Express Freight saw Smitty and his B-43 popping into their Adelaide office for a quick chat. The chat lasted an hour after which Smitty drove out with a loaded trailer in tow. This working relationship continued for almost 40 years. Express Freight went through a few identity changes over that time but Smitty and his Mack kept on trucking through all of them.
His original plan was to use his B-43 for local work, towing the company's flat top trailers. That plan didn't last long. A week into his local gig and the allocator bailed Smitty up, asking, "Want to go to Brisbane?" Sure, no worries. Back from Brisbane and then it was, "Want to go to Perth?" Sure, no worries.
Subsequently, over his Express Freight tenure there wasn't many parts of Australia that Smitty and the B-43 haven't seen, multiple times.
Day cab dreams
I'll give you a second to look at the photos of the truck again and just confirm the same thing I did when Smitty was telling me tales of his trips to Perth and Darwin. Yes, it is a day cab. This little line-haul truck isn't decked out for weeks on the road. In fact, the 'sleeper' consisted of a comfortable pillow over the steering wheel, but it did the job.
If you are wondering about the performance of the big rig on those open roads, well it wasn't setting any land speed records that's for sure.
When the B-43 first hit the road, it was actually just a single drive truck packing the good old 150hp E-motor. That setup didn't last long though. When Smitty bought the Mack, it had had a lazy axle added and the motor had been replaced with the legendary 205hp 711 motor, as well as being fitted with a quad box. All this meant the B-43 was a very hard working, legend building, Mack truck.
That bulldog toughness has shone through the lifetime of the truck. Smitty recalls not long after he bought it, he took it to the old Mack workshop in Campbellfield where he handed the truck over to a mechanic by the name of Ken Hall.
"I handed it to Ken and told him the 'box is whining and groaning," Smitty says. "Ken took it for a run and asked if the noise bothered me. I said not really. He then said it'll probably go like that for 20 years."
Fifteen years later he returned to Ken. "You reckon we should have a look at this 'box now?" Ken couldn't believe that it hadn't been touched, but they decided to pull it apart anyway only to find there was nothing wrong with it all.
They re-raced it, added some new bearings and threw it back in. "It was noisier than before," Smitty laughs.
The trusty 711 motor lasted almost 40 years itself, only being replaced in the late 2000s with a new 250hp C-motor.
"Mate, I've had that fifty-two years, I've been all over Australia in it and I've never put a diff in it," Smitty says with pride.
It was well into the late 2000s before the B-43 finally got put into semi-retirement. Smitty got his hands on an ex-Thurwoods Kenworth to keep up with the workload. He lasted six months before he put a driver in it and happily stepped back into his beloved B model.
"I jumped out of 200hp into the Thurwoods Kenworth," Smitty recalls. "I had to learn to drive again. In the B you could jump in, put your foot down and not worry, it wasn't fast enough for anything."
Workhorse Super-Liner
Though his passion is the Macks he still runs a couple of very cool Aerodynes. "The drivers love 'em, I hate 'em," Smitty laughingly admits.
To even up the numbers though, Smitty has added a couple more bulldogs to the stable since the Kenworths came on board. Most noticeably is the stunning Super-Liner that dwarfs the little B-43.
Like the B-43 before it, the Super-Liner was bought as a workhorse. For 10 years it earned its keep working the highways around Australia like its little brother.
The Super-Liner's working days are now limited, with the majority of Smitty's driving taking place in his magnificently maintained Valueliner. But the Super-Liner still sees its share of tarseal.
"If I have to go up the highway now, I take the Super-Liner," Smitty says. "It's just grouse!"
Smitty had actually made a previous attempt to purchase the Super-Liner but the deal had fallen through. Thankfully it was second time lucky.
Since its semi-retirement there has been a few minor adjustments made to it. Smitty opted not to repaint it in the same colours as his B-43, wanting to keep it similar to the original Cameron's colours of it's past. He did however get the chassis lengthened to accommodate the 59-and-a-half inch sleeper. Obviously, many of you will be aware Mack never built a 59.5 inch sleeper, but Wayne Smith has, cutting the sleeper in the middle and adding in a bit of extra room himself.
Smitty is very quick to credit a lot of the work on his Macks to Peter Clapton, a maestro of Mack rebuilds. Never has Peter's skills been more evident than in the latest creation in Smittys collection, an Immaculate turquoise B-61.
Looking to do something different the truck was converted from a bogie drive tractor unit to a rigid truck with wooden deck. Smitty still has a few extras to go on it, but the work of him and Peter is impressive so far.
As the B-43 starts to approach official retirement age Smitty himself is well past the point where he could put his feet up and spend his days grumbling about today's music, the new generation of kids or the crap on TV. But neither Smitty nor his trucks are looking at that option, he is still enjoying work far too much.
"I love what I'm doing now, a lot of it's challenging." However, he also admits "a bloke should be slowing down!"
It's an easy line to say, "should be slowing down", but it seems Smitty follows the lead set by his trusty B-43. Age means nothing – old dogs already know all the tricks.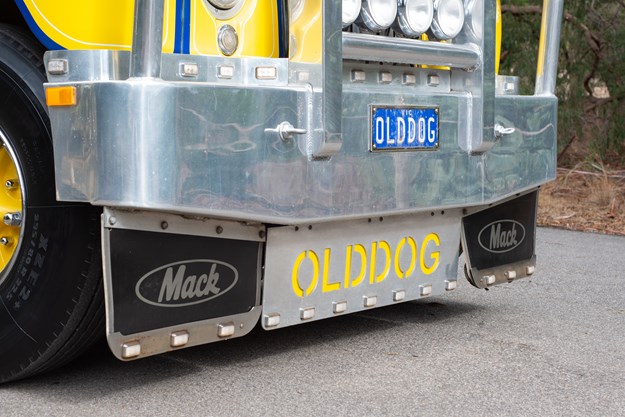 Subscribe to our newsletter
Sign up to receive the Trade Trucks e-newsletter, digital magazine and other offers we choose to share with you straight to your inbox
You can also follow our updates by liking us on Facebook. 

Trucks For Hire | Forklifts For Hire | Cranes For Hire | Generators For Hire | Transportable Buildings For Hire