Kenworth cab-over country
---
Both personally and professionally, Ian Irvin has adapted to changing times in the trucking industry. Warren Aitken chats with Ian about his regenerated business, Phoenix Trucking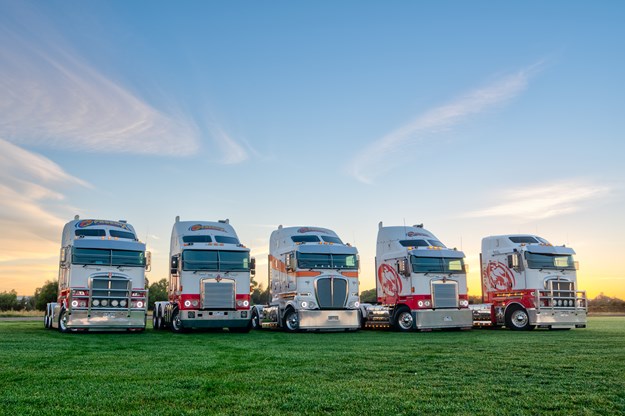 Those familiar with my writing know how much I love to start my stories on a weird tangent that normally only vaguely relates to the story that follows. Well I'm going to disappoint here and take a tangent that directly relates to the story. That tangent is down the path of Greek mythology.
Specifically, we will be talking about the mythical creature that shares its name with Ian Irvin's Canberra-based company Phoenix Trucking. In Greek mythology the Phoenix is a bird that cyclically regenerates (fancy words for 'gets reborn over and over'). It's written that the Phoenix obtains new life by rising from the ashes of its predecessor. It's this basic premise that drove Ian to name his first venture into road transport back in 2004 – Phoenix Trucking Co.
For the record it's also reported the Phoenix dies in 'a show of flames and combustion' before regeneration, but that's only every 500 years, so we will wait on that one.
Back to Ian and the formation of Phoenix Trucking. While the company now runs a small fleet of stunning Australian-built Kenworth cab-overs, it started out as just one young guy trying to make a go of it with a second-hand CH Mack car carrier.
"I'd made the decision to go into business; went against all the people that said I was mad," Ian recalls when thinking back to his first truck.
Ian wanted a name for the company that meant something to him, and at that time in his life he was going through a lot of changes in his life. A recent divorce and a change of direction in his career, the idea of rising from the ashes and restarting seemed to align strongly with the mythology behind the Phoenix name.
Ian reflects on those early days with a sense of humour. Admitting he was a little young and naïve, thinking he would get into trucking and make millions.
"From the depths of despair from my divorce; rising from the ashes, new me, new life, big time businessman and all that … it didn't work out like that at all," he says.
"But that was the basis for the Phoenix."
He also adds that while a Phoenix rises from the ashes in all its glory, in reality he spent those early days "running flat-out with my arse on fire".
Cars and beyond
"Flat out" has basically been how Ian has grown the business from day dot. Having left school to become a mechanic, Ian's desire to get behind the wheel found him driving for a local farmer, delivering product to farms around the Canberra and Bega areas before getting his highway driving experience with his friend and mentor Barry Moffat.
Ian spent several years with Barry until, in 2004, the opportunity came up to start his own business with the purchase of a car carrying operation. Phoenix Trucking Co hauled its first load of cars into Bega on November 5, 2004. For the next few years Ian and his one truck fleet went from a local car carrier to an interstate car carrier as he battled the turbulent times and adjusted the company model as needed.
The decline in the car market and soaring fuel prices eventually lead Ian to pull the pin on car carrying and chase work elsewhere. This time the Phoenix regenerated into a near new Kenworth K104, pulling trailers for another local outfit, Bobbins Transport.
Ian spent a year as a subbie at Bobbins where he admits he learnt so much.
"I'm not a businessman but I like to learn, and I learnt so much from Neville (Bobbin); the approach to customers, managing bad situations and stuff like that."
After a year Ian made the decision that would really be the basis for Phoenix Trucking as it stands now.
In 2009 he purchased a second-hand drop deck trailer to go behind his K104 and set about taking any work that would fit on his trailer – from timber to concrete pylons, hay to bailed metal. It all paid the bills.
Having good friends in the industry meant Ian was also able to pick up a fair bit of subbie work as he built up his own client base. That client base grew very rapidly though, and when one of his regular clients, Austral Bricks, put him officially on the books, the growth of Phoenix Trucking Co started.
King Cab
In 2014 Ian's first King Cab Kenworth turned up to tow his first B-double set. The entire unit was done up in Austral colours and five years on is still looking as good as it did on day one. The same year also saw the arrival of Ian's first Freighter EziLiner trailer which went behind his original K104. The following year Ian picked up another K104 and then in 2017 a second King Cab K200, as well as a standard cab K200 arrived. They were painted up with the striking red Phoenix on the side, bringing the fleet up to five trucks.
The K200s are a regular site around the east coast of Australia with their matching B-double sets. The K104s are still Ian's pride and joy. Both trucks are approaching two million kilometres and are proving their worth working nonstop between Sydney and Canberra.
It's Ian's approach to his business that keeps the Phoenix fleet in a solid position. He admits his 'passion over sensibility' attitude is why he makes sure they have enough stainless to stand out on the roads, although it's his mechanical background that takes precedence.
"I'm very particular about how my gear is looked after; there is high level of maintenance," Ian says.
He admits the showroom shine often takes second place to getting the trucks greased, trailers adjusted and preventative maintenance when the trucks are in the yard.
Another area where Phoenix Trucking's innovation is notable is in the setup of their trailers. A lot of their work is with slippery or moving loads like flooring, timber or fertiliser, loads that need constant attention and top-notch restraint. With that in mind Ian has installed air-operated automatic strapping systems to all his trailers. He jokingly admits the ExTe system may require you to "take a second mortgage", although he adds he wouldn't go back now.
"The drivers will always say, 'wow, isn't this good' not 'isn't this expensive?'" Ian says.
He worked closely with the team from ExTe and Freighter Trailers when he chose to put them on his first trailer, changing the design to allow the air-operated winches to be fitted to a sliding rail system.
The ExTe winches are regularly fitted to logging trucks but were a new concept for tautliners when Ian built his first one. It was imperative that the winches be moveable on a tautliner as load positioning always varied.
The winches are fitted with five tonne-rated straps and plumbed directly into the trucks air system. The self-adjusting mechanism means that as the load shifts and settles, the straps offer automatically retention.
"You don't have to keep stopping to redo the straps," Ian says. "In fact, when you get to the destination, the straps are tighter than when you left."
The other driving force behind Ian's purchase was the time saved. Coupled with Freighter's Ezi-Liner curtain system, Ian calculates the drivers are saving hours and hours a week. But there is downside though.
"I've never been so unfit in my life" Ian tells me, highlighting the missing hours spent doing up straps. I'm sure we can all cope with that downside.
Changing gears
It has been almost 15 years now since Ian ignored everyone's warnings and rose from the ashes in his CH Mack. He is happy with his fleet of five trucks, admitting he now has a good bunch of workers who look after the gear and, most importantly, the customers.
There is definitely a lot more office work to do when running a small business but Ian is still happily spending his time behind the wheel because, at the core, that's where his heart is.
"Why I'm still here is for the love of the job, you know, having a nice setup, having heads turn," Ian says.
"I have no ambition to be a squillionaire. I'm not here about money; it's for the love of the gear."
It's also this passion for the industry that keeps the Phoenix Trucking fleet free of automatic gearboxes.
"I've gone against every salesman's good ideas because I just love changing gears," Ian admits. It again testifies his case for passion over sensibility.
Whatever the reasoning behind Ian's choices, it's working. The small Phoenix Trucking Co has the units that turn heads, with a blend of modern Kenworth technology in the K200s and classic Kenworth reliability in the K104s. They have a loyal customer base that's been given top notch service and care and they have the innovative ideas that keep them at the forefront of the industry.
As for how the Phoenix has regenerated this time around, I think Ian Irvin says it best.
"It's just a passion out of control! And along the way I've somehow managed to run a fairly tidy business."
Subscribe to our newsletter
Sign up to receive the Trade Trucks e-newsletter, digital magazine and other offers we choose to share with you straight to your inbox
You can also follow our updates by liking us on Facebook. 

Trucks For Hire | Forklifts For Hire | Cranes For Hire | Generators For Hire | Transportable Buildings For Hire