ANALYSIS: TIC's Fine Messe
---
Contentious plans by the Truck Industry Council (TIC) to run its own truck show in Melbourne in 2021, and stifle Brisbane's historical standing as the premier trucking event on the Australian calendar, appear to be already striking dissension and discord among potential exhibitors.
Causing concern in some quarters is the fact that TIC, despite no formal announcement, has engaged an entrepreneurial German company, Deutsche Messe (loosely translated to mean German Fair) as its organising partner.
Deutsche Messe is the organising body, either in part or in full, of trade events in various parts of the world including Germany's Hannover truck show and the North American Commercial Vehicle Show in Atlanta, USA.
It's understood several leading TIC members and dedicated proponents of the Melbourne event, including council president and Paccar Australia chief Andrew Hadjikakou, are attending October's Atlanta show, ostensibly for further discussions with Deutsche Messe executives.
Australian manufacturing of Kenworth trucks is a justifiably proud boast of Paccar Australia, yet it hasn't gone unnoticed by a number of industry insiders that TIC principals have opted for a foreign partner rather than an experienced Australian events company.
Floor space for TIC's proposed event, the 'Australian Truck Exhibition and Technology Symposium', slated for March 11 to 13, 2021, at the Melbourne Convention and Exhibition Centre, is being sold by Rob Keen, sales manager for Hannover Fairs Australia.
Hannover Fairs Australia, based in the high end of Sydney's CBD, is an offshoot of Deutsche Messe.
According to our information in late September, the only major truck company to so far reserve space is Paccar Australia, claiming the prime position at the main entry door to the Melbourne exhibition centre. It's understood Volvo Group Australia is unlikely to attend the Melbourne event.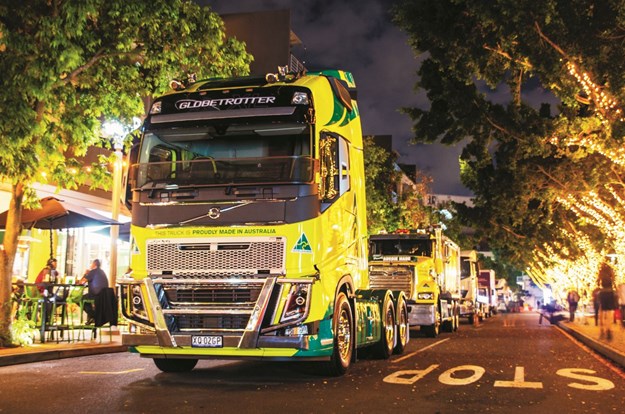 Meantime, at least one TIC member and chief executive of a major corporate supplier of several prominent truck brands has expressed dismay that the cost of exhibition space at TIC's proposed event in Melbourne is significantly more than the cost of exhibiting in Brisbane.
Another source confirms that whereas some companies were paying $83 for a square metre of floor space at this year's hugely popular Brisbane Truck Show, the TIC event is quoting $100 (plus GST) for each square metre of floor space.
"The difference in floor space cost doesn't seem much until you multiply it by the amount of space we need for our stand," says a senior executive. "It could easily cost us over $25,000 more in Melbourne than what we spent on floor space at Brisbane.
"It's hard to cop when one of TIC's apparent reasons for moving away from Brisbane was to reduce exhibition costs for its members."
The same executive also questioned timing of the TIC event, with the Australian Grand Prix generally running around the same time, causing accommodation costs in Melbourne to skyrocket.
Comments from several sources bring into further question the motives behind TIC's decision to forge ahead with an event which threatens the indisputable success of the Brisbane Truck Show, organised by Heavy Vehicle Industry Australia (HVIA).
Some industry insiders suggest TIC, which describes itself as 'the peak industry organisation representing the united views of Australian-based truck manufacturers, truck importers, heavy vehicle engine companies and major component suppliers', is simply seeking to keep its members' truck show funds within its own ranks and in the process establish itself as a more effective representative body than the HVIA.
As several industry insiders have noted, over a number of years there has been a strong under-current among factions within TIC, first about the cost of exhibiting at Brisbane and second, the funds accrued by the show's organiser, the HVIA.
---
INDUSTRY COMMENT: Grab for Brisbane bucks. Read more, here
---
The next Brisbane Truck Show is scheduled for May 2021, just a few months after TIC's proposed event in Melbourne. Given the high cost of exhibiting at any truck show, most potential exhibitors will be forced into deciding which event to support.
Historically, Melbourne truck shows have been poorly attended whereas Brisbane generally attracts large crowds from far afield.
Moreover, at September's Australian Event Awards in Perth, the biennial Brisbane Truck Show was judged Australia's Best Corporate Event and Best Exhibition, Trade or Consumer Show.
Speaking at the awards presentation, HVIA chief executive Todd Hacking said, "The Brisbane Truck Show … is owned by the industry for the benefit of industry, with every cent reinvested in the industry association's work program."
Conversely, while Deutsche Messe has plenty of international experience, there's little doubt TIC will also be paying the German company handsomely for a performance which, when it's all boiled down, will be judged on the level of support from truck, trailer and ancillary suppliers and the number of punters who pay to attend.
Right now, there are no guarantees either way.
Subscribe to our newsletter
Sign up to receive the Trade Trucks e-newsletter, digital magazine and other offers we choose to share with you straight to your inbox
You can also follow our updates by liking us on Facebook. 

Trucks For Hire | Forklifts For Hire | Cranes For Hire | Generators For Hire | Transportable Buildings For Hire