GOLDEN OLDIES: TWYFORD FAMILY'S BEAUTIFULLY RESTORED INTERNATIONALS
---
The Twyford family is steeped in trucking, with different generations having their favoured brands. Two that stand out though is a pair of beautifully restored Internationals
"I don't want anything to do with these old trucks." Those are the words a father really doesn't want to hear from his son. Harsh words really. The only thing worse I guess, would be 'hey Dad, I just got tickets to the Spice Girls concert', or maybe 'check out my new eco-friendly electric car'. It's enough to send shivers down your spine.
However, "I don't want anything to do with these old trucks," was the line that Adam Twyford said to me when I asked him about how much time he's spent driving around the two classic rigs I had lined up for a photo shoot. The irony of that statement was that Adam had just climbed out of a 1984, beautifully restored Kenworth. It's a truck that Adam is often seen in, and one he's had a lot to do with when it comes to its current condition. Obviously it's not one he classes as an 'old truck' though.
Leaving aside Adam's interpretation of an 'old truck' he was kind enough to interrupt his holiday and help me out when I went all the way down to Candelo in NSW to interview his dad Alby. He had to help me out because his dad was still out on the road, as he has been for the past 43 years, doing interstate work.
For the last 15 years Alby has been contracted to McColl's transport. His Volvo is state-of-the-art and with it he tows around a tanker trailer and delivers food grade product anywhere from Adelaide to Brisbane. Before McColl's, Alby also had 20 years as a contractor to Ablett's. Over the course of that time, Alby was also the proud owner of several (by several, I mean eight) Volvo trucks.
QUITE THE COLLECTION
It will come as no surprise then that his son Adam is meeting me at a storage shed, a few kilometres down the road from Alby's dad's farm, to photograph two of the best Internationals you will ever find. Yes, you read that correctly: Alby the proud owner operator of many top-of-the-line Volvo trucks, has a collection of Internationals that would rival anyone's.
It's no reflection on Volvo that Alby has restored these two stunning Internationals rather than an old F86 or something similar. It really stems back to his childhood and the trucks he fell in love with back then.
Here is where you would normally find a close family association with the International brand right? Well no, Alby's dad Paul (Robert Paul Twyford, known to all as Paul) was a huge Bedford fan. His yard is still littered with old TKs in various stages of deconstruction and restoration. However, when Alby was just a schoolboy his love was with the old International R-190s. So much so that throughout his schooling Alby's goal was to finish school and buy himself a 190.
With a 180 Cummins and a big air-cleaner on the mudguard he would go out on his own, running Sydney to Melbourne express. As it happened, by the time he left school the 190s were an outdated old truck and instead Alby ended up in a Scania Super 80 working for Neville Bobbins down in the Bega Valley. From the Scania he moved up into a Louisville, which he eventually bought into before following in his father's footsteps and going out on his own.
Alby tried the small fleet option for a short time before deciding his one-man band played a better tune all on his own. His work ethic and personality ensured he was kept very busy as he became one of Ablett's longest running subbies.
Somehow, with the constant work and raising a family, Alby never ever forgot that desire to own a 190. In 1999, Alby managed to find one in Delegate, NSW and a bit of sweet talking ensured the 1957 190 headed home with Alby. The sweet talking was most likely for Alby's wife rather than Graham Miles, the man selling the International.
The 'old girl' was in need of a fair bit of love and affection as it was looking more like a child's sandpit Tonka toy than the truck it is today. Bear in mind that Alby had never restored a vehicle before; once it was wheeled into the garage it was all new ground for him. That's not to say Alby had my level of mechanical ability, which equates to wandering Bunnings looking for a left-handed torque wrench.
"We used to do all our own repairs," Alby informed me. "When you couldn't afford to pay someone you did it yourself. Brakes, greasing, oil changes, wiring, we did it all ourselves."
Meaning he wasn't at a complete loss. The first job was to strip the whole thing back to chassis rails and see what they were looking at. The next job was to tinker around, do the things he could and most importantly find the right people to do the jobs he couldn't.
"That first truck took five years, by the time we stripped it down and learnt the hard way," Alby informs me with amusement. He did learn though. He learnt the right people to see, the correct people to talk to and the best places for parts. In fact, his latest restoration, a stunning green Commer, took him one fifth of the time (I can't tell you much about that one – need to fleece my editor for another story on that beauty later).
He did get it finished though. Restoring the original 471GM and five-speed with a two-speed No5 Eaton behind it and getting a local painter to add a fresh coat of the stunning green you see now. The team at Dirks Signs in Pambula were responsible for the outstanding signwriting and scrollwork.
As someone born many decades after the release of the 190s, okay maybe several decades, alright then, a couple of decades after the release, I did ask Alby about the single wheel axle in front of the dual wheel drive axle.
"Yeah people used to call the pusher axle the 'silly wheel' but it did give the guys an extra ton and a half on the drive," Alby informed me. He also said there was a lot of those setups around in that era. Not all of them legitimately fitted. "In the early years the DMR never carried enough scales to weigh the lot," he says. So, you can see why there were a few home-built versions. Alby's 190 is all factory fitted though.
In 2004, five years after it started and almost half a century after Alby first dreamed of line hauling in a R-190, Alby got to drive his own one. Sure, it had the 471 rather than the 180 Cummins, but it still had the big air cleaner on the guard. It may have been a 47-year-old truck, but I still had to ask Alby, was it as good as what you thought it would be, owning and driving your own International R-190? "Yeah, yeah it was," came the reply. It was a phone interview, but I swear I could hear the smile over the phone.
1970 INTERNATIONAL TRANSTAR
Now number two on our photo shoot was number one on my list of 'trucks I need to shoot' – Alby's 1970 4070A International Transtar. I had first seen this forest beige beast in the line-up at the sensational 'Haulin The Hume' event earlier in the year. That's what originally drew me down to Candelo. As a Kiwi, we tend to have an affiliation with all things cabover and seeing a slimline Transtar is not something a truck fan gets to do every day.
The story behind the 4070A, and the work needed to get it on the historic truck circuit, is nowhere near as in-depth as the resurrection of the 190. In fact, when Alby bought it off Greg Woods in Broadford, Vic the truck was still in extremely good nick. The cab did have to be stripped bare and Alby repaired a lot of holes in the aluminium cab, from where there had been more than a few chrome ladies affixed, but that was about all. A bit of wiring work and down to the local painters again, this time coating it with Transtar's well known forest beige colour and Dirk Signs again added the finishing touches.
Unlike the 190, Alby never actually set out to add a Transtar to his growing collection, so when the truck basically 'fell in his lap' in 2016 he couldn't say no. With Alby's growing knowledge base this build was completed in two years and the end result is fantastic.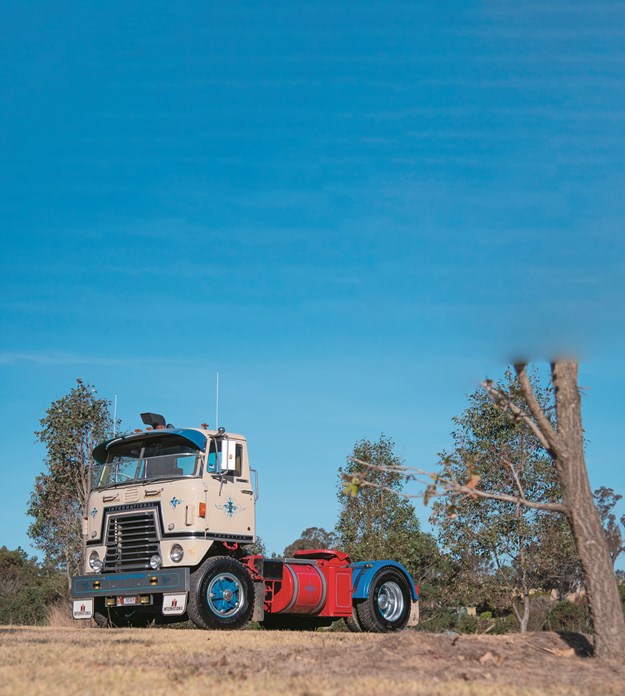 If you are impressed with the tractor unit photos then hold the phone, because both these trucks have matching restored trailers as well. Unfortunately, with Alby being away and the photoshoot being very last minute, we just stuck with the tractor unit for this particular shoot. There may be some of you assuming that the reason we didn't do trailer shots was because Adam is now a transport manager and therefore not as willing to get his hands dirty hooking up trailers, but I can tell you that's not the case. Once he'd finished his chai latte non-fat mocha he was extremely helpful and patient when it came to indulging me and allowing me plenty of time to grab shots of these restored beauties and for that I am thankful. I was lucky enough to capture the Transtar at Hauling the Hume with its trailer in tow.
In summary, the Twyfords' collection of historic trucks is absolutely outstanding and carries a world of history with them – almost as much history as the Twyfords bring to the Australian transport industry themselves. Alby's grandad (Robert George Twyford, known as 'Bob') started in the Bega Valley in 1936. Alby's dad Paul was driving at the age of 12 (he remembers having the Arnott's Cans as peddle extensions) and Alby continued the family tradition, learning to drive before most kids had mastered bicycles. Those skills were passed to his son Adam, and as we finish the shoot and I watch Adam's seven-year-old son Lucas race over to start up the 1984 Kenworth, sporting the grin of an NRL ref with a loaded Sportsbet account, you just know I will be back down here to see some more stunning restorations soon. I'm not saying that you have to, but a Butter Box would be nice, Alby.
Subscribe to our newsletter
Sign up to receive the Trade Trucks e-newsletter, digital magazine and other offers we choose to share with you straight to your inbox
You can also follow our updates by liking us on Facebook. 

Trucks For Hire | Forklifts For Hire | Cranes For Hire | Generators For Hire | Transportable Buildings For Hire