LABOUR OF LOVE: MARCO REVELANT'S INTERNATIONAL LOADSTAR
---
Looking back, the International Loadstar may not have been the most comfortable to drive but it still inspires fond memories for Cooma Sand and Concrete's Marco Revelant. So much so that he found himself one needing a touch of TLC and brought it back to life – ready to inspire memories for many more decades to come
Today's story shall start with a confession. I've been in the transport game a fair while now and luckily I've been able to try my hand at nearly every market available. General freight, logging, dangerous goods, 'mud-carting', oversize and even stock (go on, try the sheep shagging jokes). However, one of the few areas I've skipped completely is the concrete game.
If I'm honest, the limits of my concrete knowledge extend to offering my mate Donna a cup of it, every year, for over a decade, when the wallabies lose the Bledisloe cup to New Zealand, again and again.
With only that knowledge it's fair to say I was a little naive about the intricacies of it all when I got the chance to sit down with Marco Revelant to quiz him about the stunning little Loadstar sitting amongst a stunning fleet of beige agitators.
Now there are two things that you are probably asking right at this moment. Number one: 'Stunning fleet of beige?' That sounds like a bit of an oxymoron doesn't it? Number two: Sitting down with Marco Revelant? Doesn't that mean he has to slow down long enough to squeeze in an interview?
BACK IN BEIGE
All good questions. Let's start with number one – how can stunning and beige co-exist in a sentence? Well, the Cooma Sand and Concrete (CSC) fleet manages to pull off beige in the same way I can't manage to pull off Lycra. Whilst beige isn't on most company operator's initial colour palate, CSC's design harks all the way back to Marco's father's early years and one of his long-term employees.
Gino Revelant began CSC when he took over some old ready-mix concrete plants in Cooma and Jindabyne back in 1972. One of the first brand new trucks he bought was already factory painted beige. Kenny West, Gino's driver, who would end up working for CSC for nearly three decades, noticed that the concrete dust doesn't really show on the beige and pointed it out to Gino. I'm sure the observation was made with a mind to water conservation rather than just avoiding the wash bay, but either way the colour stuck.
As for question number two, yes it was extremely difficult slowing Marco down long enough to interview him. My dictaphone picked up 38 minutes of interview but that was spread over a much longer time as Marco was flat out with me, with in house customers, with phone calls and with all the other day-to-day tasks. He did however get time to fill me in on why the 1967 Loadstar, adorned in the company beige, is so important to the fleet and the company.
When Gino started the company back in 1972 his first truck was a second-hand International Loadstar. Over the next 40-plus years the company would increase to a fleet of six agitators, as well as its own tipper trucks for bringing material in. The CSC fleet would become involved in some of the area's biggest and most challenging projects. From ski fields to tunnels, Perisher Valley Station to Cooma McDonalds carpark – the CSC boys took it all on.
When his dad was at the helm, Marco was never far away, learning the concrete ropes more than the truck driving ropes, but always with an interest in the vehicles that kept the company moving forward.
BUILDING THE FLEET
It was Marco that had his dad looking into different truck options, chasing bigger horsepower initially. Then learning that in their line of work the torque is more important than the horsepower. The gearbox and rear end were also of vital importance when speccing out a truck and Marco become thoroughly enthralled with the challenges involved in setting up the perfect truck for the business.
Gino was obviously happy to let his son take over that side of the company, which may have had a bit to do with another of his early truck choices. A 2050C ButterBox with a V8 Cummins in it, "some people swear by them, some people swear at them," Marco informed me. Turns out Gino most regularly swore at his Butterbox. Marco also adds: "It's got to be the second worse truck International ever made – I'm sure there's a worse one, I just haven't found it yet."
Over the next few decades Marco got to a point where he had perfected the setup on the agitators that work best for CSC. Then in 2015, after years of discussions with his father, he decided he wanted to add another agitator to the fleet – a 1967 International Loadstar, with a 392 V8 petrol engine and a 5x3 gearbox. The same make and model that his father started the company with.
"I wanted to remind myself, and those that work with us, where we started and where we are now," Marco tells me when I asked for the motivation behind the purchase. He definitely got his reminder, he gave me the worst used car salesman pitch on the Loadstar: "They had no heaters, no air conditioners, no power steering, dodgy brakes, you were flat out to have a sun visor and if you had an AM radio that could pick up a scratchy radio station you were the top of the tree."
Marco also recalls the times his dad would take the Loadstar up into the mountains for jobs: "He would be dressed in long johns, two pairs of socks and two jumpers." Times were different back then.
Thankfully for Marco and the team at CSC this Loadstar required very little work to get it up to showroom condition. I say 'this particular Loadstar' because this was the second Loadstar that Marco had found with intent to restore. The first one unfortunately had more rust than the Spice Girls' reunion concert.
When Marco spotted another Loadstar up in Queensland, right age, right running gear and in much better nick he did some sums and worked out it would cost him one fifth of the cost of bringing the other one back to life. So, he went up and grabbed it. It started and ran like it was almost new.
Marco took it back to Cooma and in-house they stripped it back, found a few little rust patches to repair, repainted it and put it back together again. The overdrive box did need a little bit of attention as well, but Marco admits that was to be expected: "Normally, one of the boxes will go in these."
The next challenge was to find an appropriate agitator body to go behind it, there's not a lot of 50-year-old concrete mixers sitting at Cash Convertors. Marco did manage to get hold of a Fowler Rex GT Series concrete agitator; this Aussie designed and built mixer was operated with Holden engines. They could mix up to seven cubic yards of concrete, and a 13-ton payload (well not officially if you know what I mean).
The end result is a stunning replica time piece that reminds many of a golden era in trucking, Marco is also thankful for the new memories it helps him create.
"It is nice, I go for a drive with my son and it is nice. It reminds me of what I used to do," Marco tells me. "I used to go with dad in something like that, that's where I learnt to drive, on bush roads and backyard paddocks."
It will definitely be good for Marco to pass that knowledge down to his son Tristan as there are very few of us around that could handle a 5x3 box. Okay, I'll end with a confession as well. I'm definitely not able to handle a 5x3 box. I'd have a try, but Marco's already fixed the gearbox once so it wouldn't be fair to make him do it again. Let's leave this stunning Loadstar to the professionals.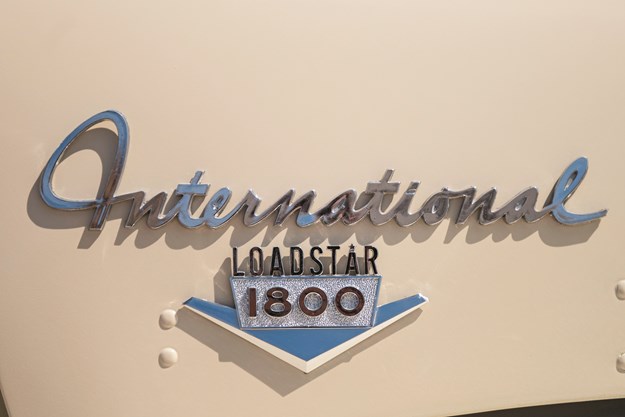 Subscribe to our newsletter
Sign up to receive the Trade Trucks e-newsletter, digital magazine and other offers we choose to share with you straight to your inbox
You can also follow our updates by liking us on Facebook. 

Trucks For Hire | Forklifts For Hire | Cranes For Hire | Generators For Hire | Transportable Buildings For Hire