TMC 2019: Bad dogs on the loose
---
The truck and dog sector in Sydney and Melbourne came in for a fair bit of stick at the latest ATA Technical and Maintenance Conference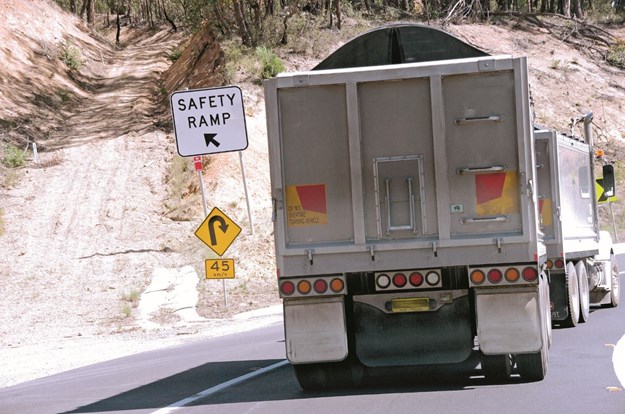 Here's something to help keep things in perspective when it comes to truck safety.
Light vehicles cause 80 per cent of heavy vehicle crashes on average, according to the National Heavy Vehicle Regulator (NHVR).
On the other hand, elements of the truck and dog sector in NSW and Victoria are behaving poorly on safety compliance. And drilling down further on the maintenance side of things, brakes in Sydney and drawbars in Melbourne are a particular problem.
These seemed to be the main pictures coming out of the annual "What the Inspectors See" session at the Australian Trucking Association's (ATA) Technology and Maintenance Conference (TMC) held in Melbourne in October.
Last calendar year in NSW, 10 per cent of all infringement notices were in the "soil/aggregate" category. Those notices were issued via heavy vehicle checking stations, on-road enforcement and special operations.
That's bad enough, but get this: a shocking 43 per cent of the Sydney truck and dog sector was found to be non-compliant, covering issues such as mass, fatigue and mechanical maintenance. That's compared with non-compliance of the heavy vehicle industry as a whole at 14 per cent.
"I know truck and dogs work hard and do the dirty work, but that's not acceptable," says Roger Weeks, director of compliance with NSW Roads and Maritime Services.
Later in the session, Weeks revealed: "We're doing weekly special operations on truck and dogs, and we have our top 20.
"Now top 20 is probably a misnomer because they're not top of the pops, but we have a range of things that we will do."
Those things are under what Weeks described as the NSW model of "engage, educate, enforce."
BAD BRAKES
Weeks describes brakes as "a real worry for us", and not just in the truck and dog sector.
Last year, serious brake problems accounted for nearly 10 per cent of all mechanical defect types found in NSW.
These brake defects were in the categories of either "major" – which means you have to drive to the nearest point of repair – or "major grounded", which means you're not going anywhere.
Weeks says a B-double stopped at the Mt White checking station, just north of Sydney, only had three of the 18 brakes on the vehicle operating properly.
And a truck and dog operated by a repeat offender on the M4 Motorway had a brake drum break apart, part of it smashing into the windscreen of a car behind.
---
VicRoads outlined its 'direct income' compliance strategy at last year's TMC
---
However a couple of delegates pointed out that it's often not the operator's fault if there are brake problems, and they called for the authorities to provide more detail on defects to help find any patterns in build quality.
Remarkably, it seems there aren't any official government standards for braking components.
ATA chief engineer Bob Woodward points out that brake booster failure is nothing new, and was the reason the ATA began producing its advisory procedure on boosters in 2010 (see below).
"Recently, an operator in South Australia replaced all the brake boosters and they made 98 kilometres and the arse fell out of them," Woodward tells the conference.
"It seems to be OK for people to import these, it's OK for the government to take their bit of cream off the top … but the poor guy in the workshop is the guy who cops the brunt, he doesn't know. 
"He's given the box of parts and told 'fix this', so we need to do something about the crappy bits and pieces that are allowed to come into this country."
An NHVR representative says it was an issue the NHVR would have to take on notice, to which Woodward replies: "The problem is they've been taking it on notice for about 15 years."
DANGEROUS DRAWBARS
The truck and dog sector in Melbourne also came under scrutiny at the TMC.
There has been an upward trend in drawbar problems in Victoria in the past 6–12 months, Russell Greenland, manager of metro operations in Heavy Vehicle Services for VicRoads, says.
Greenland showed a horrifying video of a runaway dog trailer with a load of clay driving itself in traffic for hundreds of metres on Eastlink in June.
"We've got a missile going down the road at 100 kilometres an hour which potentially could have killed a lot of people," Greenland said.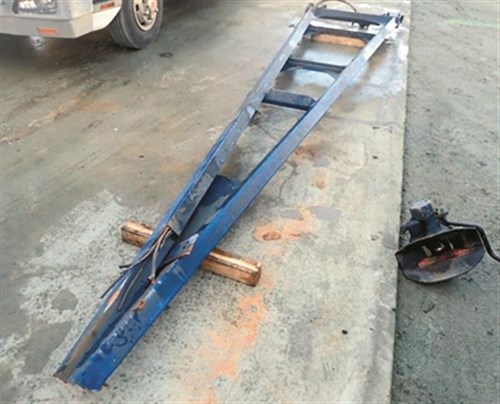 In a separate case, VicRoads visited a truck and dog operator because of a Confidential Reporting Line file.
Of six drawbars inspected, two were cracked. One of these cracks was about to break away, yet the trailer was loaded and ready to leave. The operator decided to replace all nine drawbars in his fleet.
But Greenland points out that not all drawbar problems are the operator's fault.
He says VicRoads concluded that in one incident a drawbar just two years old broke because of a design fault. The manufacturer re-designed the drawbar "and they've done a really good job".
But Greenland adds that a drawbar recall process is something his agency can't really do.
"How many other vehicles are out there with drawbars like that, and manufactured like that, with what we believe is a design fault?" he asked.
Kel Baxter, chair of the ATA's Industry Technical Council, says that, many years ago, he had a road train dog that broke a drawbar.
"I made a study of how they built the drawbar and how they attached the towing eye," Baxter recalls.
"There are many, many ways to do it and I think some are a lot better than others and I think it's an area where we don't have good standards."
AGE SHALL WEARY THEM
Weeks says drawbars are "not a huge issue" in NSW, but interestingly a graph showed that of the 1,400 defect faults for couplings in the past 12 months, couplings which were 12 years old or more accounted for half of all defects.
This echoes a wider point made in the session that there is a strong correlation between the age of a truck or trailer and its mechanical condition.
"We've seen it in all sorts of studies around roadworthiness that age of the vehicle is the best predictor of the health of the vehicle," Weeks says.
"What you will see is that, once you get into the 12-plus years, suddenly things go wrong."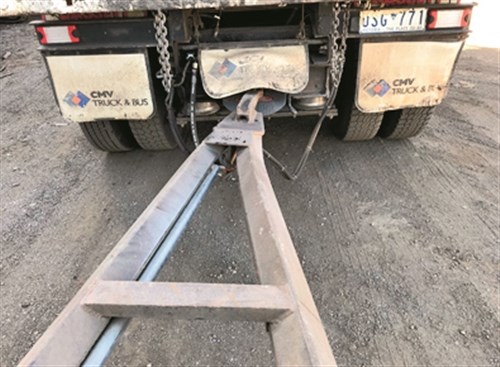 Meanwhile, when it comes to drawbars or anything else, Greenland says he can't stress enough the importance of daily pre-departure checks.
"Your drivers are absolutely your eyes and ears," he says.
"You get a good driver that does that pre-trip well, and you're more or less guaranteed to have a good run with that vehicle."
Delegate Wally Cox added the importance of having a good look around vehicles during a shift or trip, and to that you could add the importance of checks at the end, in the hope of saving a drama for you or someone else at the next pre-trip inspection.
Not all brake boosters are the same
The ATA's Technical Advisory Procedure on Compliant Brake Chambers/Actuators, the most recent one dated September this year, is clearly an important and useful guide for any operator.
For example it contains this stark warning: "Brake chambers are often seen as a commodity. This view is wrong. They are of high importance in achieving effective braking, but the lowest cost items often do not live up to expectations."
It lists a dozen makes which have been submitted by manufacturers and approved by the Industry Technical Council of the ATA. Another supplier is currently in the process of having their certification and performance documentation checked before being added to the list.
Clever coupling check
Reversing a truck and dog so that the body is beside the trailer is something of an art form, and the experts say you can damage the drawbar or bend the towing eye if you get the ring feeder coupling on too sharp an angle.
Bob Martin from Jost Australia was at the TMC exhibitor's hall, displaying a 'Rockinger RO500' coupling unit which not only has a sensor warning the driver if the coupling isn't closed properly, but also has a turn angle sensor.
The sensors are linked to an indicator in the cab.
"The idea of that indicator is to reduce damage to trailer drawbars when they're reversing and jack-knifing," says Martin, adding that stress or hairline cracking is often not detected.
Subscribe to our newsletter
Sign up to receive the Trade Trucks e-newsletter, digital magazine and other offers we choose to share with you straight to your inbox
You can also follow our updates by liking us on Facebook. 

Trucks For Hire | Forklifts For Hire | Cranes For Hire | Generators For Hire | Transportable Buildings For Hire