Hitting the right note: Restored 1978 White Road Boss
---
Like a fine wine, certain things improve with age, not least this 1978 White Road Boss that has been restored to its former glory, but with something a bit special under the bonnet that really makes it sing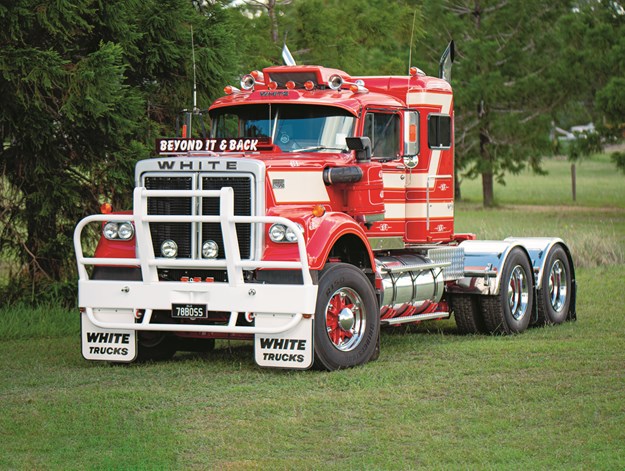 I recently had a good friend tell me about a compliment she received at work. She was nicknamed Violin, and no it's not because she's better off locked away, it's because her workmates think she sounds sweeter with age.
It was with that story in mind I would dearly have loved to be able to name Bill Powers' 1978 White Road Boss 'Violin'. At 41-years-old, this hard-working icon of Australian transportation is almost better than it ever was and while it's not singing its original notes, its current tune would go platinum in a heartbeat.
Bill is the man in the big seat at Powers Transport. It's actually more of a couch than a seat, as he shares it with his wife Pauline and their three boys. There would hardly be anyone up and down the east coast that hasn't at some stage spotted a Powers Transport truck; they don't exactly blend into the background. Red and cream-striped tankers towed behind some impressively huge red and cream trucks make them stand out like a cowboy at a Wiggles concert.
The Powers trucks are based in various locations throughout the East Coast, but they all stem from the same little town in the Burnett region of Queensland. Kilkivan is where Bill's father began his trucking legacy and it's the same town where Bill and his lovely wife Pauline began theirs.
Their first truck technically may have been an old V8 petrol International, a truck Bill's father gave them as he was winding down his career and they were beginning theirs, but the truck that Bill and Pauline really believe gave birth to the company as it stands now is the solid as a rock 1978 White Road Boss that you've been drooling over in the photos. It was bought in early 1981 and has stayed in the family for the past 38 years. In fact, the Powers family got a solid three decades' worth of work out of the Road Boss before it was retired.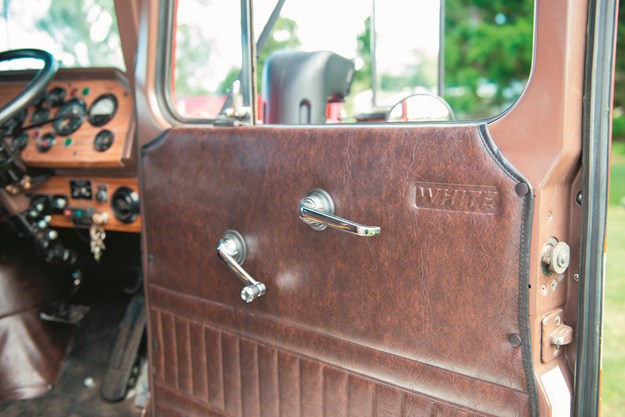 UP AND RUNNING
Back in 1981, when Bill bought the truck, he had his father employed to drive it as Bill was working as a driver for another company whilst he worked on building his own. The truck had originally been purchased to tow concrete tankers, however its 290hp (216kW) engine wasn't coping well with the big runs up into North Queensland so it was traded back in. Bill was the third owner after the truck spent a short time as a bit of a promotional work vehicle for country singer Lee Conway (there was still bales of hay inside the truck when Bill picked it up).
Bill's work involved a lot of general freight as well as carting a bit of tallow from around the Burnett area. The White was doing a great job carting some big loads, so Bill thought it might be nice to see if he could get a little more out of the engine.
"We built it out to a 335," Bill recalls. "We fuelled her up pretty well to make it bark." No harm in doing that, right? Yes, there was. Bill finished the story with a cheeky grin. "It didn't last long, about three months."
That wasn't the only major drama the truck had either. An unfortunate incident with one of Bill's drivers behind the wheel saw the Road Boss lying in a position where the driveline could be hand washed without lying on the ground. The upside of that accident, no pun intended, was the origins of the new colours. Most of the White was ok, it just needed a new cab and bonnet, and with that came a change from the truck's original green.
Back on the road the truck became the backbone of the company. Even when Bill and Pauline had their first kid the whole family would go off to work in it. No need for a motel when you could fit one on the seat, one on the floor and one under the truck.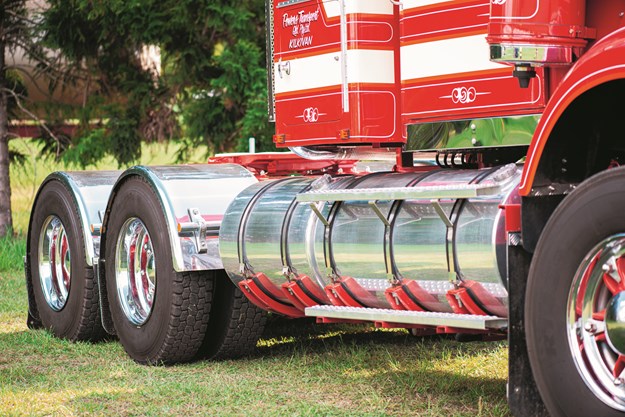 RETIREMENT AND RESTO
The Powers fleet grew and grew as their workload did, but the White ended up getting less and less work as its age started slowing it down. Eventually, as in well after its 30th birthday, the truck was retired and put out to pasture. Bill had plans to restore it back to its former glory, one of those 'after hours hobby projects' that people talk about. Though for a man as busy as Bill I couldn't work out when he would have been able to do it.
For once I was right – Bill did make an attempt, but getting started on replacing the interior floor was as much as his time would allow. The truck ended up back on the shelf as work took priority.
Three years after the poor girl was parked up, Bill's desire to see it restored to its former glory became too much. He knew he didn't have the time, so he loaded it onto a transporter and sent it down to the team at ReCar in Brisbane and let them get to work on it.
Bill had made it clear he wanted it as close to original as possible. That possibility didn't stem to the original fuel tanks – they were far too rusted out – so he was fine with a different version of those. The original 15-speed transmission had already been replaced with an 18-speed box and the original rear end had been replaced with Reyco's first air suspension set up (Bill had had that done as the original White aluminium chassis was a lightweight setup and meant Bill couldn't get the truck rated for more than 36t).
With those changes already done, ReCar set about rebuilding the truck from the ground up. The mammoth task was assisted by Bill buying another old Road Boss and towing it to ReCars' yard as a sort of 'pick it apart for pieces' present. The interior was also a huge job, with the history of the truck's hard work taking its toll. Again though, ReCar did a fantastic job of bringing it back. You may notice the seats aren't the original White seats as the boys at Seat'R'Us were unable to source them, so instead they replicated the very first Western Star seats available in Australia.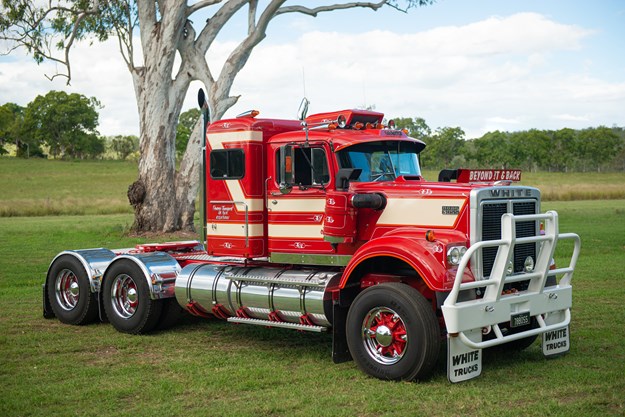 The job took many many months but when it was rolled out for Bill's inspection he was left speechless.
"It's very sentimental to us, it got us going," Bill tells me when I ask about the attachment to the Road Boss. I also asked him if he knew how many times the odometer had been around the clock and he laughingly responded: "I'd hate to guess."
You definitely couldn't guess; the truck looks as pristine as the day it rolled off the production line. Though I should wrap up by informing you of exactly why I would have called it 'Violin' and exactly why it's nowhere near the 1978 White Road Boss that did roll off the production line.
When you get the privilege of hearing the Road Boss roar by, you will be enjoying the sweet harmonic tunes of a 440 triple Cummins. Never heard of a triple Cummins before? I'm not surprised; it's a creation of one of Bill's maestro mechanic friends. He was called in when Bill had blown the original motor and with a lot of skill he took the best parts of three different Cummins engines and created the beast that I stated at the start. It just sounds sweeter with age, the perfect violin. Better sounding and just as striking as it was back in 1978 when it first turned a wheel.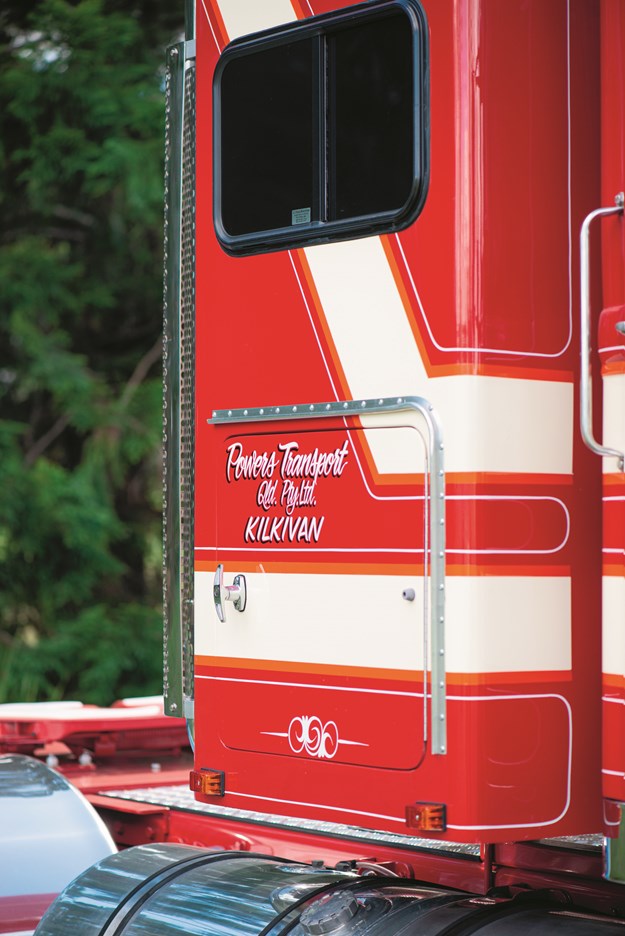 Subscribe to our newsletter
Sign up to receive the Trade Trucks e-newsletter, digital magazine and other offers we choose to share with you straight to your inbox
You can also follow our updates by liking us on Facebook. 

Trucks For Hire | Forklifts For Hire | Cranes For Hire | Generators For Hire | Transportable Buildings For Hire