Lovin' the LTL
---
It's big, bold and it blings. Jamie Redshaw recalls his successful search for a Ford LTL 9000, its tough working years and its current role as a stunning showpiece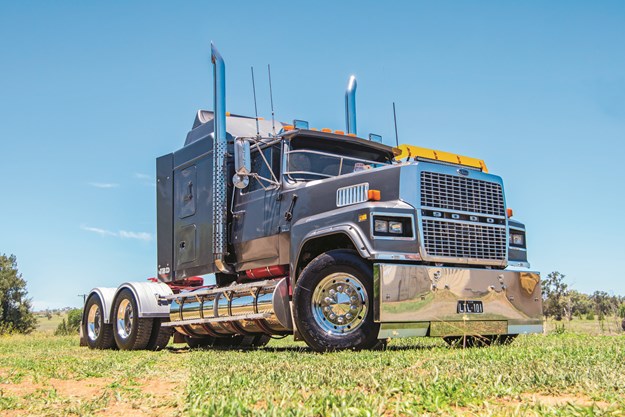 Welcome everyone to my very first Mills & Boon love story. It's not going to be one of those trashy Fifty Shades of Grey kind of stories, mainly because the object of affection is just one shade of grey, but also because that would just be a little too creepy for a trucking magazine.
It is a love story but it's also kind of a 'true blue' battler story. In fact, it's more a battler story than a love story but I was trying to appeal to the broader audience with my opening line.
Now in order to have a good battler-love story you need a hardened protagonist that's been there and done that. A tough Aussie battler that's weathered the weather, survived the tough times and seems to always keep his head above water with a smile like the second mouse (the early bird gets the worm, but the second mouse gets the cheese).
Enter Jamie Redshaw. Jamie has been in and around the transport industry for longer than I've been on this earth. Now to bridge the gap between battler story and love story we need a focus for devotion. Of course, we could refer to Jamie's lovely wife Jody, or their two boys Daniel and Bradley, but that doesn't really work for my storyline, so let's introduce another love interest. The Ford LTL 9000.
As any truck fan will attest, the LTLs just seem to carry an air of coolness about them that has stood the test of time, and I'm talking 'German shepherd wearing sunglasses on a surfboard' levels of cool. It's no surprise then that Jamie and his company JBD Transport owe a lot of their success to his stunning 1991 Ford LTL 9000.
Jamie grew up with a love of the old LTLs. His dad, John Redshaw, bought several brand-new ones when he was running J & J Redshaw Transport out of Quirindi, NSW. Jamie's youth was spent learning to drive them, practising driving them, and more often than not weekends were spent cleaning and polishing them. Naturally, Jamie got his licence in an old LTL and then spent a fair chunk of time driving them for his dad's company.
Eventually with Ford's decline in the heavy truck market, John moved into the Western Stars and that became Jamie's truck of choice. However, he never forgot his first love. This is where we get back to our love story theme.
RUGGED CONDITION
While Jamie did end up off driving for other companies, when he came back to work for his dad he was continually pestering him about driving an LTL. With a fleet of stunning 'Stars John couldn't believe his son would really want to drive an old Ford so chose to keep him in a Western Star. Not one to be swayed from his true love, Jamie started looking around for his own LTL. So in early 2012 things began to change in the Redshaw household.
"A mate, who knew I wanted one, rang me up to say he'd seen one and the guy only wanted 28 grand for it!" Jamie recalls, though he does admit, "it was pretty rugged though."
They say beauty is in the eye of the beholder and that's why the state of the old weathered 1991 Ford LTL didn't bother Jamie. It was his – dents, damage and debris. This was his 'Titanic' love story (without the iceberg, sinking ship and Rose's gawdy necklace.)
Jamie remembers that day for another reason too. "I went to pick it up and the guy said, 'what are you going to do with the trailer?' I said 'what do you mean' and he said 'well, it comes with a tautliner'," Jamie recalls. He pointed out he didn't want the trailer; he just wanted to pay for the truck. When informed that the price included the trailer he hooked it up and headed home. On the LTL's 21st birthday it was shifted home and about to begin a new life as the backbone of JBD Transport.
"It was all still registered; the whole lot of it was knocked around pretty much," Jamie admits. He got it home and pulled it all apart to see exactly how much was needed to be done to the old girl.
For the next six months the truck sat in Jamie's yard. As money came in (Jamie was still working for his dad), repairs were knocked off. The mighty 400hp (298kW) Cat 3406B was leaking oil like a … well, like a 21-year-old 3406B. The fuel tanks were dinted up worse than a heavyweight boxer, the bumper had more horrid marks than my high school English report card and there was hardly enough paint left on the truck to cover a kitset model of a 1991 Ford LTL.
The engine got fixed up and while the truck could have earnt a crust, Jamie admits that, "I'm a bit funny and don't like driving an ugly looking thing."
So, the decision was made to keep driving for wages until he was happy with the LTL hitting the road. Hammering the tanks straight was about as optimistic as a Wallabies fan planning for the return of the World Cup, so instead Jamie opted to let the boys over at a Lemon Tree Passage fabricators have their first attempt at stainless wrapping of tanks.
For a first attempt they did a great job. The depressing bumper issue was solved with the purchase from a wrecker of a second hand Western Star bumper. The same wreckers, as well as many others, helped Jamie find and fit parts to restore the interior to as close to genuine as possible.
Next mission though was the repaint. The painting was to be done by Tamworth locals Nymans Smash Repairs. Jamie wasn't too sure of what colour to paint it, leaning towards white with maroon stripes, until he happened to be in at Nymans one day when a bloke drove in in a new Holden Colorado. So those of you who picked the colour from the Holden range, well done to you.
SWEATING IT OUT
So it came to pass that in 2013 JBD Transport was finally able to turn a wheel for profit. Like any good love story, we can't skip straight to the fairytale finish. There has to be some hurdles. You know how the story goes: boy meets truck, boy loves truck, boy buys truck, boy fixes up truck, boy drives truck all the way to Emerald where the air-con belt breaks, leaving the boy to sweat his way through the entire trip and come home drenched, tired and probably 15kg lighter. That may have been the first trip, but like the truck itself it didn't break Jamie.
JBD Transport grew from there. At the start there was a mix of general freight work that kept him and the LTL covering most of the east coast. The general freight was often mixed with loads of hay, the single trailer combination turning heads everywhere it went. As the company began making dollars, most of those went back to adding extra little bits to the old LTL, keeping her in tip top condition.
Part of keeping it looking good included swapping out the rear end. In addition, its spider rims were replaced with the air-bagged set-up from the back end of a Freightliner. "I should have left it on springs, it's just never ridden as well," Jamie admits afterwards. Although the shiny rims that resulted were a good trade off.
Another hiccup along the way was the rebuild on the 3406B motor that set Jamie back a fair chunk. Like almost anything you buy online these days, Murphy's Law states that no sooner does the warranty run out then the item shall quit on you faster than an Aussie tennis star.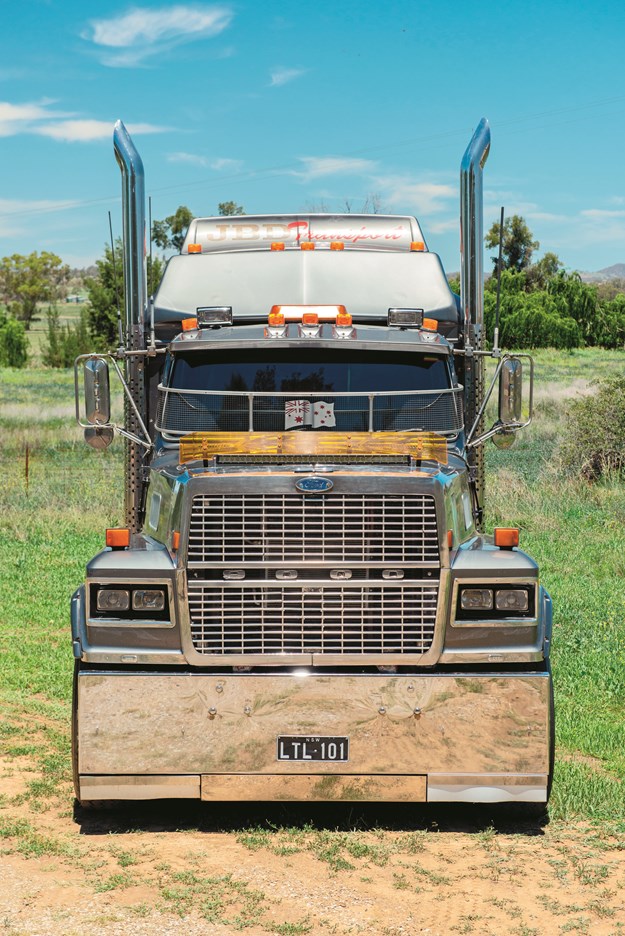 Sure enough, six months out of warranty and the big girl gave up the ghost. This time rather than rebuild the aging heart of the LTL, he ended up paying less money and picking up a hot run 500hp (373kW) Cat 3406E. "The only deal with it was the guy would only warranty it if you left his place with a loaded B-double behind it," Jody informs me. The motor needed to be worked from day dot so that's exactly what Jamie did.
He ran the LTL for another 18 months with B-double tippers behind it before retirement became a more common topic of discussion around the Redshaw table. No, not Jamie's retirement. Jamie is one of those Aussie battlers that'll be late for his own funeral because he's too busy working. No, the retirement talk was all about the LTL.
"It was working pretty hard out there, especially on the gravel roads," Jamie admits, and he wanted to avoid it getting bashed around too much. The LTL was retired after two and a half decades of trusty, comfortable service, replaced in the JBD fleet with, ironically, a Western Star. But it has not been forgotten or neglected. Jamie now gets to share his LTL passion with his sons and many others as the truck gets wheeled out for shows and special events whenever it can be.
Now it's time to conclude our love-battler story. Obviously a good battler story ends with some poignant lesson about digging in, never giving up and facing your challenges. Well, the LTL did dig in. It also gave up but that was just a coolant issue and it has faced its challenges. So, we ticked the boxes there.
A good Hollywood love story ends with heartbreak, a major plot twist, or a deathbed confession revolving around some other form of unrequited love. If you are looking for that here, then like most of my real-life love stories I'm going to leave you disappointed. Because Jamie's love for the LTLs hasn't diminished, it hasn't faded, and it doesn't look likely that it will.
Aided by the fact the LTL just looks better and better with age, I'd say it's been a pretty perfect love story.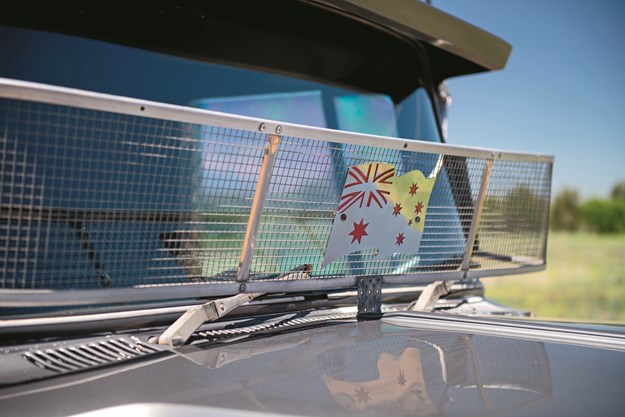 Subscribe to our newsletter
Sign up to receive the Trade Trucks e-newsletter, digital magazine and other offers we choose to share with you straight to your inbox
You can also follow our updates by liking us on Facebook. 

Trucks For Hire | Forklifts For Hire | Cranes For Hire | Generators For Hire | Transportable Buildings For Hire