POCKET ROCKET: 50 YEARS ON AND CANTER STILL GOING STRONG
---
First introduced to Australia in 1971 history, the Canter has continued to evolve and meet the changing needs of its customers – and there's no sign that is about to change any time soon
In 1978, three 'Japanese Sumos' climbed into a Mitsubishi Canter truck, before one declared that it was "Not so squeezy!"
The ad soon aired across the nation on TV and its impact was immediate. Canter became a household name, along with the term "Not so squeezy".
"It made the brand," says former Fuso Truck and Bus director, Richard Eyre.
"It would have to be one of the top 10 all-time ads made in Australia. Everyone still talks about it to this day."
Interestingly, the so-called 'Sumos' were not even Japanese. The ad agency wasn't about to cough up and fly Sumos in from Japan, so it sourced some rather chunky Maoris to fulfil the roles with the help of some make-up and bad Japanese-English.
RIGHT PRODUCT, RIGHT TIME
By the time the ad was aired, Australian consumers were well and truly coming around to Japanese cars and trucks after some initial hesitation.
Mitsubishi Japan introduced the Canter name in 1963, applying it to a truck it had made for three years with the name T20. By 1970, Canter was being exported across key markets in the Asia Pacific region, including then Australian-administered Papua New Guinea.
Then, in 1971, Chrysler and Mitsubishi inked a deal that meant the Canter would arrive in Australia late that year badged as a Dodge. That might seem strange in hindsight, but remember that Mitsubishi cars such as the Lancer and Galant wore Chrysler badges in the period before Mitsubishi took over Chrysler's Adelaide factory and those models became Mitsubishis again.
The first newspaper advertisements for the Dodge Canter explained that the forward control (cab-over) truck was available with three models, was rated at up to 3.5 tonnes and had a 95bhp engine. It was described as a 'great all-rounder'.
The price was listed at $3,287. That sounds like a cracking deal until you realise you could get a rip-snorting Ford Falcon GT-HO Phase III for a smidge more than $5,000. Those really were the days.
Nearly 50 years later, Fuso has sold a grand total of 72,700 Canters. The first one sold in Australia was only available with a 2.3-litre four-cylinder petrol engine (KE47) and that was just-fine for the time.
Although advertisements boasted of 'extra' features such as "flow-through ventilation" and "safety glass all-round," the cab was rather Spartan, and was also pretty damn small. Let's not forget that the truck was initially designed for the Japanese market, where the average size of drivers was a fair way off that of the relatively giant Aussie drivers.
But the Canter soon developed a strong following in Australia thanks to being good value for money and durable, hallmarks we still see in today's Canter. Australians soon found out that the Canter could do just about anything. One owner decided to use a single-axle Canter to tow a massive boat all the way from Perth to Sydney (see photo page x). The little truck looked tiny compared to the vast boat it was hauling, but it made the trip without missing a beat.
This model Canter would also be immortalised on the silver screen thanks to the popular 1995 comedy movie Babe, which features a pig that becomes a champion sheep herder. The Canter gets a bit part, driven by some baddies intent on stealing sheep.
In 1975, a 2.7-litre diesel engine was made available alongside the petrol unit. The line-up wasn't all that complex back then, with a choice of petrol or diesel, short or long wheelbase. Some fully-imported mini-mix agitators were added, and proved popular at the time. Four years later and the Canter was known as a Mitsubishi instead of Dodge as Chrysler started its departure plan.
CANTERING ALONG
Mitsubishi Motors Australia Limited (MMAL) introduced a new series Canter in 1978 with a new 2.4-litre petrol engine and new 3.3-litre diesel.
It was the first time a wide cab was offered in Australia, much to the delight of king-sized locals and those three Sumos.
Mitsubishi introduced the fully-imported Canter tipper in 1983, and it remains a central part of the Canter range (there are actually four tipper models available these days).
In 1986, Mitsubishi introduced an update that brought the 4D32 3.3-litre turbocharged direct injection diesel engine with 117hp.
"It was the racing truck of the era," says a company veteran. "It was a rocket and was so much faster than the competitors."
It was fast and the newspaper publishers soon purchased the truck for its newsagent deliveries, especially out in rural areas, after hearing of its pace. Heavy haulage operators also liked using the hot-rod Canter as pilot vehicles for their big trucks.
"Back then, trucks weren't limited to 100km/h and the heavy-haulage guys would often stretch their legs and go faster if they were out in the middle of nowhere. That little Canter was the only little Japanese truck that could keep out in front," says our source.
OFF ROAD CHAMPION
But Mitsubishi Australia wasn't just focussed on the road and had been working with head office in Tokyo for years on a truck that could handle harsh off-road conditions. At the time, Mazda sold a 4x4 model, but it was a road-biased truck with a 4x4 system that was designed to help on slippery surfaces such as smooth gravel or light snow.
Mitsubishi did a lot of work, much of it done by the team in Australia, to come up with a 4x4 model that could handle some seriously rough roads. It came up with the FG 4x4, which featured heaps of ground clearance, low range with excellent reduction, axle breathers to stop water getting into the axles during water crossings and frame modifications for added strength.
The 4x4 Canter arrived in 1989 and was an instant success. Rural fire brigades loved it, and for some time, the biggest 4x4 Canter fleet in the world was owned by the NSW Fire Service.
LIGHT MAKEOVERS
Two years later, the petrol engine was finally dropped from the Australian Canter line-up, never to be seen again. That same year, a 3.9-litre diesel engine with a better emission rating replaced the 3.3-litre and it was still a handy engine even though it was more about torque than top-end punch.
Mitsubishi welcomed back the 'standard' narrow cab, now called the 'City' cab, to its range in 1991, with the logic being that some customers actually want the 'squeezy cab' in order to fit into tight alleys and narrow city spaces.
1995 brought an updated model, first with a 3.9-litre engine designed for the US market, before a 4.3-litre Japanese domestic engine was selected for Australian duty.
Mitsubishi would then bring in some smaller engines for narrow cabs, such as a 2.8-litre diesel and then a 2.9-litre unit shared with the Triton that powered a ute-alternative model which proved popular with tradies.
1998 would see the first 'Super Low' Canter, which has since returned to the range. This was designed for customers who need to access places like underground carparks.
New cabs arrived in 2005, while the wide-cab's 3.9-litre engine was now turbocharged and intercooled, while the narrow cab used a turbo/intercooled 3.0-litre unit.
In 2008, Fuso introduced a new and updated Canter to Australia. It turned to the diesel engine that had been tuned for the performance-hungry US market.
Our friends across the Pacific are generally not fans of diesel engines unless they are 15-odd litres and sitting in a Peterbilt, so Fuso engineers focused on delivering a diesel with strong off-the-line performance.
Back then, there was no replacement for displacement, and the answer was a 4.9-litre four-cylinder. It was also teamed to a good-old torque convertor automatic, while a manual was available, although it had slightly less power.
It proved popular in Australia and was known for its good performance, but even more importantly, its reliability.
The Canter is still sold in the United States, but if the customers still can't be convinced to drive a diesel, they can opt for a General Motors six-litre V8. That's right, a petrol-powered Chevrolet engine, which used to sit under the bonnet of Commodore SS hot-rods, is hooked up to a six-speed Allison automatic. It sounds it would be a lot of fun, unless you have to pay for the petrol, or tyres.
ELECTRIFIED
The 'Eco-Hybrid' Canter arrived in Australia in 2009, with a battery pack assisting the diesel engine and delivering fuel savings estimated to be around 30 per cent. However, it came with a significant price premium that ultimately limited its potential.
Fuso Australia is now actively pursuing with Japan the introduction all-electric eCanter to our shores. This follows on from some local testing that only increased demand from Australian customers who are prepared to invest in a truck with zero tailpipe emissions. No arrival date has been set, thanks to high demand and low supply of the truck's lithium ion battery packs.
STAR POWER
The next-generation Canter was the first one that was wholly-developed after Daimler had become the controlling owner of Mitsubishi Fuso.
The TF Canter arrived in Australia in 2011 and was substantially different to the previous model.
Efficiency was a key focus of this truck, both in terms of fuel efficiency, but also optimum payload. So, engineers introduced a new European-developed three-litre four-cylinder turbo diesel engine. This engine proved to be significantly lighter than other engines in the rival Japanese trucks that were much larger. This was important, especially in the car-licence class, where the 4,500kg GVM doesn't leave that much room for payload if the truck is a bit of a porker.
To this day, the Canter has a class-leading low tare weight across the range, including its tipper models that can carry more than their competitors.
A five-speed manual was available, as was a clever new six-speed dual clutch transmission (DCT) called Duonic. This was the first DCT available in the commercial vehicle world and was chosen for its super-fast shifts. Gear changes in single clutch AMTs in the light truck classes suffered, and in some cases, still suffer from frustratingly slow gear-changes. With a dual-clutch transmission, the next gear is selected before the gear change, which means there is hardly any interruption to the smooth acceleration performance.
The FG 4x4 Canter also benefited from the new engine in 2011, and was introduced with a single-speed transfer case.
Some customers, who used their trucks for tough off-road work, such as rural fire brigades who need the extra urge that the low range delivered, made it clear they wanted an option of low range.
Fuso listened and went about developing low range for the new engine/gearbox combination and it arrived in Australia in 2014.
A further improved Canter, with new-look black interior and new driver's seat, arrived in 2017.
Fuso also introduced the first five-year warranty across the range, including Canter, that year. It was an added bonus for customers, giving additional surety, and remains in place to this day.
Then, in 2018, Fuso rolled out its extremely popular 'Built Ready' range, which included pantech, tradie alloy tray, tipper and fridge body models. And as you might expect from the name, these models are ready to hit the road and start earning money as soon as they leave the dealer lot.
CURRENT CANTER
This year, Fuso continued to improve the Canter, fitting all models, except for the 4x4, with a standard safety pack that included electronic stability control, traction control, lane departure warning and active emergency braking. The addition of the radar-based system was a big deal, especially given many tradie utes still don't have AEB, which can detect a likely impact and perform emergency braking even without the input of the driver. It's the kind of thing that could avoid a low speed nose-to tail crash in urban traffic or reduce the severity of a high-speed nose to tail crash at speed. Importantly, it can also start braking when it detects a pedestrian. 
As you can see from its long history, the Canter has continued to evolve and meet the changing needs of its customers and there is no sign that is about to change any time soon.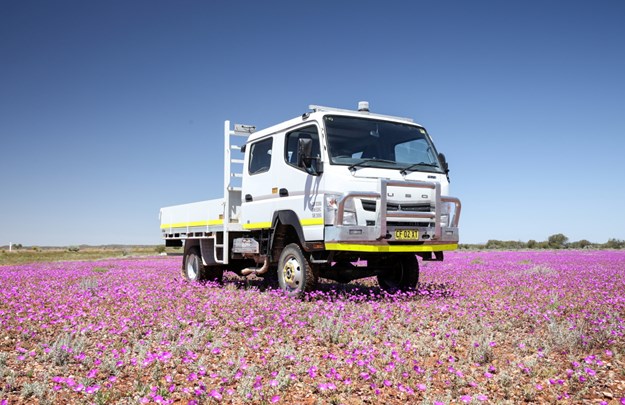 Subscribe to our newsletter
Sign up to receive the Trade Trucks e-newsletter, digital magazine and other offers we choose to share with you straight to your inbox
You can also follow our updates by liking us on Facebook. 

Trucks For Hire | Forklifts For Hire | Cranes For Hire | Generators For Hire | Transportable Buildings For Hire