STUNNING 379 PETERBILT HONOURS THE FALLEN
---
It's too not often that the trucking industry honours the police force, but that's exactly the case with this stunning 379 Peterbilt named 'End of Watch'.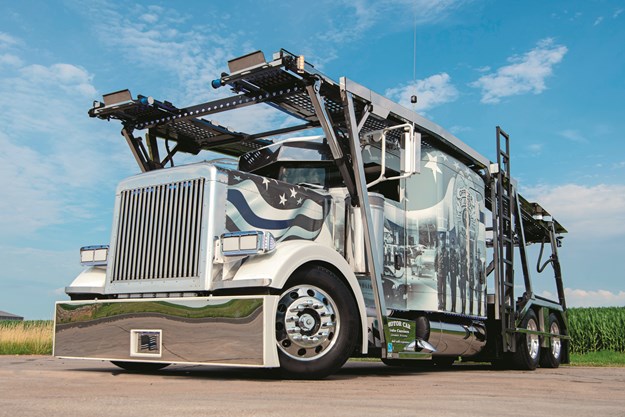 In 1977, the same year this planet was graced/cursed with my presence, there was a documentary that came out to worldwide accolades. The documentary really emphasised the close working relationship between the American trucker and law enforcement officers. Yes, it did emphasis the gap between the objectives of both industries, but it also highlighted a sense of companionship that was at the core of the two diametrically opposed forces.
The main representative for the law enforcement industry, Texas County Mounty Sheriff Buford T Justice, showed us the determination of those badged with protecting the safety of our roads, while the protagonist for the transport industry, Cletus 'Snowman' Snow, displayed a professional driver's dogged determination to safely deliver his assigned load in the timeframe stated.
By the end of the documentary, both sides had managed to see and appreciate the inherent dangers of the other side's profession and a mutual respect was formed.
That was over four decades ago. Since then the relationship between transport and law enforcement has not always been amicable. I do believe though that, at its heart, drivers have a respect for those who put their life on the line every day, and in our world they tend to respect the dangers that come with our chosen profession.
There are not many ways that we are able to show our respect sometimes, so when I ran in to Jake Robak and his 2006 379 short hood Peterbilt called 'End of Watch' at Walcott in the US state of Iowa, I couldn't help but break out the Nikon and shoot this beautiful rig (have to be careful with that line in America, it means something different over there).
My opening paragraph may have been a little tongue-in-cheek, but this truck is all 'Heart-n-Soul'.
Now I'm kind of patching this story together a bit and there are a few place names and locations that I've had to leave out. Not to protect the innocent or anything like that, it's purely because even when I slow my Dictaphone right down, I still can't interpret young Jake's accent. You think us Kiwis are hard to understand, try a local boy from Minnesota.
I did however get enough information to figure out why this mean-looking Peterbilt is decorated with such eye-catching graphics. While the rebuild of this old Pete is all down to Jake and his good mate Jim Halliday, the design of it is all Steph Robak, who I learnt is also an extremely understanding wife. I say that after finding out that Jake and Jim spent almost every weekend – Friday arvos until Sunday nights – for six months in the shed rebuilding and refurbing the 379.
However, as well as being the brains behind the design of 'End of Watch', Stephanie is also a law enforcement officer.
Officer Stephanie Robak of Morrison County is a deputy sheriff and 911 dispatcher. Her safest job is when she's away from work and helping with the office side of her husband's car carrying business. Steph is one of many brave women out there, not brave because she married a truckie, but brave because she puts her life on the line every time she heads to work. It was this element of her chosen profession that influenced her design of the latest creation for Robak Auto Transport Inc.
Refurbishing talent
Jake started Robak Auto Transport nearly a decade ago. Like all truck addicts, he grew up with a close family member who lived and breathed diesel and it naturally flowed through onto Jake. Car carrying wasn't his area of expertise but when he decided to start his own company it was the field he chose to head into.
Now, this next part of the story is when I get a little envious. Like Jake, I love my trucks. Like Jake, I love to drive and, like Jake, I love to shine. However, unlike Jake, I have about as much skill when it comes to rebuilding old trucks as a three-legged donkey has of winning the Melbourne Cup. Actually- probably less!
When Jake chose to go into business, he also decided he would refurbish and rebuild all his own trucks. As the trucks got upgraded or replaced, Jake's skills and design and fabricating also went to a new level. So when 'End of Watch' arrived at his door it was looking a lot more like 'End of Days'.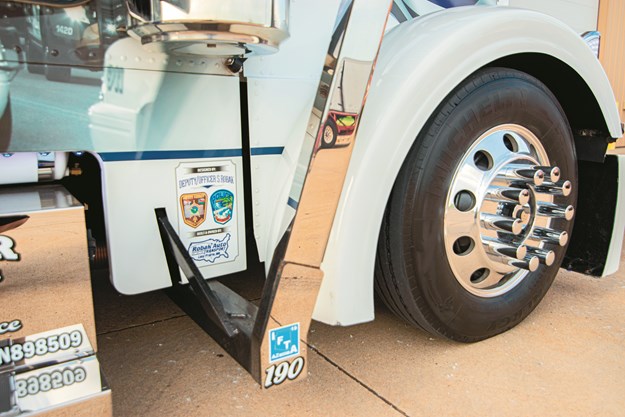 The truck's previous owner of the 2006 379 had no other home and so the truck was, shall we say, 'well lived in'. Jake's official statement listed it as 'junk' but it's just too hard to imagine.
Around 1.8 million miles under its belt is about right, but the 42,000 engine idle hours is a lot more telling. So Jake and Jim took to the tear down and started from scratch.
The majority of the work was paint and panel issues, with the Caterpillar engine and running gear looking in fairly good nick. The boys were left to get the truck ready while Steph worked with her colleagues in the law enforcement arena to come up with options and permissions for the wrapping that would be applied.
Close to 99 per cent of the work was done in-house; even the interior was stripped, rewired and redecorated by the home team. There was no doubt the 'End of Watch' theme would roll over into the interior but I'm still not sure where they came up with that flooring idea.
The stainless work was completed by another good friend, Steve Pearson from Roadskins. Jake informs me there were 10 4x10 sheets of stainless used in the blinging-up of the truck and testifies, "We clearly left Steve unsupervised for too long."
Acknowledging lives lost
The final big talking point is the actual design and the importance of everything printed on the truck. On the tread plating up the centre of the truck you will find around 37,000 names. That's all the officers who lost their lives in the US between 1996 and January 2017. There is also a deck plating there to acknowledge all the K-9 officers that have been lost as well.
The images on both sides of the truck are real images as well. The passenger side (our driver's side) is from the service for Officer Decker of Cold Springs who was gunned down during a welfare check on a regular day's work. The driver's side is from back in 1996 where an offender was shooting police during an incident in Dallas, Texas.
Jake has been questioned by many people as to exactly why he has set up his truck in this fashion. He says it's to acknowledge and commend those who have laid down their lives. He has also added his and Steph's names to the steps as a way of telling people that his wife is one of those at risk every time she does up her uniform.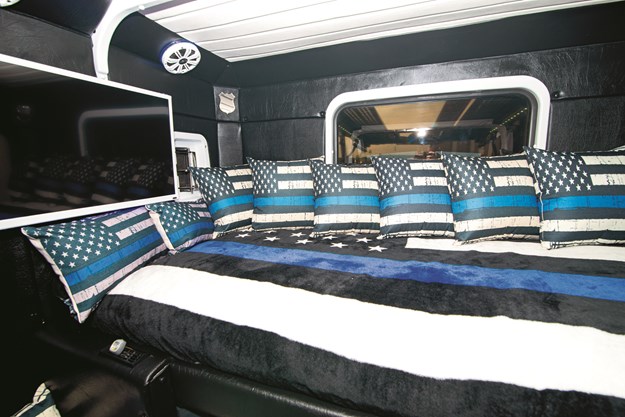 Jake was very emotional as he told me, "No one should have to go to their jobs not knowing if they will come home that night." He is spot on.
Here in Australia we don't have the same toll taken on our police and rescue staff, but as truck drivers we must respect Jake's line because our profession also carries the same burden. Every time we start up that engine and head out, our lives are put at risk.
So, I commend Jake and Steph for the work they have put into this rolling memorial. A low riding 379 Pete is cool enough, but Jake's 'End of Watch' memorial is almost too cool to be legal.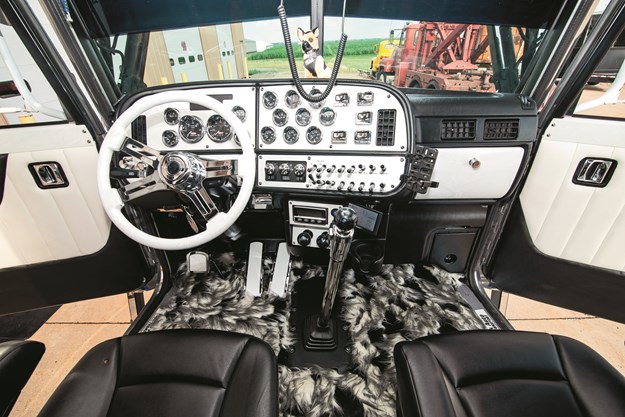 Subscribe to our newsletter
Sign up to receive the Trade Trucks e-newsletter, digital magazine and other offers we choose to share with you straight to your inbox
You can also follow our updates by liking us on Facebook. 

Trucks For Hire | Forklifts For Hire | Cranes For Hire | Generators For Hire | Transportable Buildings For Hire