TOKYO MOTOR SHOW PREVIEWS TOMORROW'S TRANSPORT
---
If you ever want to see the automotive future through concepts real or imagined, head to the Tokyo Motor Show for a few hours on a weekend when the masses merge to see anything and everything even remotely linked to tomorrow's transport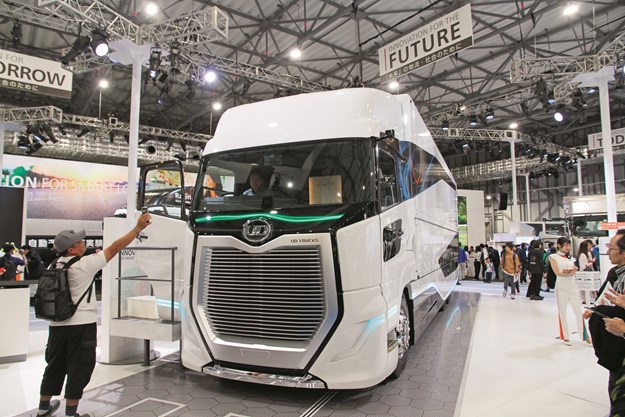 It happens every two years. The coming together of the weird, the wonderful and the downright wacky, and in 2019 the Tokyo Motor Show lived up to its long tradition of turning technology into comic relief.
Don't believe me? Well, consider Hino's show theme for this year.  'Transporting Every Happiness'. What the Donald Duck that means is anybody's guess.
In the hall next door, Hino's corporate boss Toyota was only mildly less fanciful with a theme of 'Play the Future', adding to the Fantasia folly with some bloke riding around a stage on an electric broom (I kid you not), sweeping among robotised micro pallets apparently making parcel deliveries.
Back in the truck hall, Daimler's Fuso was somewhat more subtle with 'Challenge the Changes', a theme that could be construed as questioning its own evolution.
Meanwhile, over at Isuzu the message was a plain 'Create With You', which, if nothing else, appeared to welcome any suggestion on how to build a better truck.
Yet apart from the cryptic themes and fanciful concepts, the Tokyo Motor Show invariably throws up some truly worthwhile insights into a future truck world; a world maybe not too far away in some cases. And best of all, with only four major Japanese truck brands, it doesn't take long to see who's doing what.
UD, for example. The theme 'Innovation for Smart Logistics' might have been the least enticing but UD's stand was, without question, the most comprehensive presentation of practical developments, both for today and tomorrow.
As UD puts it: "Logistics is the lifeblood of society but the industry is facing challenges including driver shortages, an explosive increase in e-commerce deliveries, road congestion and pollution."
All unquestionably true, and addressing those challenges, the company highlighted a few of the technologies it believes will help solve the social and commercial dilemmas of an increasingly stressed logistics sector.
Late last year, for instance, UD announced it is targeting mass production of fully electric and autonomous trucks by 2030, and critical to its 'Vision 2030' project are the 'Fujin' and 'Raijin' concept prototypes. Both are based on its current heavy-duty Quon model and both were on show in Tokyo.
Fujin is a high level demonstrator unit using real time GPS and advanced autonomous driving technologies. In August this year the truck performed Japan's first 'Level 4' autonomous driving trial by a heavy-duty truck on public roads.
Level 4 is high-level autonomous technology and UD was justifiably chuffed at the achievement. According to Douglas Nakano, the brand's senior vice-president of technology: "One of the key solutions for our time will be automation [and] in August this year we took a big step forward. We aim to offer commercialised autonomous driving solutions in confined areas in 2020."
On the other hand, Raijin is UD's electro-mobility demonstrator described as a "quiet and powerful hybrid prototype" reflecting the brand's progression 'Towards 2030' with fully electric heavy-duty trucks.
Have no doubt, the march to electric trucks of all shapes and sizes is picking up pace and with the resources of a committed Volvo Group for support, UD doesn't intend to lag behind any in the heavy-duty class.
QUON CONCEPT 202X
However, the truly big head-turner for UD, and easily the most intriguing of all the trucks on show this year, was the Quon Concept 202X.
Yes, it's just a concept but unlike many concepts, this one can actually be driven now, at least on a test track. On the inside, it was an entirely new world but with enough of the present to at least deliver some familiarity.
Actual operation was, however, something else entirely, with a card needed to scan the driver into the system, then sitting back and allowing the program to do its thing, such as determine if there were other 'connected' trucks in the area for platooning. And that was just the tip of what is undoubtedly the reality of possibility.
Built on the Quon platform, UD says future trucks like the 202X "will take smart logistics to another level. This future concept truck will be intricately connected to its surroundings, including other trucks, infrastructure and people, achieving new levels of efficiency, productivity, safety and sustainability.
"It will become indispensable to the infrastructure of future smart societies that will see significant strides in the use of IoT (Internet of Things) and artificial intelligence." Beam me up, Scotty!
ISUZU CONCEPT TRUCK
Meanwhile, just across from UD, Isuzu had its own technological teasers, none more radical and perhaps stationary than the FL-IR autonomous concept. In fact, a close peek suggested this was little more than a 'show special' mock-up from deep within the head of a designer with far too much time on his or her hands. 
Lightyears more relevant was Isuzu's electric ELF (N-series in the Australian market) EV walk-through van but for our money, the sight of the latest heavy-duty Giga and a subsequent press statement from Isuzu Australia were significantly more compelling.
Isuzu Australia executives were at Tokyo in force for a number of high-level events and with the heavy-duty market firmly in their sights, there's little doubt a rejuvenated Giga with a swag of advanced new safety features and the real prospect of a Cummins-powered version somewhere in the not-too-distant future, were high on the discussion agenda.
"We're always interested in developments at the heavier end of our global product range, and the Giga on display in Tokyo was impressive to say the least," said Isuzu Australia national sales manager, Les Spaltman, in a press statement.
"With the prospect of a partnership between IML (Isuzu Motors Ltd) and Cummins in the wings, we'll continue to closely watch the innovation of the Giga into the future," he concluded.
Watching very closely, we'd suggest.
FUSO ELECTRIFIES
Daimler's Fuso also has plenty to crow about when it comes to advanced technologies, notably in the light-duty electric truck business where its eCanter continues to lay the groundwork for the inevitable growth of electric trucks in city deliveries.
Since 2017, when it became the first all-electric truck to enter small series production, more than 140 eCanters have been delivered to customers in Japan, Europe and the United States.
Taking the technology further is the Vision F-Cell, Fuso's concept of an electric truck using the power of a fuel cell as one way to extend the range of an electric vehicle, reportedly up to 300km in the case of the F-Cell.
HINO LOOKS TO FUTURE
Finally, Hino's futuristic fanfare was the FlatFormer which, according to the YouTube video, uses 3D printing technology to build both the electric platform and the bodywork for a hugely conceptualised small freight delivery system.
Yet, whereas FlatFormer, described as a "super versatile mobility concept", is probably way off in the technological stratosphere, an eight-wheeler diesel-electric hybrid version of the heavy-duty Hino Profia (known here as the 700-series) is already in production.
However, lower emissions and better fuel economy are not the only Profia positives. As Hino states: "Based on GPS, on-board sensors, and 3D map information, the truck's system predicts gradients up to 100km away.
"It is equipped with the world's first technology where AI (artificial intelligence) predicts driving load and performs optimal hybrid control. This helps reduce the environmental footprint while minimising power consumption and maximising fuel economy."
Hino's way, I guess, of 'Transporting Every Happiness.'
Subscribe to our newsletter
Sign up to receive the Trade Trucks e-newsletter, digital magazine and other offers we choose to share with you straight to your inbox
You can also follow our updates by liking us on Facebook. 

Trucks For Hire | Forklifts For Hire | Cranes For Hire | Generators For Hire | Transportable Buildings For Hire