Burn, baby, burn
---
Amid much fanfare, the revamped Bullet Burnout Truck was officially unveiled at this year's Summernats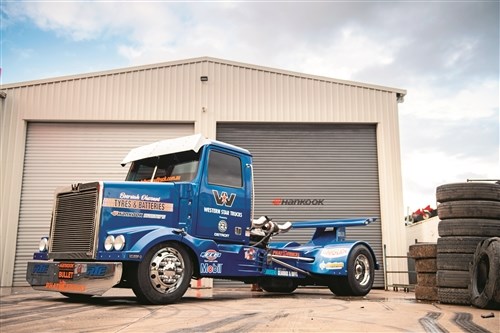 Let's all be a little honest with ourselves here, it doesn't matter how old we are, how young we are, how 'mature' we pretend to be, whether we wear a suit or high vis work gear, whether your mum still packs your lunch or you order a high priced soy mocha latte chai tea every morning. When you see someone with their foot hard on the brake and the other foot hard on the 'go' pedal, you still get a bit of the larrikin, 'Go on, give her some!' attitude. The ensuing smoke haze, well that's just our reward for positive encouragement, right?
Well, if you can't agree then I strongly recommend moving onto the next story because this one involves a lot of smoke. A lot of smoke. Sit back and imagine that rubber-laced aroma wafting into your nostrils as we take a look at the resurrection of the 'King of Tyre Smoke', the fresh-looking Bullet Burnout Truck.
For those wondering, yes, this is the original Bandag Bullet. Same running gear, same fire breathing 16V 92 engine; it's the same diff that spins the same four wheels fast enough to cover a small town in a white haze. However, it is also no longer the Bandag Bullet. It is now the Bullet Burnout truck, owned and operated by one of the legends of our industry, a successful transport operator that also happens to be one of the oldest kids you'll ever meet.
Laurie Williams is the man dressing up in a flameproof suit to entertain the crowds these days. Laurie has featured in magazines previously with his impressive Phat Cat Western Star. Chances are, if you have been to any truck shows on the east coast you have most likely met Laurie or at least know his North Queensland Truck and Machinery Movements trucks.
FOR THE RECORD
So how did a man who specialises in transporting vehicles around the country end up with a truck that sends smoke around the country? Easy. We blame Frank Gaffiero.
I guess we should have a little history lesson folks. For those that aren't aware, which would be a very small number of you, let's do a quick summary of the Bullet. Frank Gaffiero is the name most synonymous with the original Bandag Bullet. Frank was the legend that could turn that thing on a dime and set off fire alarms three streets away with the amount of smoke he put out. However, it wasn't just him.
Frank's brother Charlie was actually the mad scientist that had the leading hand in the bullet's creation. The brothers originally fitted two 8V71s to a White Xpeditor truck body, which happened to be plain white. The boys were building a truck they could take to the local drag strip and they succeeded.
After a couple of years Bandag jumped on board and the 'Bandag Bullet' was born. Over the next few years there were three major changes. Firstly, the motor. Secondly, the cab and thirdly, the purpose. The timeline of these changes to the Bullet are a little hazy (my first smoke pun) so we shall just deal with them without confirming dates.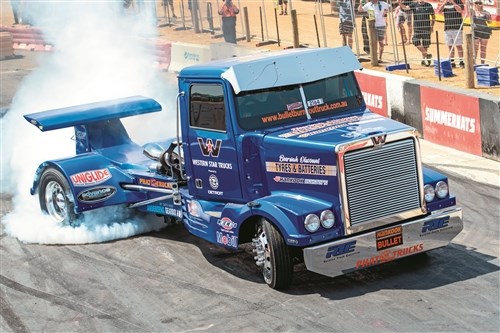 As I mentioned, Frank and Charlie originally built the Bullet with two 8V71s coupled together that did the job perfectly until they decided to throw it on a dyno and seized it up. So obviously when it came time to rebuild, bigger is better, right? In went two 8V92s. That gave them 1,500 cubic inches, 2,400hp/1,790kW) (2,800hp/2,088kW on nitrous) and the original 75mm injectors were increased to 265mm pistons. For those more mechanically minded than me, that stuff means a lot.
The reason for the cab change? Well, let's blame the Kiwis. The Bullet was on a nationwide tour of New Zealand when something went wrong and the White ended up kissing the asphalt. Frank copped it worse than the truck though, walking away with three broken ribs, a broken bone in his hand as well as multiple cuts and lacerations. In typical Anzac spirit though, a local offered to fix the truck up. It was back on tour within a week and no bookings were missed. On its return to Australia though it was decided a change was needed. So, Frank and Charlie got creative and fitted a W-model cab, with a T400 bonnet and out emerged the infamous Bullet.
Finally, the purpose. The Bullet was built as a drag racer and was just that for the majority of its life. In July 2005, under the watchful eye of some suits from the Guinness Book of Records, Frank set a new world record for a conventionally-powered truck from a standing start. It took Frank 19.76 seconds to cover the one kilometre at an average of 182.14km/h and a calculated top speed of 305.5km/h.
The change in direction for the Bullet came about purely by chance when Frank was being the big kid he was known to be. He got a bit of smoke going, got a bit of a spin on and next thing you know the event manager was bailing him up with the offer of more money to do that again. So began the transformation from drag truck to burnout truck.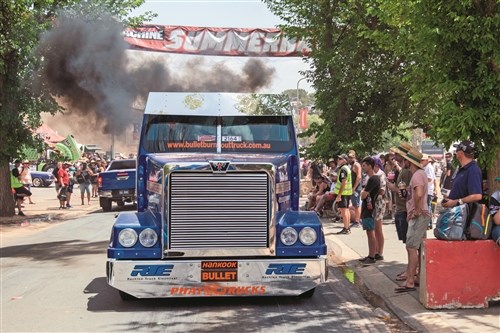 GRIEVED GREENIES
For nearly four decades Frank piloted the Bullet all around Australia and New Zealand, impressing crowds and upsetting greenies. The workload took its toll and as Frank approached retirement so did the Bandag Bullet. It's about here that Laurie wheels in.
Being quite the burnout aficionado himself, Laurie had actually been a regular pest in Frank's side over many years, pointing out he'll happily buy the Bullet when Frank was ready to retire, in fact he was trying to buy it even before Frank retired.
That pestering was intensified when Laurie started sending his trucks to CPF Detroit, Brisbane's leading Detroit Diesel specialists. The company had originally been started by Frank and his brother in the mid-1980s.
In 2006 Dave Reid and Cameron Pegg bought in with Frank. Dave had regularly worked on Laurie's trucks at his previous company and Laurie kept that relationship going when Dave began at CPF. It was also rather handy that Dave had spent a fair few hours working on the Bullet's four-cylinder heads, its 16 piston liners, its two crankshafts, its ceramic coated pistons, Teflon skirts, as well as its two huge blowers and four turbos. It ensured that when Frank finally relented to Laurie's pestering and agreed to sell it, there was someone there that knew the truck's history and an owner who was determined to honour the truck's illustrious past.
It had been a good few years since the Bullet had been out on the circuit spinning its wheels, but Laurie was determined to bring it back for a whole new generation of fans. Unfortunately, due to commercial factors, Laurie wasn't able to keep the traditional look and colours alive so the first change, while Laurie sussed out a plan, was to get the Bullet repainted in Phat Trucks colours so he could get it out on the truck show circuit.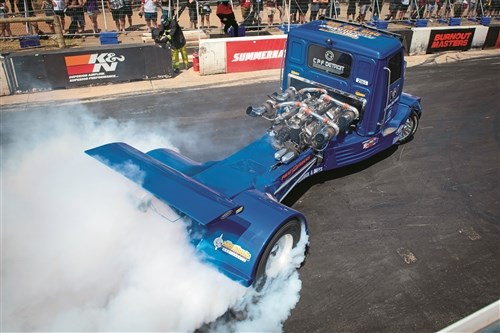 Knowing the right people always helps in the transport industry and Laurie had the truck into Phil and Kirsten at Advance Tech Auto Body Repairs who turned it around in only a few days and allowed Laurie to unveil the new look Bullet at the Lowood Truck Show.
The paint job was only a minor cosmetic change compared to what Laurie had in mind. With a history and passion for the Western Star brand, Laurie was keen on getting the Bullet back to its original roots. Laurie already has several working Western Stars, including his award-winning Phat Cat. He also has another truck show favourite in 'Mini Me', a downsized Western Star tractor unit. So the idea of rebranding the Bullet as one of his beloved Western Stars was top of the tree for Laurie.
Laurie credits Penske Power Systems salesman Errol Weber for initiating the change. Long-time friend Errol was able to plant the seed of the idea within the Penske Power Team and it soon grew. With the help of retail truck sales general manager Wayne Wallace and national sales manager Dale Christensen, the wheels started turning. Western Star Trucks were soon on board. The offer of a 4800 cab and bonnet ensured the truck would have the best look available.
Once the go ahead was given, Laurie was into it. The opportunity had arisen for a special unveiling at the home of tyre smoke, Summernats 2020 and Laurie had three weeks to get the transformation done.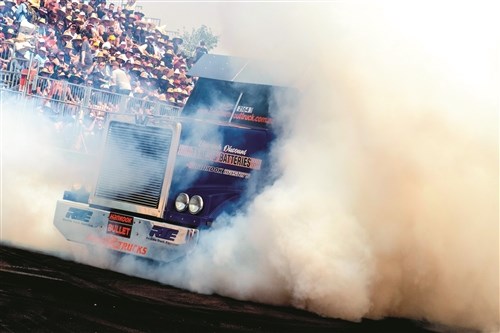 SUMMERNATS SCHEDULE
For those of you that think it's as simple as lift off and lift on (yeah, I was kinda one of those), I can tell you now it wasn't. Bear in mind this is a couple of weeks before Christmas and all new cab mounts and structural points had to be added or modified, as well as a roll cage, re-plumb the braking system and re-engineer the dash. Again, it comes down to having good people around you.
Advance Tech once again got the new cab and bonnet painted as well as the mammoth task of getting it fitted. Not an easy task when the truck was setup for the much smaller W-model cab. The ever-busy Brock Macdonald from Rocklea Truck Electrical had his hands in there, as well as Dave and his team from CPF. The team at Western Star were mightily impressed when Laurie had the rig on the back of his trailer heading for Summernats in the final days of 2019.
But he did get it done and arrived at Summernats to find he had been included in the Meguiar's unveiling list. For the uninitiated, there are a select few vehicles kept under wraps at Summernats every year. These are the highlights of the show and in front of a capacity crowd they get revealed with all sorts of bells and whistles. The Bullet Burnout Truck had the honour of being the second vehicle unveiled and the biggest one there – biggest in size and crowd reaction.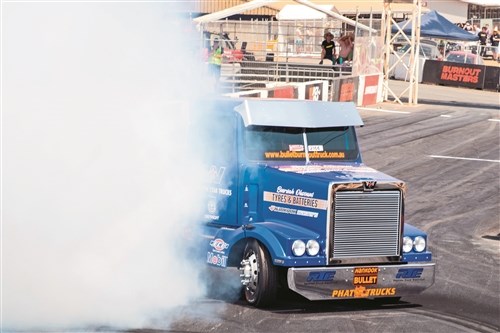 The unveiling got people talking, so there was plenty of interest in the reborn Bullet. However, it was day three of Summernats that really got jaws dropping and tongues wagging. Laurie got his first chance to open the Bullet up in front of the thousands of attendees.
Making Laurie's debut even easier was the help and support he has from his mate Adrian Hammond, the Hankook master dealer who owns Beerwah Discount Tyres and Batteries. Adrian was so keen to get on board and show how good the Hankook tyres are under 2,800hp that he sent Laurie down to Summernats with eight sets of perfect rubber. This meant when Laurie let loose, I only had limited time to snap some shots before the truck, the stands and dare I say the entire Summernats was engulfed in the Bullet Burnout Truck's natural visual effect and pleasing aroma.
By the end of Summernats I think nearly every soul, with or without a mullet, had posed in front of the 2,800hp beast of a burnout truck. Many double checked if it really was the original, but most agreed that the new look suits the truck to a 'T'.
For those who didn't make it to Summernats, don't worry. The Western Star Bullet Burnout Truck is just getting warmed up. With Hankook supplying the rubber, Western Star supplying the looks and Laurie supplying the 'overgrown kid' attitude, the Bullet Burnout truck is alive and spinning again..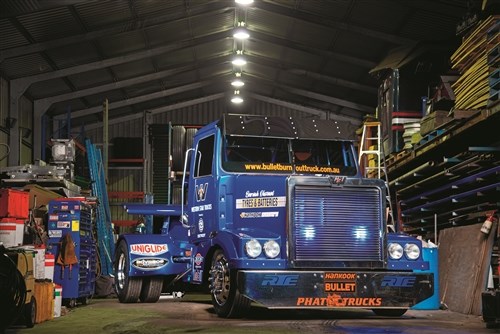 CHECK OUT THE BULLET IN ACTION AT SUMMERNATS BELOW!!!!
Subscribe to our newsletter
Sign up to receive the Trade Trucks e-newsletter, digital magazine and other offers we choose to share with you straight to your inbox
You can also follow our updates by liking us on Facebook. 

Trucks For Hire | Forklifts For Hire | Cranes For Hire | Generators For Hire | Transportable Buildings For Hire