PART 2: Cascadia – a closer view
---
Everything a prospective Freightliner Cascadia buyer needs to know
Freightliner Cascadia comes in two models: A 116-inch (295cm) BBC (bumper to back-of-cab) version and a 126-inch(320cm) BBC model.
The trucks are manufactured in Cleveland, North Carolina, and the Detroit engine and transmission combinations made in Detroit, Michigan.
What follows is an edited version of the various specifications and features as supplied by Freightliner at the recent Australian launch of Cascadia in Sydney.
Engines
Cascadia is powered by the latest generation Detroit engines which meet the strict US GHG17 emissions requirement and subsequently, exceed the Euro 6 standard.
The engines are the DD13 and DD16 – technically similar to the 13- and 16-litre Daimler 'family' engines in wide use in the popular Mercedes-Benz range – using a combination of selective catalytic reduction (SCR), mild exhaust gas recirculation (EGR) and diesel particulate filter (DPF) to achieve the stringent US emissions standard.
Cascadia's engines are, however, significantly different and technically several generations ahead of the existing DD13 and DD15 units currently available in Australia, notably in Western Star and some remaining Freightliner units.
The Cascadia 116 model uses the DD13 engine with a 1,300 square inch (8,387 square cm) radiator whereas the 126 uses the DD16 with a 1400 square inch radiator (9,032 square cm).
DD13 ratings:
450hp (336kW) at 1,625 rpm and 1,650 lb ft (2,237Nm) at 975rpm
470hp (350kW) at 1,625 rpm and 1,650 lb ft (2,237Nm) at 975rpm
505hp (377kW) at 1,625 rpm and 1,850 lb ft (2,508Nm) at 975rpm
DD16 ratings:
500hp (373kW) at 1,800rpm and 1,850lb ft (2,508Nm) at 1,120rpm
530hp (395kW) at 1,800rpm and 1,850lb ft (2,508Nm) at 1,120rpm
560hp (418kW) at 1,800rpm and 1,850lb ft (2,508Nm) at 1,120rpm
560hp (418kW) at 1,800rpm and 2,050lb ft (2,779Nm) at 1,120rpm
600hp (447kW) at 1,800rpm and 1,850lb ft (2,508Nm) at 1,120rpm
600hp (447kW) at 1,800rpm and 2,050lb ft (2,779Nm) at 1,120rpm
Transmissions
Eaton's iconic 18-speed manual shifter and Detroit's DT12 automated 12-speed are the two transmission choices in Cascadia. The automated Ultrashift-Plus version of the Eaton 18-speed is not available.
Predictably, Freightliner lists the DT12 as the preferred transmission in Cascadia, built in Detroit and designed to work seamlessly with the DD engines. There are three direct-drive versions and one overdrive option, with economy and performance modes and a manual function through the paddle-shifter on the steering column.
Super-slick in operation (we've had the opportunity to use the DT12 several times in Cascadia test units), the transmission's features include:
creep mode for low-speed manoeuvring, activated when service brakes are released but aborting if Creep mode use poses an imminent risk of clutch damage
eCoast function, saving fuel by shifting into neutral when there is no accelerator input and cruise control is engaged. eCoast will not engage on grades greater than 3.5 percent
an automatic hill start aid which holds the truck for three seconds to prevent roll-back
Cruise Descent Control to help restrict the truck's speed when descending a grade
Intelligent Powertrain Management (IPM) is also part of the package, using topographical map information to enhance efficiency and only available with cruise control engaged.
Safety features
Safety is the big asset for Cascadia over its conventional competitors, based on an extensive package called 'Active Brake Assist 5.0', described as a fully integrated system that uses radar and camera technology and provides full braking for moving pedestrians, full braking on stationery objects, moving and stopped objects. There's also lane departure warning and adaptive cruise control operating down to 0 km/h. 
Side Guard Assist is another safety initiative, using two short-range radars to 'watch' the left side of the truck and trailer while also providing:
Lane Change Assist to detect moving objects on the passenger side of the truck
Turn Assist to detect moving objects on the passenger side when initiating a turn, when stationary and at slow speeds
Trailer Sweep Assist which calculates when the trailer or rear of the prime mover might come into contact with stationary objects such as power poles or traffic lights.
Meanwhile, Freightliner is currently working with local suppliers to enable Cascadia's integrated dash-mounted camera to capture footage during safety incidents, including sudden braking.
Anti-skid disc brakes are standard (drums optional) while also on the standard list are traction control and electronic stability control.
One surprise omission at the launch of the truck was a steering wheel driver's airbag but according to several sources, it will be a standard feature within months as extensive engineering tests are nearing completion. However, the RollTek-equipped driver's seat includes an in-built head airbag.
LED lighting is fitted through the entire truck while there's also an optional 'intelligent high beam', automating the use of high beam and disengaging high beam when an oncoming or overtaking vehicle is detected.
In safety terms, no conventional truck currently on the Australian market comes anywhere near Cascadia.
While not strictly in the safety stable, Freightliner says connectivity also rates high on the Cascadia credit list through the 'Detroit Connect' system.
In addition to allowing customers to take advantage of all the normal benefits of traditional telematics features, it also offers a wide range of more advanced features including a remote diagnostic service, remote engine updates including parameter changes, engine report downloads and firmware updates.
According to Freightliner, trip analysis, fuel efficiency scoring and fuel use analytics, lifetime and trip reporting, vehicle and fleet safety reporting are all available through Detroit Connect and can be accessed on the web or via an app on Apple or Android devices.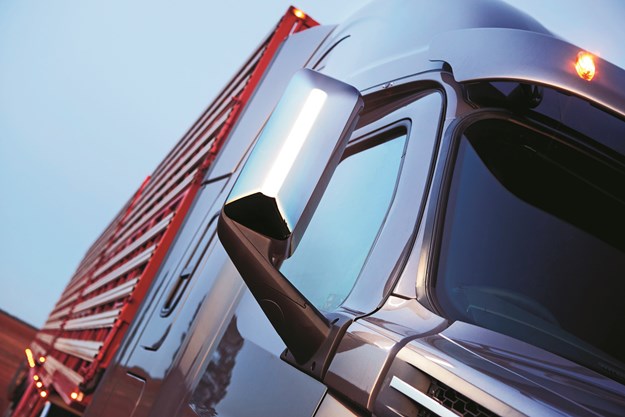 Cab and sleeper
Cascadia uses an aluminium cab shell and high-tensile steel doors, with Freightliner insiders here and in the US emphasising vast improvements in manufacturing processes and quality standards.
There's a strong family resemblance to the current Mercedes-Benz range in the dash and gauge layout, with controls and switchgear placed for easy use and familiarity.
The standard dash trim is described as 'subtle black with black bezels, while chrome bezels are available as is a woodgrain trim option.' Standard seat trims include Laredo leather as well as vinyl or cloth options.
Cascadia comes as a day cab or 36-inch (91cm), 48-inch (122cm), 60-inch (152cm), and 60-inch raised roof sleeper cabs. Internal features include a sleeper area with dimmable LED lighting, a range of sturdy cabinets, microwave bracing, space for a fridge and a strong flat-panel TV swivel bracket that can hold up to a 26-inch (66cm) screen.
Single and double bunk options are available and all Cascadia sleepers are equipped with locally-sourced Sealy Posturepedic innerspring mattresses measuring 30 inches (76cm) across for 36-inch sleeper models and 35-inches (89cm) across for 48- and 60-inch sleepers.
Sleeper vents are available, as are sleeper doors with built-in windows on 48- and 60-inch models. There is also a right-hand baggage door on all sleepers, while the 60-inch is also available with an additional left-hand baggage door.
Freightliner is also introducing a battery powered HVAC climate control system as an option on all sleeper cabs. Powered by a condenser on the back of the cab, it is linked to four additional batteries and offers up to 10 hours of cooling and 34 hours of heating.
According to Freightliner, popular configurations in Cascadia's initial line-up will be:
116 with a 36-inch XT sleeper for 26-metre, 34-pallet B-double work with 860 litres of fuel, horizontal exhaust and electric HVAC system  
126 with 48-inch XT sleeper for 19-metre general access single trailer work, with 1,500 litres of fuel, dual vertical exhaust and HVAC
126 with 60-inch raised-roof sleeper for stag trailer combinations, dual vertical exhaust and HVAC
126 with 60-inch raised-roof sleeper for B-double tippers with 1,800 litres of fuel, dual vertical exhaust and HVAC
126 with 60-inch raise roof sleeper for roadtrain doubles, with 1,800 litres of fuel, dual vertical exhaust, bullbar and HVAC
116 and 126 day cab units for tipper and dog duties from 19-metres to 26-metres in various configurations
Drivetrain detail
Exhaust: Single stack with various vertical and horizontal mount positions or frame mounted dual stacks.
Fuel tanks: Square tanks and round tanks available in a wide range of sizes. In-rail battery box available to free up space for additional fuel capacity.
Front axle: Meritor FG 941 or Detroit DA 16.
Rear axle: Meritor MT40 and RT46 (larger axles to follow). Hendrickson's HLM2 lift axle available.
Front suspension: 16,000kg rated taper-leaf and 14,600kg rated taper-leaf.
Rear suspension: Freightliner Airliner airbag at 40,000kg and 46,000kg ratings. Neway option to follow.
Chassis: Freightliner reports the chassis rails have been splayed to lower the engine centre-of-gravity and allow the steering gear to be moved outwards to improve on-road dynamics.
Bumper: A lightweight aluminium bumper was designed by Freightliner and is manufactured in Australia, meeting current requirements for front under-run protection.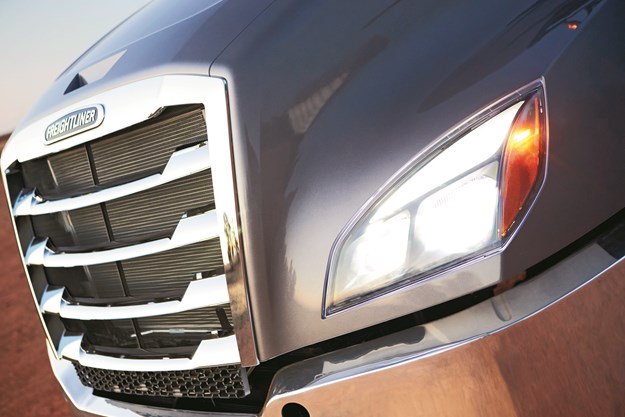 Warranty and buy-back
Freightliner states it will offer the best warranty in the conventional market with Cascadia, providing coverage for four years or 800,000km, whichever comes first, on vehicles with a GCM under 110,000kg. For vehicles with a GCM of more than 110,000kg, the warranty stands for two years with unlimited kilometres.
Meantime, the Detroit engine warranty is five years or 500,000 litres of fuel, or one million km, whichever comes first.
Additionally, there's the availability of the 'Agility Guaranteed Buyback' finance program which, states Freightliner, offers end-of-term financial flexibility on the new Freightliner Cascadia.
This effectively means that when the customer's agreement comes to an end, there's the choice to either trade the current vehicle for a new one, retain the vehicle by paying out the agreed final payment, or return the vehicle back to Daimler.
There's also a complimentary service package which adds wiper blades and LED lamps to Freightliner's standard service schedule.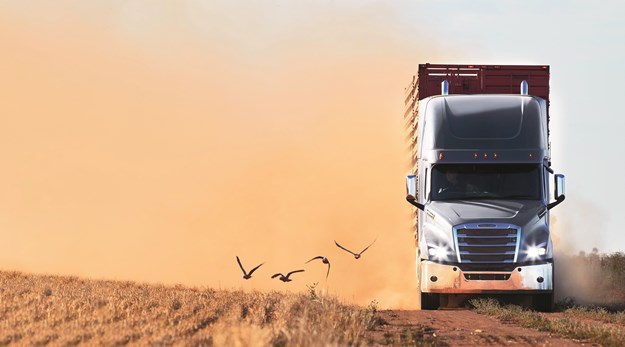 Subscribe to our newsletter
Sign up to receive the Trade Trucks e-newsletter, digital magazine and other offers we choose to share with you straight to your inbox
You can also follow our updates by liking us on Facebook. 

Trucks For Hire | Forklifts For Hire | Cranes For Hire | Generators For Hire | Transportable Buildings For Hire