Cattle King Mack
---
Bulldog brand enthusiast Dennis Kelly has immortalised the almost forgotten Australian pastoralist and land owner Sir Sidney Kidman in the form of a stunning, customised 1988 Mack Super-Liner.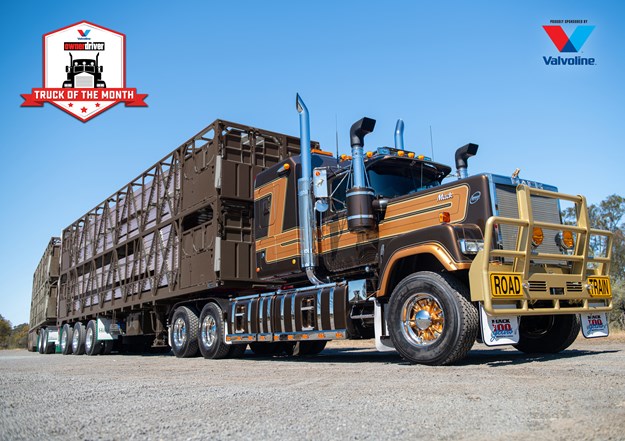 The question is, do we start with a history lesson or do we start with a truck story? It's not really a question as I'm the one writing this and you guys have to read it no matter where I start. Therefore, I'm choosing to start somewhere in the middle, the middle of Queensland. The middle of nowhere really, in a town called Injune.
It's not exactly a vital part of the story, considering the man who owns this stunning Mack Super-Liner isn't from there and the man the Mack Super-Liner is dedicated to isn't from there either.
I'm nothing if not a confusing writer though, so we are starting in Injune because it's there that Dennis Kelly happened to have stopped for smoko almost a decade ago and saw the old 1988 MKII Super-Liner looking well worked in a local's yard.
It seemed like destiny. Dennis had always wanted to have a Super-Liner and here one was sitting there as he enjoyed his smoko. Surely it was meant to be. In fact, some would say it was too good to be true and they would be spot on – it was too good to be true. Dennis wanted a Super-Liner to do up, here was a Super-Liner that needed doing up but alas after a fair bit of wandering around there was no owner to be found, so Dennis had to carry on his merry way.
However, if the Gold Coast grandmother who won Powerball and bought a Mustang has taught us anything, it's that fairy tales do come true. Several months after Dennis's sighting, another friend mentioned he knew the owner who would be interested in selling the 'Big Mack'. Before you could say "where's the keys to the piggy bank", Dennis was down the road and a proud owner of a 1988 Mack Super-Liner.
Dennis himself is not really a transport man. Like Sir Sidney Kidman, whom the truck is dedicated to, he is actually a man of the land. His family had a rich farming history around the Clermont, Queensland area for almost half a century. In 2008 the family farm was sold and Dennis downsized to a 'hobby farm' of about 60 acres in the Burnett region of Queensland. As well as working the family farm Dennis, along with his brother Philip and his Trevor, also did a fair bit of contract harvesting. It was during this that Dennis found and fell in love with the Bulldog brand.
"We were doing a bit of contract harvesting" Dennis recalls. He reckons he was around 20 at the time. "This guy drove in a B-model and as soon as I saw that B-model, that was it, I just thought 'Wow!'"
As if that wasn't enough to spark the Bulldog flame, the guy told Dennis to jump in and move it forward for him. "So that's what I did and from then on it's just been Mack; I just love them."
The family already had a useful farm truck, however the first chance Dennis had, he ended up purchasing a Mack to do the farm work as well as the contract harvesting. That first Mack was a good old Flintstone. Dennis admits the truck driving was only a fraction of the work that he put in when it came to farming but he loved every minute of it. Eventually the Flintstone was replaced with a Mack Titan, which is kind of like jumping from a BMX to a Harley Davidson, but Dennis managed it reluctantly.
The Titan outlasted the Kellys on the farm and the truck was sold with the property. Dennis proceeded to try and slow himself down but that desire to do up a Super-Liner never diminished. Which is where we jump to his smoko break at Injune. I'm taking a little creative licence here, but Dennis is one of those true blue Aussie blokes, so I'm 95 per cent sure smoko was Vegemite sandwiches and a cold beer. Don't quote me on that though.
So, Dennis found himself in possession of an '88 Super-Liner, and thankfully through another contact he also found himself under the wing of the Mack maestro himself, Glen Beutel. For those unfamiliar with Glen, he has restored several Bicentennial Macks, as well as some 'Macknificant' R-models. Again, it's not documented but I'm sure when Glen cut his arm late last year the doctors found he was leaking Mack gearbox oil rather than blood.
Dennis and Glen clicked immediately and have worked side by side as this project progressed. When Glen enquired about the theme of the truck it happened to coincide with Dennis finishing a book on the forgotten 'Cattle King', Sir Sidney Kidman. With Dennis's love of the land and respect for its history, there was no swaying him from what he wanted his truck to represent.
Behind the name
Now for all those that hated history in school, we will try and summarise one of Australia's great cattle barons in just a paragraph or two.
Sidney Kidman, born in 1857, was an Adelaide boy that grew up with a private school education. At the age of just 13 he spent his savings on a one-eyed horse (I don't believe that he specifically wanted a one-eyed horse – that was just his budget) and with five shillings in his pocket he headed off to make his mark.
Sidney learnt the ropes as a drover, a roustabout, a trader and anything that made money. He did end up catching up with two of his brothers as they were working and trading in all the new mining towns that were popping up in South Australia and New South Wales.
I won't go into all the details of his accomplishments and his extensive working life as it makes me feel rather lazy, sitting in the comfort of air-con with a cold drink and lunch in the oven, typing the story of a hard-working pioneer. Suffice to say his trading in anything that would pay and his wheeling and dealing saw him purchasing his first station, in partnership with one of his brothers, Sackville, before he was 40.
Over the next 30 years Sir Sidney accumulated properties and stations like he was playing a real-life game of Monopoly. The stations were in every part of Australia and allowed him to graze his stock in the luscious north and sell them in the profitable south. All up, before he passed at the age of 78 in 1935, he basically owned three per cent of Australia. It may not sound like much that way, but that equates to somewhere between 220 and 280 thousand square kilometres. Yea, that's a fair bit.
So that is your very condensed summary of just how far you can get with a one-eyed horse and five shillings.
Truck naked
So back to Glen and Dennis: with this story fresh in his mind, Dennis wanted to pay tribute to such an iconic Australian.
Ideas were tossed around with plenty tossed aside as well. First thing was the truck had to be big, not just Mack Super-Liner big, but Sir Sidney Kidman Mack Super-Liner big. To do this it was decided to stretch the 36-inch bunk out to 58-inch bunk, add big tough square fuel tanks and to raise the cab and bunk on rails.
Here's where it gets fun though. Well I say fun, but for Nick and his team at PJs Custom Spraypainting and Truck Mechanical in Brisbane, he saw it as more of a challenge really. The challenge was to do all these things but make it still look like a factory specced Mack Super-Liner. That meant cutting the bonnet lengthways and adding another 90mm of bonnet in there, custom creating a new grille as well as altering the trucks original bull bar. So rather than have a huge spacious gap above the steer axle, the truck looks pitch perfect.
The colour scheme and design lines were also a well hashed out creation from Nick, Dennis and Glen. The goal to bring rich earthy tones to the truck as that is where Sir Sidney made his legacy; brown and gold being two iconic colours of that era.
Glen took up the role of project manager for the job of tearing down the old Super-Liner. Starting again was huge. PJs Custom Spraypainting and Truck Mechanical were the biggest part of the whole project as it was their workshop where the truck was left sitting naked and afraid with just two chassis rails ready for a makeover.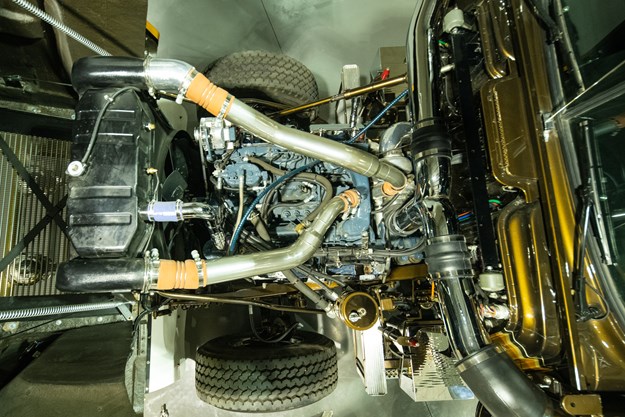 Dennis insisted the engine get a full makeover as well, though he admits it may not have needed it but the he wanted the whole truck better than new. The bunk was stretched by Joe Bradley Fibreglass with Maleny Trimmers doing all the interior trim work. It was then returned to the PJs' team for fit out. Every airline was strategically colour coded; every bolt purposely lined up. All the running gear was spruced up and repainted and every worn item replaced with new. The paint job is so smooth you could do a Dukes of Hazard slide off any single part of it, though I'm sure Nick from PJs may just react a little aggressively if you did. He estimates his team put somewhere between 2500-3000 hours into rolling out this one of a kind Superliner.
Seems like a lot of time right, well it is. The attention to detail is second to none though (check out the photos of the embroidered seats built by Seats-R-Us in Brisbane). The driver's seat is dedicated to Sir Sidney and the passenger seat to his wife Isabel. The embroidery was done by Robyn at Acacia Ridge Embroidery who also added the personalised towels hanging in the sleeper. If you are a true Mack fan though, you will notice something extremely rare on the bonnet of the Super-Liner. In Glen's efforts to be super diligent, he had a special Super-Liner badge made, so you will notice on both sides of the bonnet the Super-Liner badge is always pointing forward.
It's fair to say as classic as the Super-Liner looks, it's far from original. From the bigger bonnet and square tanks to the extra 22 inches in the sleeper as well as the TV, microwave and air-con unit that were included in that extra space. Yet somehow the truck looks exactly like you would expect of a classic Mack. It has the forcefullness to stare down Clint Eastwood and the obvious power to intimidate a State of Origin forward pack … even the Blues forward pack.
Special thanks goes out to Straw Jones from Clermont who was kind enough to hook up a couple of trailers for us to do a shoot. I'm pretty sure when Sidney saddled up 'Klipklopse' (not sure if that was the horses name, but it would be fitting) and headed off to seek his fortune, that he never envisioned his name and identity being immortalised in such a way, but you can be sure with Dennis Kelly's Super-Liner, 'The Forgotten Cattle King' will be forgotten no longer.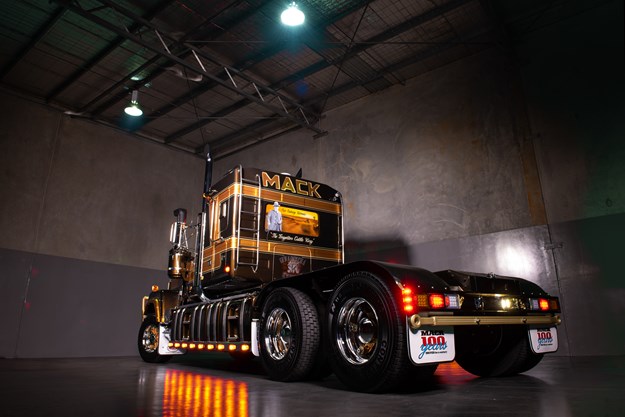 Subscribe to our newsletter
Sign up to receive the Trade Trucks e-newsletter, digital magazine and other offers we choose to share with you straight to your inbox
You can also follow our updates by liking us on Facebook. 

Trucks For Hire | Forklifts For Hire | Cranes For Hire | Generators For Hire | Transportable Buildings For Hire