PREMIUM DEALS: Dream machine
---
With the help of the team at Suttons Trucks, the Yates family has delivered on their late son's dream to be lead truck in the 2019 Illawarra Convoy – with a stunning, one-of-a-kind black Kenworth T909 – and in the process raise an incredible $605,000 to help sick kids
Yes, some of you reading this will already note that the stunning Black Kenworth you've been drooling over looks extremely familiar. In fact, you no doubt are even convinced that you have already read the heart-breaking story that goes with the truck. You would be spot on; the Kiama-based T909 was featured in an issue of last year's magazine. For those that did miss it though I shall give you a bit of a run down on the story.
Peter and Sheridan (Shez) Yates are the owners of YATCON, a civil construction company based out of Kiama, NSW. They are also the couple behind this stunning black beauty. While the truck definitely takes your breath away, so does the reason for it. The truck is a moving memorial to Peter and Shez's son Kye (and brother of Bella and Alysha), who tragically passed away in an accident on the family farm last year. Kye was only 10 years old, though his father Peter often remarked that he was 'an old soul' in a young man's body. When you're 10 and one of your favourite songs is 'Hurt' by Johnny Cash, you definitely give the impression of an old soul. If that's not enough, when you are nine and asking Santa for a lawnmower and weed eater, well yes there's an old man in there for sure.
The YATCON team do have several trucks for moving its many pieces of equipment around their many jobs sites, but trucking has never really been the main basis of the company. So why have they got one of the country's coolest rides now? Simple: because of Kye's big heart. Since the age of five Kye has been an avid supporter of Illawarra's massive annual charity convoy.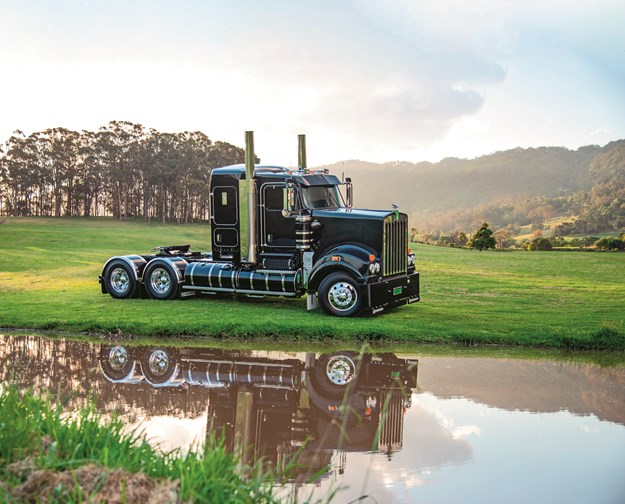 Two of Kye's best friends were affected by crippling diseases and when Kye found out about the Illawarra Convoy and the money it raises for sick kids and local charities Kye wanted to be involved. He started by talking his dad into entering one of the company trucks, an old Iveco at that stage, into the convoy. No sooner had they completed their first convoy when Kye stepped up the pressure on dad to help raise more money "Can we do lead truck dad?" he asked. It's no simple request. The Illawarra Convoy runs an auction for lead vehicles; the groups who raise the most money are able to put in the best bids in order to secure the prime position.
Breaking this complex situation down for a five-year-old can be tough; trying to tell a five-year-old that's only interested in raising money for sick kids is even more difficult. Kye accepted his father's answer on one hand but on the other he decided to find other ways to help raise money. The Yates family started sponsoring a massive FMX show that would bring along more people to the convoy and therefore help raise more money. The entire family would assist in the weeks leading up each year. Don't think that eased the pressure on Peter and YATCON though; Kye continued to raise the topic of the lead truck.
So it was that after Kye's unfortunate passing that the Yates family decided they wanted to fulfil his dream and get the lead truck position. They wanted to honour their son.
That is where the previous story took us. Peter went to Michael Maranda of Suttons Trucks at Arncliffe and filled him in on the circumstances and what he wanted to achieve. At first Peter was all about getting a big black T909, bumper to bumper black. It had to be a 909 because those were the trucks that always turned Kye's head when the family were on the road and it had to be special, because Kye was one hell of a special kid.
Michael and the team at Suttons put in a massive effort for the family. Peter forwent the original all-black idea, instead opting to leave this special tribute truck completely in Michael's hands. While the Kenworth was being completely customised and personalised the Yates family set about fundraising to chase Kye's dream.
CUSTOM MADE
Michael and Suttons delivered a one-of-a-kind, breathtaking tribute truck. The whole family were blown away as the truck was more Kye than they could have imagined, especially the inclusion of the Kawasaki green colours (Kye's favourite motorbike) and the custom-made KY emblems in place of the traditional KW badges. The Kenworth factory even arranged personalised embroidery throughout the truck. It was everything that it should be.
The next big challenge and the reason we are doing this follow-up is to find out how the fundraising went. Kye had spent half his life in his dad's ear about getting lead truck and the Yates family had a little over five months to try and raise as much as possible for the front-running spot. To give you a little perspective, the 2018 lead role was handed to Rob Starcic, who along with his regular Dandaloo Boys raised an impressive $328,000. It's big money we are talking here.
It's a testament to how much impact Kye had on people in the short time he was with us that the support rolled in in waves. Some money came from actual events that were held, like the 'Ladies Day', where 150 women got together for a few wines, to the 'Cruise for Kye', where a huge collection of mouth-watering motor vehicles of all shapes and sizes adorned the streets of Kiama and nearby towns, showing off to the locals. The money started to rise. There were also a few charity auctions with donations coming from far and wide, including one of Robbie Maddison's (family friend) Redbull stunt helmet. As well as more than a few personal pledges, from friends and strangers who had heard Kye's story.
On November 14, 2019, sitting on the couch with the family Peter partook in the I98FM Illawarra Convoy lead truck auction. By the end, after thousands of dollars of donations it came down to the final two. Peter Yates and once again, Rob Starcic and the Dandaloo Boys. Rob's final bid was just over $300,000. It was a huge emotional moment for Peter when the final bid option was given to the Yates family and they took out the 2019 lead truck auction with a bid of exactly $500,000. "It will be an honour to follow Kye's truck in the convoy," were the closing words from Rob. That pretty much summed up everyone's feelings.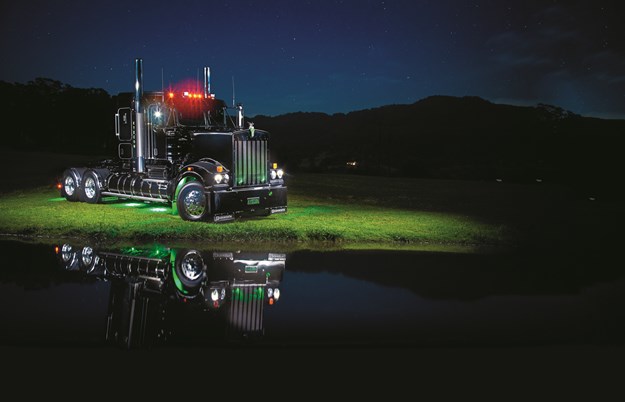 Now while this was monumental as the largest-ever amount raised for lead truck, there are several other factors to add in here. The $500,000 amount had been chosen by the Yates as Kye's favourite number was five. It was only fitting they chose Kye's number as the figure. In truth the team had raised more than that, with the extra money used to set another new record. The Yates family become the first people to ever get both lead truck and lead motorbike positions. The motorbike role had been secured with an auction bid of $105,000. All up, the team had raised $605,000.
In a little over five months the Yates family achieved Kye's dream. In a one-of-kind tribute truck and with a tear in his eye, and a few of his favourite toys riding shotgun, Peter pulled out onto the road as the 2019 I98FM lead truck. In a time of tremendous grief, they banded together and set out to fulfil their lost son's biggest wish, which wasn't just to get lead truck but to make sure they helped in raising money for the kids worse off than himself.
They did that, and they did it in a record-setting fashion. So full credit to Peter and Shez, and their daughters Bella and Alysha. Full credit to all those who helped in assuring the stunning Kyecon T909 was the first truck out onto the road for the 2019 Illawarra Convoy. Full credit to Michael Maranda, the boys from Suttons Trucks and all those who helped in putting together this outstanding Australian-built classic truck.
I would like to say they can all rest up a bit now, but a little bird has told me that Michael and the Suttons team are at it again. It seems the Yates' were extremely impressed with their new T909 and there is another one on its way. This time with a GTR orange influence ... Oh, and I also heard Shez is off to get her license. Stay tuned for a few more photos folks.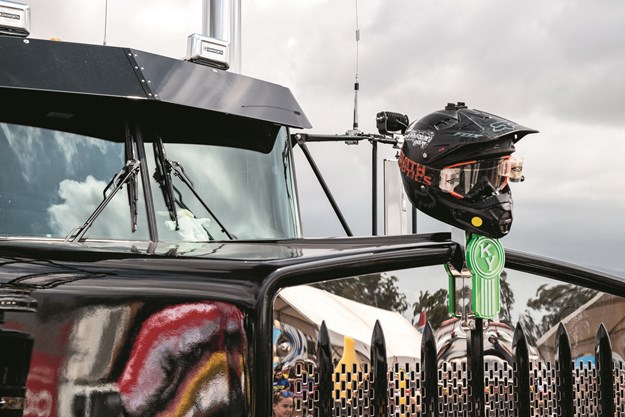 Subscribe to our newsletter
Sign up to receive the Trade Trucks e-newsletter, digital magazine and other offers we choose to share with you straight to your inbox
You can also follow our updates by liking us on Facebook. 

Trucks For Hire | Forklifts For Hire | Cranes For Hire | Generators For Hire | Transportable Buildings For Hire