United in trucking
---
When Chris and Tracy tied the knot recently, there was an International truck flavour to the bridal vehicles. Now the happy couple are back into the hard grind of running a small trucking business
They say opposites attract, and that's certainly the case for Chris and Tracy Penfold when it comes to their interest in trucks.
Chris is a third generation truck tragic. He lives and breathes the big rigs, especially his beloved International variety. He's got a combined pool room and bar full of memorabilia, which is more or less a shrine to the brand and the industry (as well as family).
On the other hand all that Tracy knew about trucks before she teamed up with Chris three years ago was that "they have wheels".
But Tracy is a fast learner and with her business college qualifications now runs the books for D & J Transport's five vehicles, which include the ute she does a lot of courier deliveries and parts pick-ups in for the business.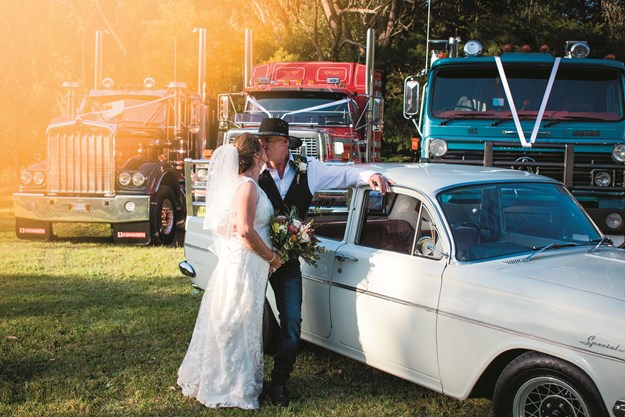 "Without Tracy it wouldn't run, the wheels would fall off," says Chris of his new bride. "She keeps everything under control and has things down to a fine art. I don't know how she does it; she pulls a rabbit out of hat sometimes."
Rounding out the division of labour for D & J (the initials of Chris's parents) is Chris's son Hayden, 19, a diesel mechanic who performs 90 per cent of the workshop duties and also drives locally.
International Collection
Chris has been an International aficionado since he was a kid riding around with his father, as in turn Hayden and his two older sisters used to do with Chris.
He's had stacks of Inters since kicking off as an owner-driver in 2003 with a 1989 4670 Transtar bought from Scott's of Mount Gambier, which he used as a chariot to tow interstate for Sneaths. Chris still rates that truck as the best he's ever had, with its 'Black Cummins' 365 under the big bonnet and a nine-speed Roadranger.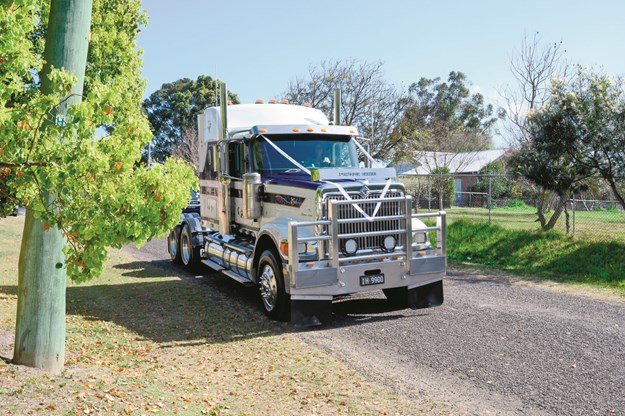 All his current trucks and trailers were built in Australia and the pride of the small fleet is his 1998 Transtar 4700, previously owned by dad Dennis. That 'new' Transtar, which has a 500hp (370kW) Detroit Series 60 under the bonnet, runs steel on nightly express between the company's base near Newcastle and Sydney.
The biggest Inter in the collection is a 2007 Eagle 9900i with its C15 550hp (410kW) Cat and 18-speed, 50-inch bunk, recently bought unregistered for $55,000 plus GST and needing a lot of work done to it. The big Eagle was due to pull an oversize load of lathe machines to Brisbane the day after Deals on Wheels caught up with the Penfolds. Chris had spent four hours loading and two hours tarping the lathes.
These 9900i Eagles were the 'hero' truck of the International range in Australia during the heyday of their production at Iveco's Dandenong plant in Melbourne between 2004 and 2010. The slogan for them was 'Classic American styling – manufactured in Australia'.
Meanwhile Hayden's local work is carried out by a 1988 twin steer T-Line rigid, powered by a 250hp (186kW) Cummins L10 through a nine-speed Roadranger.
And the newest addition to the fleet is a 1984 F4870 Atkinson, with the two-stroke V8 GM 892 rated at 445hp (330kW) running through a 15-speed box. This Atkinson is basically an upmarket version of the T-Line, and it was built for highway work.
Both models are basically bigger variants of the legendary ACCO series. "The T lines were a poverty pack beside the Atkinsons," adds Chris.
This is how Colin McKenzie's book Inter to Iveco – an Australian Truck Story describes the difference between the T line and its upmarket Atkinson lookalike: "The major changes included increasing the length of the cab by 400mm to provide sleeper accommodation … an extra step for easier cab access, a full set of marker lights and twin horns. The interior was upgraded with velour trim, high back Isri seats, a wardrobe, CB and AM/FM radio and electric sockets. Detroit Diesel engine options, not offered in the T line, were also available."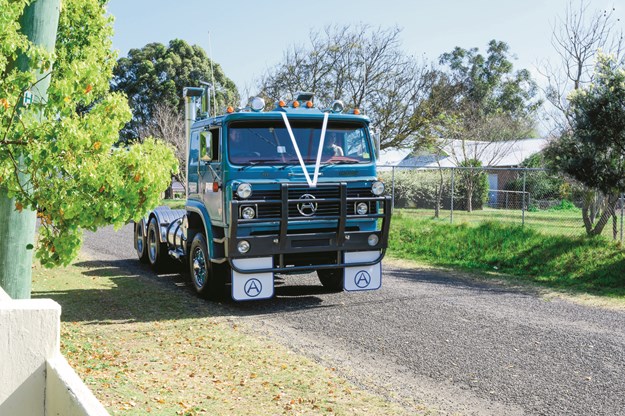 The Penfolds' Atkinson is not to be confused with the taller British-designed 'Seddon Atkinson' also assembled in Australia at one stage by International, with a fibreglass 'plastic cab' up to 1980. Theirs is a spare and show truck, so recently restored that Hayden only finished painting on the morning of the wedding.
The three company trailers are all single flat-tops: an extendable Tuff, a standard Freighter and a standard Haulmark. Chris reckons there's no money in B-doubles.
Tough Game
Chris has been a Hunter Valley-based truckie for over 30 years, carting everything from chickens to coal to market express. The couple are based in Mulbring near Kurri in the Hunter Valley, and got married at nearby Mt Vincent.
D & J carts mainly general freight and a lot of steel to wherever the freight takes them, but it's mostly around the Hunter Valley and Sydney.
It's a 24/7 operation, which Tracy points out is "really hard" on her teenage kids and "sometimes a bit unfair" on them.
She insists on 14-day payment terms, and makes sure their repayments are manageable. The pair are comfortable with how the business is going and the workload.
Their prices vary, with fuel use and the amount of time required for loading and tarping taken into account, for example. But they won't quote below what Tracy calls their "financial morals".
"You get to the point where you think how much more do you want to wring out of this wet rag?" says Chris of some customers. "How much more do you want to squeeze out of us? We're doing it at a good price, a fair price."
Chris says he knows of a couple of blokes paying off $600,000 B-double sets but getting rates that haven't changed in years. He doesn't know how they do it, unless they've come into an inheritance.
"They've got buttons missing off their calculator for sure," Chris reckons. "I'll never put myself in the position where I can't afford to turn that key off or I've got to work like a dog."
Subscribe to our newsletter
Sign up to receive the Trade Trucks e-newsletter, digital magazine and other offers we choose to share with you straight to your inbox
You can also follow our updates by liking us on Facebook. 

Trucks For Hire | Forklifts For Hire | Cranes For Hire | Generators For Hire | Transportable Buildings For Hire